As per WHO, approximately 8.7% of India's Population is Diabetic aged between 20 yrs to 70 yrs. However, Diabetes can be prevented by eating a healthy diet and regular physical activity. Nevertheless, people who are diabetic can rest assured because Star Health Insurance is here to insure and make you feel at peace.
Star Health brings you Diabetes Safe Insurance Policy that covers not just complications of Diabetes (both Type I and Type II) but also regular hospitalization, Personal Accident and Outpatient Expenses as well.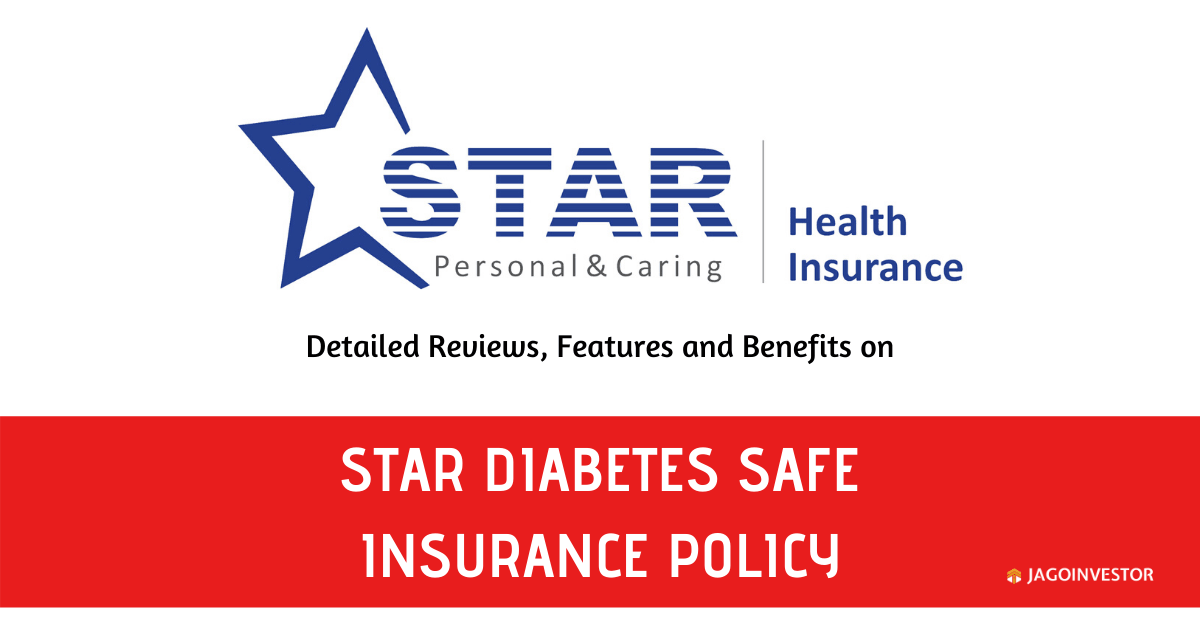 Features of this policy –
Hospitalization expenses of both Type 1 and 2 are covered.
This policy has 2 plans – Plan A and Plan B
The tenure of the policy is 1 yr.
Sum assured ranges from 3 lac, 4 lac, 5 lac and 10 lacs.
One can renew the policy for a lifetime.
Policy can be taken on an individual and floater basis.
Out-Patient expenses are also covered.
Compensation is provided for the accidental death of the chosen insured.
Automatic Restoration of the entire sum insured.
Waiting Period benefit is also covered.
Payment of premium by any mode other than cash for this insurance is eligible for relief under Section 80D of the Income Tax Act 1961.
2 Types of Plan –
Plan A – If the insured is taking this plan then, Pre-Acceptance medical examination is required.
Plan B – If the insured is taking this plan then, No pre-acceptance medical examination is required.
Note – Plan once chosen cannot be changed under any circumstances even not on renewal of the policy. So think and select the plan.
Benefits of this policy –
In this policy, the benefits are divided under 4 section. Let us see them one by one –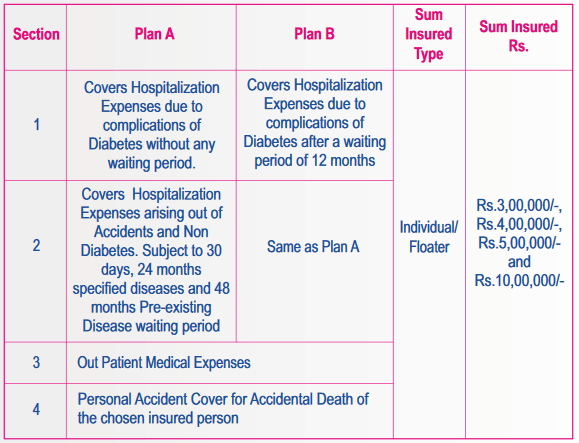 Section #1 – This section covers hospitalization expenses due to complications of diabetes under both the plan.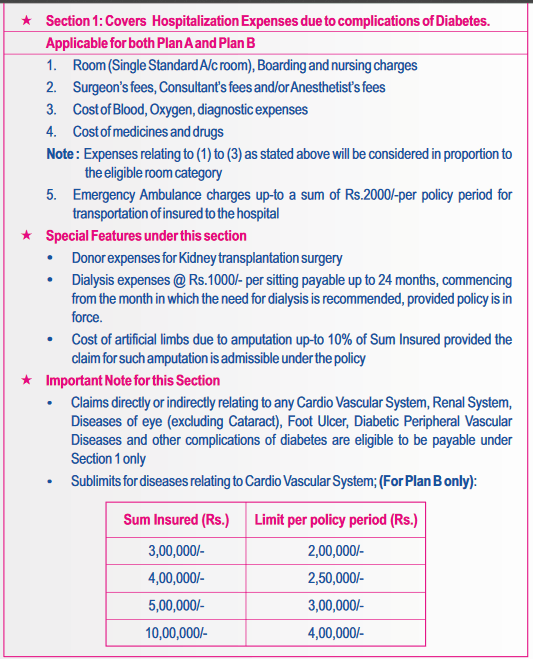 Section #2 – This section covers hospitalization expenses due to accident and non-diabetes under both the plans.
Pre Hospitalization: Up to 30 days prior to the date of hospitalization.
Post Hospitalization: Up to 60 days after discharge from the hospital not exceeding 7% of the hospitalization expenses or Rs 5000/- per hospitalization whichever is less.
Daycare procedures: All Daycare procedures Covered.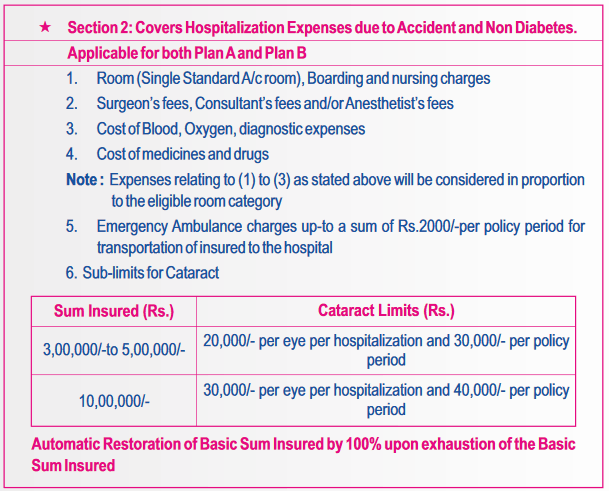 Section #3 – Out-Patient Expenses
Below is the list of Out-Patient Expenses for active policies made at networked hospitals under the following heads are –
The Cost of Fasting and Post Prandial and HbA1C tests – once every six months – up to Rs.750/- per event up to Rs.1500/- per policy period.
Other expenses like medical consultation, other diagnostics, medicines, and drugs up to the limits given below per policy period.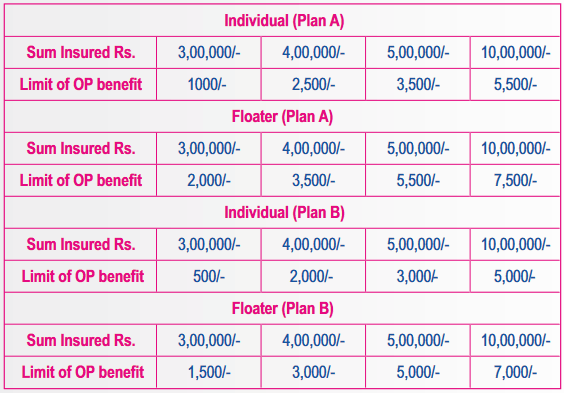 Section #4 – Personal Accident
This section provides accidental death cover to the chosen insured person. Important note – At any point in time, only one person will be eligible to be covered under this section.
Eligibility Condition of this policy –
Any person between 18 years and 65 years of age who is already suffering from Diabetes Mellitus can take this insurance.
There is a limit of 65 years is for entry-level only into this scheme. Beyond 65 years only renewals are accepted.
The policy is available on an Individual Basis as well as on Floater Basis.
There is no capping on the exit age.
Floater policy can be taken only for a family of 2 provided either of the people is a diabetic. Family for the purpose of this policy would mean Self and Spouse only.
What do I do if I didn't like the terms and conditions of the policy?
If the policyholder didn't like its terms and conditions of the policy then the policyholder can return the policy within 15 days from the date of receipt of the policy. This 15 day period is known as Free-Look Period.
Is there any waiting period in this policy?
Yes, the waiting period in this policy is different in the case of 4 sections. Let us see them one by one –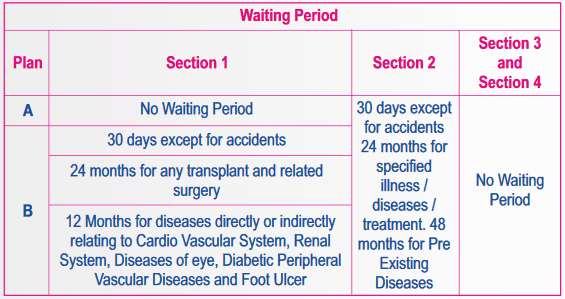 How much premium do I need to pay?
The below table shows the premium details of the Star Diabetes Safe Insurance Policy on Individual and Floater basis.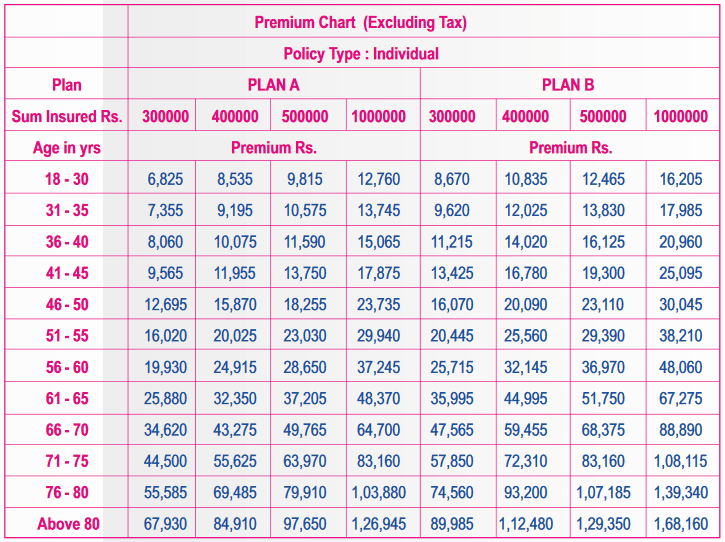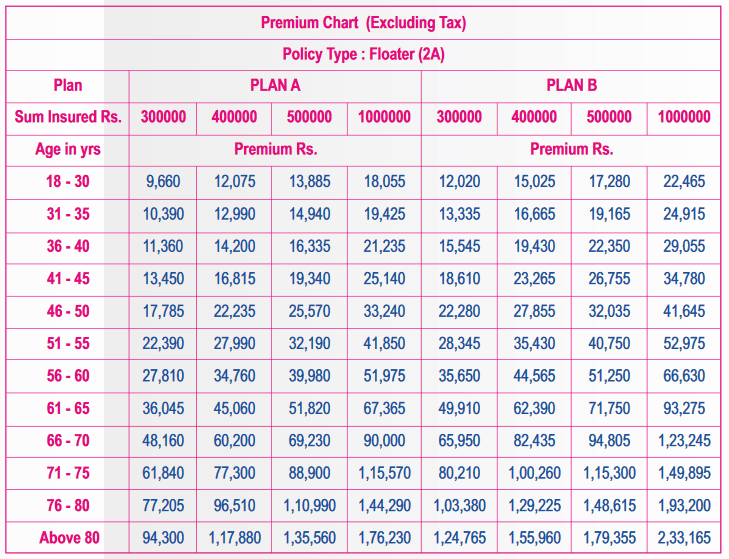 Exclusions under this policy –
There are various exclusions under this policy. To know exclusions in detail, click here 
Circumcision, Preputioplasty, Frenuloplasty, Preputial Dilatation.
Congenital External Condition / Defects / Anomalies 3. Convalescence, general debility, run-down condition or rest cure, Nutritional deficiency states.
Psychiatric, mental and behavioral disorders.
Intentional self-injury Use of intoxicating substances, substance abuse, drugs/alcohol, smoking, and tobacco chewing.
Venereal Disease and Sexually Transmitted Diseases,
Injury/disease directly or indirectly caused by or arising from or attributable to war, invasion, an act of a foreign enemy, warlike operations (whether war be declared or not)
Injury or disease directly or indirectly caused by or contributed to by nuclear weapons/materials.
Video Review of the Policy –
Conclusion –
So, by now you all know every detail of this policy. If you have any questions related to this policy then let me know in the comment section.