POSTED BY Jagoinvestor ON February 23, 2015
A lot of changes has happened in health insurance industry over last 5 yrs. The overall health insurance industry to some level is standardized and new regulations are in place. A lot of investors have bought their mediclaim policies many years back when rules were raw and when few things were in favor of insurers, not investors.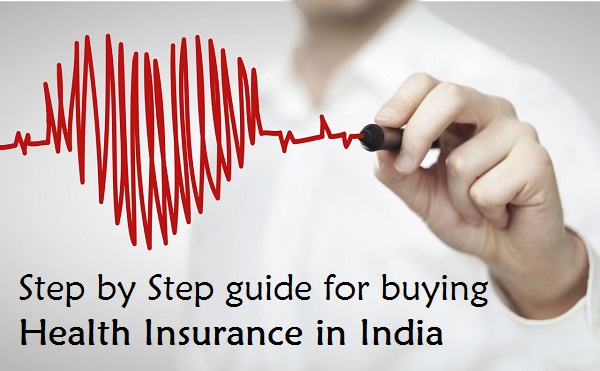 Given the changes, I thought, it's the time to edit the whole article written long back and update all the points. So here you go.
Health Insurance products now have far fewer hidden bombs to surprise you now, For instance
All Health Insurance policies are now mandatorily issued for life-time.
Insurance companies cannot levy claim based loading once the policy is issued.
Insurers need to give a clear 3 months advance notification to existing customers before increasing premiums or terms in a policy.
What's more, thanks to the competition brought in by specialized health insurance companies, there have been many interesting features added to the otherwise standard mediclaim products.
So now I am putting up 13 points every investor should read before they buy health insurance. These 13 points can act as the guide for someone who wishes to either buy a new health cover or wants to upgrade their health insurance cover. These points are not tips as such, but various dimensions revolving around the health insurance buying decision-making.
Point #1 – Don't be too late in buying a health insurance policy
I have seen too many customers, especially the well-educated ones, literally trying to find a health insurance product which has all the "dream" features bundled into a single product. They want high cover, less premium, best claim settlement, no loading, OPD cover, extreme fast claim settlement, maternity and high-end benefits.
But sadly, such "dream" products do not exist in real-world. One has to understand that these health insurance products are highly complex and their premium pricing and features are linked to various parameters. You can't get a product which has everything you wish.
At times, it happens that 8 out of 10 things required by the customer is present in the policy, but 2 out of 10 is not there, and what do customers do? They try to find some other policy which has all 10/10 things covered. This just leads to procrastination. There are millions of investors who are delaying taking health insurance from many years and this is the single biggest mistake one can make.
The risk of "No cover" in the future
The biggest problem with this approach is that, you might be denied a cover later in life, because you might have crossed that age limit, or you might have catched some illness which will not be covered now.
If there is one advice, just one advice, I would give anyone on Health Insurance. It would be this – "Never Delay. Set a deadline, buy that policy and get covered."
Buying a good enough policy early is 10X better choice than buying "best health insurance policy" after 5 yrs. So the first thing you need to do is, be 100% clear that you are buying a health insurance product NOW. Focus on core big features which really matter, and don't get too attached to tiny points which either do not match your requirement or are different than what you want.
Point #2 – Assess who do you want to cover and their health status
It is important to finalize the list of people you want to cover. Also, take an account their current health status. Make sure you cover most of your family members for whom you are responsible for. At times, people buy health insurance for self, spouse and kids and ignore parents.
If all are young and healthy, no hospitalization history, no chronic ailment detected, you are going to be spoilt for choice!
If you have members who are above 50 and/or have a medical history/condition then you should be prepared for some pain (more on this later) which will most probably include having certain time bound exclusions in your policy. Or you might have to pay higher premiums.
Point #3 – Assess your lifestyle
The greatest health insurance is taking care of your health. Keep a check on your own lifestyle, as well as your family's. If you/your family is fit, following a healthy routine or regularly exercising, have healthy food habits, doesn't smoke, has no history of excessive drinking, you're in a good place with regards to risks and coverage required. If not, then you have a much higher risk to hedge. This, apart from inflation, needs to be taken into consideration, when deciding the sum insured.
If not, then you have a much higher risk to hedge. This, apart from inflation, needs to be taken into consideration, when deciding the sum insured. But be clear that just having good health or good lifestyle is not an excuse to ignore health insurance policy. Leading a good lifestyle just protects you from illnesses, you still don't have much control on accidents, or some diseases which can still happen even though you have a good lifestyle.
Point #4 – Individual Covers or Family Floater?
You also need to be clear if you want to buy individual cover for each person, or a family floater policy?
Family Floaters seem to be a no-brainer, as they are very efficient. The idea is that not all family members will be hospitalized in the same year. You get a large cover shared amongst all family members for one of you to claim. The price is lower/efficient than buying individual covers.
But hold on! .
If one of your family members is older than 50, or has health issues, or lifestyle issues as discussed earlier, it would be sensible to look for an individual cover for such a member in addition to the family floater. You shouldn't have a "high risk" member as part of your family floater, as if he/she has frequent claims, year-after-year, other members could be left without any cover, when they would need it.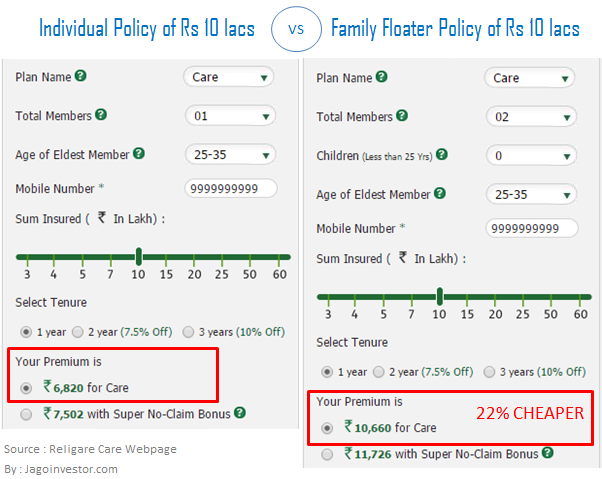 If you don't have the choice, and are getting a great deal with a family floater policies then go for a very high cover (in the range of 25-30 Lakhs). More on this in the next point for discussion.
Point #5 – Zero down on Sum Insured from Long Term perspective
The biggest mistake one makes when buying Health Insurance, is when one factors today's costs and decides the insurance coverage, whereas in reality, you are likely to make claims around 25 years from now
Hospitalization costs today would be ranging from Rs. 50000 to Rs. 3 Lakhs. Assuming you are 30 today, at an modest average healthcare inflation of 7.5% for the next 20 years, single hospitalization bills will range (hold your breath!) at around Rs. 13 Lakhs when you are 50 years old.
What's more, if you live even a mildly unhealthy lifestyle(as discussed earlier), you may have to bump the cover by another 25%, as you are at much higher risk, unless you take things in control and improve your lifestyle immediately. Think in terms of the long run, you may not need this policy right away, but in the future, you will most definitely benefit from having a higher cover.
OK, don't sweat; we have smart ways on how to get a Rs. 16 Lakhs within your budget. Read on.
Point #6 – Compare Hospital Room Eligibility Capping
Now this is the big one. This single condition could depreciate the value of your health insurance with inflation. Something most agents/insurers won't like you to know.
Many Health Insurance policies have room rent capping, which means you are eligible to claim expenses only up to a room costing below this capping. In case you opt for a room above this cap, you will have to bear the additional proportionate expenses on your own. Let me give you an example
Lets say, as per your policy you are room rent limit is Rs 4,000 per day . Now if you get hospitalized and you choose a room (for if you are forced to choose) which has room rent of Rs 10,000 . You might think that you will just get 4,000 per day for room rent from insurance company and other charges you will get as per the limit. But thats not true.
In reality, your room rent limit is 40% of the room rent chosen, hence all other expenses will be paid by 40% margin only. Means if your actual bill for ICU has been Rs 20,000 , and even if it's in the limit, you will still be paid just 40% of 20,000 = Rs 8,000 .
If your doctors bill comes to Rs 50,000 and even if it's in the limit , still you will be paid only 40% of that, which is Rs 20,000 . So overall you will be at a big loss only because of the room rent capping limit.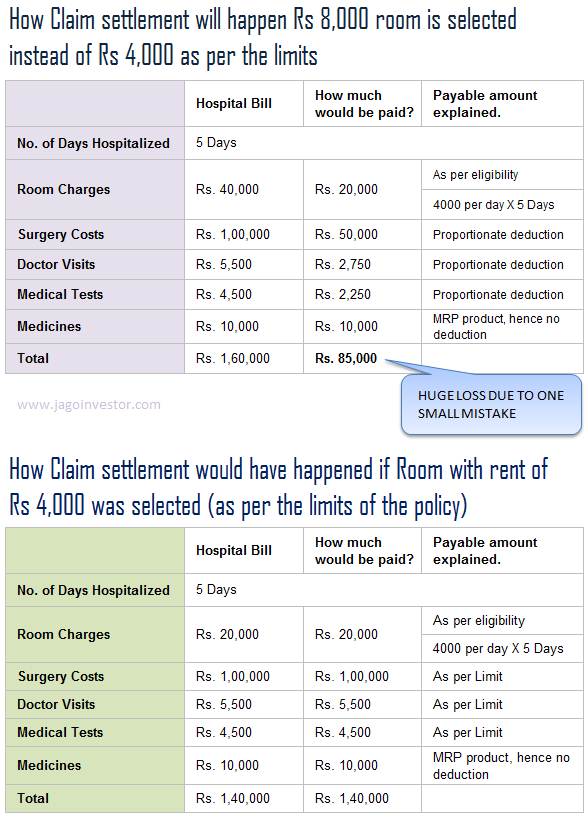 I hope you are now clear on the implications of the room chosen at the time of hospitalization.
Also factor in the inflation
One day rent for a Private room averages to around Rs. 4000 per day, today. At an inflation of 7.5% for next 20 years, the room rent would be in the range of Rs. 20000 per day.
Now, if you have a policy with room rent capping of Rs. 5000, and you opt for a private room with rent of Rs. 20000 per day. Insurance company is liable to pay you only 25% of all the costs claimed by you, in spite of your claim being within the sum insured limit.
Given a choice, your preference of health insurance should be in the following order:
Policies with Private Room eligibility.
Policies with No Room Rent capping.
Policies with Room Rent capping.
You must be surprised as to why have I suggested Private room eligibility policies above policies without room rent capping. The reason is simple, in my opinion; policies with no room rent capping have larger chances of being abused. Insurers could bear higher losses due to no control over the extravagance of a few customers. In the long run, it would be consumers who will pay for such extravagance of a few, through higher premiums or revision in the terms of the product, so that the Insurer can contain the overall losses.
As mentioned earlier, the above priority is to be kept in mind, in case you have a choice. In case you don't (due to health conditions, age etc.) it is important to not give up and hedge your risks to the extent possible, by opting for a sum insured with the highest room rent limit. This way you will be able to contain some part of this 'auto-depreciating' cover!
Point #7 –  Check for any sublimit/co-pay
There are clauses like sub-limits and co-pay in most of the insurance policies. They put a sub limit on a particular expenses (like 2% of sum assured). Make sure you are very clear about them and are fine with it.
There are few Insurance products that have limits for specified surgeries also. So even if your sum assured is Rs 5 lacs, they might restrict a particular surgery expenses to 50% of your sum assured.

Check with the products you have shortlisted. Also check for words like "limits", "co-pay" or "deductible" in the policy. These are set deductions in claims. Ensure you have understood, and compared what these mean, before your decision to purchase is made.
Point #8 – Hospital Network is Important Parameter
While you compare the key features discussed above, you should also compare the hospital network of the shortlisted Insurance companies. You must compare these for areas you/your family is likely to be hospitalized. Though such lists are dynamic and can change anytime, it still gives you a good idea of the network that the Insurer has in place, in case you need to use it for a cashless treatment.
Check it out below to see the number of hospital and their names near your house (based on the pin code you provide them)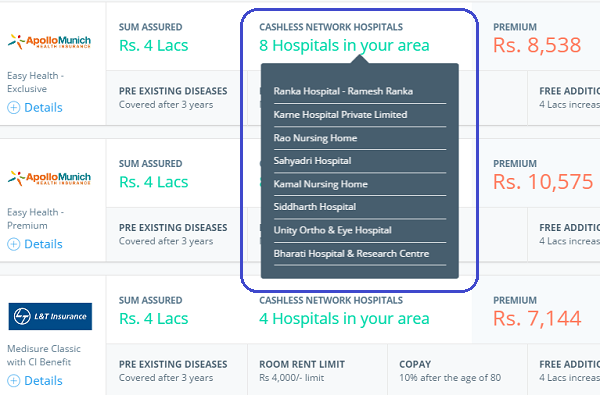 While a good network of hospitals is something you should definitely look at, but it should not be your primary parameter to judge a health insurance company.
Point #9 – Finally, go through Policy Wordings
Ask your Insurance Broker/Agent to provide you with the policy wordings of the product you have liked. Ensure you go through the Customer Information Sheet yourself. This is a one-pager that summarizes all the key conditions you must be aware off. Every health insurance product needs to file this with the Government (IRDA). Ask questions till you are satisfied.
I would strongly suggest look at the policy document sheet yourself online. Just go to google and search for "<health insurance policy name here> + "brochure pdf" and you will surely get the PDF document online. go through it and read it. below you can see, how I searched for Appolo Munich Optima Plus brochure online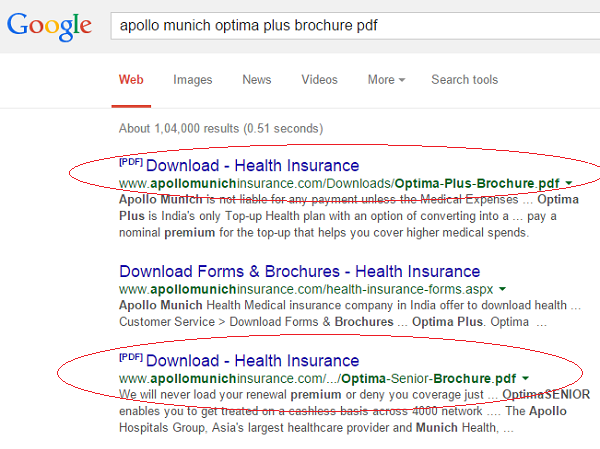 Point #10 – Go for Super-Topup
In order to get the 15-17 Lakhs health insurance cover that would inflation proof you for the next 20-25 years, it is very sensible to buy a Super Topup policy. Recommend, that you go with a Rs. 5 Lakhs base cover with a Super Topup cover of Rs. 15 Lakhs. This can save close to 25-30% of premium vis-a-vis buying a Rs. 20 Lakh base plan.
2 important things here
Ensure there is no room rent limit in your Super Topup policy.
Ensure you buy a Super Topup Health Insurance along with your Base health Insurance policy tenure and they have similarly timed renewal dates.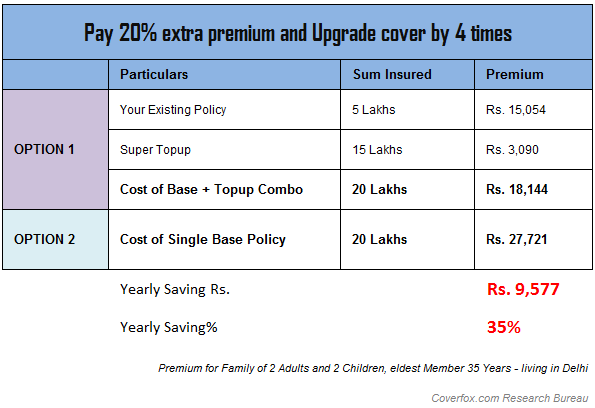 You can read how super top up works in this article .
Point #11 – What to ignore while buying a policy ?
Now that you know what you must compare and consider, you must also know what to avoid?
Features like Ambulance, Daily Hospital Cash, Domiciliary, and any other benefits that don't get used often, have a low consequence in the overall scheme of things. Hence, in my opinion, these should be overlooked, so that you focus on the bigger covers.
So focus on the network of hospital, fees for doctor consultation, Room rent Limit, ICU charges, Check if they are paying for medicines or not and these kind of expenses which make the the major part of your overall bill.
Things like Ambulance charges are not more than Rs 2,000 , if you have to pay it from your own pocket, even that its totally fine. Why to choose a policy based on that parameter ? Its always a bonus advantage and nothing else. So learn what to ignore and what to look at.
Point #12 – Ensure you appoint a good advisor
By now, you may have realized Health Insurance is a complex product and a good amount of research has to happen (but do not over do it). It is therefore recommended that you appoint a health insurance expert to help you shortlist products, explain the terms, answer your queries etc.
You even need a post-sales services like claim assistance and helping you out in co-ordinating with the health insurance company if you are stuck. If you find yourself a policy through an Insurance Broker, if required, he/she may also be able to help you through dispute resolutions with Insurers, in the long run, if any.
Let me show you an example of a claim rejection case with Max Bupa (company was right in rejecting the claim) . One of the readers among you had bought a policy through Max Bupa (through some individual agent, not broker) and he bought two different policies for himself and wife . He wanted a maternity cover and the agent told him that its covered in the policy. It was even written in the policy document, but it was clearly written that both husband and wife have to be in a single policy (floater policy) . But agent and client both didnt pay much attention to it.
And after 4 yrs, company rejected the case based on their terms and conditions (the claim itself was not valid) . Below you can see the scanned letter which company had sent to the client. Here company was correct in rejection of claim because client wanted something which was never covered in the policy. However if had paid more attention or had a great advisor on his side, he might have been informed in a better way.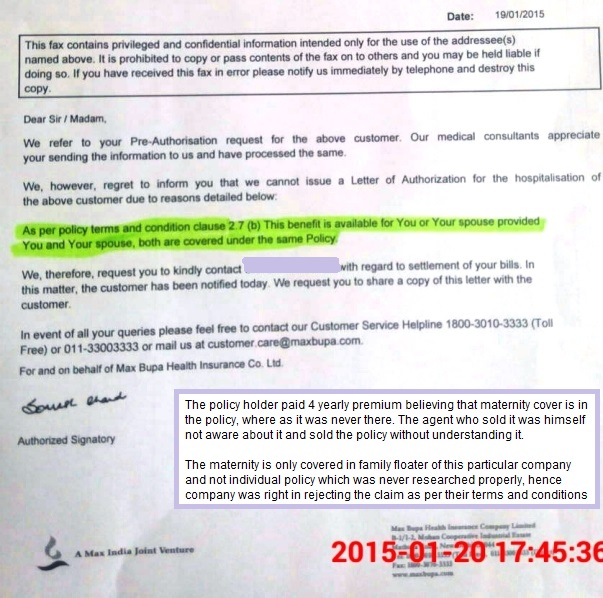 Remember that unlike Life Insurance or many other policies, Health Insurance could have repeated claims through yours or your family's lifetime. It is therefore important to have someone who can hand-hold you through the tedious paperwork and the otherwise time consuming processes of Insurance companies.
In the cases where you want to cover the family members who are above 50 and/or with pre-existing disease, it makes a lot of sense, to go through an insurance broker who deals in multiple insurance companies. Out of sheer experience, the broker will be able to help you zero down to few Insurance companies who are liberal. This will help you avoid the pain of doing medical tests with Insurance companies where chances of getting a policy are very low.
Point #13 – Review your existing policy and look at options to Port
If you have an existing policy which does meet the above mentioned 12 points, and you are still young and healthy, I would recommend you to look at porting your mediclaim policy to a better company around 2 months before your next renewal.
Unfortunately, if you have already made claims in your existing policy, or have any chronic ailment to declare for any family member, the chances of portability are very dim. I would then recommend you look at upping your cover with the same insurance company, and look for other options (like Super Topup) by which you can hedge the negatives in your existing coverage.
Buy your health insurance company NOW !
I recommend that you at least start looking at various options and take your decision quickly. That's all folks. If you have any questions, comments, feel free scroll down to post your comments. Happy to help.