Star Comprehensive is a one in all health Insurance Policy which takes care of all the hospitalization expenses of the insured person. This policy offers an extensive range of benefits for eliminating healthcare-related worries. This policy is available on both an individual and family basis.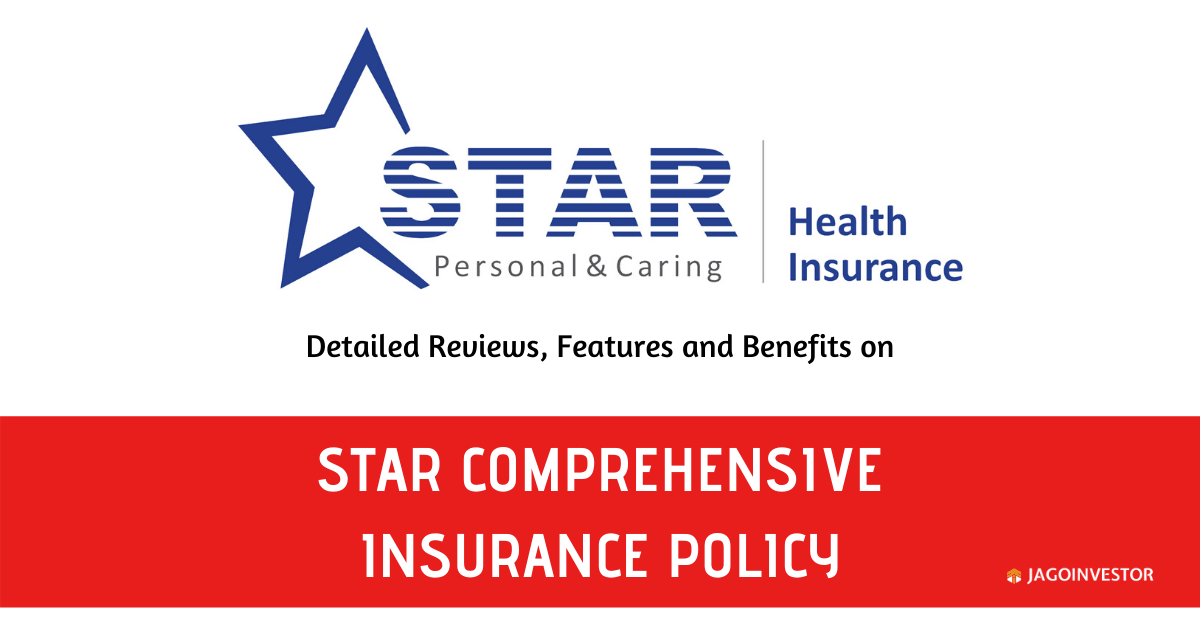 Features of this policy –
Term of Policy – 1 and 2 yrs.
Sum Insured Options – 5 lac, 7.5 lac, 10 lacs, 15 lacs, 20 lacs, 25 lacs, 50 lacs, 75 lacs and 1 crore.
No pre-acceptance medical screening required.
No capping on room rent.
The policy also covers complex medical procedures.
Mid Term Inclusion is allowed.
Personal accident cover at no additional cost.
Automatic Restoration by 100%.
Cover for maternity and newborn baby.
Reduction in the waiting period of pre-existing disease.
Benefits of this policy –
A) Hospitalization – Hospitalization expenses for a minimum period of 24hrs for in-patient hospitalization is covered under this policy. These expenses include room rent (Private Single A/C room), nursing and boarding charges, Surgeon, Anesthetist, Medical Practitioner, Consultants, Specialist Fees, Cost of Medicines and Drugs.
Road Ambulance charges for emergency transportation to hospital as per specified limits.
Pre hospitalization expenses up to 60 days prior to admission in the hospital are covered.
Post hospitalization expenses up to 90 days after discharge from the hospital are covered.
Coverage for Domiciliary hospitalization for a period exceeding three days.
Air Ambulance Benefit expenses up to Rs.2,50,000/- per hospitalization, not exceeding Rs.5,00,000/- per policy period.
Outpatient consultation (other than dental etc) expenses up to limits mentioned in the table of benefits.
B) Delivery and Newborn –
Expenses incurred as an in-patient for Delivery including Delivery by Caesarean section is also covered.
Treatment of the New Born is covered.
Vaccination expenses for the newborn baby are payable up to the limits until the newborn baby completes one year of age and is added in the policy on renewal.
C) Out-patient Dental and Ophthalmic Treatment – Dental / Ophthalmic treatments as an out-patient – once in a block of every three years.
D) Organ Donor Expenses – Expenses incurred for organ transplantation from the Donor to the Recipient Insured Person are payable provided the claim for transplantation is payable.
E) Hospital Cash – Hospital cash benefit will be covered for each completed day of hospitalization for a maximum of 7 days per occurrence.
F) Health Checkup – Cost of Health checkup is payable after every claim-free year.
G) Bariatric Surgery – Expenses incurred on hospitalization for bariatric surgical procedure and its complications thereof will be payable up to the maximum limits of Rs.2,50,000/- and Rs.5,00,000/ which are inclusive of pre-hospitalization and post-hospitalization expenses.
H) Option for Second Medical Opinion – The Insured Person is given the facility of obtaining a Second Medical Opinion in electronic mode from a Doctor in the Company's network of Medical Practitioners.
I) AYUSH Treatment – Inpatient Hospitalisation expenses incurred on treatment under Ayurveda, Unani, Sidha and Homeopathy systems of medicines in a Government Hospital or in any institute recognized by the government will be payable up to the limits.
J) Accidental Death and Permanent Total Disablement – Dependent Children and persons above 70 years can be covered under Accidental Death and Permanent Total Disablement up to the sum insured of Rs.10,00,000.
K) Buyback PED (Optional Cover) – Reduction in waiting period will be reduced from 36 to 12 months on payment of additional premium for pre-existing diseases.
L) Midterm inclusion of newly married/wedded spouse and New Born Baby is allowed on paying an additional premium. The intimation about the marriage/newborn should be given within 60 days from the date of marriage or newborn.
M) Pre-Existing Diseases/Illness – Are covered after 36 months of continuous Insurance without break. If insured opts Buyback PED then Pre-Existing Diseases covered after 12 months of continuous coverage from the inception of this policy.
Eligibility Conditions in the Policy –
| | |
| --- | --- |
| Entry Age – Persons between 18 years and 65 years. | There is no upper age limit for continuous renewals. |
| Dependent children can be covered from 3 months and up to 25 years of age. | This policy is both on an individual and family floater basis. Family is defined as means self, spouse and dependent children. |
Is there any waiting period in the policy?
There are 3 types of waiting period in the policy. They are as follows –
First 30 days for illness/disease (other than accidents).
24 months for specified illness/disease/treatments.
36 months for pre-existing diseases.
Is there any Co-Payment in the policy?
Yes, there is co-payment of 10% on each and every claim for persons above 60 years at entry-level and their subsequent renewals.
Is there any tax benefit in the policy?
Tax Benefit: Premium Amount paid is eligible for tax benefit u/s 80D of the Income Tax Act.
What to do if I didn't like the terms and conditions of the policy?
If the policyholder doesn't like the terms and conditions of the policy then the policy can be returned within 15 days from the date of receipt of the policy. This 15 day period is called the Free Look Period.
Conclusion –
So by now, you all know every detail of the policy. Do let me know if you have any queries regarding this policy in the comment section.