We as human beings always fear when something is not good with our health. And when there is some specific illness then we get more concerned regarding how will the medical expenses be arranged in these times. As the cardiac-related disease are now more common, it is now time to be fully prepared beforehand so that if we get such type of disease then we are prepared beforehand mentally as well as financially.
Now, is the time to relax because Star has come up with a health insurance policy specifically for "Cardiac Care" known as "Star Cardiac Care Insurance Policy"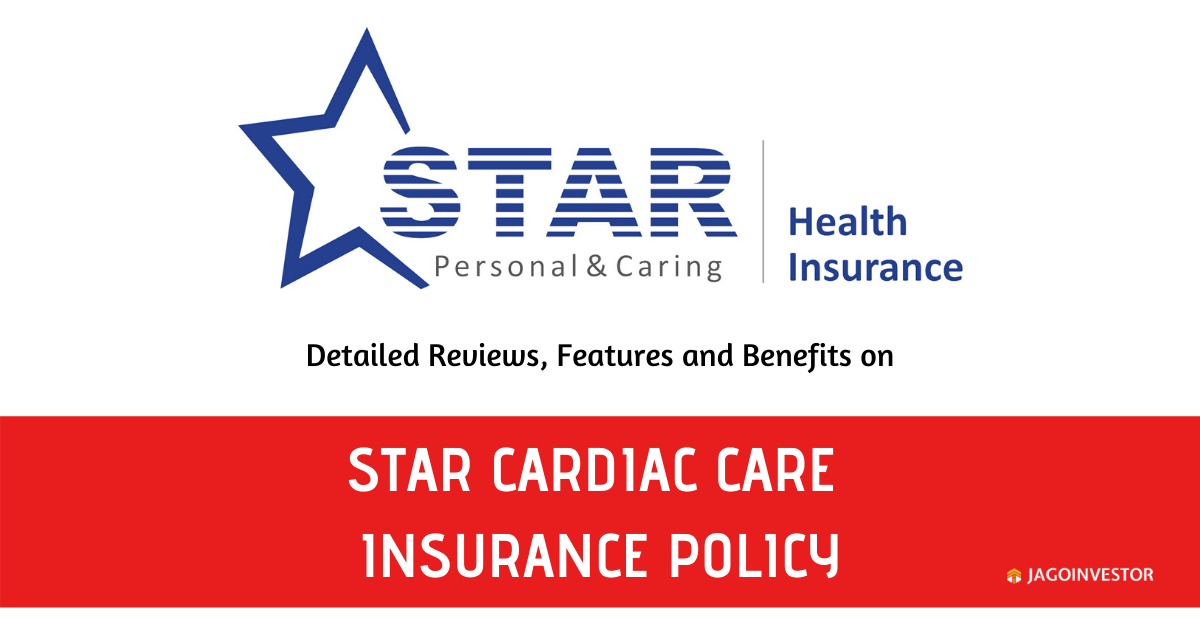 Features of this policy –
Cardiac Cover – This policy is specially designed for persons who have existing Cardiac diseases.
The tenure of the policy is 1 year.
This policy can be bought on an individual basis.
Sum Insured Options – Rs 3 lacs and 4 lacs
Flexible Cover – Hospitalization expenses for the accident and non-cardiac treatments also covered.
Out-Patient Cover – This benefit is also available in this policy.
Accident Cover – Personal Accident Cover with no additional cost is covered in the policy.
One can renew the policy for a lifetime.
2 Variants in the Policy –
Silver Plan – Under the silver plan, surgical and interventional management is covered.
Gold Plan – And under Gold Plan, It covers all the other benefits with medical management for cardiac treatment.
Benefits of this Policy –
a) Hospitalization Cover –
Protects the insured for in patient hospitalization expenses for a minimum of 24 hrs. These expenses include room, nursing and boarding charges, Surgeon, Anaesthetist, Medical Practitioner, Consultants, Specialist Fees, Oxygen, Blood, Operation Theatre, Diagnostics, imaging modalities, Cost of Medicines and Drugs.
Ambulance charges for emergency transportation to the hospital as per specified limits.
Pre-Hospitalization expenses up to 30 days prior to admission to the hospital.
Post-hospitalization expenses incurred up to 7% of the hospitalization expenses subject to a maximum of Rs.5,000/- per hospitalization
All Day-care treatments covered
Pre-Existing Diseases / Illness are covered after 48 months of continuous coverage.
b) Cardiac Care –
After completion of 90 days of the waiting period, the policy covers treatment related to cardiac disease. This waiting period is not applicable to renewal policies.
c) Out-Patient Expenses –
Expenses incurred at any Networked Facility in India herein defined as an Out-patient Treatment will also be covered in the policy provided policy is in force.
The limit of benefit under this Section is Rs.500/- per event subject to a maximum of Rs.1500/- per policy period. This benefit forms part of the Sum Insured.
d) Personal Accident Cover –
If the Insured Person any time during the period of insurance sustains any bodily injury resulting solely and directly from an accident caused by external, violent and visible means and if such accident causes the death of the Insured Person within 12 Calendar months from the date of Accident, then the Company will pay the Sum Insured mentioned in the schedule as compensation. The sum insured for Personal Accident is equal to Sum Insured opted for this policy.
Eligibility Conditions in the Policy –
Any person between 10 years and 65 years of age are eligible to take the policy who have undergone any of the following –
Undergone PTCA (Stenting) or CABG (By-pass) procedure (within 7 years period prior to the proposal) or
Atrial Septal Defect (ASD) or Ventricular Septal Defect (VSD) that has been corrected or
Patent Ductus Arteriosus (PDA) that has been treated or
Undergone RF Ablation to correct the underlying cardiac condition or
Had an Angiogram done but no intervention was medically found necessary
Premium Details of the Policy –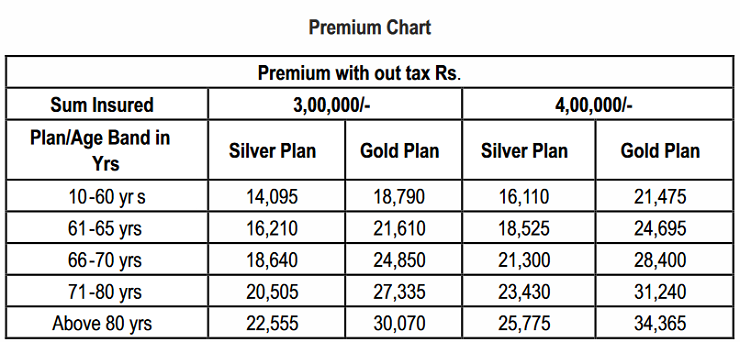 What are sub-limits under this policy?
Expenses for treatment of Cataract are payable up to Rs.20,000/- per hospitalization and Rs.30,000/- for the entire policy period.
Is there any co-payment in this policy?
Yes, co-payment is allowed at 10% of each and every claim made by an insured person who is above 60 years at entry-level and renewals thereafter. If your age is up to 60 years during the first inception of this policy then co-payment conditions shall not be applicable.
Is there any pre-acceptance medical screening required?
There is no requirement for Pre-acceptance Medical Screening. It is enough to submit previous medical records including details of the latest treatment along with the proposal form.
Is there any waiting period in the policy?
30 days for illness/diseases/treatments (Not applicable to accidents).
24 months for specified illness/diseases/treatments.
48 months for Pre-existing diseases.
90 days waiting for period irrespective of whether it is pre-existing or not (in some cases).
Can I return the policy if I didn't like its terms and conditions?
Yes, the policy can be returned to the commission if the policyholder doesn't like the terms and conditions of the policy. The policy can be returned within 15 days from the purchase of the policy. This 15 days period is known as the Free Look Period. This period will not be applicable if the policyholder is renewing the policy.
Is there any tax benefit in the policy?
Yes, the insured person is eligible for tax benefit under Section 80-D of the Income Tax Act in respect of the amount paid by any mode other than cash.
Exclusions under this policy –
Circumcision, Preputioplasty, Frenuloplasty, Preputial Dilatation and Removal of SMEGMA.
Congenital External Condition / Defects / Anomalies.
Convalescence, general debility, run-down condition or rest cure, Nutritional deficiency states.
Psychiatric, mental and behavioral disorders.
Intentional self-injury.
Use of intoxicating substances, substances abuse, drugs/alcohol, smoking, and tobacco chewing.
Venereal Disease and Sexually Transmitted Diseases.
Expenses incurred on weight control services including surgical procedures such as Bariatric Surgery and /or medical treatment of obesity.
All types of Cosmetic, Aesthetic treatment of any description, all treatment for Priapism and erectile dysfunctions, Change of Sex.
Plastic surgery (other than as necessitated due to an accident or as a part of any illness)
Inoculation or Vaccination (except for post-bite treatment and for medical treatment for therapeutic reasons.
Dental treatment or surgery unless necessitated due to accidental injuries and requiring hospitalization. (Dental implants are not payable).
Injury/disease directly or indirectly caused by or arising from or attributable to war, invasion, the act of a foreign enemy, warlike operations (whether war be declared or not).
Injury or disease directly or indirectly caused by or contributed to by nuclear weapons/materials.
Oral Chemotherapy, Immuno therapy, and Biologicals, except when administered as an in-patient, when clinically indicated and hospitalization warranted.
Hospital record charges and such other charges.
Any hospitalizations which are not Medically Necessary
Conclusion –
So by now, you all know every detail of the policy. Do let me know if you have any queries regarding this policy in the comment section.