Child represents cheerfulness, compassion, youthfulness etc… Welcoming a child is the most beautiful thing that can happen to anyone. Just like our parents did their best to make us who we are, we too want to give our children the best – and it begins from the time they are born. It is also a nervous time when you want to be completely sure that both mother and child receive the best care and for that, we need financial protection.
Religare Health Insurance has designed JOY Maternity & New-born Cover with Health Insurance with love and understanding. JOY is a modern insurance product, which addresses all questions and uncertainties that the policyholder may have. The JOY maternity insurance plan covers hospitalization expenses during pregnancy and also the post-hospitalization phase.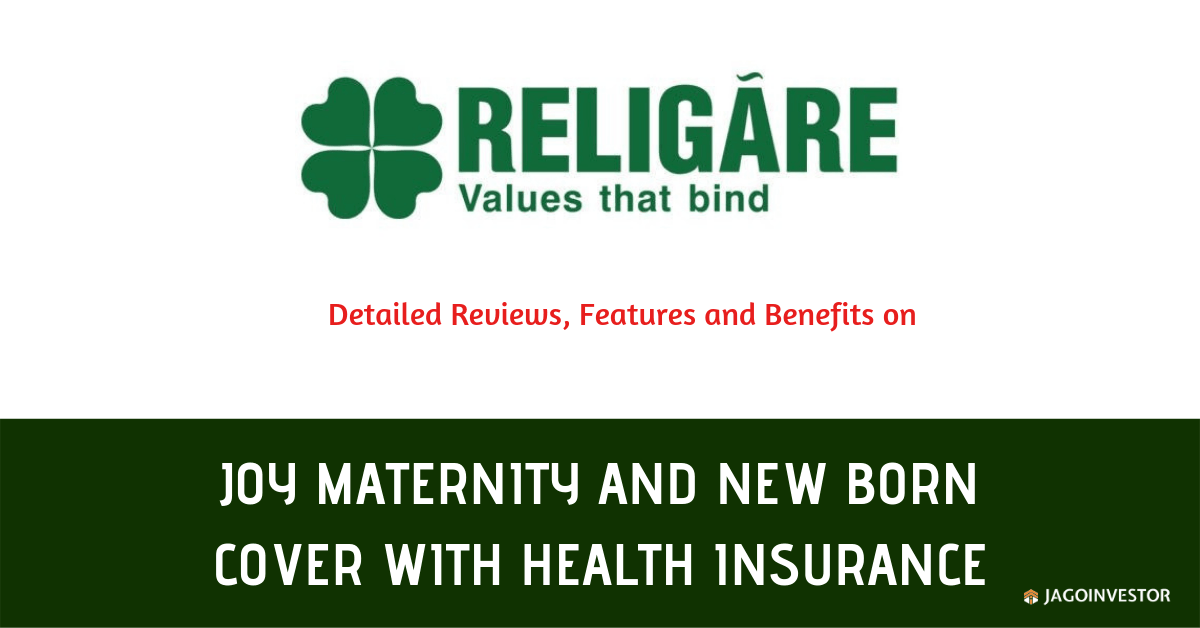 Features of this policy –
The below image shows short description of the features section of the policy with its 2 variants.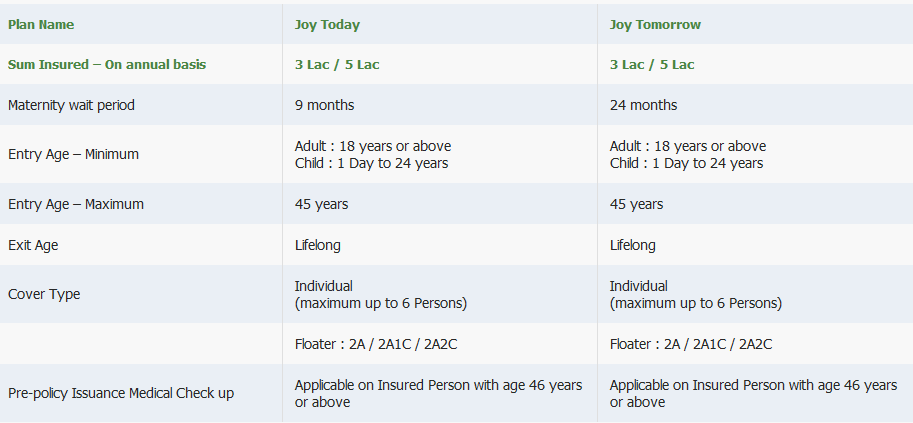 In-patient Care
2 variant of the policy – Joy Today and Joy Tomorrow.
Term of the policy is 3 yrs
Minimum and Maximum entry age for adult women is 18 yrs and 45 yrs for both the policy variant.
Minimum and Maximum entry age for children is 1 day to 24 yrs for both the policy variant.
Exit age for both the policy variant is lifelong.
Day Care Treatment
Maternity Cover is available up to the age 45 yrs.
New-born Baby Cover
Pre & Post Hospitalization Cover
No Claim Bonanza
Single Private Room with AC
100% increase in sum insured with No Claim Bonanza (Optional Cover)
Short 9 month waiting period for maternity-related insurance claims.
Benefits of the policy –
There are various benefits of this policy. Below listed are some of the benefits. For complete details of the policy, please refer to the policy wordings.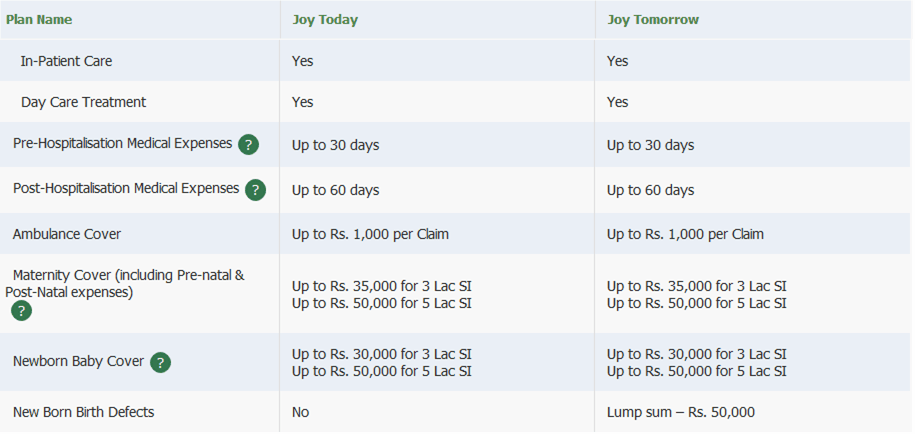 A) Hospitalization Expenses –
In-patient Care (at least 24 hrs of Hospitalization)
If the policyholder is admitted to a hospital for in-patient care, for a minimum period of 24 consecutive hours, we pay for everything – from room charges, nursing expenses and intensive care unit charges to surgeon's fee, doctor's fee, anaesthesia, blood, oxygen, operation theatre charges, etc.
Day Care (less than 24 hrs of Hospitalization)
We also take care of day-care treatment if your hospital requires hospitalization for less than 24 hours. Your medical expenses are covered along with a comprehensive range of day care treatments.
B) Pre-Hospitalization and Post-Hospitalization – Pre-hospitalization and post-hospitalization Up to 30 days and Up to 60 days is covered in the policy.
You will get reimbursements on expenses that you incur on an ambulance service offered by the hospital or any service provider, in an emergency situation.
C) Zero Payment Treatment – No running around for bills, no anxious waits for reimbursement. Our wide range of network hospitals will cover zero payment treatment.
D) Direct Claim Settlement – Claims procedures are pretty simple in Religare. In the case of any emergency or a planned hospitalization, the policyholder just needs to provide the RHI JOY Health Card at the 4000 leading network hospitals across India and avail the cashless service.
E) New Born Birth Defects – In case the new born baby is diagnosed with down's syndrome or cerebral palsy the company will pay lump sum amount as mentioned in the policy certificate.
F) Maternity Cover (including pre-natal and post-natal expenses) – Maternity Expenses including all pre-natal & Post-natal Medical Expenses incurred in respect of hospitalization of insured person for the delivery of child during the policy period will be covered in the policy.
Is there any tax benefit against this policy?
Tax Benefit u/s 80D of Income Tax Act, 1961 is available to the policyholder on the premiums paid in the policy.
Can I cancel the policy, if I didn't like it's terms and conditions?
If the policyholder doesn't like the terms and conditions of the policy, then the policy can be returned within 15 days from the receipt of the Policy document stating reasons for cancellation of the policy.
Is there any waiting period and sub-limits in the policy?
Yes, this policy has also some waiting period. For Joy Today Variant, the waiting period for maternity is 9 months. And for Joy Tomorrow Variant, the waiting period is 24 months. In case of accident the waiting period doesn't apply. Detailed description of the waiting period is mentioned in the table below.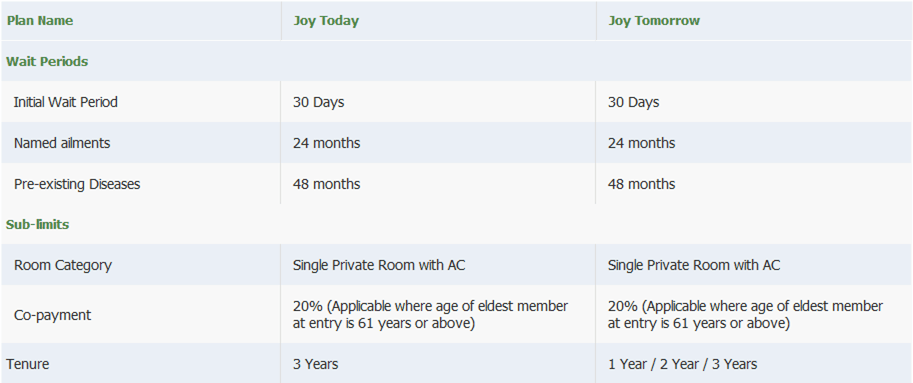 Exclusions in the policy –
Below table show the major exclusions of the policy. For detailed description of the list, please refer to the exclusion list of the policy.
| | |
| --- | --- |
| Non-allopathic treatment | Congenital Disease |
| Tests and treatment relating to infertility and in-vitro fertilization | Cost of spectacles/contact lenses, dental treatment |
| Expenses arising out of or attributable to alcohol or drug use/misuse/abuse | Medical expenses incurred for treatment of AIDS |
| Any diseases contracted during first 30 days of the policy start date except those arising out of accidents | Expenses attributable to self-inflicted injury (resulting from suicide, attempted suicide) |
Steps to follow if the policyholder wants to claim the policy –
Below table shows the claim procedure one should follow in order to claim the policy benefits.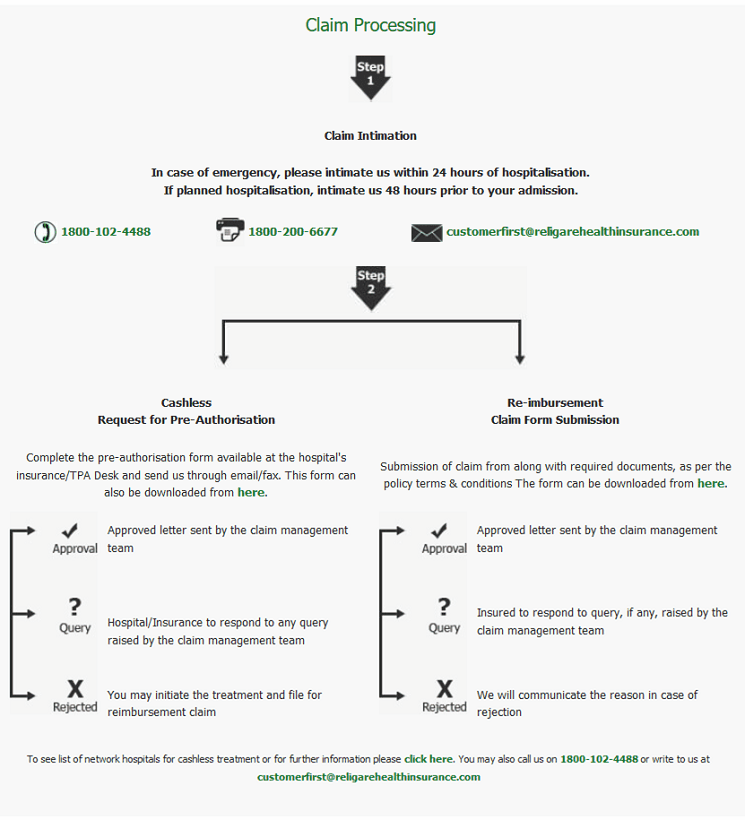 Video Review of the Policy –
Conclusion –
So, by now you know each and every important detail about this policy. Do let me know if I have missed any important point in the comment section. Please feel free to ask any doubts regarding this policy.