HDFC Life Cancer Care is a cancer insurance policy that offers lump sum benefit on diagnosis of Cancer. This insurance will give financial protection in the early and later stages of cancer. This policy comes with 3 plan option which a policyholder can choose from.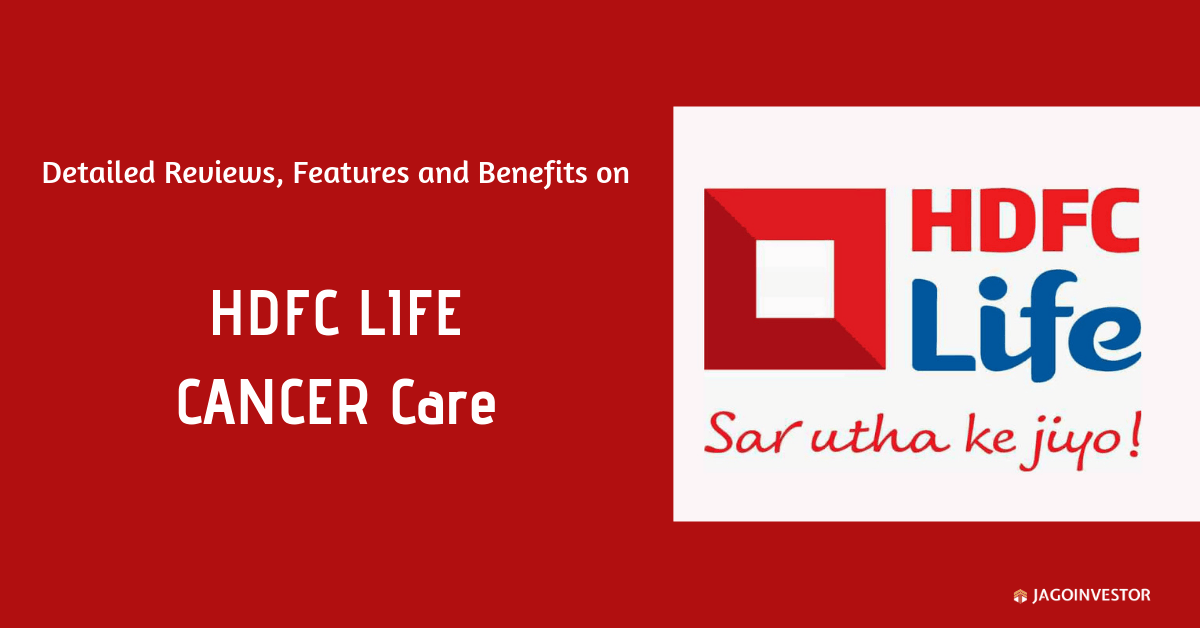 Features of this policy –
HDFC Life Cancer Care offers lump sum benefit on the detection of Early and Major cancer.
The policy has 3 plan options to choose from – Silver, Gold, and Platinum.
Under the Platinum Plan, there will be regular income for 5 years only.
Waiver of Premium Benefit in case of diagnosis of Early Stage Cancer.
Future Premiums for the next 3 policy years will be waived off on receiving a valid claim of a cancer diagnosis.
Tax benefits on premiums paid up to Rs 55,000 under Sec 80D of the Income Tax Act, 1961.
Under the Gold and Platinum option, the Sum Insured will be increased by 10% every year. This will continue until the increased Sum Insured becomes 200% of the Initial Sum Insured.
Premiums can be paid either monthly, quarterly, half-yearly and annually.
No loans are available under this policy.
Benefits of the policy –
Benefits offered under this policy is through 3 plan options. Let us have a look at them.

A) Silver Option – Under this option the following benefits are payable:
Cancer Diagnosis Benefit – A lump sum benefit, as per the table below, will be paid on diagnosis of –
Carcinoma-in-situ or Malignant cancer
Early Stage cancers,
Major Cancer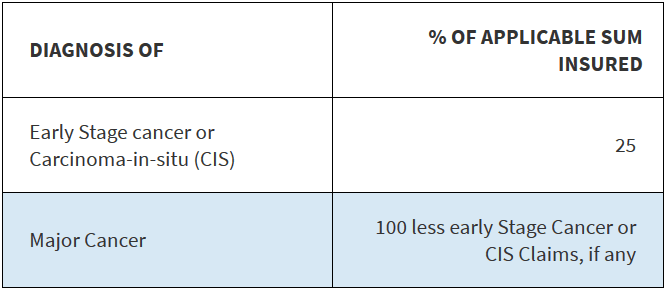 A waiver on Premium Benefit – On a valid claim of Early Stage Cancer or Carcinoma-in-situ (CIS) diagnosis, premiums will be waived for a period of 3 policy years. In case the outstanding term is less than 3 years then premiums for the outstanding term would be waived.
B) Gold Option – Under this option, the policyholder receives the benefits described under the Silver option + an Increased benefit.
Under Increased benefit, the Sum Insured increases by 10% of the initial Sum Insured each year starting from the first policy anniversary. This will continue till the earlier of –
Increased Sum Insured becoming 200% of the Initial Sum Insured or
Any claim event
Once the claim is made, all future claims shall be based on the Increased Sum Insured at the time of first claim and further increases to the Increased Sum Insured shall not be applicable.
C) Platinum Option – Under this option the policyholder receives the benefits described under the Gold option benefit + regular Income Benefit.
Under Income benefit option a monthly income equivalent to 1% of applicable Sum Insured would be paid out to the policyholder on the diagnosis of the listed major cancers for a fixed period of next 5 policy years.
The benefits for Early Stage Cancer or Carcinoma-in-situ (CIS) shall be payable only once during the policy term and for its first occurrence only.
On payment of benefits for Major Cancer, the benefits under the policy will terminate and no further benefits will be payable.
Any outstanding Income Benefits will be paid as scheduled. If the policyholder's dies while receiving the Income Benefit, then the remaining pay-outs under this benefit will be paid to his/her nominee as scheduled.
Eligibility Conditions of the policy –
Like other HDFC Policies, this policy also has some eligibility conditions. Let's have a look at them –
Minimum and Maximum Entry Age

5 and 65 yrs

Minimum and Maximum Sum Assured

Rs 10 Lacs and Rs 50 Lacs

Maximum Maturity Age

85 yrs

Policy Term

10 yrs to (85 – entry age) yrs
Is there any death benefit, maturity benefit and surrender benefit in this policy?
This policy plans to aid expenses that a policyholder will have to face if diagnosed with this disease. Hence, no death benefit, maturity benefit, and surrender benefit are provided under this policy.
Is there any waiting period to become eligible to file a claim?
Yes, there is a waiting period of 180 days applicable from the date of commencement of cover. The waiting period of 180 days will not re-apply –
Provided a continuous waiting period of 180 days has been served under the plan, and
If the policy is revived within 60 days of lapse.
For all other cases, the waiting period will begin afresh.
Is there any survival period to become eligible for any claim pay-outs?
Yes, there will be a survival period of 7 days applicable between the date of diagnosis of a condition and the date of eligibility for a benefit payment.
Are there any other exclusions in the policy?
No benefit shall be payable under the policy in respect of any Major Cancer, Carcinoma-in-situ or Early Stage Cancer resulting directly or indirectly from or caused or contributed by (in whole or in part) :
Sexually Transmitted Diseases AIDS or HIV
Any congenital conditions
Any pre-existing condition
Intoxication by alcohol or narcotics or voluntarily taking or using any drug, medication or sedative unless it is an "over the counter" drug, medication or sedative taken according to package directions;
Nuclear, biological or chemical contamination (NBC)
The policy shall terminate and no benefit shall be payable under the policy if the diagnosis or signs or symptoms (related to the diagnosed cancer) first occurred during the waiting period.
Can the policy be renewed after the expiry of the policy term?
You will be allowed a period of 30 days from the expiry of the policy term to renew the policy, subject to maximum maturity age and minimum policy term allowed under the product.
Can the lapsed policies be revived?
Yes, a lapsed policy can be revived within a period of 2 years from the first unpaid premium provided all the outstanding premiums have been paid along with interest and satisfactory evidence of good health has been provided.
Can I cancel the policy if I didn't like its terms and conditions?
Yes, if the policyholder didn't like the terms and conditions of the policy, then the policyholder can cancel the policy within 15 days from the date of receipt of the policy. This 15 day period is called Free – Look period. If the policies are purchased through digital marketing (i.e. policies which are not purchased face-to-face) then the free look period will be 30 days.
Once the company receives the letter, then the company will refund the premium amount paid on deducting the expenses incurred by the company on medical examination and stamp duty, if any.
Conclusion –
So, by now you know each and every important detail about this policy. Do let me know if I have missed any important points in the comment section. Please feel free to ask any doubts regarding this policy.