Chola Super Top-up Insurance is an aggregate Top Up Plan that provides coverage to meet higher medical expenses if we come across any illness. This policy also offers additional protection at an affordable cost. Claim reimbursement up to the Sum Insured in excess of the deductible. A deductible is the amount up to which the Company will not pay for all the claims incurred in a policy year under the policy.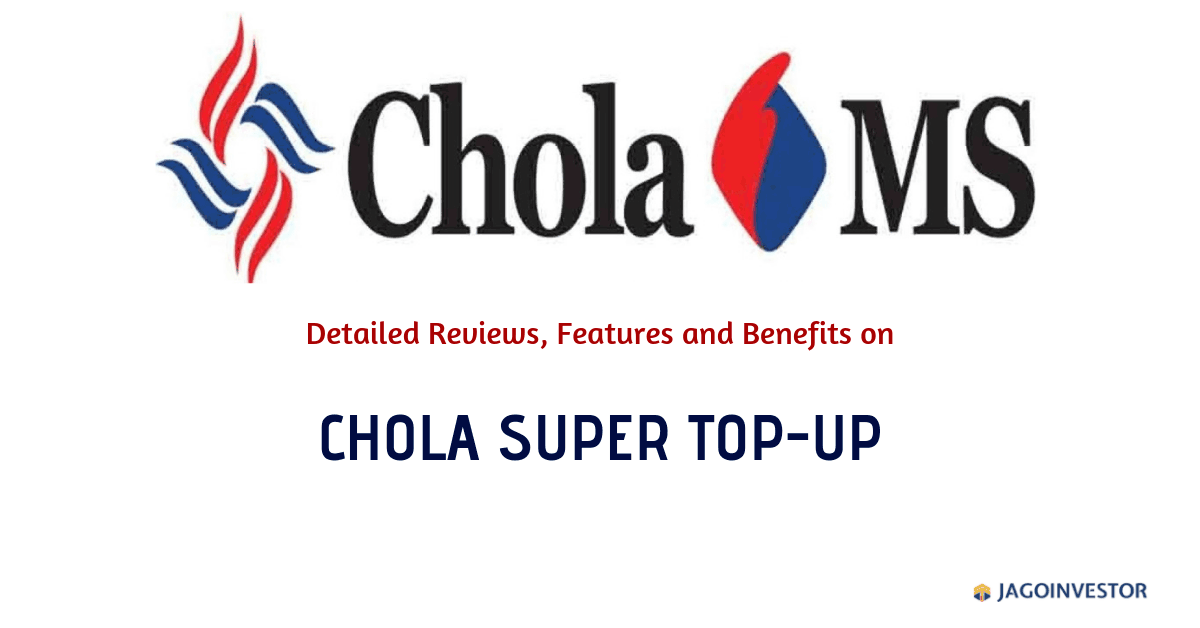 Features and Benefits of the policy –
Additional protection with lesser premium.
Chola Super Top-up Policy comes with 2 variants – Premier and Supreme Plan
Lifelong renewal facility of the policy.
No maximum cover-ceasing age for children.
Coverage for an extended family under the Individual policy.
Long Term Cover. The term of the policy is 1, 2 and 3 years.
No medical check-up up to 55 years of age.
Tax Exemption u/s 80(D) of Income Tax Act, 1961.
A network of over 7,760 hospitals for cashless hospitalization across the country.
Relaxed entry age from 3 months to 70 years. The proposer should be 18 years of age at the time of availing the policy.
Summary of the Benefits –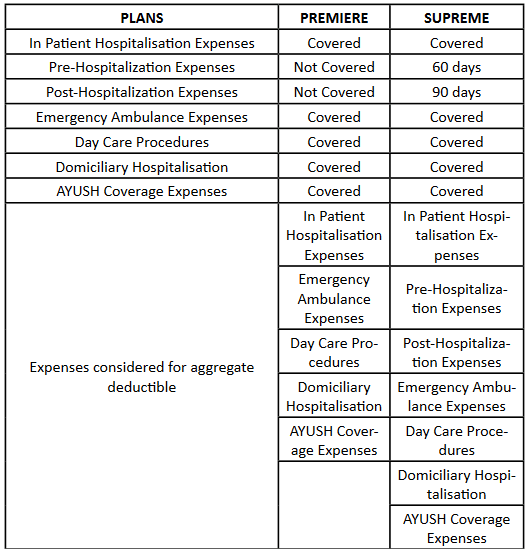 What all is covered under this policy?
For a detailed description of the benefits, please refer to the policy wordings (from pages 10 to 14).
A) In-patient Hospitalization Expenses – This policy will cover necessary inpatient treatment expenses, during the policy period towards hospitalization for the disease, illness, medical condition or injury contracted or sustained by the insured person during the policy period.
Room, Boarding charges as provided by the Hospital/Nursing Home in normal rooms or in ICU
Nursing Expenses incurred during In-Patient hospitalization.
Surgeon, Anaesthetist, Medical Practitioner, Consultants & Specialist Fees
Hospital miscellaneous (medical costs) services (such as laboratory, x-ray, and diagnostic tests).
Anesthesia, Blood, Oxygen, Operation Theatre Charges, Surgical Appliances, and Medicines & Drugs, Diagnostic Materials and Cost of Pacemaker, prosthetic and other devices implanted internally during a surgical procedure.
Hospitalization expenses of the Organ donor during the stay as in-patient solely for the purpose of harvesting the organ, excluding pre and post hospitalization expenses of such donor.
B) Pre-Hospitalization Expenses (Applicable under plan SUPREME) – Medical expenses incurred up to 60 days prior to the date of Hospitalization will be covered in this policy. Payment under this benefit will reduce the sum assured.
C) Post Hospitalization Expenses (Applicable under plan SUPREME) – Medical expenses incurred up to 90 days from the date of discharge from the hospital will be paid under this policy. Payment under this benefit will reduce the Sum Insured.
D) Emergency Ambulance Expenses – Road Ambulance Expenses actually incurred to transfer the Insured Person following an emergency to the nearest hospital with adequate facilities will be provided by the policy. The cashless facility will not be available for Ambulance Expenses. Payment under this benefit will reduce the Sum Insured.
E) Day Care Procedures – Medical Expenses incurred as a Day Care Treatment that requires less than 24 hours of hospitalization, will be paid under this policy only if the daycare procedures are as per the list mentioned in the policy wordings (page 48 to 52). In case the procedure is performed in a non-network hospital, the same must be pre-authorised by the insurance company. Payment under this benefit will reduce the Sum Insured.
F) Domiciliary Hospitalization – Expenses related to in-house hospitalization of the insured person will be covered in this policy provided the insured cannot travel to hospital for treatment of hospital bed is not available and the insured requires urgent treatment.
The cashless facility will not be available for any such claim. Payment under this benefit will reduce the sum insured. No payment will be made under this benefit if the condition for which the Insured Person requires medical treatment towards following ailments –
| | |
| --- | --- |
| Arthritis, Gout, and Rheumatism | Chronic Nephritis and Nephritic Syndrome |
| Diarrhea and all type of Dysenteries including Gastroenteritis | Diabetes Mellitus and Insupidus |
| Psychiatric or Psychosomatic Disorders of all kinds | Asthma, Bronchitis, Tonsillitis and Upper Respiratory Tract infection including Laryngitis and Pharyngitis, Cough and Cold, Influenza. |
| | |
G) AYUSH Coverage Expenses – This policy will pay for non-allopathic treatments that require more than 24 hrs of Hospitalization for illness or accidental bodily injury sustained by the Insured up to Sum Insured in excess of deductible as mentioned in the policy schedule. The treatment should have been undergone in a Government Hospital or in any institute recognized by the government. Payment under this benefit will reduce the Sum Insured.
Eligibility Criteria of this policy –
Minimum and Maximum Entry Age

18 yrs and 70 yrs

Minimum and Maximum Entry Age of Children in Family Floater Plan

3 Months and 26 yrs

Policy Tenure

1/2/3 yrs

Sum Assured

3 Lacs to 25 Lacs
Documents required for claim settlement –
Claim Form duly filled and signed by the patient/ Insured.
Original Discharge summary in the hospital letterhead with the seal and sign of the doctor with complete details of diagnosis, treatment given, treatment advised, etc
Original Main bill from the hospital with a cost-wise break-up.
Original payment receipt (Receipt should have Serial No)
Original investigation reports (such as X-Ray, Lab Reports, scan re-ports etc) – These are required for supporting the ailment, hence all reports taken prior / at the time or after the hospitalization are required.
All pharmacy bills should be accompanied by relevant prescriptions. Bills should contain the date and patient name.
Implant stickers or invoice where ever applicable
In the case of a road traffic accident (RTA), a copy of the FIR and/or Medico-legal Certificate (MLC) would be required.
AML documents in case the claimed amount is above 1 lac.
Bank details along with the canceled cheque for claim payment through NEFT.
Note: When original bills, receipts, prescriptions, reports, and other documents are submitted to the other insurer or to the reimbursement provider, verified photocopies attested by such other organizations have to be submitted to us.
Is there any waiting period in this policy?
Yes, there is a waiting period of 30 days to all claims from the commencement date of the policy except in case of injuries caused by accidents.
Can I cancel the policy if I didn't like its terms and conditions?
Yes, the policyholder can cancel the policy within a period of 15 days from the date of receipt of this policy. A refund of the premium would be made after deducting the charges towards medical tests, stamp duty charges.
Exclusions under the policy –
Below mentioned are few exclusions of the policy. For a detailed description of the exclusion list, please refer to the policy documents (pages 22 to 24).
Pre & Post hospitalization expenses of the organ donor and consequential loss to such organ donor.
Injury/illness directly or indirectly arising from War, Invasion, Act of Foreign Enemy, Warlike operations (whether war be declared or not), etc…
Any Insured Person committing or attempting to commit a breach of law with criminal intent or intentional self-injury or attempted suicide whether sane or insane.
All expenses caused by ionizing radiation or contamination by radioactivity from any nuclear fuel or from any nuclear waste from the combustion of nuclear fuel.
Treatment of obesity (including morbid obesity) and any other weight control program.
Circumcisions (unless necessitated by illness or injury and forming part of treatment).
Aesthetic or change-of-life treatments of any description such as sex transformation operations, treatment to do or undo changes in appearance or any procedure which is aimed to improve physical appearance.
Dental treatment or surgery of any kind unless necessitated due to accidental injuries and requiring hospitalization.
Conclusion –
So, by now you know each and every important detail about this policy. Do let me know if I have missed any important points in the comment section. Please feel free to ask any doubts regarding this policy.