As per advancing technology, human life expectancy has increased by many folds. If we compare medical technologies 10 years back to now, there is a huge difference. People are now living longer and healthier. Many life-threatening illnesses such as heart attack, cancer can now be cured. In order to fight such diseases, one needs good financial support.
Bajaj Allianz, in its efforts to provide a customer-centric solution, is offering a Bajaj Allianz Critical Illness Insurance Policy to cover some of these critical illnesses. This is the reason why Critical Illness Insurance policies have been developed.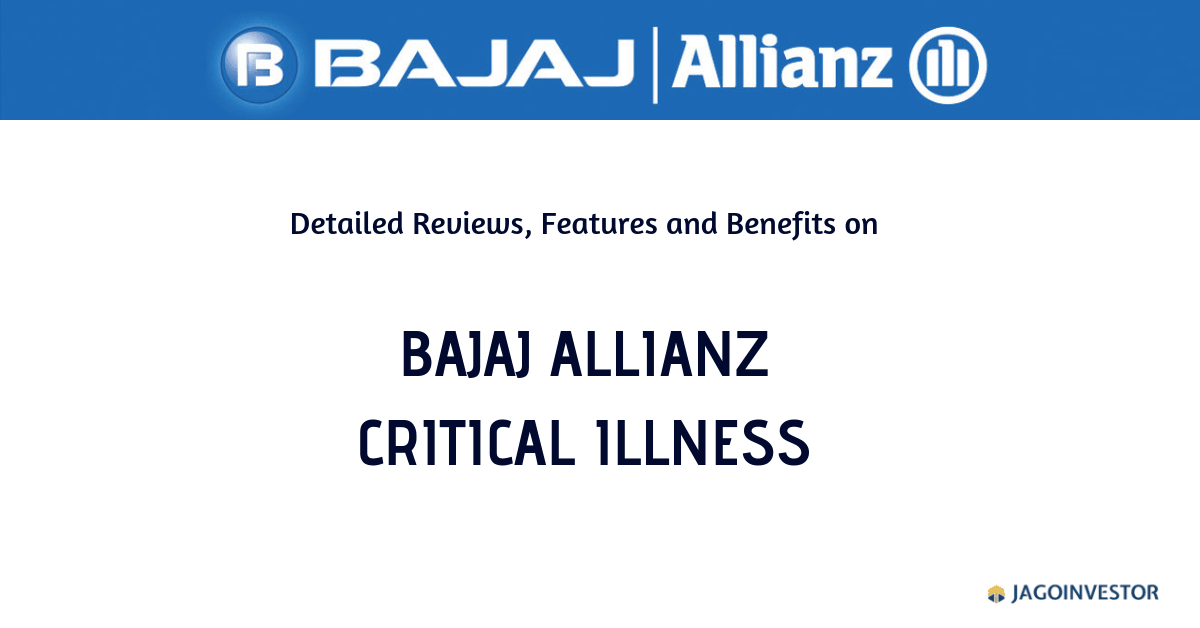 Features of the Policy –
Tax benefit for premiums paid u/s 80D of Income Tax Act, 1961.
Hassle-free in-house claim process.
It is an annual policy.
Lifetime renewal benefit is available under this policy.
Impanelled diagnostic centers
Benefits of the Policy –
The benefit amount is payable once the disease is diagnosed meeting specific criteria and the insured survives 30 days after the diagnosis.
The insured member can utilize this amount for treatment of the disease, lifestyle changes, donor expenses or a planned treatment outside India etc.
Various Sum Insured options of –
Rs 1 Lac to Rs 5 Lacs – for age group 6 years to 60 years.
Rs 1 Lac to Rs 5 Lacs – for age group 61 years to 65 years
Eligibility Conditions of the Policy –
| | |
| --- | --- |
| Entry age for proposer/Spouse is 18 years to 65 years | Entry age for dependent Children is 6 years to 21 years |
What all is covered under this policy –
Bajaj Allianz Critical Illness Policy covers 10 Critical Illnesses. If the policyholder is diagnosed with any one of the 10 critical illness mentioned below, then the company will pay a lump sum amount subject to the policy terms and conditions –
| | |
| --- | --- |
| First Heart Attack (Myocardial Infarction) | Open Chest CABG (Coronary Artery Disease Requiring Surgery) |
| Stroke Resulting in Permanent Symptoms | Cancer of Specified Severity |
| Kidney Failure Requiring Regular Dialysis | Major Organ Transplantation |
| Multiple Sclerosis with Persisting Symptoms | |
| Primary Pulmonary Arterial Hypertension | Permanent Paralysis of Limbs |
Criteria for Pre-Policy Medical examination –
Pre-policy Medical examination would be advised based on the age, Sum insured opted and the adverse health declaration on the proposal form (if any).
The pre-policy check-up would be arranged at the impaneled diagnostic centers.
The validity of the test reports would be 30 days from the date of the medical examination.
If pre-policy check-up is conducted in the impaneled diagnostic center, then 100% of the standard medical tests charges would be reimbursed, subject to acceptance of proposal and policy issuance.
Various Exclusions under this policy –
There are various exclusions in the policy. Below are few listed exclusions under this policy. For the complete list and detailed description of the policy, kindly refer to the policy wordings.
A) Waiting Period –
Any Critical Illness diagnosed within the first 90 days of the date of commencement of the Policy is excluded. This exclusion shall not apply to an Insured for whom coverage has been renewed by the Named Insured, without a break, for subsequent years.
B) General Exclusion –
Any sexually transmitted diseases.
Occupational Diseases
War, Terrorism, confiscation, hostilities, etc…
Any type of natural disaster
Radioactive contamination
Treatment arising from pregnancy, childbirth postpartum complications including but not limited to cesarean section, birth defects, and congenital anomalies.
Can the Sum Insured be enhanced under this policy?
Yes, the policyholder can enhance the sum insured by applying for enhancement of Sum Insured at the time of renewal of policy by submitting a fresh proposal form to the company.
Can I cancel the policy if I didn't like its terms and conditions?
If the policyholder is not satisfied with the terms and conditions of the policy then the policyholder can return the policy within 15 days of receipt of the first policy documents, provided there has been no claim. This period is called the Free look Period.
Video Review of the Policy –
Conclusion –
So, by now you know each and every important detail about this Critical Illness policy by Bajaj Allianz. Do let me know if I have missed any important points in the comment section. Please feel free to ask any doubts regarding this policy.