You always want to give your child the best of everything and protect him/her from the vulnerability and uncertainties of life. You question yourself time and again, 'Have I done enough? Am I prepared to fulfill every single dream of my child?'
As your child grows up, he will always look up to you for support and inspiration. He may want to discover his true passion and try new things until he is sure about his career path. You will need to keep pace with his changing goals and will need a plan that gives your child the confidence to pursue and discover his/her real passion.
You need not worry anymore because Aditya Birla Insurance Company has come up with "Aditya Birla Sun Life Insurance Vision Star Plan", ensuring that your child doesn't miss out on opportunities due to insufficient funds.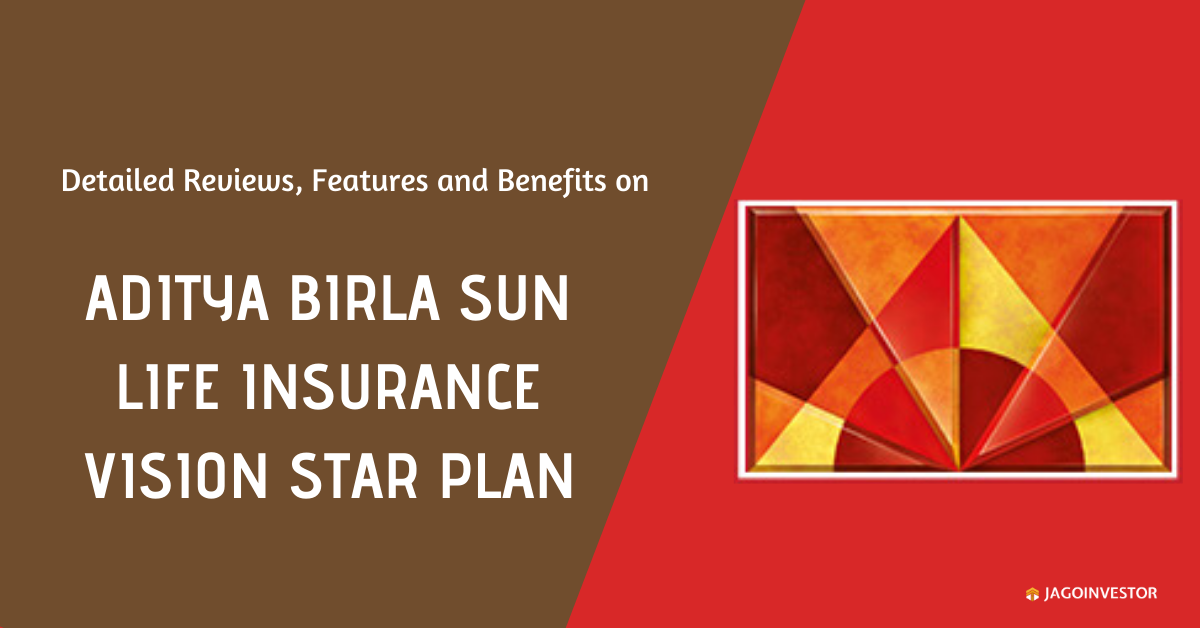 Features of this Policy –
This is a traditional participating plan which earns bonuses.
Premiums are required to be paid only for a limited tenure.
There are two options for receiving the money-back benefits under the plan.
The money-back benefits can also be deferred for enhanced value.
There is an inbuilt Waiver of Premium Rider where future premiums are waived off in the event of death but the plan continues.
Premium discounts are given for higher Sum Assured levels and premium paying frequencies.
Benefits of this Policy –
a) Maturity Benefit –
If the life insured survives, the company shall pay to you the following on the maturity date
Accrued bonuses till date; plus
Terminal bonus (if any)
The policy shall be terminated once the maturity benefit is paid.
b) Death Benefit –
In the unfortunate event of the death of the life insured during the policy term, the company will pay the nominee
Sum Assured on Death; plus
No premiums are required to be paid in the future ; plus
Assured Payouts on the scheduled dates as explained in the Assured Payout section; plus
Bonuses accrued till policy maturity date and terminal bonus, if any, will be payable on policy maturity date
Sum Assured on Death is the maximum of Sum Assured chosen at inception irrespective of any guaranteed payouts paid or 10 times the Annualized premium payable.
c) Regular Bonuses –
ABSLI will declare simple reversionary bonuses regularly at the end of each financial year and that will be added to your policy on its Policy Anniversary. Future bonuses are however not guaranteed and will depend upon the future profits of the participating business.
d) Terminal Bonus –
ABSLI may also pay a terminal bonus on maturity or surrender, if earlier, based on the actual experience and the prevailing economic conditions.
e) Reduced Paid-Up Benefit –
If you discontinue paying premiums after having paid premiums for at least two full years, your policy will not lapse but continue on a Reduced Paid-Up basis.
f) Rider Benefit –
For added protection, you can enhance your insurance coverage during the policy term by adding the following riders for a nominal extra cost. The different types of rider are as follows –
ABSLI Accidental Death and Disability Rider
ABSLI Critical Illness Rider
ABSLI Surgical Care Rider
ABSLI Hospital Care Rider
ABSLI Waiver of Premium
ABSLI Accidental Death Benefit Rider Plus
g) Assured Payout –
Starting from 5th year after the premium paying term is over, you shall start receiving Assured Payouts which are pre-defined percentages of the Sum Assured chosen by you.
Where X denotes the premium paying term  –

Eligibility Criteria of the Policy –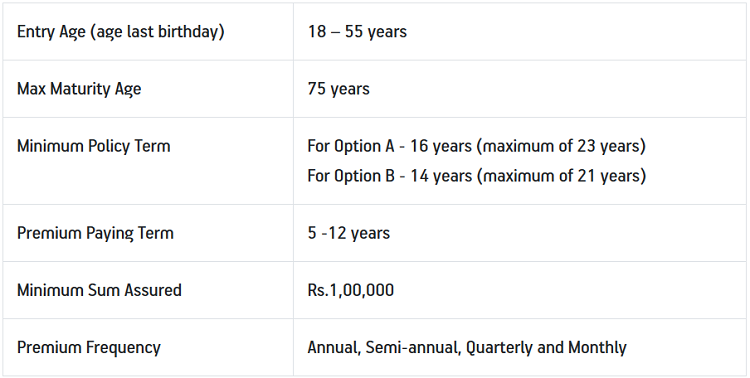 Is surrendering of policy allowed?
At any time while your policy is in effect and after all due Instalment Premiums for least two Policy Years have been paid in full, you can request to surrender this policy for its Surrender Benefit.
The Guaranteed Surrender Value is a percentage of total premiums paid plus the surrender value of accrued regular bonuses less any Assured Payouts already paid or deferred. The Guaranteed Surrender Value percentages for –
TotalPremiums Paid and
For Accrued Bonuses are given under Appendix I.
Your policy also acquires a Special Surrender Value. Your surrender benefit is the higher of –
Guaranteed Surrender Value, or
Special Surrender Value.
In addition, if you have deferred any of your Assured Payouts, the company will pay the discounted value of that deferred Assured Payouts subject to a minimum of the Assured Payouts as was payable on an original due date along with the surrender value.
Is there any grace period in the Policy?
If you are unable to pay the Installment Premium by the due date, you will be given a grace period of 30 days to make the payment of due installment premium during which time all benefits under the policy will continue.
Your policy will automatically be deemed paid-up if the company do does not receive your installment premium within the grace period. Under the paid-up status, your policy will continue with the modified benefits as explained in the Policy Paid-Up provision in Part D.
Can I take a loan against this policy?
You are free to take a loan against your policy at any time after your policy acquires a surrender value. The minimum policy loan is Rs. 5,000 and the maximum is 85% of the then Surrender Benefit less any outstanding policy loan balance as of date.
Can I return the policy if I didn't like its terms and conditions?
Yes, the policy can be returned within 15 days (30 days in case of Distance Marketing) from the date of receipt of the policy, stating the reason for return.
The company will refund the premium paid once they receive your written notice of cancellation (along with reasons thereof) together with the original policy documents. The company may reduce the amount of the refund by proportionate risk premium for the period of cover and expenses incurred by us on medical examination and stamp duty charges while issuing your policy.
Is there any tax benefit under this policy?
Yes, this policy offers tax benefits under Section 80C and Section 10(10D) of the Income Tax Act, 1961, on the premium paid.
Exclusion under the policy –
Suicide Exclusion –
The company will pay the total premiums paid till date or surrender value available on the date of death, if higher in the event the life insured dies due to suicide, within 12 months from the date of commencement of risk under the policy or from the date of revival of the policy, as may be applicable provided the policy is in force or active
Conclusion –
So, by now you know each and every important detail about this policy. Do let me know if I have missed any important points in the comment section. Please feel free to ask any doubts regarding this policy.