POSTED BY Jagoinvestor ON March 14, 2010
With the tax-planning season about to end, most individuals are rushing around to make investments to minimise their tax liability.
And although, the last date for filing income tax returns is just a few months away (July 31), some of us are still unaware about the procedure and guidelines. Have a look at recent changes in the Income tax slab and how it affects the common man.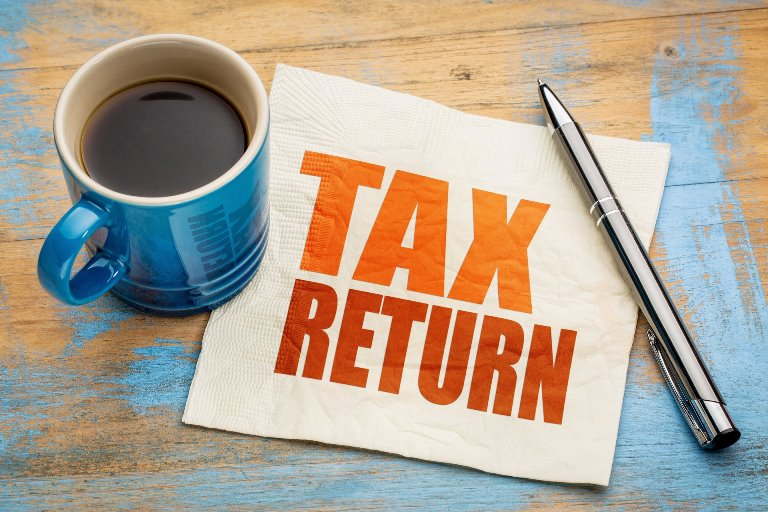 Q. I have a Permanent Account Number (PAN). Do I still need to file my tax returns?
A. Just having a PAN number does not mean that you have to compulsorily file your tax return. As per the Income Tax Act (1961), you are required to file a "Return of Income", if your taxable income exceeds Rs 1.60 lakh for the financial year 2009-10 (Rs1.90 lakh in case of women and Rs2.40 lakh in case of senior citizens).
However, you need to have a PAN in order to file income tax returns. Read more
Q. What are the benefits of filing income tax returns (ITR)?
A. Filing ITR is really beneficial for an individual. Apart from the legal obligation, it is mostly required for purposes like:
Availing any kind of loan, like home, personal or education.
Visa and immigration processing
Income proof / net worth certification
Refund claims (in case of excess taxes paid)
Applying for a higher insurance cover
and ultimately, "Peace of mind!"
Q. How does one plan for better investments under section 80C ?
A. Section 80C is the most important provision under the Income Tax Act (1961). Making use of the available tax deductions can go a long way in helping individuals accumulate wealth.
Benefits of tax planning (for FY 2008-09)
| | | |
| --- | --- | --- |
| Income (Rs) | Tax Rate (%) | Maximum tax savings |
after 80C deductions (Rs)
Savings invested
@ 8% pa for 20 years (Rs)
Savings invested
@ 15% pa for 20 years (Rs)Upto Rs 1.50 lakh
Nil ———Rs 1.50 lakh to Rs 3 lakh101030048008168575Rs 3 lakh to Rs 5 lakh202060096016337151Rs 5 lakh and above 3030900144024505726
The amount saved in turns can be invested in various, in order to gain maximum benefits. Prime examples:
Gold
Fixed Deposits
Equities
Case in point: Consider an individual, in the highest tax bracket, with a gross total income of Rs 6 lakh. If he chooses to ignore the tax sops available under Section 80 C, his tax liability will amount to Rs 87,550 (for AY 2009-10).
Conversely, if he chooses to make eligible investments/contributions of Rs 1, 00,000 under Section 80 C, his tax liability will be Rs56,650 i.e. a saving of Rs 30,900.
Look before you leap – Tips for better and effective planning of your investments:
Every tax saving investment scheme has inherent advantages and disadvantages; & each individual has to decide his investment strategy based on:
Lock-in period and safety of the investment
Return, before Tax / Return, Post Tax / Tax Free returns
Whether interest will be treated as fresh investment under Income Tax Act
Age and risk appetite
Liquidity, surrender charges etc.
Some tips to plan your finances better:
One should by default set aside 10% of his/her income;  Start living with your 90% of salary
Avoid waiting to invest a lump sum, at the last minute, as most of the times we tend to run short of money, resulting in a loss of tax benefit, besides the savings and long-term capital appreciation.
Last minute decisions mostly result in investing in unwanted and futile schemes
Use ECS / Direct Debit facility offered by the bank for investments; this will help you invest, without fail, regularly.
Invest monthly or quarterly as it provides long term capital appreciation
Monthly or systematic investments also provide a check against market volatility
Watch this video to learn everything about Income tax return:
Q. Since tax is already deducted from the salary well in advance as a TDS, then why does one need to file Income Tax Return?
A. Although tax has been deducted and there is no further liability to pay tax, an employee has to compulsorily file his/her income tax return if he/she exceeds the maximum amount, not chargeable to tax.
It is, in essence, a declaration to the income tax department that you have derived only income from salary and not any other source (if you do have income from other sources, then the same needs to be incorporated).
Note. Many a times, employees do not include the interest that they receive on their savings bank account. The entire interest earned on the savings bank account is taxable.
Q. Can you please explain the complete procedure to file ITR?
Step 1: Gather all the necessary documents.
These are:
1. Form No. 16: This is issued by the employer, stating your income from salary, and tax deducted by your employer from salary income.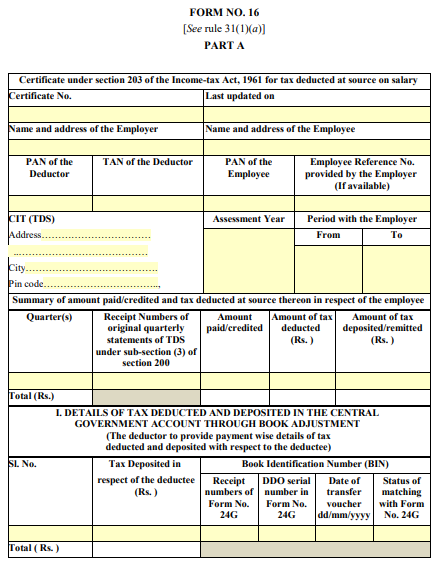 2. Form No. 16A: This is received from all the payers, who have deducted tax, while making payment to you, during the year. For e.g. banks and companies.
Summary of all bank accounts operated during the year: This summary will give an idea about all the interest income earned during the year.
Details of property owned during the year: If you have bought some property during the year and put it on rent, then you will need details of rent received and receipts of municipal tax paid during the year.
In addition to this, if you have bought such property through a loan, do carry the loan details and a copy of certificate of interest paid during the year.
Sale & purchase bill/documents/contract note in respect of shares transactions during the year: You will also need purchase documents corresponding to the sales made during the year. In case of a large number of transactions, it is advisable that you prepare a statement of sale and corresponding purchase of these investments and arrive at the amount of profit or loss, before actually calculating your taxable income.
Details of tax payments made during the year: This is required only if you have made advance tax or self assessment payment during the year.
Step 2: Select the proper income tax return form i.e. ITR, which is based on the nature of income earned.
FOR INDIVIDUALS: Form No. Applicability
ITR 1 Meant for Individuals, who have
a) Income from salary
b) Interest income
c) Family pension
ITR 2 Individuals/HUF not having any income on account of business or profession
ITR 4 Individuals/HUF having income from a proprietary business or profession
Step 3: To file your tax returns:
You can file your returns either Manually or Electronically.
Electronically: The Income Tax Department has introduced a convenient way to file these returns online. The process of electronically filing your Income tax returns, through the Internet, is known as e-filing of returns. This is a really convenient facility, since it saves you the hassle of traveling all the way to the IT office.
This facility is available round the clock and returns could be filed from any place in the world. It also eliminates reduces 'friction' between the assessee and tax officials.
Manually: For manual/physical filing, the individual takes a print out of the respective ITR form , from the income tax site, along with the acknowledgment form, and after duly filling it, files it with the respective income tax office. Forms are available free of cost too
Q. What are the documents required, which has to be attached with returns of income?
A. Under the new procedure, be it is electronic or physical filing, individuals do not have to attach any documents or enclosures with the return of income. However, one should preserve the supporting documents as they can be called for, at a later stage by an income tax officer to check the accuracy of the claims made.
Some of the documents are:
Detailed calculation of taxable income and amount of tax payable/refundable
Form No. 16/16A (original)
Counterfoil of all the tax payments made during the year
Copy of documents, concerning sale of investments and properties
The Copy of bank statements
Copy of proof for all the deductions and exemptions claimed in the return of income
In case of a refund, the bank account details needs to be filled in accurately. In case the refund is opted to be received via ECS direct into the bank account, adequate care should be taken to correctly fill in the MICR code.
PRECAUTIONS THAT ONE NEEDS TO TAKE
Filing returns at the eleventh hour often lead to a lot of inconvenience. Also Filing online, very close to the last day, is risky, as the peak load on the servers of the e-filing website during the last few days may make the whole online filing quite frustrating, causing needless delay.
Filing return after the due date, may lead to empty the pockets of the taxpayer who have incurred losses; which he wants to carry-forward to future years. Under the tax laws, some losses are not allowed to be carried forward for being set-off against future income, unless the return has been filed by the due date, even though all the taxes have been pre-paid.
Similarly, if a paper return is filed, the acknowledgement slip should be preserved carefully.
SOME TIPS TO AVOID LAST MINUTE RUSH
Step 1: Select and get the appropriate forms from the Income Tax site or offices
Step 2: If a professional is handling your taxes, meet him and make an appointment early before your accountant's schedule gets completely booked. If you're preparing your own taxes, set a day aside on your calendar for preparing taxes.
Step 3: Review your tax documentation before  submission
Step 4: You can file your returns offline or online. However, before doing so, check whether you still have a tax liability. If you are still to pay taxes, do so through Internet banking or through cash/cheque at any bank along with Form 280. In both cases, you have to furnish challan details in the income tax return (ITR) form.
Step5: Prepare your taxes. Now that you have all of the necessary forms and documentation, you can prepare your taxes without waiting for the last minute.
PENALTY FOR FILING RETURNS LATE
For details , you should look at the article  "How to miss your tax return filing deadline and still Enjoy"
Conclusion:
A little extra care, planning & precaution on the part of taxpayers can help them avoid committing mistakes, while filing the tax return and keep away, unwelcome visits from the taxman.
It was a guest post by Rishabh Parakh, who is the director of Money Plant Consulting