POSTED BY Jagoinvestor ON March 27, 2017
Do you know that every person is entitled to 1 free credit report and score each year from each of the credit bureaus in India? There is 4 credit bureau in India which are CIBIL, Experian, Equifax and Highmark.
As per RBI guidelines, now each of them have to provide one free report each year. For those of you who do not know, a credit report is a document that has all your past loan repayment history and a score that tells a lender if you should be given any loan or not.
So each lender checks these reports and scores as part of their loan approval process. It's very important for investors to keep track of their credit scores from time to time.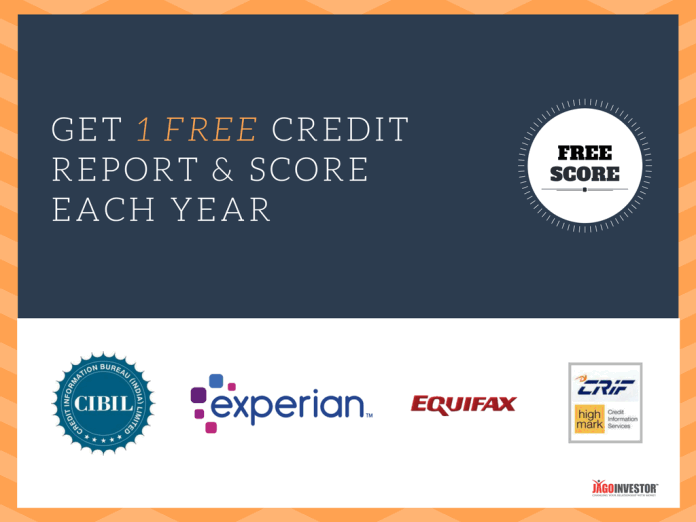 Step by Step Process to Check FREE Score online
So today I am going to share the process of getting the free report and score online from each CIBIL Transunion, Experian, Equifax, and Highmark credit bureau. I have personally checked my own score + report from each credit bureau and I will teach you the step by step process of how you can do it too. The whole process is online and you do not have to fill any form by hand or send any documents anywhere.
Note that your credit report will be available only if you have taken some kind of loan or credit card. So if you do not have any kind of loan, you will most probably not have it, unless someone has misused your documents and applied for some loan.
So let's start with CIBIL first.
How to check the FREE CIBIL report and Score?
In order to check your free CIBIL Transunion report and score, you need to follow below steps –

On that page, click on the link which asks you to apply for a free report
Enter your basic details like name, address, PAN etc and submit
Enter more details on the next page which asks you detailed information
Once you fill the details, CIBIL will send you a temporary password on email
Then go to https://www.cibil.com/mycibil/ and sign in with your temporary password
Change the password mycibilpage and relogin with the new password
Now on this page, you need to verify your details like loans and amounts
If everything is correct, then you will be taken to a page which shows you FREE Report
Note that you should watch the video above to exactly understand the steps required to check your report.
How to Check FREE Experian Report and Score each year?
In order to check your free Experian report and score, you need to follow below steps –

On the right bottom sidebar, you will see a link for free score and report, click on that
It will take you to http://www.experian.in/consumer/experian-free-credit-report.html
Enter your basic details like Name, Email, and Phone and submit
You will get a voucher code in your email using which you can get a free report
Enter your current details like Identity Details, Contact details etc and continue to step 2
Confirm your email on next page, and then go to your email to click on a link inside for email verification
On the page, enter your voucher number and move ahead
You will then be asked for some verification questions related to your debt.
Once you answer them correctly, you will be taken to your free report
How to Check FREE Equifax Credit Report and Score?
Here are the steps to check your free Equifax report and score
Register your email and get temporary PIN number
Enter a temporary PIN and reset a new PIN and then log in to the App
Enter your Name, Phone, Date of Birth and Adhaar Card
An OTP will come to your phone number which is linked to adhaar card
After OTP verification, your KYC check will be complete
On the app, click on the link "Credit Report"
On the page, click on the link "Request Free Credit Report"
Enter all your details and then click on Submit
Now your "Knowledge-based Assessment" will be in the pending stage.
After 24 hours, your knowledge-based assessment will get generated.
Click on the app, and click on the link which says "Knowledge-based assessment"
Give correct answers to the questions asked, after which your credit report will be in the "Initiated" stage
After 24-48 hours, you will get an email with the free credit report as an attachment
Download the attachment and have a look at your report and score.
You can also login to the app and check your report there
For those, who do not have mobile linked with adhaar, they can send their KYC documents along with a filled form to Equifax customer care, and on verification, they will get their free report in 48 hours
How to Check FREE Highmark Credit Report and Score?
Here are the steps to check your free Highmark credit report
Go to https://cir.crifhighmark.com
Register as a new user and set your new password
Activate your account by clicking on the link inside the email
Again login and choose an option to get a free report on the top of the page
Enter all your details and click submit
You will get a notification that inquiry was successful and now wait for the email
After a few hours, you will get an authentication email
Click on the link and verify some of the information asked on the page
On successful verification, you will get an email with PDF attachment after 48 hours
Open you free Highmark report and check it
I hope the above videos must have given a good clarity on what needs to be done to check your report online, totally free of cost.
Why you should check your report every year?
A credit report is fast becoming a very integral part of the credit system in India from the last few years (it's already is). It's highly recommended to have a clean record and a fairly good credit score if you don't want to get rejected for your future loan applications.
Now with one free report from every credit bureau, everyone should check theirs from each company and make sure that all the credit remakes and details like name, age, score, and other details are correct. If you find any problems, immediately raise a dispute with the lender and the credit bureau and start fixing it.
PRO Tip – Subscribe to each report with the gap of 90 days
One of our readers Krishna mentioned a wonderful trip
Don't subscribe all 4 reports at the same time. Time them one per quarter so you can monitor your credit report for any frauds frequently instead of once every year.
So the point is that if you divide your free reports checks every 90 days, you will be able to find out if there were any frauds happening throughout the whole year. However, if you just apply for all the reports in a single month, then you will be able to apply them only next year.
Let me know if you face any issues while checking your free report