POSTED BY Jagoinvestor ON August 16, 2016
Today I am going to teach you some step by step process which will help you to correct your wrong CIBIL entries, which will, in turn, improve your CIBIL score. Most of the investors take some of the other kinds of loan and if they are not able to pay the EMI's on time or default on the loan, their CIBIL report gets messed up and they don't get further loans in future.
This is because once your credit history becomes bad, then lenders are not very excited to give you loans.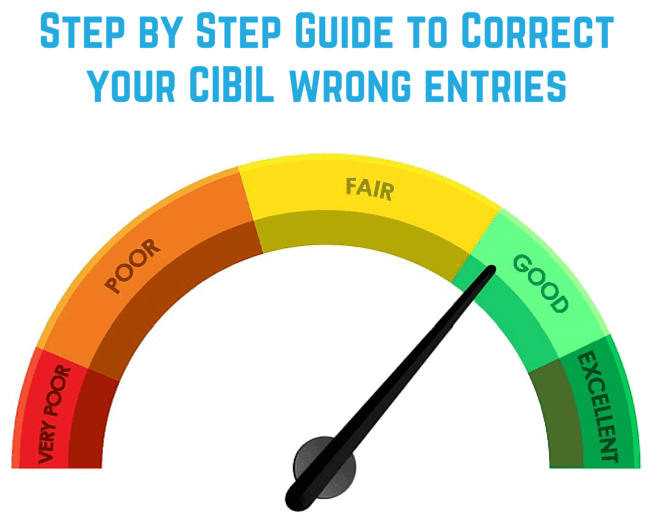 How to correct the CIBIL record?
I recently got a question from Mukesh Kumar, who saw a wrong entry in his CIBIL report. See what he says…
CIBIL report can contain mistakes either due to the investor's mistake and their ignorance, but many a time the errors happen because of bank mistakes or manual issues.
Some reasons for mistakes in the Credit report
The lender did not update the correct remarks with CIBIL
The lender updated the wrong remark with CIBIL
CIBIL makes mistake in name, address, gender or date of birth while creating the report
The mistake happened while generating the CIBIL report
There was some fraud using your documents and hence the wrong entries
4 Step process of correcting the CIBIL mistakes
Let me help you with the step by step process if you want to fix the errors in your credit report. Here you go ..
Step #1 : Check your CIBIL report
You will not be able to move ahead unless you properly understand your current situation. So the first step is to apply for your CIBIL report and understand it properly.
You can go to CIBIL website and pay the fees to get your report. Once you pay the CIBIL charges, you will receive the PDF report in your mail almost instantly which will contain your credit score and the report. Below is a nice video tutorial by the CIBIL team which shows you how to read the CIBIL report.
Step #2 – Raise a Dispute Resolution with CIBIL
Once you have understood your report, you should make the list of all the errors and mistakes in the report.
After that, your first point of contact is CIBIL. You should raise something called a CIBIL Dispute Resolution at https://www.cibil.com/dispute/.
You need to fill up some details and mention the issues in your report which you think should be corrected. Once you do this, your dispute will get recorded and CIBIL will get in touch with the lenders one by one and ask them to relook at the issues if they would like to send a new update (the correct one).
Note that CIBIL will never make any changes in your report themselves. They will only do it once they get a go-ahead from the lender because at the end of the day, your CIBIL report is the collection of all the information CIBIL gets from various lenders.
How online dispute resolution with CIBIL works?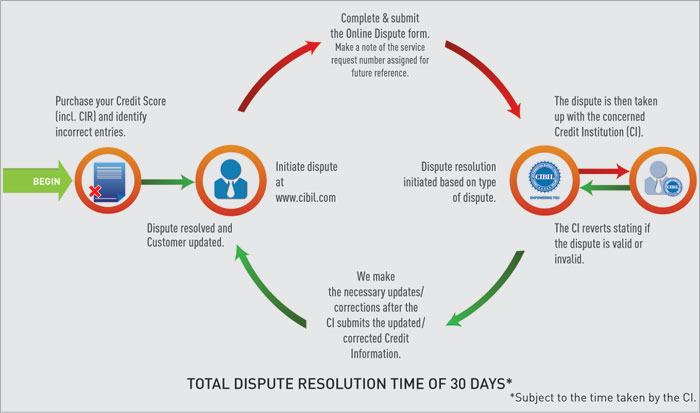 It can take anywhere from few days to 30 days for your dispute resolution to get sorted out. But I suggest waiting for 45 days. If you have questions on this, I suggest you read the FAQ on dispute resolution here
This dispute resolution can be raised even if you have not bought the report yourself but got it from the lender while applying for some loan.
Now, in this case, it might happen that the lender refuses to correct some information because they think that they are correct and the investor is wrong. In which case the investor should take the 3rd step.
Step #3 – Contact lenders directly
If the dispute resolution works, then the changes will happen in the report. But at times some lenders might disagree to some point and refuse to make the changes.
At this point, CIBIL can't do much and you will now have to follow-up with the lender yourself.
Let me give you an example.
Suppose there is a guy who checks his credit report and see that one of the loans which he paid off fully, is marked as "WRITTEN OFF". In this case, he can raise a dispute resolution with CIBIL and let's say the lender says that the loan was still not paid off and some amount was remaining and with interest and late payment charges, the loan becomes bigger and later they marked it as WRITTEN OFF.
In this case, the guy has to contact the lender himself and then sort things out.
He can ask for all the explanation proofs and loan statements and prove if there was any loan outstanding or not. In this case, it would have helped if the person had taken a NOC once he thought that the loan is complete and paid off.
Contact lender through email + phone
Coming back to this point, the first step is to send an email to the lender, stating your case with proper dates and the error in the report. If possible, also attach a snapshot of the CIBIL report. Then wait for a few days for their response, and if you don't get any response, then you should visit their branch in the city.
Meet the manager there or whoever is the in-charge of the CIBIL loans section. If 30 days are over and you are not getting any proper response, it's the time to raise an online complaint with banking ombudsman. This way you have at least raised one leg of investigation and waged a war against the lender.
To give you an example, see how lender did not update the correct status with CIBIL in this case below
I have taken loan from fullerton India long back and paid the same. they have also given me NOC. But the same is still not updated in CIBIL records. My financials status is now good and I can pay loan installments regularly. I am good salaried and paying IT also regularly. Can this improve my CIBIL Score and Can I get Loan ?
In case you face any issues, feel free to contact CIBIL team. Here are the CIBIL contact numbers on this link. Call their customer care number and mention your issues, at times this can bring faster results.
Step #4 – Close your Past Dues and Outstanding amounts, if any
Finally, once you contact the lender, it might happen that there was a genuine mistake from the lender's end. If they agree, they will update the correct status with CIBIL and your issue will get resolved in 60-90 days. But if not, then mostly the issue is due to some past outstanding amount which did not pay.
Loan Settlements and not paying EMI on time.
In most of the cases I have seen, the issue is some past loan for which 100% outstanding was not paid off by investor and it was settled for a lower amount. For example, support you owe Rs 1 lacs in the loan, but are unable to pay it and you do the settlement for Rs 60,000.
Years later then you see a remark on your CIBIL Report which says "SETTLED" or "WRITTEN OFF". At this point the situation is very bad because most of the investors don't want to pay this surprising amount just to fix things.
Check out this real-life case
I took Durable loan with Capital-First in Feb 2014 with period of 9 months. I paid first 6 EMI's on time but the last EMI I didn't paid, one fine day I got call from Capital-First Legal team and they asked me to clear rest of amount. So I paid remaining amount in single shot using Capital first online portal in Aug 2015.

Recently in Feb 2016 I pull CIBIL Report and I found the above account marked as "WRITTEN-OFF" and Raised Dispute with CIBIL, I observed in latest (in May 2016) CIBIL report that the status changed "WRITTEN-OFF" to "POST(W/O) Settled". I discussed with Capital First Customer care many times. They just gave reply like "you paid amount in stage of WRITTEN-OFF status. so it should be POST(W/O) Settled. it won't change further"

Is that true? and How do I remove that status from My CIBIL?
In this case, it's very difficult to improve your score, because that bad remark will be there for many years/decades, unless you clear off the loan.
Get in touch with lender
So if possible try to get in touch with the lender and speak to them about this. Ask them how you can get a "closed" remark for a loan. At times lenders are ready to take a lesser amount and update the entry as "Closed" with CIBIL.
Once you follow all these steps and correct your CIBIL mistakes, your CIBIL score will go up over time.
I hope you got a fair step by step process on correcting the mistakes in the CIBIL report? In case there are any questions, I will be happy to take them in the comments section.