POSTED BY Jagoinvestor ON May 4, 2015
Have you ever received a phone call from your relationship manager telling you that, there is a pre-approved loans especially for you?
A lot of people get excited about this fact, that there is a special offer for them and that the bank is ready with the red carpet waiting top hear a – "Yes, I am interested" from them.
However, what's happening deep down in these cases is often not known to general public. You as a customer should be fully aware of what goes behind pre-approved loans (It's also called Instant Approval some-times). You should be aware about the reasoning behind lenders offering these type of loans.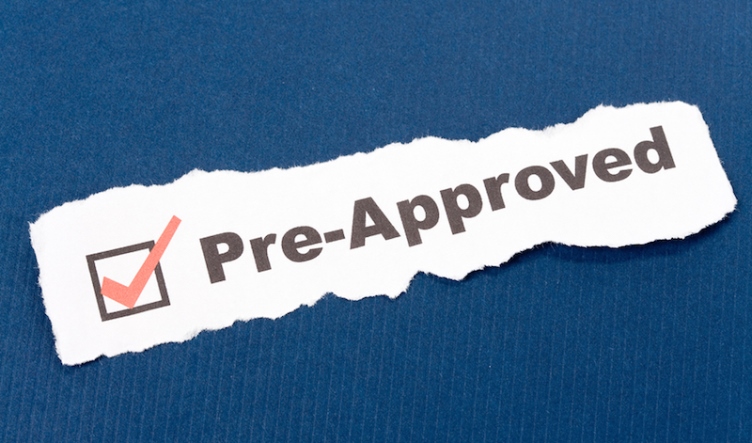 What does "pre-approved" loan means?
Let me not reinvent the wheel here. One of the best explanation of pre-approved loans is given by wikipedia. I am quoting it here. You will understand what it means
In lending, pre-approval has two meanings:
The first is that a lender, via public or proprietary information, feels that a potential borrower is completely credit worthy enough for a certain credit product, and approaches the potential customer with a guarantee that should they want that product, they would be guaranteed to get it.

This rarely happens in the financial services industry, and when it does happen, it is usually loaded with fine print that is not immediately disclosed. Usually, what happens is pre-qualification, instead.

Although, to a typical consumer, "you're pre-approved" means "you already passed the approval process and therefore are guaranteed to be immediately granted the loan if you apply," the literal meaning is different. The literal meaning is "at a stage before approval."

Thus, pre-approved creates no obligation whatsoever on the lender and no rights whatsoever to the potential borrower. "Pre-approved" is thus a popular advertising catch phrase to induce people to apply for a loan.
So, in a nutshell, when a lender says that your loan is pre-approved or you are eligible for instant approval, it means that based on your profile information like your income, your payment history till date, your debit/credits in your bank account, your cibil report status and the score and many other things – they have short-listed you and preferred you over other customers.
Few parameters about you are already known to lender and based on that information, you can now apply for the loan. However its not correct to say that the loan is already approved or any kind of guarantee that you will get it for sure.
These offers just means that the first level check is complete and you have passed that, you will most probably get the loan if you move ahead.
But, you still have to follow all procedures
You still have to follow all the procedures, produce all the documents asked and at the end, the final decision will be taken by the lender if they want to give you the loan or not.
An important point to note is that pre-approved loan comes with a time limit. If you get an offer for the loan and if you accept it, you need to close the deal within few months (generally 6 months). You will be paying a processing fees, if its applicable for the instant approved loan.
Advantages of Pre-approved loans
Note that, I don't want to show pre-approved loans in a bad light in this article. While there are few things one should be aware about, still there are some benefits of pre-approved loans, which you should know
Benefit #1 – Better Negotiation power in your hands
If you have a pre-approved home loan on your side, then you have a better negotiation power in front of builder, you can show him that your loan is already approved and your chances of buying the house is stronger.
Builders love committed buyers and they might extend the discount of few points to you, if they can sense your position. Also you can talk to your lender about anything which is concerning you about the loan and negotiate it with them.
Benefit #2 – Less processing time
Because the loan is pre-approved. Most of the background checks is already done, your basic details are with the lender. Now its all about producing the documents asked and take it to next level. Hence the overall processing time gets reduced and things happen faster.
Benefit #3 – Possibility of Lower interest rates
Most of the times, a pre-approved loan comes with a lower interest rates. This is because of the reasons like its the bank who wants you to take the loan and they have to offer you something interesting.
And the other reason is that pre-approved loans are offered to those who have a good history of payment or who have a stable cashflow and banks don't mind lowering interest rates to them because they are not high-risk customers.
Pre-approved loans are a tool for cross-selling and meeting of targets by banks
To understand this whole game of pre-approved loans, you just need to think like a lender. A person who already is a customer is a good candidate for other products too. Let's take an example.
Imagine a customer who had taken a home loan from a bank, and already 1-2 yrs have passed.
Now if you think carefully, you will realise that a person of that profile, might be needed additional money for home furnishing, might want to upgrade his car, might need some money in between vacations, home renovation or might have emergencies in life and above all, this person earns well enough (because he bought a home loan).
Hence, the lender keeps bombarding with offers like car loan, personal loan and other kind offers. So the point to understand is that, these pre-approved loans are a way of cross-selling their other products to you.
Below you can see a screenshot from my mailbox and will understand what I am talking about.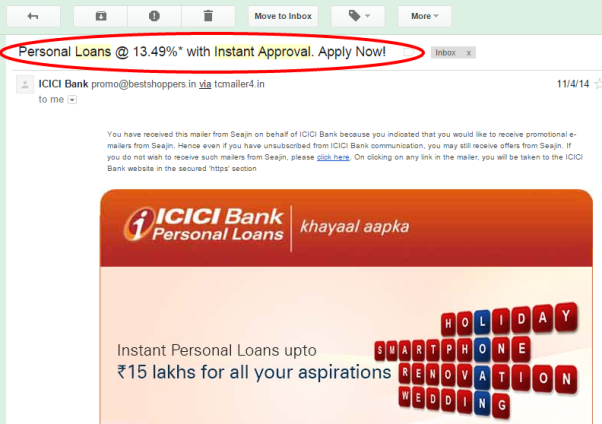 Apart from this fact, another thing is that banks have their internal targets to meet. Each branch of bank is given a monthly or quarterly target to meet and in that pressure, they have to find customers and sell the products.
That's the reason you will see your relationship officer calling you from time to time to tell you about the "exciting offer" especially offered only to "premium customers" like you.
Role of Psychology in pre-approved Loan
"Supply creates its own demand"
This is the best quote of economics which explains why pre-approved loans work many a times. We live in the world, where are consuming mainly because someone wants us to consume and not because we want to consume it. If you offer something to a big group, chances are, few people from that group will come with all the reasons why they need your product.
Coming to the example of pre-approved loans, if you keep offering the loans to a big mass from time to time, Its highly probable that few of them would take it just because its available.
Consider an example:
Assume, that I have an old car (which I have in reality) and I am thinking to upgrade my car (which, I am not thinking in reality). I have some money in my bank account which can be used for making the down payment. Now at this stage, imagine I get an email or call offering me a car loan saying – "Pre-approved card loan only at 8.99% upto Rs 6 lacs".
Imagine what will happen….
Even though I was not consciously thinking to upgrade my car, still just because an offer like that is available, I might be tempted to go for it. I will magically come up with all the reasons why I must take the loan, and how I deserve a better car .. blah blah .. The deal will give me an external push and look like a win win deal.
I might not have applied for the car loan myself if the loan offer was not there, because, it was not a lot of pain for me to actually apply for loan and upgrade my car. I will be involved in my life issues and keep postponing my wish.
However, not all examples are like this. A lot of times, people take the loans they don't need at all. The pre-approved loans make them hungry for something their body does not need. Just because it's available easily, a lot of people fall for it and get into the never ending cycle of debt a lot of times.
Don't apply for pre-approved, if you don't need it
You might be aware that any kind of loan application goes into your CIBIL report. So make sure you apply for the pre-approved loans only if you are really serious about the loan. Don't just opt for it for the sake of it. Don't click that "Apply now" button just to check if you are really going to get it.
At the end, I would say do not just discard the pre-approved loan, neither see them with too much of doubt. Look at it as a normal loan offer and do all the checkups and introspect if you really require it or not.
Do you have any experience of getting these kind of offers? Do you fall for them?