POSTED BY Jagoinvestor ON June 9, 2022
Online scams are on a rise in India for the last 5-6 yrs as the UPI and online transactions have increased over time.
Recently a guy I know told me that he accidentally lost Rs 56,000 in online fraud. He wanted to go on a tour and when he searched online, he came across a website that had a tour operator number where he called and enquired. Everything looked genuine and after some basic checks, he did a UPI transfer of the whole amount of Rs 56k.
The website link where he got the number was https://www.bharatibiz.com/en/gurdwara-sri-hemkunt-sahib-093392-58256 and the phone number was 9339258256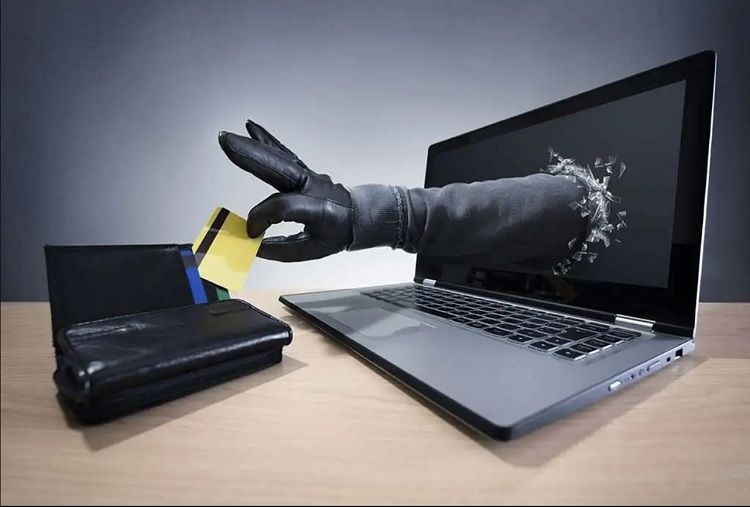 It was a big mistake
As soon as he transferred, he soon realized that he was taken for a ride and realized his mistake. In general, this guy is very cautious and does not trust these kinds of online contacts, but in this case, there was some element of RUSH and overtrust as in the recent past he had some online bookings in a similar way it worked.
I feel that while we all are aware of these frauds and try to be cautious, someday even we all may fall for these tricks as the other side can outsmart us.
10 precautions to take before sending money to someone online
Let us see some of the basic checks and precautions we must take in order to prevent any online fraud while we are transferring any money online to someone for booking any tours, trips, hotels, or for shopping purposes. Let's look at them one by one
1. Search for the number/company name on google once
One small search on the phone number or email of the person may reveal a lot of details at times. If the same person has cheated others, there is a good chance that you will get some pointers for it. When I searched for that number 9339258256 online, I saw that the same number was listed for various businesses, which clearly shows that's a cheater.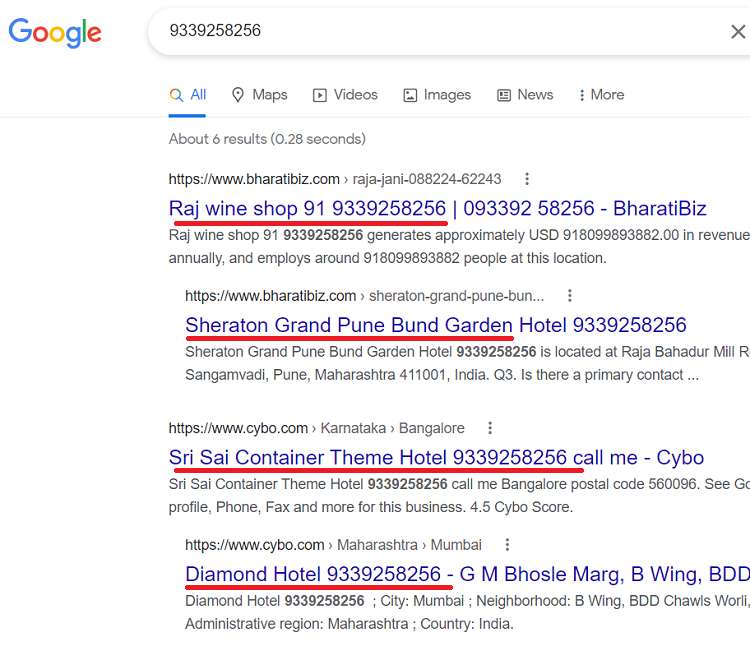 2. Use NEFT/IMPS transfer instead of UPI
UPI is fast and secure, but only valuable if you are transferring money to the right and genuine person. The problem of UPI is that it MASKS the details of the person and just gives you a scan code or simple details which does not tell much about the person. If you are in doubt, always ask for the bank details to transfer money through NEFT or IMPS.
This will at least give you details like a bank account, Name of the account holder, branch etc. You can use this to verify or complain later at the bank easily. Also, the bank account name shall be of the same person.
3. Don't Rush
What's the rush?
Never take quick decisions while sending big amounts. At times, when you do things at the last minute, you are in hurry and often do not pay attention to small red flags. Also, your mind may not go into details that might have prevented a fraud. Always start a conversation with the person, talk to them once, wait for hours/days and then make any transfers after proper research.
4. Always transfer Advance money, not full
Most of the time, people pay the full amount if things look genuine and they don't want to get into a headache of paying the balance later. They overtrust others. As far as possible, always pay an advance first and pay the balance later. This gives you a lot of time and in case you are unlucky, you do not lose all the money in fraud.
5. Continous callbacks are a red-flag
Most of the fraudsters/scamsters have a tendency to spam you with calls and messages again and again. I have personally seen this in "NGO Scam" where someone calls you or WhatsApp you to donate money for an ill child in hospital, If you show any small interest, you will be bombarded with WhatsApp messages and callbacks to donate the money NOW.
This is a big red flag. At times you get a call from some senior or higher-up following with you. If this is happening in your case, be very cautious about it.
6. Validate the number or contact person with online groups/sites
Most genuine businesses have a strong online presence. They have their own website, Facebook page, Instagram page or some other social media identity. You can read others' reviews, their phone numbers are published there and other details like address, and business details are mentioned.
I am not saying that fraud people cant create these things, but it's a very simple checkpoint. If you got in contact with someone who is missing these things, you have a strong reason to doubt them.
7. Search on Truecaller
Another great trick is to simply check the phone number on truecaller App. Others who may have come across that fraudster or same phone number must have tagged them as "fraud", "scam", "Spam" or similar words. It will give you some hint on their genuineness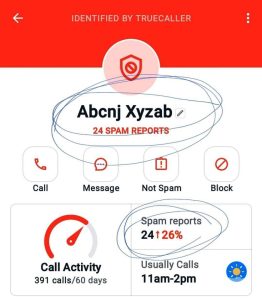 8. Ask for compliance like GST / Cheque/ References
One thing you can do additionally asks for a CHEQUE copy and mention to them an excuse that you will make payment from your corporate account and this is the mandatory requirement by the company. This way you will get all the details of the account holder, branch, and account number. A lot of things you can cross-check if the account belongs to the same person or not. A lot of fraudsters do not use their own account. This can become a basis for more questioning and you may catch a fraudster.
Also if it's a business entity, do ask for a GST number, etc too as added security.
9. Don't trust the random low key websites advertisements
Never trust people or phone numbers that are listed on low-key websites, after all, they list their business on dead sites which have no credibility. It simply appears in the search engine for someone who is searching on google.
10. Listen to the Gut feeling
Finally, I would say, that you shall listen to your gut feeling and if your inner voice says that things are not right, better do not do the transaction. Do talk to the person to whom you are transferring the amount, and do watch their language, their tone, and many small things. But do trust your inner voice and don't do the transaction or at least wait for more time.
More precautions to take
Never share OTP, or PIN with anyone ever no matter what
Don't respond to calls that say that they are from RBI, IRDA, or Tax department which ask for your personal details
You never have to pay your UPI pin to revise the money on any UPI App. A lot of fraudsters say they are sending the money to you but have sent you a "Payment request"
Never give access to anyone for sharing your screen for assistance purposes. Don't use software like Teamviewer or Anydesk
Steps to take if you lost money to any online fraud
Do complaint to Cyber Cell immediately
Do file an FIR also if the amount is significant for you.
Do share about the incident on Twitter and other social media channels you are part of