POSTED BY Jagoinvestor ON July 8, 2013
A big reason why some financial lives are messed up is because there is no "accountability" factor in those financial life, you are not answerable to anyone, you are not required to report the progress of your financial life to anyone like you file your income tax returns each year. Because of this fact, most of the investors have to depend on their "will power" and "commitment", but truly speaking – in real life it does not work! . Just promising yourself that you will "stick to your plan" fails like anything. Whats the solution here?
In my opinion, the solution is simple and amazingly astonishing – you take decisions which "forces" you to invest from time to time, you surrender to a situation which makes you pay due to some fear and compulsion, where you cant come out of it so easily.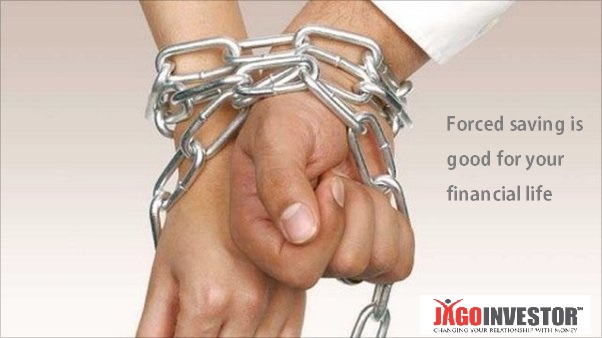 There are various decisions like Buying a House on EMI, Starting a SIP in a mutual fund, opening a Recurring Deposit, Buying a Policy which forces you to keep paying premium or installment over the years/months help you save money by "compulsion". The product design is such that you get into a structure or an arrangement that makes you feel – "I have no option" . Most of the people will not be able to save any money if they do not rely on these "compulsive" investments and each month their money from saving bank account keep reducing the same way I saw audience disappear every minute while watching "Lootera" movie this Weekend (It really looted my Rs 400 bucks) .
Let me point out some scenarios which will make this point clear.
1. Forcing your brother to pay for Education Loan
Imagine, you have a spoilt brother/sister, whose mindset is not designed by God to "save" . Now you or your father have the money to fund the education cost for college. But instead of that, you tell him/her that there is no money and education loan is the only option, which he/she will have to pay back later once he gets a job. Now there is "compulsion" to pay this EMI, there is no escape from it. Out of whatever he/she earns, they will be forced to pay away with the EMI part and only the rest money will be there for them to "enjoy" and you can be sure that it will all vanish by the end of the month, which would have happened anyways even if there was no "compulsion to pay EMI".
2. Taking Home Loan
This is Interesting , A lot of people are afraid of committing themselves home loan because they feel the insecurity of jobs or no potential salary hikes in future etc and because of this risk factor, they have not taken a loan till now, and the worst part is they neither have any money left with them over the years (which they might have paid in EMI, where has it all gone ?) .
A lot of people who took courage in the start and took home loan even if it meant stretching their financial life, would be able to confirm that because it was mandatory for them to pay the EMI each month, they did everything and anything to make it possible. The compulsion of paying the EMI over years brought some discipline and seriousness in them about their financial life.
3. Recurring Deposits & SIP's
Try opening a Recurring Deposit of Rs 1,000 per month (option 1) and try to drop two Rs 500 notes in a piggy bank at home each month at the end of the month or the start of the month (option 2) and then see the results after 1-2 yrs. The compulsion and automation which a Recurring Deposit brings in your financial life can never be achieved by a piggy bank, simply because of the passive nature of recurring deposit or a SIP in mutual funds (the money goes and you are not even asked for it and some times you are not even aware that it happened). However, with the Piggybank model, each time you have to consciously take that action, and since you are Human, you fail at it. Any decision where "you" have to take "manually" take some "action" eventually have very high chances that it will not happen (on a consistent basis).
4. Investing in Child & Endowment Policies
I was arguing with a Certified Financial Planner on how one has to avoid those endowment policies and child plans which they feel are amazing financial products. He asked me – "Manish, I know that these policies are not going to give the best returns, but do you know most of the investors want some short term pleasure to invest. These endowment/ULIP/child policies give tax benefits and because they have penalty for discontinuing – there is a compulsion to pay each year and that makes them invest each year."
Just saying – "SIP is better and Mutual fund is amazing" will create short term excitement for them, but at the end of the day they will not take any action because Mutual funds and other powerful products are highly liquid and investors fall to this and can not control themselves in front of short term requirements which comes in front of them".
This made me realize , that most of the time policies which are illiquid can be good for investors (who are weak in controlling themselves) because they need some compulsion and fear to continue. You can see people redeeming their Mutual Funds to upgrade the car, but hardly anyone does that with an LIC policy. Right?
Try to incorporate "Compulsion" with every decision
The biggest take away from this article for you is that wealth gets built over years only when you are consistent and disciplined and there are financial decisions which can bring that "compulsion" element. It's in your interest to take decisions which bring some kind of compulsion in your life. So next time you decide to save some money at home in a piggy bank or in your almirah, ask yourself will it bring any accountability, compulsion, and automation (where you are not involved manually), or should you open a Recurring Deposit or a SIP which will help you on those factors. You might want to have a look at our full-fledged paid video program on "Automation in your Financial Life" on our Wealth Club
If you are still wondering why these compulsive decisions help you grow wealth, understand the advantage of bringing compulsion in your financial life is that it changes your financial life equation from "Saving = Income – Expenses" to -> "Expenses = Income – Saving" . You first "save and invest" and then spend !
Let me know your views on this topic?