POSTED BY Jagoinvestor ON November 20, 2020
This is a long, but intense and immensely high-value article. So please read it fully!
Today I want to talk about some of the advantages of "doing a job", rather than running a business or being an entrepreneur.
If you are someone who thinks that having your own business is "always" better than "doing a job", I want to break your myth and point out several things which people don't appreciate about doing a job.
There are lots of articles, videos, and podcasts about "leaving your job to pursue passion" and in almost all of them, a "job" is projected as some kind of modern slavery. It projects "doing the job" as working for someone else success and giving your life for others' benefit.
I think it's a gross over-exaggeration and while the job has its own limitations and issues, being your own boss has its own share of very big problems. I have also seen many salaried people complaining about their life, work culture, pay limitation, lack of opportunities, and their declaration about how they want to leave their jobs one day and achieve nirvana and ultimate success and get out of the rat race.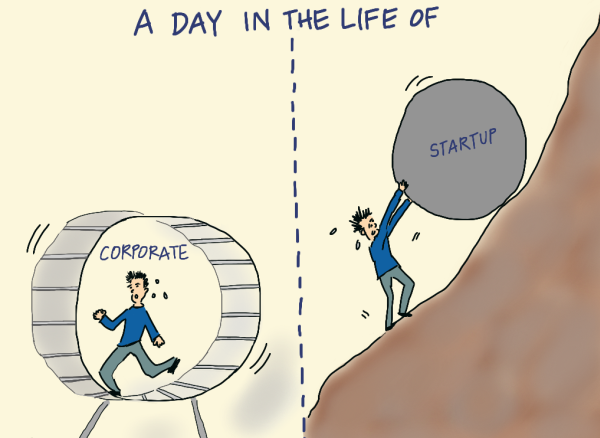 Before I tell you some good things about being in a JOB. Let me first share the bright side of "business"
When you do some business or try a startup – you surely become your own boss, you feel more in control of your career path and there is huge huge income potential.
However only when you "become your own boss", you start missing many things which you get in a job. Only then you are able to appreciate those subtle benefits of a job, which you never realized while being in the job. Today I want to talk about those good things about being in a job that is often not appreciated or realized.
So I am going to talk about 3 primary and major benefits and 7 secondary benefits which not major, but matters a lot.
Lets Start
#1 – Less Headache
When you are in a job, your work is very focused as you are accountable for one single thing. You don't need to take the headache of other departments and other small things. The way you operate is simple and you can blame others for anything which is not your core-domain.
This means that you have less headache and you can be very productive and focused on your work as you are clear of what is expected out of you. I used to love my job in Yahoo years back when I had very defined tasks in hand and my to-do list was clear and precise.
Compare this to your own business!
For the initial few years, it's nothing less than a horror movie.
While you are the "BOSS", you are also a peon.
You are the person who does salaries, buys office furniture, pays electricity bill, works on the website, open the bank account, talk to customers, talk to vendors, run around to deal with CA, get GST calculations done, do hiring, do training and tons of other small and big things!
If you feel that this is doing to happen for just a few months of starting the business. It's not true. Businesses take anywhere from 5-15 yrs of establishing. There are many people who are having a small company now with few team members, but there are tons of things on their plate which they need to handle and with the changing landscape of business, competition, regulator, customer experience, and business cycles, its a never-ending circus for many entrepreneurs.
Sometimes you start wondering why you are doing everything OTHER than the main task.
When you are in a job, there are lots of invisible systems that are around you and speed up your work. You become a HERO in your company, mainly because you had a lot of focus and time to excel in what is your core job. The invisible support system around you helps you in that.
So in a job, even if you feel there are lots of headaches, it's often at a minuscule level compared to your own business. So if you are someone who doesn't want to do be lost in too many things and doesn't like to handle multiple things in hand, a job is a wonderful place to be in.
The job comes with fewer headaches
#2 – Clear Separation of Work-life and Personal Life
When I had started working 13 yrs back in Yahoo, Bangalore, I remember Friday evenings.
It used to give a feeling that I am starting a new life altogether – The "Weekend Life"
For the next 48 hrs, I was detached from my work life and there was nothing on my mind. It was not my headache what is going to my company. That conversation started only on Monday morning.
Unless you are at a very top position or at some senior level, there is a very very clear separation of work life and personal life.
This becomes very tough when you start your own business. No matter what you do, there will be some thoughts of business that will crop up in your mind. This is simply because now you are not working for someone else. You are working for yourself. Your company is part of you.
Sadique Neelgund who started his entrepreneur journey with networkfp.com 10 yrs back shares his comment on this point.
As an Employee, one of the biggest benefit I enjoyed was fixed work hours – 8 hours per day – 5 days a week. Forget about work and boss, enjoy life with friends and family after work and on weekends. Tomorrow, take it as it comes. Resign and move forward if things don't work out.

As an Entrepreneur, it's actually work right from the time you wake up to the time you go sleep. Once you become an entrepreneur, your mind is always thinking what next; sometimes for growth and other times for survival. It's strange many of us want to become an entrepreneur because we want freedom of time. Although we can take leave whenever we want, go to office late etc… But that really does not translate into freedom from thinking about work & business.

According to me, freedom of time in real sense is much higher as an employee than as an entrepreneur.
One of my friends was sharing about his relative who has started a restaurant business in Dehradun. Because he is the "chef" himself, the weekends are non-existent for him now. His business is such that the shop has to be opened almost every day.
Either he has to wait for his business to become much bigger when he can hire a staff who is as good as him or wait for some extreme situations or get SICK in order to enjoy a day off.
Also, some businesses are seasonal and their peak business happens in the holiday season. So be ready to forget holidays or full off time during the holiday season. This depends on business to business also. Imagine that you start a business which is related to "Gift items". In that case, you will be super busy in all holidays. For you Diwali, Holi, New Year and this kind of time do not mean holidays, but double shifts!
So if work-life balance matters too much for you, a job is a wonderful place. 
Note that while you sacrifice the work life balance in the start of your business. Once its established and things are in place, you enjoy a great amount of work life balance. Then you can be very flexible in your office timings, you can take off whenever you feel like and work on days as it suits. It gives a lot of flexibility to you.
#3 – Steady and Stable Income
One of the things many salaried employees do not appreciate well enough is the steady and stable income that comes with a job. Each month, you know how much you will make by the end of the month. You know that till you have your job, your income is assured and it will come without fail.
The business risk which your company takes or any short-term problems which happen with the company do not impact your paycheck. This also means that you can plan your life in a more clear way. You know much EMI you can handle, you know how much expenses you can do, etc etc.
However, in business, it's a roller coaster ride. It's like an equity mutual fund chart, where you know deep down that while in long run, you will do well and things will be in place, in the short term you have to face a lot of volatility. A good month/year does not mean that the next month/year is also guaranteed.
Business uncertainties sometimes can be very painful and can put you in a situation where you start wondering why the hell you are into business. This is more true in the businesses where you also have to deploy too much investment and the income stream is very volatile.
If someone is leaving the job to start a business, this aspect can be very shocking to experience especially if you have debt and you are paying the EMI.
Checkout out more on this, in this video by Ankur Warikoo, the cofounder of nearbuy who shares his real-life experience on this matter
No doubt that over the long run, the business can give you an amazing payoff. Your income from business can be huge and you will forget all the initial painful years, however this an important point to consider.
I asked Amit Singh, an entrepreneur who runs a WordPress design and development Agency since 2009 to share his comments, and here is what he says.
To me, there are two good things about the job

1. Assurity Cashflow, that is as long as you have a job, your salary is guaranteed. This allows people to plan and focus on the work at hand. Another major advantage of this is that you get to take loans from banks easily for big-ticket items like Home or Car.

2. Time for hobbies, while this may not always be true but while I was working I used to regularly write blogs to share my learning, and build interesting side projects for myself just for fun.
If you are someone who needs a very predictable income, the job will give you that.
#4 – Flexibility to move on and easy withdrawal
If you are not happy with your job and can't stand the stress, it's comparatively easier to move on to some other company, role, or location.
In the end, you are not married to the company you work for. You can take the decision to move on to something else because at the end of the day you are a resource. The way you are replaceable by the company, even the company is replaceable by you.
You need to start the job hunt, plan out things, pack your bags, and move on. I am not saying that it's a cake-walk, but there is a good level of flexibility on this front.
However, when you start your entrepreneurial journey, there is a good amount of financial & emotional involvement from your end for your venture. You give you time, effort, mind, soul. It's like raising a baby. You can't just leave it in between and move on.
If things start going wrong or if you face challenges, you get to fix it and stay in the mess. You cant back out so easily. I don't want to sound as if I am trying to say that job-switching does not have its own challenges. It surely does! , but in comparison, there is a huge advantage in the job.
So if you are someone who enjoys this "weak attachment" and appreciate the flexibility to move on to something easier, the job is for you!
But let me also point the bad thing here. Even if you are working well, doing decent – there is always a risk to get fired from your company for various reasons. In the end, it's not YOURS.
That thing never happens in a business. Jaise Bhi ho, Apna hai!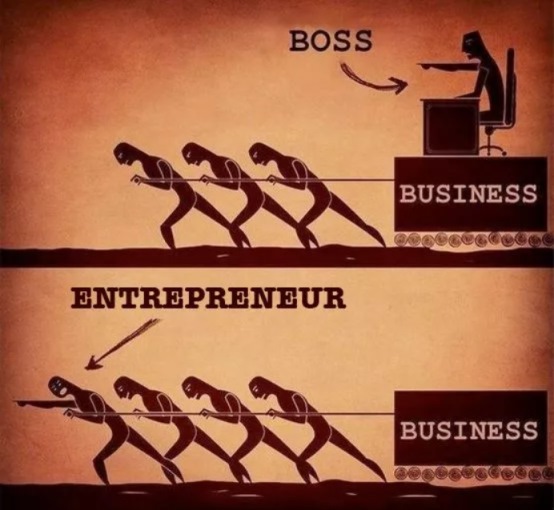 #5 – Social Standing & Recognition
"Hi – I am AVP of XYZ corporation" draws much more attention in social circle, than a "Co-founder of an ABC Struggling startup".
If you are holding a key position in some big company, people want to talk to you, be friends with you and invite you for various events. You are also recognized on social media and getting this attention often pampers you and acts as a motivation for you.
You get your identity due to your designation/brand. Also if you are handling a key position or managing a big team, you also get a chance to experience giving orders to others and command things. You handle people
In business, this social recognition will come very late or may not come every. When you leave your big position in a company and do a startup on your own, it's like from a happy, glossy Karan Johar movie, you are in a dark, realistic Anurag Kashyap movie
Let me give one more shot at it!
From Varun Dhawan of Humpty Sharma Ki Dulhania, you suddenly become Manoj Bajpayee of Gangs of Wasseypur.
Here what Mahavir Chopra who recently started beshak.org after leaving his job at a very big company shares with us
Entrepreneurship is an extreme sport. It's a mental shift. It's a rollercoaster journey of finding yourself that is not for the faint-hearted. When you take up an entrepreneurial journey, you are changing who you are.

You are no more the senior guy working in that successful company, who called the shots in the system and things worked. You are unarmed, you are vulnerable, you are naked in front of the world. From you representing a large company, a tiny company now represents you.

The romanticization, glorification of an entrepreneur shown in movies, shouldn't be the reason you want to become an entrepreneur – that way all of us should become gangsters or serial killers :D. You should become an entrepreneur if you are ready to unlearn, rebuild your self while building an organization that generates value from scratch – when you are ready to test your strengths in the real world, you are ready to face your weaknesses.
If this social standing or commanding position is something you enjoy a lot, the job will be a perfect place for you.
#6 – Move up the ladder and access certain kind of roles/work
When you are in a job, you mostly move ahead and up the ladder.
If you are extremely skilled in something and your domain knowledge is incredible. Then as you move up the ladder, you can get a chance to lead a big team in your area of expertise.
If you feel saturated in a particular domain, you can think of trying out another domain in the same company or the same domain in another company once you switch the job. You mostly experience "progress" in your career when you are in a job.
Also in Job, you can use someone else success and hard work to lead a role that you want. You can let the business uncertainties be handled by someone else and dedicate yourself to learn a new skill of your liking (obviously it has to be related to your work).
For example, let's say you are a good software programmer and have designed great front end websites. Now if someone doing a new startup, and you want to give a shot at leading the planning and creating of the front end of the startup. You can join the startup and fully focus on that new thing you to add to your resume. You can let the business owner worry about the funding, company future, salaries, and other things.
However, when you start your own business, you often start from scratch the rebuild things. You first do down, then move up which is quite volatile.
Let me explain with few more examples (ahh.. its not an easy thing to explain)
If I want to explore "teaching" a bunch of students. It's almost impossible to do if I open my own school. I will then be running around for things like hiring teachers, renting or buying land, construction work, managing staff, design of curriculum, making a marketing plan for the school, and whatnot. I can't be a teacher then.
If you want to lead a team of 20-50 people. Then if you are an expert in your field, then there is a possibility that within a few years you can move to another job where there is an opportunity to lead a big team.
If you think of starting the business, you have to first deal with a lot of petty tasks before you can do that years and years later. You will mostly be busy with so many things that you will hire someone else to lead the team at the end of the day!
I hope you are getting what I am trying to say. In a job, there a nice chance of incrementally become bigger because of other efforts and setup.
Here is what my friend Ameya Dhani says, who worked for more than 15 yrs and now started his own business as an Industrial solution provider
When I was engineering student, I always fascinated about corporate culture and dreamt of working with MNC. I was fortunate to have my dream come true and had chance to serve in Corporate offices of MNCs at various levels in my job tenure.

Working in a company will give u readymade identity at the professional & social world. You will have the knowledge required for completing your assigned task and if required, company will upgrade/polish it through their internal team or consultants. This will help you to learn new skills to master the task.

As every employee is responsible for the task assigned to him, this reduces the burden which helps in having a better work-life balance. At MNCs, at younger age you can sometimes visit new countries, meet new people and gain better knowledge of world. Also with job, its possible to have a better lifestyle at younger age. Timely salary and perks are icing on cake.
#7 – S0cial Life & Atmosphere
If you are doing a job, it's almost a given fact that you have some office friends, a happening office atmosphere, birthday parties of friends, monthly/quarterly eat-outs, and yearly outings once in a while (obviously not in this corona phase)
You are part of a buzzing environment and there are people all around you. Even though you spend the highest time at your desk, you don't feel lonely. I remember every day in the office we friends used to meet in the cafeteria and engage in silly chit chats while gulping that juice and sandwich. I remember my office friends, colleagues, and the whole ecosystem which used to give me a nice feeling.
Welcome to Entrepreneurship, which is often a lonely world!
You start working out of home, or some shared office or a tiny office which is nowhere close to that swanky office, and on top of it, you are paying the rent. You miss that big-office culture and often that can be tough to handle if you are too used to that kind of life.
A lot of people do not think about this small aspect, but for some people, it can matter a lot.
It takes time to reclaim that level of social life in your own business unless obviously you are starting your business with funding money and get a big team and office from 1st year itself.
#8 – Corporate Perks
When you are in a job, you also get tons of perks
Apart from various small perks, I want to first talk about two major benefits which are health insurance and EPF
One of the biggest perks, when you work in a job, can be the free group health insurance which covers you and your parents from day 1 for all kinds of illnesses. You know how big a perk this is if you are not getting health insurance for your parents or yourself when applying separately.
Another big perk is the automatic investments which happen in form of EPF. For most of the employees, a forced EPF deduction is nothing less than a big boon. At least this way they have some investments happening every month and over years, it compounds to a very big amount.
Let's see what my long time friend Animesh Gautam who started his own business around 2 yrs back (after 13 yrs in the job) says
For me the most important think I relished about the Job was the PF contribution that were made compulsorily, it helped me at finally arriving at the decision of quitting my job, as the contributions in PF after 13 yrs of work were considerable enough to give me some financial stability and I was then able to take calls independent of financial constraints.
Then there are many small perks and advantages like
Free/Discounted food
An unlimited doze of free tea/coffee/cookies.
Creche
Free office cabs
Free Life Insurance
Corporate tie-ups with restaurants and brands
Gym Memberships
Tie up to get easy credit cards
Tie-ups with various loan providers
Being in the job, people really never appreciate how fast they get a loan by just giving their form 16 and ITR for last 3 yrs for any kind of loan (for business people its a headache to prove that they can repay the loan, we have to give our company balance sheets, income computation with CA attestation and what not!)
In short, there is a good amount of pampering happening which often you don't realize.
One of my friends who works in the IT sector also mentioned that she is missing the super comfortable office chair in this WFH period. She never realized it, but only now.

I don't know how true it is, but my Delhi friend said that many people in the North also love the fact that their offices are fully AC which they miss when they are back home (if they don't have AC at home)
When you start your own business, you often start from a lower base with all these benefits and amenities gone. But once you are established with a nice office and staff to take care of things, you get some of it (still not FREE)
#9 – Set back due to mistakes or external factors is lower
In a job, the impact on you, because making a mistake is much lesser compared to a business.
Any mistake on your end will mean a direct loss to your company and an indirect or a delayed loss to you. It's not that your next paycheck is at stake.
Even when there is some big mess up from your end, the maximum you can lose is the job, but you still have your skills and years of experience with you. Even when you are too stressed due to some office issue or a mistake done by you, you have an option to leave the job and move to some other company and feel guilty for some limited period. The case is closed for you.
Compare this to your own business, where you have to deal with the mistake and fix it. You cant leave it!. Also, the direct impact is on you.
#10 – No financial Investment
Finally, a very small benefit of a job is that you can do a job without incurring any financial investment. You just need the skill and that's all.  The best example of this is the restaurant business.
Imagine someone took up the job of a restaurant manager in a new upcoming restaurant.
Due to the corona pandemic, the setback for the restaurant manager is only his job. But for the restaurant owner, it may be a loss of huge capital.
So a job gives you an opportunity to earn money without any financial investment.
But if you want to do business, you should be ready to invest money in most of the cases
Apart from the 10 points I mentioned above, I also want to talk about a few more things .. Let's see those
Am I glorifying Jobs?
When I finished writing this article, I felt as if I am glorifying jobs and giving an impression that one should not attempt doing business and always be in jobs as they are so great. However, I am just trying to put a point that you should love and respect your jobs a lot as they are amazing in certain aspects.
People in jobs will surely have a limited upside on their salaries (apart from exceptions) compared to a business person. Almost all the rich people in India are business owners and not a salaried class. However, there is no written rule that everyone should aim to become a billionaire. You can lead a happy and content life even being a salaried person and that's absolutely fine.
Businesses even though have their own limitation score on many points which is not the agenda of this article and I am not going into it for now.
"Entrepreneurship is always better than just a job"
This is surely not true.
When we hear about entrepreneur stories, we often hear about the big success stories which are worth billions. We will hear about Bansals who used to be in a normal job in Amazon and who are now worth billions of dollars. But we will not hear about other folks who also used to work for amazon and left their jobs to start businesses which never took off and they had to return back to jobs and no one knows their stories.
No doubt that entrepreneurship has the potential for a very big payoff if things go in the right direction. But it's not for everyone and should not be attempted just for the sake of trying.
There are tons of struggles in starting your own work and most people fail at it. Also, small successes are often not celebrated enough. You will not hear about the guy who left his job to build a 4 cr company and a team of 8 people after 12 yrs of hard work. You will not hear about the 2 partners who are making 5 lacs a month each after going through the hardships. These all stories are not "success" as per the startup world even though 99.9% of people end with exactly that kind of results.
In the end, it's a decision between what you want to be – a "Small-time entrepreneur" or a "Big-time employee!"
You can be an "entrepreneur" while being in a job
Think of it like this.
An entrepreneur exists only because of the people who do the job. No entrepreneur wants to work in isolation.
He wants to have a salaried team that will help him grow his work. Salaried people are the backbone of any company. What you need is the mindset of entrepreneurship to make tons of money and command lots of respect.
Do your work as if you are the owner. Think from a business angle and contribute. You will become a valuable part of the organization and your compensation will also grow and be linked with the business.
Aditya Puri of HDFC bank was an employee, but his attitude was of an "Entrepreneur". He retired with 800 crores worth of company stocks.
Sundar Pichai is also a salaried employee of Google. But he acts and thinks like an "Entrepreneur". Last year, Pichai was granted a $240 million stock package on top of a $2 million annual salary.
If you create value and work with a giving attitude, then you automatically become an "Entrepreneur", you don't always have to start your own business.
I hate my job, so I want to start my own business
"I hate my job" is the worst reason to start your own business.
Most of the people who succeed in their "business" are those who were quite happy in their jobs.
They didn't leave the jobs because they hated it. They left it for a bigger reason. Maybe they wanted to be in a commanding position, maybe they wanted to experience the tough path, maybe they want to execute an idea which they were not able to do in the job. Maybe they wanted more flexibility in their life which job was not providing them. Maybe they wanted to earn a lot of money, which they didn't see happening in their job.
If you don't like your job or are unhappy. Check out what is the reason is and then fix that.
Maybe it's your boss
Maybe its the company environment
Maybe it's your salary
Maybe it's the lack of freedom.
Fix that.
Leaving the job is not a solution.
Don't devalue the money you earn for the sake of "passion"
Pursuing a passion is highly overrated and full of fizz.
Most of the people who seem to be following their passion are just lucky people who started something and it clicked and they don't hate it now. It was not a planned path they took.
Often, the stories of "he/she left his job to pursue his dream" don't look at life realities and the importance of money in life.
You cant pursue your passion with worries of paying the next rent and thinking from where your kid's fees will come next year. If you have studied well and got your hands on a well paying job, do value it and the money you make from it.
There is no problem is pursuing your passion, but do it with some good planning and once you are financially stable. Else things can go in the wrong direction.
I once came across an NRI who wanted to come back to India to pursue teaching. He had a decent networth. I asked him if he can stretch a bit more and work for 5 more years? He said YES.
I asked him to do that and delay his entrepreneur stint a bit late. That way he would be around 1.5 crores richer because he was able to save close to 3 lacs a month while in the job. I asked him to not devalue that.
Ramit Sethi talks about this in his article "Follow Your Passion" is bad advice
Job or Business – Both are Great!
I want to end this article with this point that even though I tried to share many benefits of a job in this article. I definitely don't want to portray that the business world is bad or should not be pursued. All that I have said above is keeping in mind a larger population. There are times in life where all the logic does not work and doing what your mind tells you is the right thing to do.
A job even though has many benefits often puts you in your comfort zone and you are not able to explore your full potential. But anyway, I just wanted to make sure that people love their jobs and respect what it provides them.
We often don't appreciate what we have in hand and just feel that we are missing out on something which others have.
I hope you will start seeing your job with a new perspective and become more valuable going forward.