POSTED BY Jagoinvestor ON May 9, 2010
Direct Tax Code is the new proposed bill for changing the tax rules in India. If it comes into effect from April 1, 2011, it will change the whole taxation system and will change the way our taxes are calculated from years . The new tax code will have impact on Insurance Policies, Home Loans, PPF, Ulip, Mutual Funds, Shares and Taxation slab. A common man has to understand whats there in future for him so that he can plan accordingly. However the Direct Code tax is still in draft and might come into effect, but there is no guarantee. Experts feel that it can not come in its original form. Lets see what are the impacts on different investment products if DTC comes into effect .
Effect on Endowment/Moneyback insurance policies
As per Direct tax code, any amount you receive at maturity from an insurance policy (including bonus) will be taxed. However this rule will not apply for policies where;
In any given year , premium paid in a year is less than 5% of Sum Assured , and
The policy runs till maturity.
So if you have anyEndowment Policy or Moneyback Policy and in any year if you paid or will pay more than 5% of Sum assured as premium or make your policy as paid up in between, all the money you receive in the end will be taxed at the time of maturity. For policies where premium paying term is lesser than the total tenure, still all these rules will apply. For example , if you have a policy where sum assured is Rs 5,00,00;  then there can be two cases where you will be taxed at the end.
First : If you pay more than 25,000 as premiums .
Second :  Even if you pass this 5% rule , but you do not run your policy till maturity.
Effect on ULIP's
The same rule applies to ULIP also. The first point is exiting before 10 yrs will badly hurt you from cost point, as all the Ulip's are heavily front loaded and exiting before 10 yrs means the total cost is (commissions) turns out to be too much for you. Only if your total premium per year is less than 5% of the Sum assured, you can save yourself from getting taxed. But most of the Ulip plans in the country will not meet that criteria as majority of the policyholder's pay much more than 5% of sum assured as premiums. A big number of policies have sum assured as 5 times of the premium, as it's the minimum requirement of a Ulip policy . Read about recent war between SEBI and IRDA over ULIP control
Effect on PPF
For PPF account any amount you have accumulated till 31 Mar 2011, will be tax free in any year of withdrawal. However any new contribution made after 31 mar 2011 will be taxed in any year when its withdrawn . All these rules will apply to existing as well as new accounts. One important point you should consider here is that PPF will still remain one of the best debt product, because this "tax on maturity" rule will be applicable on all the products, so from that point , PPF will still have one of the best returns in debt segment. This whole rule applies to your EPF as well . (Tip : Read Why you should open a PPF account even if you dont need it right now)
Strategies
Deposit more this year (2010-2011, so that amount becomes tax-free at the end .

Invest in your child who is below 3 yrs, so that you get benefit of tax on amount contributed for next 15 yrs, and after 15 yrs , when your child is age 18 , he/she will get that amount and it will be considered as his/her income , but at that time the tax outgo will be lesser as they will not have any other source of income , so the tax outgo will be less . This will not be a significant, but still 😉 (Read Clubbing Rules of Income tax)

Dont withdraw big partial chunks in between. Better withdraw smaller amounts so that in any particular year your taxable incomes remains low
Effect on Home Loans
Self occupied house

The tax benefits on self occupied home loans will be withdrawn once DTC comes into effect . At present Rs 1 lac is exempted for principle repayment and Rs 1.5 lacs for the interest repayment. After DTC comes, you will have not get tax benefits (Report on Returns from Real Estate in India)

House given on Rent
1.5 lacs interest deduction will be applicable for the home loans where the house is the second one and is given on rent. You might want to reconsider taking home loans if tax break was one of the major deciding factor .
In true sense tax break on home loans should always be secondary factor while deciding the purchase of house, because if you look back in your home loan documents, it's clearly written that tax benefits are always as per the applicable rules of the year. So dont feel cheated and yell on govt for this.

Effect on Mutual Funds & Stocks
DTC does not differentiate between short-term and long-term capital gains, which means that any withdrawal after 31st Mar 2011 will be taxed in the year of withdrawal.  Currently any profit earned after 1 yrs of investment is tax-free in Equity mutual funds and Stocks , this will not remain so . So if you have any Equity mutual funds or stocks with you, better sell them just before 31st Mar 2011 , so that current tax rules apply to that part of your investments .
Effect on Kisan Vikas Patra(KVP)/NSC/Tax Saving FD
All of these will loose the tax benefits
Effect on Income Tax Slab
The following tax slab will be applicable
| | |
| --- | --- |
| Income Level | Tax |
| Upto 1.6 Lacs | NIL |
| 1.6 – 10 Lacs | 10% |
| 10 – 25 Lacs | 20% |
| 25+ Lacs | 30.00% |
Effect on 80C
Sec 80C will be replaced by Sec 66 and limit will be raised from 1.2 Lac (20k for Infa bonds) to 3 lacs . Have a look at following classification of profucts from taxation point .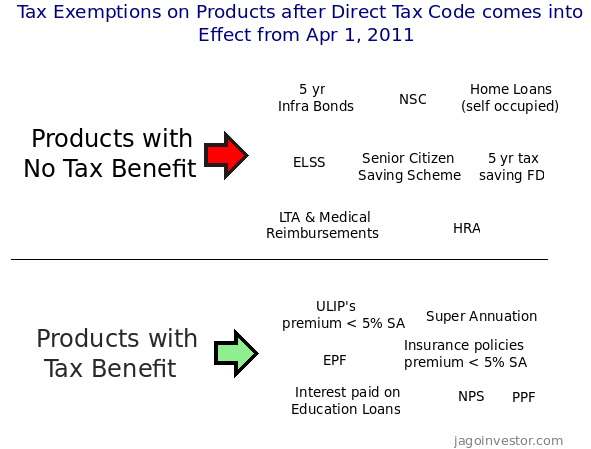 What do you feel about Direct Tax code ? Are you Happy about it ? Do you think it would be easy for Govt to bring Direct tax code without much fuss ? Share your thoughts