POSTED BY Team Jagoinvestor ON January 26, 2019
Do you know that, as per Indian health statistics, every year 3 % of the population go below the poverty line due to the heavy spending on illnesses?
It means, because of large financial outgo for treatments, every year 3% of the population, drop down to one level below their present class i.e. high-class people become middle and middle transforms to lower class. So, Imagine how badly our financial life may get affected if we do not have a proper source of funding at the time of facing non-curable diseases.
The probability of getting affected by life-threatening diseases are getting higher day by day.
As per the growing modern trend in our society, our lifestyle has changed in a bit good way but a lot in a bad way (eating junk/overeating & drinking). There is a rapid rise in obesity in India, which leads to diabetes, stroke and many heart diseases.
As per the statistics on Indian health –
Diabetes currently affects more than 62 million Indians, and India is projected to be home to 109 million individuals with diabetes by 2035.
About 1.7 million Indian's deaths caused by heart diseases every year, according to WHO.
The incidence of cancer in India was 70-90 per 100000 population in the year 2014 which increased to 106.6 new cancer cases in 2016 per 100,000 people.
Along with bad lifestyle, pollution is also affecting our health. 7% of death in India is due to respiratory diseases. Before any of this life-threatening disease happens to us. We should be prepared financially so that we can utilize our energy fully on the treatment and not on the financial burden of that time. So, to meet those uncertain financial needs, having a critical illness policy cover will be the best resort.
If you are in a hurry so just watch the video below to get a brief idea.
What is critical illness cover?
Critical Illness insurance is an insurance product in which the insurer (insurance company) is promising to make a lump sum cash payment if the policyholder is diagnosed with one of the specific life-threatening illnesses on a predetermined list as part of an insurance policy. The policy may also be structured to pay out regular income and the payout may also be on the policyholder undergoing a surgical procedure, for example, having a heart bypass operation, etc.
Every critical illness policy specifies the illnesses covered and not covered. The major illnesses like heart attack, cancer, stroke, and coma are commonly covered by all the critical illness policies. As the probability of occurring these is high and the payment on these illnesses (cancer or coma) are not one time task, it might be the life time operational costs. And the cover for other critical illnesses varies from company to company.
Below given table highlights the commonly covered illnesses with varying and uncovered illnesses.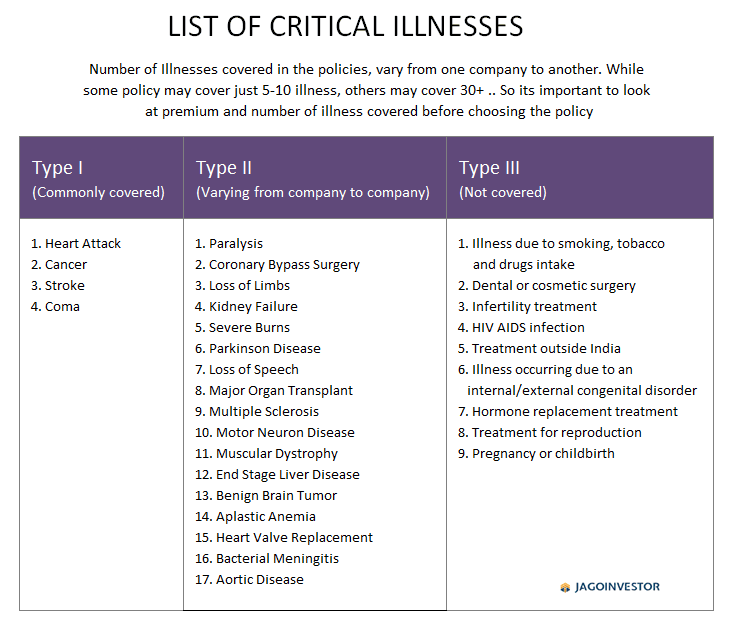 There are some illnesses that are not covered by any critical illness policy, so make sure that you are not buying a critical illness specifically for getting covered from the following illnesses, as these are not going to be covered by any critical illness policy. Before buying any critical illness cover from any insurance company one should carefully read the policy terms and conditions to see which all illnesses are covered under a particular policy.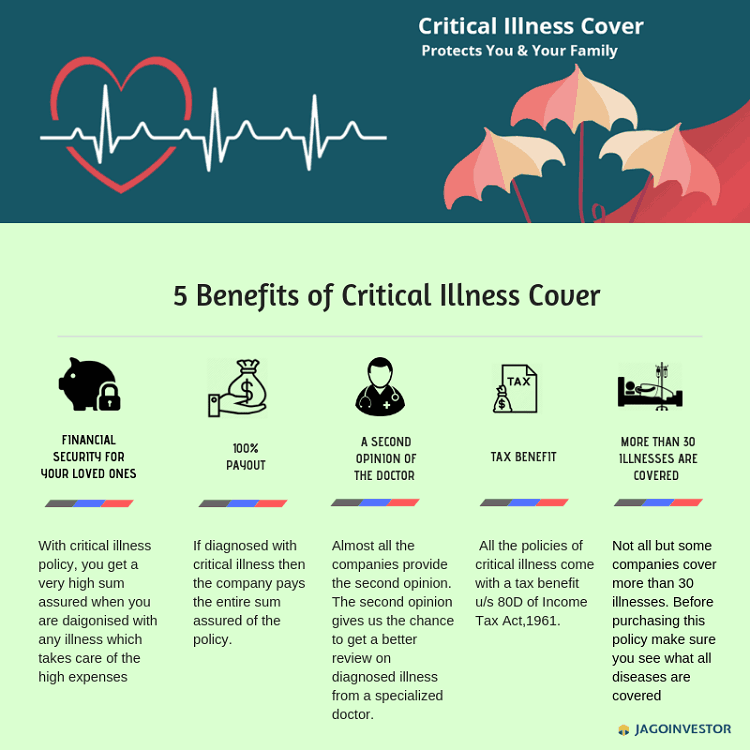 Benefits of Critical Illness Cover –
Financial security for your loved ones– Critical Illness cover not only pays for protecting your life but makes your family feel secure financially.
More than 30 Illnesses are covered -Not all but some companies cover more than 30 illnesses. Before
A second opinion of the doctor – Almost all the companies provide second opinion. Second opinion gives us the chance to get a better review on diagnosed illness from a specialized doctor.
100% payout -If diagnosed with a critical illness then the company pays the entire sum assured of the policy.
Tax benefit – All the policies of critical illness comes with a tax benefit u/s 80D of Income Tax Act,1961.
Peace of mind – Once you have taken the critical illness policy you can be relieved because your financial state is now taken care off. If you encounter any critical illness disease then you can now focus more on the treatment rather than managing funds from here and there.
Top 5 CRITICAL ILLNESS COVER
For your reference, I have done an analysis of finding the top 5 critical illness cover policies in India. Below given is the list of top 5 critical illness cover policies.
****** The premium details are for a 1-year policy including GST.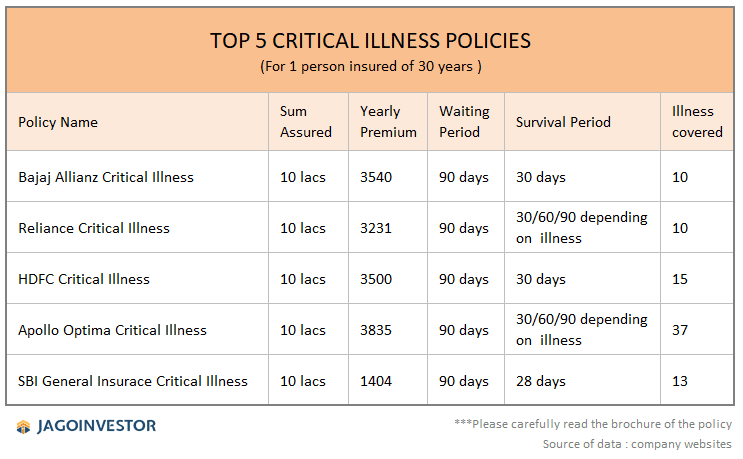 6 points to get the best critical illness policy?
As now you know the top 5 critical illness policies, still it is not easy to select the best policy out of many. So, here are some of the points to evaluate the best critical illness policy.
#1 – The Premium amount
Comparing premium amount is as simple as, selecting a critical illness policy of that company which gives the best value for money at the same sum assured and illnesses cover you are looking for.
#2 – Sum Assured
Getting the highest sum assured should not be a criterion for policy buying. The standard cover suggested is of 10 lacs to 20 lacs, so that your financial life should not get affected due to any uncertain illness.
#3 – Waiting Period
A waiting period is a period up til which any of the illnesses specified under the policy are not covered.  For example, if it's 2 months, then if any of the critical illness happens to you before 2 months, your claim will not be taken. The insurance companies will consider your claim for paying the sum assured only after the period of waiting has ceased after buying a critical illness policy. So, before buying policy make sure that policy is having lesser waiting period. Almost all the companies have a waiting period of 90 days (not including existing illnesses).
***For existing illnesses waiting period is 48 months.
#4 – Survival Period
The survival period is the length of time, for which the insured must survive after being diagnosed with the illness,  in order to get a claim. The insurance cover will be paid only after the survival period has passed. So, if a person's death happens immediately after a heart attack, even if he has critical illness insurance, his or her family may not receive any payout from the insurer.
The length of survival period varies among different insurers, it can be 14 days or 30 days, etc. So,  for buying a critical illness policy make sure that the policy has the least survival period.
The logic behind the survival period clause is that, critical illness insurance benefits are meant to be used by the insured as a living benefit to recover from illness, not a Death benefit. So, from this it is very clear that you should have a term insurance(life insurance) to provide the cover to your family, even if already having a critical illness cover.
#5 – Diseases covered
On selecting the best critical illness policy do not look for the maximum number of illnesses, it will be very illogical and will also lead you to pay a higher premium. Instead, go for a standard set of illnesses ( i.e. 28-32 illnesses covering major 4 critical illnesses) that might happen due to your life style habits and hereditary.
#6 – Entry Age 
Check the entry age of policy before buying. Mostly the entry age for critical illness policy is of 18-64 years
Why have a Critical Illness Cover if I already have Health Insurance?
One last thing to keep in mind is that health insurance and critical illness are two different products. Critical illness typically covers you from specified illnesses and not regular health-related issues.
Health Insurance provides exhaustive scope of coverage. Such as in-patient hospitalization, pre & post hospitalization, day care treatments, ambulance costs, organ donor expenses, etc. Where as Critical Illness plans provide coverage for a specified list of illnesses mentioned in the policy contract.
Below given table briefly represents the difference between health insurance and critical illness plans,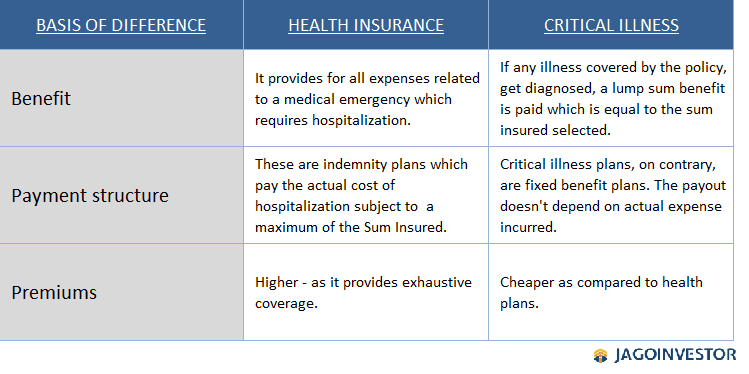 So, as you now know why and how to select the best critical illness policy, if you think any critical illness cover is best suitable for you, then go for it. Having one critical illness insurance policy is must in today's era.
Let us know your views and queries about this article in the comment section.