POSTED BY Jagoinvestor ON September 20, 2017
If you are planning to buy a term insurance plan in coming weeks, then you are at the right place, because today I will share dozens of points which any term plan buyer should know before they buy the cover.
So, if you have no idea of how does term insurance work, and if you have asked yourself – "Which term plan should I buy?", then you are at the right place today.
Most of the buyers who are new to term insurance plans do not understand various critical facts and points which they should consider while they are buying the policy and because of that, I came up with this checklist which will help you.
Let look at each point in detail.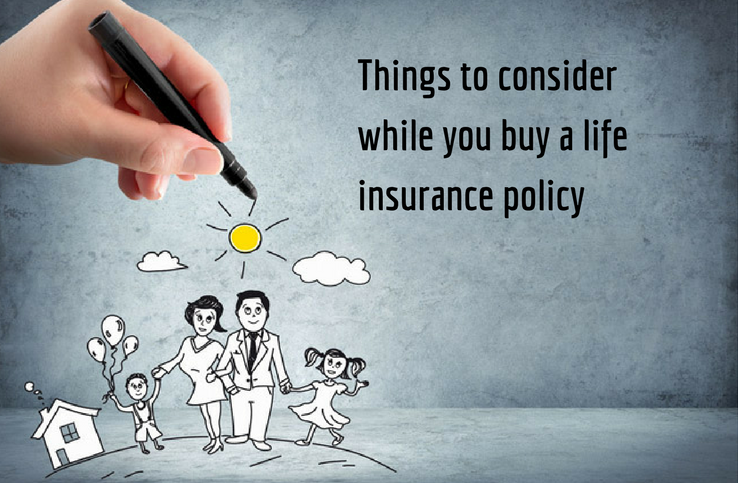 1. Earlier you buy a term insurance plan, better it is
There is no minimum or maximum age for term insurance. Earlier you purchase the policy better it is.
Do not be very late because as time passes, your premium amount will also increase depending on your age and also if you develop any illness or disease, it will get tougher to get the policy later. So once you are clear that you require a certain amount of life cover, go ahead and complete the action within a few months.
2. Buy the term insurance policy only till your retirement age
Till what age should you buy a term plan? Should a 30 yrs old guy buy a term plan up to 80 yrs? The answer is NO.
You should not buy it for the longest tenure possible because you only need life insurance policy till your retirement and not beyond that. This is because not many family members will be financially dependent on you beyond your retirement age.
When we are young, we have more financial responsibilities, and hence it makes sense to take a big cover. But as our age increases, our assets will grow and at the same time, we will be moving towards the retirement age, at which point we no longer remain provider for our families.
3. Don't get mislead by "per day premium" marketing gimmick
A lot of insurance companies have started to advertise their term insurance plans by sharing the cost per day basis, like for example – "Buy 1 crore term plan just for Rs 25/day". However, note that these numbers might be applicable only for a certain age group and tenure of the policy.
Like it might happen that the advertised premium per day is only for the clients around 25 yrs and for a policy of 40 yrs.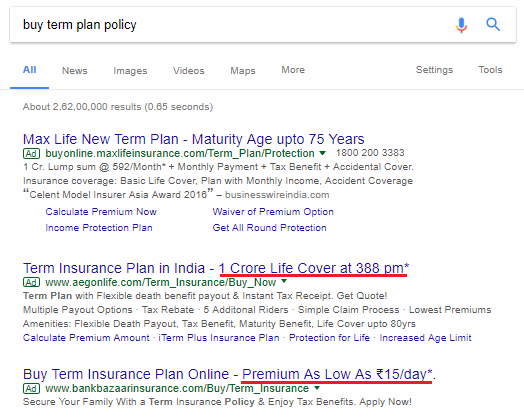 Your case will be different and the premiums might differ for you, so don't get trapped by the lure of cheaper premiums.
4. Don't buy single premium policies
At times, you have to choose between single premiums vs. regular premium while purchasing a life insurance policy. A lot of people think that just because they can afford to pay a onetime premium, it makes sense, but it's not true.
Other than some cases, it does not make much sense to pay a one-time premium (single premium) while buying a term plan. The best option which will work for most people is the yearly premium. So if your agent is trying to explain to you how a one-time payment will help you save the cost, run away and don't fall for it.
5. Take an increase in premiums in a positive manner
This is a big one which is critical to understand.
When you buy a term plan (or even health insurance), sometimes your premiums can increase after your medicals are done and you may be asked to pay an extra premium. This increase in premium is due to health issues and it's very valid to ask you to pay this extra premium.
Most of the buyers are very critical of the premium increase and choose to not move ahead or postpone their decision of buying the plan.
However you should understand that the premiums increase is a natural thing to happen if you are of the high-risk category (like a smoker, alcoholic or if some past illness). It's actually a good thing that the company is beforehand checking the facts and still offering you the plan, though at a little high premium which is very fair from their point of view.
If you are still not clear on this, you should learn how insurance companies work and what is their model?
At that point, rather than postponing the decision, the best thing is to go ahead and buy the policy.
6. Don't get over-excited by term insurance riders
"Riders" are great add on with a term insurance plan, but only if you really require them or if they are specific to your case. Don't add them just because it's available and gives you a sense of more security. I mean if you do a lot of travel and are most of the time in your case, the risk of dying in an accident is higher for you, so in that case, you can add an accidental rider. Here are various types of term plan riders
Accidental Death Rider
Permanent & Partial Disability
Critical Illness
Waiver of Premium
Income Benefit Rider
In the same way, if you feel that you want to cover the risk of some critical illness in the future and don't want to buy a separate policy, then you can add critical cover. But don't add any term insurance riders for the sake of it.
7. Buy the basic version of the term insurance plan
A term plan comes into various flavors nowadays. The most basic one is the one which pays you a lump sum on death. However, there are other variations now which also gives you income for 10/20 yrs along with the main cover, or pays only the income for the next 10/20 yrs and a small lump sum at the time of claim.
I think one should just choose the base policy in most of the cases. Most of the other options are designed for very specific situations and they are not "better" or "bad" compared to the base policy. To check this, you can go to any term insurance premium calculator and find out the premium with rider and without a rider.
8. Tell them if you are smoker/alcoholic
One of the worst things you can do while purchasing any life insurance plan is to hide the fact that you are a smoker or consume alcohol. Please don't hide it. There is nothing like a best term insurance plan for smokers in India at the moment.
Your premium calculation happens based on this critical information and if you hide these facts, then you are actually breaching the contract with the company and almost always your claim will be rejected at the end. Also, don't think that just because you smoke just once in a while does not make you a non-smoker.
Below is some data from economic times on the rising number of claim rejections because of the hiding of information.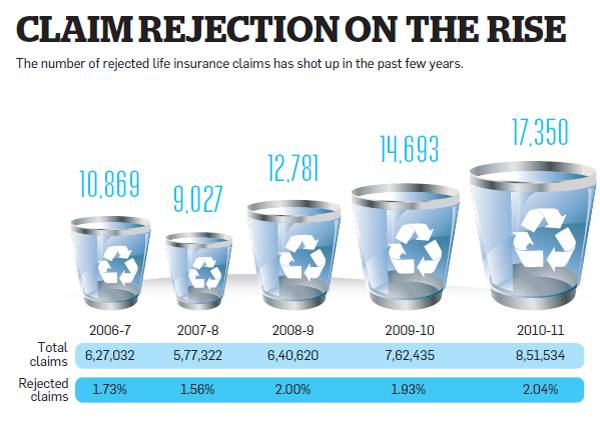 If you smoke (even though every fewer number of times), you are a smoker in the eyes of the life insurance company. Same is the case with those who take alcohol.
Make sure you fill your own form because there have been cases when an agent just mentions the policyholder as non-smoker or non-alcoholic to make sure the policy is easily issued.
9. Don't hide your health information
Another grave mistake done by policy buyers is to hide any critical health information while purchasing the policy. If you have any health issues or have gone through any major operations/surgeries then you should clearly communicate that to the insurance company. One of the reasons for term insurance claim rejection is hiding important facts while purchasing the policy.
Please don't wait for the insurance form to ask you the exact details.
An insurance policy is actually a proposal from your end in the eyes of law where you have to disclose all the facts and the company will accept your case or reject it. So the bonus of providing all the information is on you.
10. Don't hide your family health history
Even your family health history matters. If your parents or siblings have some illness, then even that should be shared by you. Please don't hide it because even that information impacts your premium.
Many people think that just because their parents had diabetes, it does not matter at all. That's not true.
11. Don't take small insurance cover (like 10-20 lacs)
Do you know that the average sum assured per India is in the range of Rs 90,000 to 1 lac only? Indians on average are highly uninsured, however, that's mostly true for those who do not have term plans. But even those who have term plan try to cut the corners and eventually take less term insurance cover.
The most favorite number nowadays is Rs 1 crore. I see most of the people just taking a 1 crore term insurance plan thinking that it's the right number. No, it's not the case.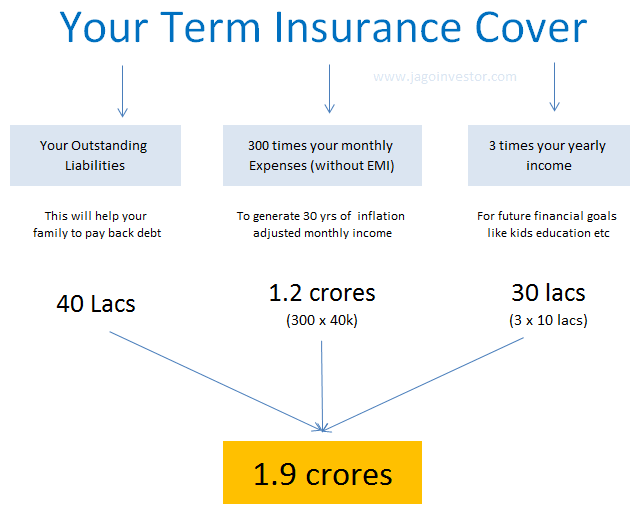 With the rising costs and lots of aspirations, Rs 1 crore might not be enough for most of the families all their life. I suggest you should take a good enough cover which gives you enough peace of mind.
Make sure you add up all your liabilities, 300 times of your monthly expenses and some more amount which can help your family reach your other financial goals and take at least that much cover.
If your life insurance requirement is Rs 1.3 crore, better than a 1.5 crore and not 1 crore.
12. Don't overanalyze and delay your decision
Do you see that ad these days on TV where a lady shouts on her dead husband for forgetting to buy the life insurance even though they had decided to take it
"Kya, tum term insurance Lena bhul gaye, ab Ghar ka kharcha Kaise chalega"?
One of the biggest issues with most of the potential policy buyers is that they want to buy the best term insurance policy and don't want to make any mistake. They are aware that they need a life cover, they also start searching for the policy, do the term insurance comparison, but then start to over-analyze the policy, its features, the premium comparison and what no.
Finally, they just don't take any decision because of the analysis paralysis. They postpone the decision and think that they will "soon" buy it.
Don't do this
But a decent term plan asap. Do some study, but don't get into that zone where you are just stuck because of small points. It's better to have a good term cover with any company, rather than having no cover trying to search for the best company.
13. Don't forget adding nominee name
While filling the insurance form, make sure you carefully put the nominee name. But who can be a nominee in insurance? Ideally, it should be wife, children or someone whom you want to pass the term plan money. But try to avoid very old people as the nominee (in general).
Also make sure you mention this fact in your WILL too, or if you are not going to create a WILL right now, you can take the life insurance policy under MWP Act, so that your nominee will be the final person (it can only be wife and kids if you add MWP) who gets the money.
If you have bought the term plan long back and now your preference has changed, it's better to change the nominee name.
14. Don't take more than 1-2 policy
You should ideally have 1 term plan policy in your life insurance portfolio, the max can be 2 policies. But nothing more than that.
I have seen some people dividing their 2 crores of the cover into 4 policies of 50 lacs each with 4 different companies and it's a little bit of stretch. In almost all cases, 1 single policy of a big amount is good enough.
However, if you still feel that you want to break it into two policies, that's the maximum you should do. Also, some people who are buying another term plan after a couple of years should not note this point that they should eventually not have more than 2 policies.
15. Disclose the old insurance policy
When you buy any life insurance policy, it's mandatory as per their rules to disclose the old insurance policy you already have. In most the cases, when people buy a term plan for the first time, they already have a couple of traditional insurance plans, but they fail to declare that.
I suggest you don't do that because as per life insurance policies, a company should know how much coverage you already have and only based on that they will offer you additional cover.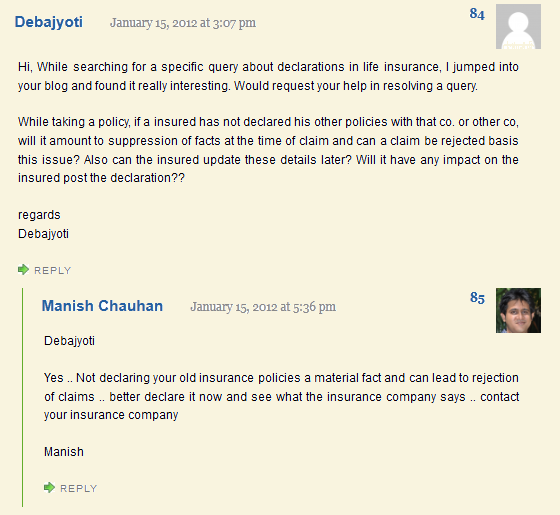 If you have already bought a term plan without mentioning your old policies, you should reach the customer care of your term plan company and share with them about your old policies.
16. Be open to try online brokers
There are various online brokers which are building a long term business in the insurance space and provide various extra benefits to their customers like fast service, claim settlement assistance without you (customer) incurring extra cost, because they get compensated by the insurer (without putting any additional cost on your pocket).
The premium for you is the same if you buy it from the company directly only or through these brokers. These brokers give you various options to choose from and help you buy the policy which you want.
You can approach these brokers if you really feel they will add value to your transaction. I am not saying that online brokers are the only way to buy. If you are very critical of them or are old fashioned, then you can directly reach to company or your neighborhood broker.
17. Check the policy papers once you get it
One of the things which you should immediately do after receiving the policy is to check all the fine points and a copy of your medical examination. Nowadays, the policy papers have your medical records.
Kindly go through each point and make sure things like your age, name, blood group, address and other important things are mentioned correctly.
There have been cases, where the information has been wrong. If things are wrong, you can reach out to their company customer care to get it corrected.
18. Don't fall for "10 times of Income" marketing
Almost all the call center marketing people try to sell you the cover equal to 10 times your yearly income. This often is a very simplified way of finding your life insurance coverage.
A better way to find out your coverage is to find out 300 times your monthly expenses and add up your outstanding liabilities to it. In the end, you can include 30-40 lacs more into the final number to take care of your other financial goals in future like kid's education, etc.
For example, a guy with monthly expenses of Rs 50,000 per month and with 60 lacs of the outstanding loan will need 300 x 50,000 + 60 lacs = 2.1 crores at the minimum. So he can take a 2.5 crore term plan for himself.
However much life insurance you should take is a function of your expenses and liabilities and not your income. What if a person earns 6 lacs a month, but a modest Rs 50,000 month expenses with no liability?'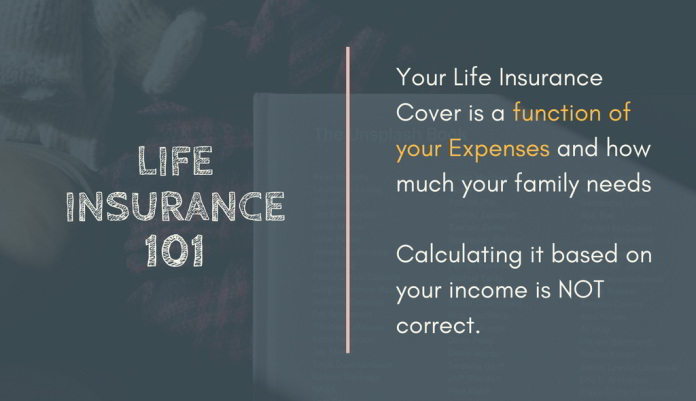 The "10 times of your income" marketing will say that he should buy a 6 crore term plan, whereas his right number would be in the range of 1.5 to 2 crore only.
19. Choose a strong and good brand while choosing Insurer
There are 24 life insurance companies in India (the year 2017) right now. Do you think each of them are equal in terms of surviving, claim settlement experience (not ratio), dealing with clients, depth of medical examinations, integrity in conducting business and what not?
Here are the list of all the life insurance companies in India as of 2017.
AEGON Life Insurance
Aviva Life Insurance
Bajaj Allianz Life Insurance
Bharti AXA Life Insurance
Birla Sun Life Insurance
Canara HSBC OBC Life Insurance
DHFL Pramerica Life Insurance
Edelweiss Tokio Life Insurance
Exide Life Insurance
Future Generali India Life Insurance
HDFC Standard Life Insurance
ICICI Prudential Life Insurance
IDBI Federal Life Insurance
IndiaFirst Life Insurance Company Ltd – India First
Kotak Life Insurance
Life Insurance Corporation of India (LIC)
Max Newyork Life Insurance
PNB MetLife Insurance
Reliance Life Insurance
Sahara Life Insurance
SBI Life Insurance
Shriram Life Insurance
Star Union Dai-ichi Life Insurance
Tata AIA Life Insurance
When you choose a life insurance company, you should make sure you choose the one which has a strong presence, along with a good brand (not the biggest). Read reviews online and check their data and read about them.
20. Communicate to your family that you bought a term plan
You should share about buying the term plan with your family immediately along with the policy papers and the contact number of the insurer.
You can also write down the claim process on paper and keep that at a safe location and share it with family. I know it's not an easy conversation to do even though it's a logical thing to do. But at least communicate with your family about the important things they should be aware about.
20 things to know before buying a term plan
Steps to follow while buying the term insurance plan online
Understand your requirement first, find out how much insurance cover you are looking for
Go to various term insurance premium calculators on the web, and see what is the premium amount
If the premium is within your budget, then apply for the term plan
Make the initial premium payment and start the documentation
Medicals will be arranged for you by the term plan company which you should complete on time
Once everything is fine, your policy will be issued.
Let us know if you still have any queries?