POSTED BY Jagoinvestor ON June 19, 2018
Do you understand what is the meaning of Minimum Monthly Average Balance in your saving account? When you say "Monthly Average Balance of your saving bank account is Rs.10,000", what does it mean exactly?
A lot of people feel that their balance in saving bank account should not go below Rs.10,000 on any given day, otherwise, there will be penalty charges and they make sure that they have a buffer of Rs.10,000 in their saving bank account all the time.
This means that their account should always have that much surplus. However, the way the monthly average balance is calculated is different and very simple.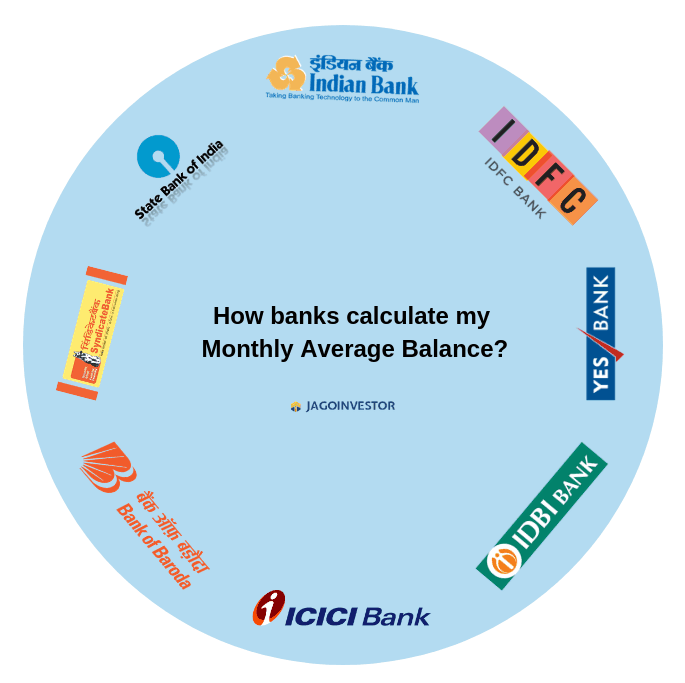 Meaning of Monthly Average Balance?
It simply means that the average of the all the closing day balance in a given month. So given a month, add up all the closing day balance and then divide it by the number of days in the month. If you have to put it as a formula it would be
MAB = (Total of all the EOD closing balance)/(number of days in a month)
Let me show you an example. Let us say the month we are talking about is April. The minimum balance limit in your bank lets say is Rs.5000.
Now your balance at the start of the month (Apr 1) is Rs.10,000. You withdraw Rs.8000 on 10th Apr and then Deposit Rs.2000 on 20th April. What will be the Monthly average balance for the April month?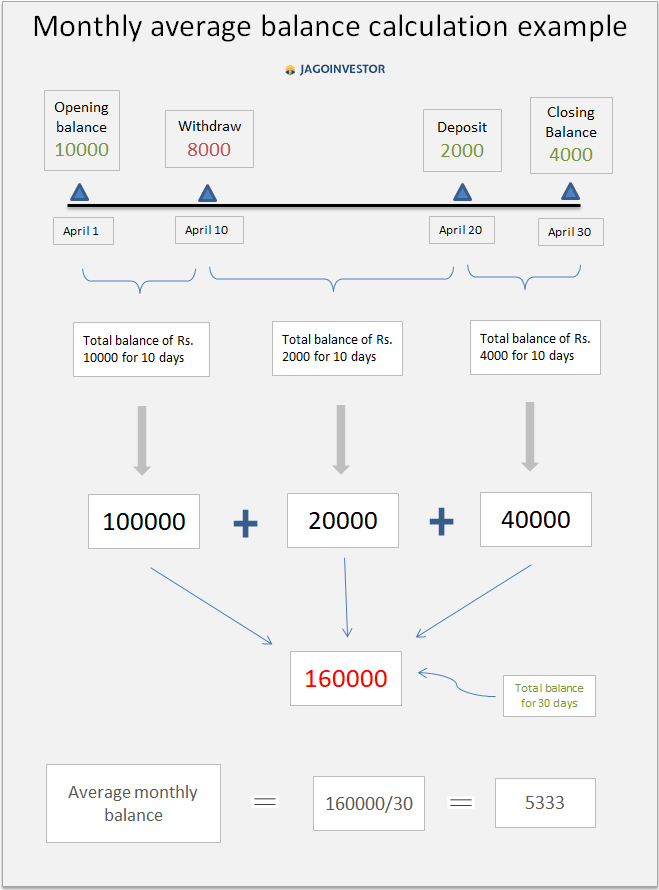 Learning's & Tips
Keeping Rs.10,000 in a bank account for 15 days is same as keeping 5000 for full 1 month (10k * 15 days = 5k * 30 days)
PSU Banks vs Private Banks
A lot of PSU banks like SBI bank, Bank of India, Allahabad bank generally have a lower monthly average balance to be maintained in saving bank account, it's average limit is up to Rs.5000 non-Maintenance Charges are very low around Rs.40-50 only.
However Private banks like ICICI Banks, HDFC bank, Axis Bank etc have Monthly balance as high as Rs.10,000 and charges a high penalty for not maintaining it , It some times can be as high as Rs.750.
So by now, you must have known how the minimum average balance is calculated? Will this information impact your banking in any way? Will you keep less money in your bank account because you now know that Monthly average balance is calculated in a different way than you thought?.
Let us know if you have any query in the comment section.