POSTED BY Jagoinvestor ON September 21, 2015
Let's quickly see today what I call as a good checklist to find out if your financial life is on track? Are you doing well? When can you say that your financial life is an ideal financial life?
What are those parameters? 
Is high income good?
Is having low expenses great?
Is having 50 lacs in saving's great?
A lot of investors do not even know if they are doing good, bad or just average.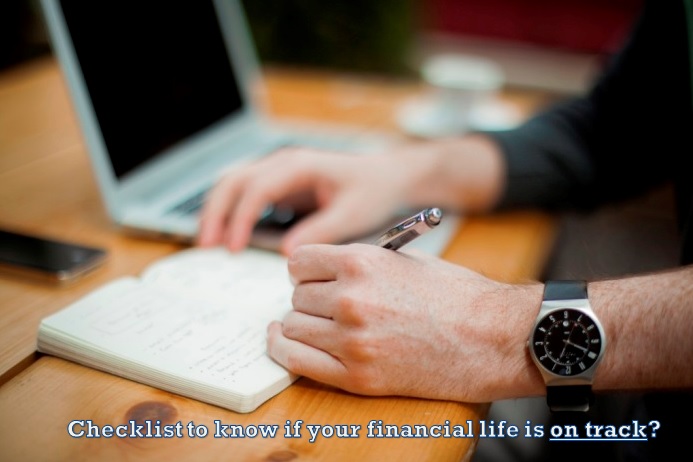 I know its very subjective to say if someone is doing well or not and no one other than you should make the final judgement, but still lets look at some high level points which should be present in a good financial life. Atleast you can get a sense of how you are doing on few parameters.
Lets see how many of these are true for you.
1. You have positive surplus each month
The first indicator I think is very simple and very important – "Are you left with a positive surplus by the end of the month or not?". Its as simple as that. Unless you are left with some surplus (income – expenses), it makes no sense just to brag about your salary itself. What will matter is if you are having a good positive surplus each month or not.
And I am talking about a decent surplus, like 20-30% at least. So if you are earning Rs 80,000 a month, but you are left with just 2-3k by the end of the month, please don't say you are left with surplus. It should be at least 15-20k, because this is what will help you in building your wealth. If can surely say that you earn a lot and spend like a king and enjoy life like anything. Well that's great and its surely a great thing. But not having a surplus is surely a big negative point.
Did you pass this check or not?
2. Your net worth is going up on yearly basis
Is your net worth increasing on yearly basis? Are you getting wealthier over years or not?
Are you wealthier as compared to 5 yrs back?
Are you wealthier as compared to 3 yrs back?
Are you wealthier as compared to 1 yr back?
I am not saying that be highly rigid about 1 yr. It's totally fine if your graph is a bit down for few months or last 1 yr, but as a general rule, it should be moving up over the years (especially if you are young and moving towards your retirement)
If the answer is YES, then fine – you are doing great, else there is something you need to fix. Your net worth would keep going up and up in two cases. First is when your investments are doing well and the interests and returns you earn on it add up, this happens mostly in later part of your life, when money already have reached to a level and now the compounding.
The other case is when you keep investing out of your surplus each month and its very important in initial years of your life, because only when your net worth reaches a respectable level, you will be able to feel the power of compounding and its effect on your net worth.
Did you pass this check ?
3. You are not heavily dependent on loans to pay your bills?
If I take away your credit cards with the condition that it will be returned to you only after 3 months, will you panic?
I am sure many investors will panic and start wondering how they will manage now. Note that said "heavily dependent" and not "heavily using". Personally I use credit card a lot and frequently, but you can take away my credit card and never return to me and I will not even care for a minute (after I block it).
However, some people are so dependent on credit card, like its oxygen for them. Apart from credit card, a lot of people get into this cycle of
Need money for some purpose
Take personal loan
Keep paying the EMI to clear off the loan
Need money for some purpose
REPEAT !
This is a very unhealthy sign in your financial life and you should just not be doing this because its messing up your credit report and it will cause you insane amount of trouble getting future loans
Did you pass this check?
4. Are you protected by external risks which will destroy your wealth
In technical language, I mean to ask if you have taken life insurance, health insurance, added life insurance if you have home loan or not.
Imagine, that you are saving money for your down payment of your dream house, but you don't have a health insurance (here is a checklist on how to buy health insurance) and suddenly some accident occurs which requires hospitalization, what is going to happen?
All your money which you have accumulated over the years for your dream home will just disappear and you will be back to square one, wondering how will you achieve your goal now?
If you didn't take sufficient life insurance and you have a home loan EMI, then you are completely gone!, then your family will either have to pay the money from somewhere or vacate the house.
As per a rough calculation, if a male aged 30-35 yrs earning 10 lacs a year, wants to take sufficient life and health insurance, he can get a 1 crore worth of term plan and a 5 lac health insurance for around Rs 20,000 a year easily. Thats just 2% of his yearly salary. I think you should calculate, and judge if its worth covering these risks or not. By the way taking your life and health insurance is a one time task.
Do you pass this check or not?
5. You will be able to handle sudden surprise expenses without external help
Do you have enough resources to handle surprise expenses or any unplanned expenses? Imagine following scenario's
Your father needs 75,000 by tomorrow
You spouse needs Rs 1 lac which will come back after a 1 month.
Are you in a situation to arrange this money instantly (at least 2 months of salary) or not?
By instantly, I didn't mean that it should be lying in your saving bank account, but can you at least arrange for this amount yourself without any external support or not is the main question.
Many people I know will have NO as the answer, because they either have locked the money in financial products because of tax saving or they just don't have it. So this point actually tests how you have managed liquidity in your financial life.
Are you able to pass this check or not?
6. You are investing a minimum of 10% of your income consistently
This is related to the first point. But still lets give a better framework to it. Are you investing at least 10% of your income consistently or not? Ideally it should be maximum but can you afford to invest, lets give a number which looks possible for everyone.
So if you earn Rs 50,000 per month, you should at least be saving Rs 5,000 a month, that too consistently.
Please don't say you started a recurring deposit of Rs 5,000 few months back, BUT later stopped it because your kids school fees had to be arranged. That does not qualify!
I think any investor has to first learn and experience what it feels to regularly invest and next comes the conversation of mutual funds, generating high returns and all that.
That's why, I think once you start your career, you should atleast open a recurring deposit and let it run for a year. First see how the wealth accumulation looks like, and how does it feel your wealth growing.
This will give a good base to start your wealth creation journey.
Anyways, Did you pass this check or not ?
7. You are not over-leveraged beyond the danger levels
What percentage of your income goes into paying EMI's?
The higher it is, higher is the leverage. And beyond a level, its highly dangerous. Imagine a family whose total income is Rs 1 lac a month, but they are paying an EMI of Rs 72,000 and managing everything else in the rest amount.
Imagine what all can go wrong with this situation?
A lot of people commit themselves to too much debt which looks manageable in that moment, but in long term they are a big pain.
Double Income, No kids families with too much debt
The best example I can give are double income couples, who take the loan considering that both husband and wife will keep earning and the incomes will keep rising.
However few years down the line, if wife stops working due to the new born kid (most of the cases), it becomes very tough for them to manage the EMI, and other expenses.
What is the problem here?
They planned for the "best case" and not the "worst care". So when you plan your loans, the future looks rosy, everything looks perfect – but life is not like that. You have to consider all angles possible and in advance think about all things which can happen in general and then position yourself towards it.
As a thumb rule (which obviously does not make sense in every situation) is that one should not be paying more than 40% of their income in EMI. Keep a lot of breathing space in between. This is not applicable to you, if you are highly adventurous.
Did you pass this check or not?
8. You are earning real return in positive number
Are you earning positive real return on your investments? Which means that your post tax returns are beating inflation.
It makes no sense to earn 8% in a fixed deposit, out of which 30% will be deducted as tax (if you are in 30% tax bracket), and left with 5.5-6% return at the end of the day, whereas prices of all things are going up by 9% inflation.
So when you tell yourself –  "I have invested in FD", in reality you have only earned a positive absolute return, but a negative real return.
Its exactly like, you can buy apples for Rs 150/KG near your home, but you went to that favorite shop 5 km away here you get it cheaper at Rs 135, only to realise later, that you spend Rs 40 in petrol.
So as a good practice, keep limited amount in saving bank, fixed deposits (especially if you are in higher tax bracket) and more and more in asset classes which will give you higher return (with high volatility, not risk) like Equity mutual funds, stocks or real estate.
Did you pass this check or not?
9. You are on a high level clear what you want from your financial life
This is one parameter which I like and its not related to numbers.
So here is my question to you – "Do you have clarity on where you are headed in your financial life?"
You have been working from last many years, and you are saving money properly and everything is in place, but what is your game? Where are you headed towards?
Let me explain you with an example
When I called one of our clients from Bangalore, just few days back – he told me he is headed towards creating his ONE crore networth in next 4-5 yrs and he is already 40% done.
I loved this, because what he has done for himself is that he is kept all the clutter out and he is highly focused on what is wants out of his money. He knows his game !
So are you headed towards becoming "Debt free" and working towards it?
Are you headed towards buying a house in next 5 yr?
Are you headed towards building a regular income of Rs 40,000 per month in next few years?
Are you headed towards spending 50% of your income each month and enjoy your life to fullest without worrying for future?
Are you headed towards setting up a business along with your job?
So whatever it is, it has to be very clear. Don't go in silence when I ask you where are you headed? A lot of investors face this problem of not knowing what are they doing, why are they doing it, what they want to achieve ultimately, everything is vague and very unclear. Don't be like that.
Are you able to pass this check?
How much did you score?
Out of these 9 points, I would like to know how much did you score and if you are happy with it? Where can you improve and whats your plan towards it? Do you think this is a good checklist which you should look each year once and ask yourself about it.
Please share your views about this article in comments section.