POSTED BY Jagoinvestor ON August 26, 2013
There is so much you need to achieve in your financial life and you are stressed! Correct?
I have seen investors getting overwhelmed due to the pressure of financial goals in their financial life. You have one life – in which you have to cram multiple financial goals. A house, a car, a corpus for educating your children, a regular stream of money each year to pay for school fees, vacation funds, occasional large expenditures, funds for your retirement and several other items which are too numerous to even list here!. Out of these – some things you want immediately, and some you label as your long-term goals.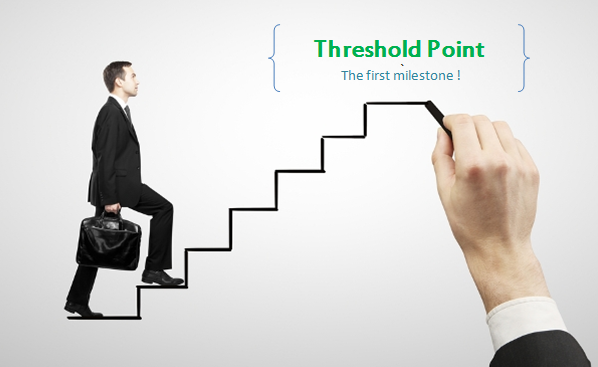 However when you keep thinking about these goals and amount of money you need to accumulate in your financial life, you get worried, stressed and feel lost. You doubt if you will ever be able to achieve it and that demotivates you and then you just ignore handling your financial life and go with the flow! – leaving everything to fate! However that's not the solution!
what's the solution?
I can't give a solution, but I can suggest you something which we practice a lot of times when we deal with our financial planning clients. Let me share with you that simple yet powerful concept which Nandish Desai came up with in our early years of handling clients. Years back – we noticed that a lot of clients financial life was so messy and confusing that it was unplannable! Also they were so overwhelmed that we could not do their planning the usual way. We needed to suggest them some plan of action which was lighter and which looked more achievable to them.
So to those clients, we asked to slow down (listen to this powerful 16 min audio on slowing down recorded by us personally) and ask them to forget about all their future goals. This is because many investors are not able to make a powerful play for their financial goals with empty pockets. To play for your financial goals powerfully you need to first cross or reach your THRESHOLD POINT. Yes! – That's the concept I am going to unveil today. The concept of threshold point helps an investor to lighten his worries and to be more focused.
Now, what is this threshold point?
The threshold point is the milestone, which when reached in your financial life, gives you a strong sense of achievement. You feel like you have taken that first step and you are a winner in your own eyes. It's not the final achievement, but a mini-battle that you have won. A threshold point could be generating some lakhs of rupees, having a loan free home, achieving an income level, getting debt free, or combination of these.
All your energy has to be focused on reaching that threshold point. Everything you do in your financial life has to be driven by just one motive in life, and that is reaching that threshold point. If you have to spend money on something, you have to ask first – "Will spending this money help me move towards my threshold point?"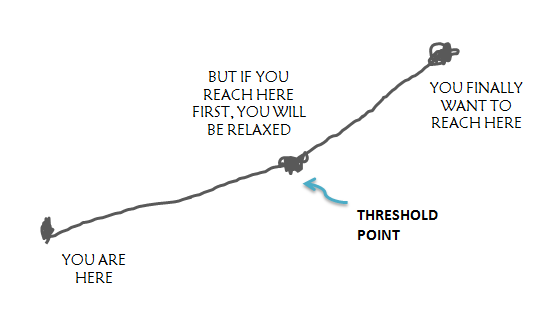 You need to get obsessed with your threshold point so much, that naturally you will achieve it much faster than you had planned. And when you reach your threshold point in some years – you then play a much bigger money game. The threshold point gives you a sense of some freedom, some relief and extra dose of energy.
Some Examples of threshold points
Example 1 – Ajay's Story
My friend Ajay is unmarried and lives in Varanasi. He was anxious about his future prospects because he does not want to get into a regular job, because he is kind of moody person and leaves his job the moment he does not like it. This creates problems in his cash flows. While he wants to do lots of things such as buying a home, buying a 2nd home, saving enough to roam around the world etc., he told me he does not think it's POSSIBLE to achieve all this. The truth is he was overwhelmed and could not think what he should do next ! .

I asked him to describe his ideal situation – one that would remove all this worry. A situation that would make him feel more at ease and help him plan his financial life ahead in a better fashion. He said that if he were to start receiving a regular income of Rs 10,000-12,000 per month without working – he would feel far more relaxed. That's it. That was his Threshold point.

Threshold point – Generating Rs 10,000-12,000 per month income

This is something he now needs to focus on. We found out that if he could generate 20 lakhs in a few years, he could put it all in a Fixed Deposit and get an interest income which will act as the regular income. It would take few years, but once he would reach that point, he would be a winner in some sense. He has already saved quite a few lakhs, and is now on his way to reach his threshold point. He now travels by train, rather than by air, because that takes him closer to is threshold point. He does not spend more than what is required on clothing and saves every extra bit and puts it back in his bank account – all of which takes him closer to his threshold point.
Example 2 – Tarun and Reema from Pune
This couple (Names changed) approached us to avail our financial planning service. We looked at their financial data, their financial goals and their exact situation. They were worried about their future goals like retirement, educating their children etc. Their net worth was less than 3 lakhs and their goals were big-ticket goals.

Threshold point – To generate first 15 lakhs

First, we asked them to eliminate their future. Yes, our future is an illusion that human beings live in. A lot of investors are either worried about their future or they regret their past mistakes, but they are never fully in the present year. I told them, as an investor you can't step into 2014 or 2012 – you are in 2013 and that is a reality. We then asked them to define their threshold point, an amount that would fill their pockets so that they would have the power to face big future goals. The amount they came up with was 15 lakhs.

We simply asked them to forget everything and focus completely on their threshold point number, which was 15 lakhs. We then helped them to re-structure their cash flow and helped them to devise ways by which they would reach their threshold point soon. Now in this situation they didn't had multiple goals which scared them, all they had was a SINGLE Goal and that was to generate 15 lacs.
Example 3 – Ramanna's Story
Ramanna was employed in a big I.T. company in Pune. His aim was to start his farm – as he loved nature and his dream was to run a big venture related to it. But that would only happen when he would have taken care of his expenses each month because starting something of your own is a big risk. Which meant he had to handle rent, bills to pay, monthly expenses to incur at home etc. etc. So he defined his threshold point and it was to own a home and also have sufficient savings to pay his regular bills.

Threshold point – A home and 60 lakhs corpus to get a regular inflated adjusted monthly income of Rs. 35,000 per month to start with

Prior to defining his threshold point, Ramanna was just a regular employee, but the moment he defined it, his mind started actively focusing on it. The song of "I want to achieve my threshold point" was playing constantly in his head!. He was aware that he wouldn't reach his threshold point very soon, and it would take at-least 10 years to get there. But now he was more focused and targeted.

He was sure if he could travel to the U.S. and work abroad for a few years, reaching his target would be a cinch. From that day, he became a superman at his workplace. His commitment level at work increased because he expected to be moved to the U.S. office on the strength of his performance. He also explored other options to move abroad for a few years. Within the next 2-3 years, he saved money and also managed to get an offer to move to the U.S. office due to his exceptional performance at work. This was 2001.

However, his savings were at that point not sufficient to make a down payment on his house. Undeterred, he moved to US, worked for a year, saved obsessively, and returned to India just to make a down-payment and apply for substantial loan. He took the risk, because getting to the threshold point was his obsession by now. There was no other option, he wanted it any cost.

Over the next 8 years, he earned enough money, saved enough money, lived frugally, constantly worked towards his threshold point. He made sure to communicate about his future vision and goals to her better half when we was getting married. He made sure he didn't do anything stupid which would open new streams of expenses in his life, which will make it difficult to stick to his plans of leaving the job and starting something of his own. So at the end of 10 yrs, he had 2 houses in Pune, one without any loan and the other with a small outstanding loan (thanks to dollars he earned and powerful savings).

He came back to Pune, sold one house (which fetched him more money) and kept it all into a Fixed Deposit with quarterly interest option and the other house was for self-consumption. He is now free of debt, has no rent to pay and his interest income takes care of his expenses.

He had arrived!
What is your Threshold Point ? Have you ever thought about it ?
If you are low on net worthh or you are a new investor, instead of setting huge financial goals, start to play for your threshold point. This will reduce your stress levels and will help you to enjoy the process of wealth creation. When we do financial planning for some of our clients, a lot of times we avoid giving a very long term plan to them, because we know the plan will sound unrealistic.
A plan has to be realistic for any investor to own it. Then we help them define their threshold point and help them plan for that. We tell them, go achieve that threshold point first and then think ahead. Don't waste your time and energy in worrying about future for now. The same way, you need to think of your threshold point.
I want you to tell me in comments section about it. Write down and declare your threshold point and if possible your plan to get there! I am waiting to hear back.