POSTED BY Jagoinvestor ON December 23, 2010
Which is the best term insurance plan in India ? Which Insurance company has the best claim settlement Ratio? Should you buy online or offline plans ? These are some of the questions which comes in the mind of every insurance buyer! .
So are you looking for Term Insurance comparison at one place ? Do you have all the sufficient information to decide which is the best term plan you can buy? Today I will show you all the data like riders, maximum/minimum tenure, max age till when these plans covers a person and data on the premium, Claim settlement Ratio at one place! .
Best Term Insurance plans in India – A comparison List
There are many term insurance plans in India, but all of them have different premiums and features which confuses a prospective customer to choose the best term plan for him. Below is a table which shows most of the policies name along with their premiums. But before that, make sure you fully understand what is a term insurance plan ? Better read the 9 most asked questions about Term Insurance before you move ahead.

Company Name
Policy Name
Mode
Riders Available
Premium
(1 crore SA)
Aegon Religare
iTerm
Online
Yes
7,300
Bharti Axa
e-Protect
Online
No
7,300
Aviva
i-Life
Online
No
7,368
HDFC Life
Click2Protect
Online
No
10600
Kotak
e-Preffered
Online
No
10825
Edelweiss Tokio
Life Protection Plan
Online
Yes
11,500
Metlife
Met-Protect
Online
No
11,600
ING Vyasa
My Term Insurance
Offline
NA
11,891
ICICI Prudential
i-Care
Online
Yes
13000
DLF Pramerica
U-Protect
Online
Yes
13,400
SBI life
Smart Shield
Offline
Yes
16,798
Bajaj Allianz
iSecure
Online
Yes
18400
Max NewYork
Platinum Protect
Offline
Yes
23,500
IDBI Fedral
Termassurance
Online
No
25,350
LIC
Amulya Jeevan
Offline
No
33,600
Future Generali
Smart Life
Online
No
NA
Birla Sun Life
Protector Plus
Offline
Yes
NA
Tata Aig
Maha Raksha
NA
NA
NA
Reliance
Term Insurance
Offline
NA
NA
Canara HSBC
Life Pure
NA
NA
NA
India First
AnyTime Plan
Online
NA
NA
Sahara Life Insurance
Kavach
NA
NA
NA
Star-Union Dai-ichi
Term Plan
NA
NA
NA
Note : The premiums above are for 30 yrs old non-smoking male, and 30 yrs policy tenure. The premium quoted is for Rs 1 crore sum assured and does not include service tax. The premiums displayed were taken from respective life insurance companies websites and should be treated as indicative premiums.
Brief overview of Riders
Most of the term plans also allow riders along with their plans. Riders are nothing but additional benefits which you can take by paying some extra premium. Lets see some of the riders and what they mean. A term insurance plan might be offering some of the riders mentioned below.
AD (Accidental Death) : The policy pays you additional sum assured in case the death happens due to an accident . Note that even if you don't take this rider, the sum assured is always paid on death, whether accidental or not !.

CI (Critical Illness) : This rider gives you a lump sum amount if you are diagnosed with an illness which is mentioned in the policy . Generally all the major illnesses are covered in Critical Illness cover.

DR (Accidental Disability Rider) : This rider covers you for disability and pays you Sum assured in 10 installments per year  incase you becomes temporary or permanent disabled person.

WP (Waiver of Premium) : This rider makes sure that incase you are not able to pay future premium due to disability or income loss, the future premiums are waived off , but your policy is still in force like always !
Claim settlement Ratio of Life Insurance Companies
While deciding on a term insurance plan, the biggest point which a person concentrates is the Claim settlement ratio (read this comment) . Claim Settlement ratio of a company tells you that how many policies were settled by paying back the claims in case of death. However note that these numbers are not for pure term plans, but for any kind of policies.
Solvency Ratio of a Life Insurance Company
Another small things to look in a life insurance company is Solvency Ratio. It indicates how solvent a company is, or how prepared it is to meet unforeseen exigencies. It is the extra capital that an insurance company is required to hold to meet all the claims which arise . In other words , Solvency margin refers to the excess amount of asset the insurance company has to maintain over its liabilities. Basically, it is the amount the insurer has to stash away in order to pay the claims during emergency. IRDA requires the insurance companies to maintain a particular level of solvency margin for their smooth functioning
Below is the Table and a Chart showing Claim Settlement Ratio and Solvency Ratio of all the insurance insurance company in India. The data is taken from 2011-2012 IRDA annual Report.
| | | |
| --- | --- | --- |
| Company Name | Claim Settlement Ratio (2011-12) | Solvency Ratio |
| LIC | 97.4% | 1.54 |
| ICICI Prudential | 96.5% | 3.27 |
| HDFC Life | 96.2% | 1.72 |
| SBI life | 95.5% | 2.04 |
| Kotak | 92.1% | 2.67 |
| Birla Sun Life | 90.9% | 2.89 |
| Bajaj Allianz | 90.6% | 2.86 |
| Max NewYork | 89.8% | 3.65 |
| Aviva | 89.6% | 5.4 |
| ING Vyasa | 88.8% | 3 |
| Bharti Axa | 87.7% | 2.14 |
| Star-Union Dai-ichi | 86.2% | 6.7 |
| Reliance | 84.6% | 1.66 |
| Tata Aig | 83.9% | 2.16 |
| India First | 82.2% | 6.36 |
| Metlife | 81.4% | 1.69 |
| Canara HSBC | 80.6% | 3.07 |
| Sahara Life Insurance | 78.0% | 4.82 |
| Future Generali | 68.1% | 2.21 |
| IDBI Fedral | 67.5% | 6.6 |
| Aegon Religare | 66.1% | 3.22 |
| DLF Pramerica | 24.5% | 2.53 |
| Edelweiss Tokio | 100% (Just 1 policy) | NA |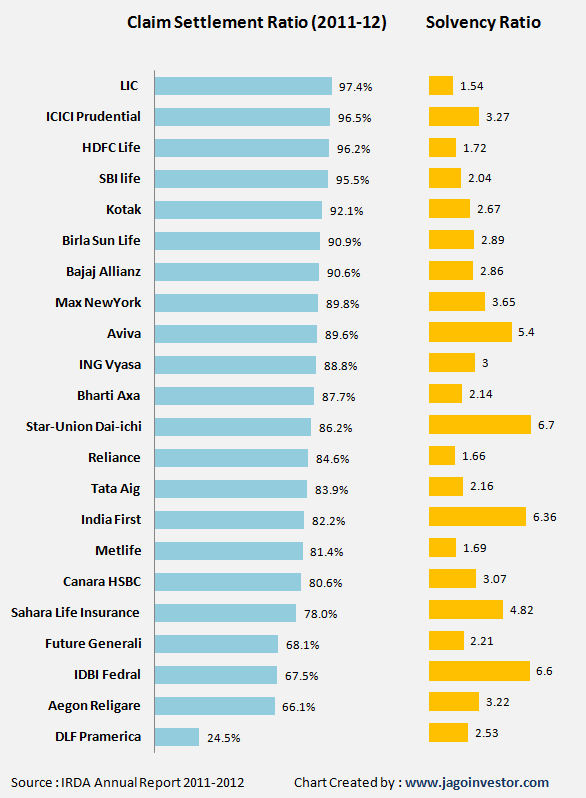 Term Insurance – Online vs Offline
With online term insurance plans coming in market, two things has happened. First, Customers have really got excited seeing very low premiums which insure them at throw away prices, however low premiums does not appear on the top wish list of customers and what everyone needs is very high claim settlement ratio and excellent customer service. This is where online term policies have disappointed customers, there has been huge disappointment from ICICI iCare and Aegon Religare iTerm Plan in terms of customer service. There have been cases where customers bought an online policy and after that, they had horrifying experiences starting from increase of premium once they bought it, No-response from the company for long duration and Long & frustrating delays in medical tests. This is what pisses off customers most and they get a feel that If situation is bad at the time of buying the policy, then what will be the response when their families for claim settlement .
Another important point which comes to a persons mind is Are private Insurance companies safe ? and what is the claim settlement ratio of the company. From last year IRDA report, we came to know that Aegon Religare did not settle even a single claim out of total 7-8 claims they got . However, this years IRDA report (2009-2010) shows that its better at 48% settlement ratio for Aegon Religare, but Life Insurance is not a maths exam where 90-91% marks will make people happy. We all need 100% or 99% at least !. Because most of the companies are very new, the trust factor is missing from public. Note that not everyone who bought term insurance policies had bad experience, there are many buyers who got very good response and good customer service, but it was a smaller section .
So if you a kind of buyer who understand Insurance very well and how things work in this area and you also have trust in online term plans then you can go for online plans. But if you are not comfortable with it, then you should try the old way of buying insurance through an agent. However it would cost more than online plan, which many are comfortable with! .
If you concentrate on the claim settlement and trust factor then the only option is LIC of India Term Insurance (Jeevan Amulya). However if you are fine with the pvt Insurance, but still want the best features, I personally see Kotak-preferred Plan as a good option. The premium for Kotak-preferred is the lowest in the offline term plans and this plan has good riders along with other good options.
Term insurance plan from LIC is obviously the best option if you do not believe in the pvt companies and insist on high claim ratio, but premium for LIC term policy is too high . So I think you can consider a mix of the LIC term insurance and any one from Pvt insurer. Soon you will also see LIC online term plan
Special Features in Some Term Insurance Policies
There are some policies with very different set of features. Lets have a look at some of the those. These features can help you further in your decision.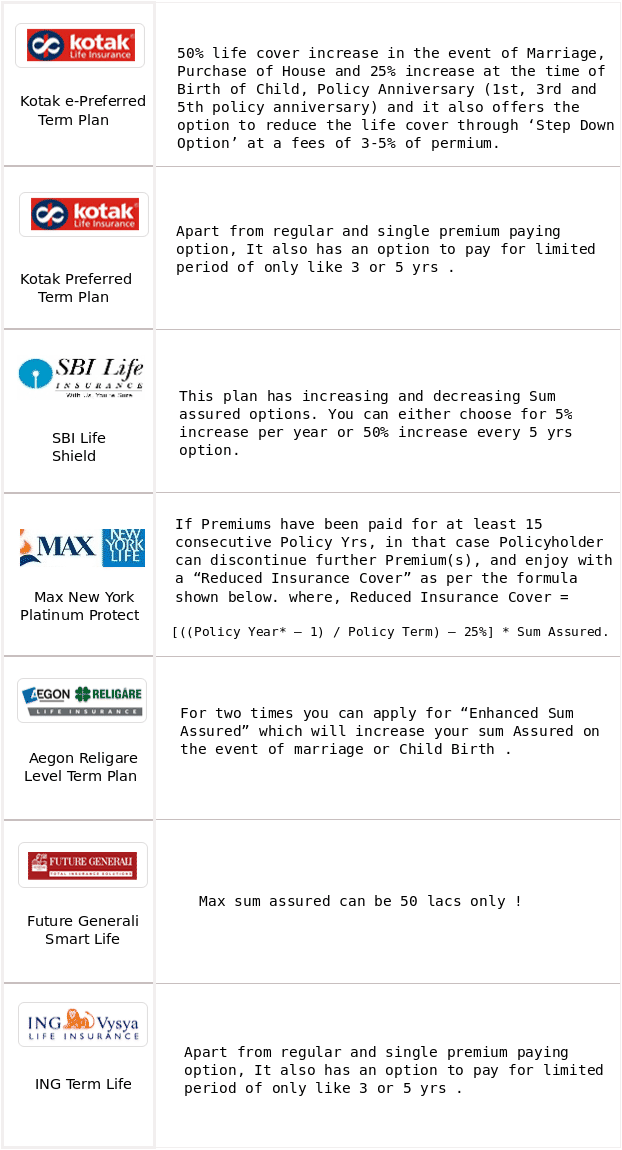 Which online term plan do you have currently and incase you planning to have one, which one those the above will you buy ? Will it be LIC Term Insurance or some one else and why ? Also share, If you need any other factor before choosing the term plan ?