POSTED BY Jagoinvestor ON August 19, 2010
ICICI Prudential has recently launched its online Term Insurance Plan called iProtect . iProtect is extremely affordable online Term Plan whic has some very good features. Last year Aegon Religare launched its online Term Plan iTerm , but it had some limitations like no riders attached and the company didnt had much trust factor . However iProtect comes with some really great features like Accidental rider, Term upto 30 yrs , wide coverage of cities and apart from being completely online, it can also be bought by agents, corporate agents and brokers , So it you are not net savvy or dont like pure online product, you can still buy iProtect Term Insurance through offline means , however the premiums in that case can be higher compared to when you buy online,because of agents commission involved in between.
The best thing I liked about iProtect was the user interface . It was easy to operate , asks less things in the starts and you come to know about your premium just by providing basic information like Age , Term , Sum Insured etc in the start, unlike iTerm from Aegon Religare where you had to provide all the medical details and finally after some hard work it shows you your premium. Personally for me (age 27 , policy for 30 yrs) , the iProtect premium for 1 crore was just Rs 9,400 .The ICICI iProtect comes with two different Plans, one with accidental rider and one without accidental rider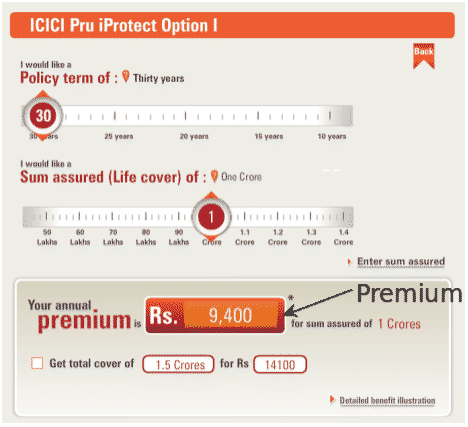 Two Different Plans under iProtect

iProtect Option I : In this option there is pure life cover without any rider, you get the sum assured only when you die, else not .
iProtect Option II PLUS : In this option , along with pure life cover , you also have accidental rider , which is equal to the Sum Assured (subject to a maximum of Rs. 50 lacs) will be paid out in the unfortunate event of death of the Life Assured only if due to an accident
Other Features of iProtect Life Insurance Plan

More at Document Brochure
When does the Life Cover Starts in iProtect?
The best part of the policy is that your life cover begins immediately once company receives the premium in case of non-medical cases (incase there is no need of medical examination) , However,  In cases where medical examination is  required, cover will commence from the date of issuance of the policy. Calculate your Insurance cover
Freelook up Period
A period of 15 days is available to the policyholder to review the policy. If the policyholder does not find the policy suitable, the policy document must be returned to the Company for cancellation within 15 days from the date of receipt of the same. On cancellation of the policy during the freelook period, They will return the premium paid  subject to the deduction of:
a) Insurance stamp duty paid under the policy,
b) Expenses borne by the Company on medical examination,if any
iProtect Premiums Illustrations

A) The table below provides annual online premium (exclusive of service tax and cesses, as applicable) for various combinations of Age and Sum Assured for a healthy male (non-tobacco user), opting for a policy term of 25 years.

B) The table below provides annual premiums (exclusive of service tax and cesses, as applicable) for various combinations of Age and Sum Assured for a healthy male (non-tobacco user), opting for a policy term of 20 years, where policy is sourced by tied agents, corporate  agents, brokers or direct sales.

iProtect vs iTerm Comparision
I Let us look how iProtect fares in comparision to iTerm plan. I found out that iProtect beats iTerm in all the areas.

What is covered under Accidental Death ?
Accidental Death Benefit: This benefit is payable subject to the conditions mentioned below:
1. The death due to accident should not be caused by the following:
a) Attempted suicide or self-inflicted injuries while sane or insane
b) Engaging in aerial flights (including parachuting and skydiving)
c) By the Life Assured committing any breach of law
d) Due to war, whether declared or not or civil commotion;
e) By engaging in hazardous sports or pastimes
2. Death due to accident must be caused by violent, external and visible means.
3. The accident shall result in bodily injury or injuries to the Life Assured independently of any other means. Such injury or injuries shall, within 180 days of the occurrence of the accident, directly and independently of any other means cause the death of the Life Assured. In the event of the death of the Life Assured after 180 days of the occurrence of the accident, the Company shall not be liable to pay this Benefit.
Premium Comparision with other Cheap Insurance Policies
Who Should Buy ?
If you dont have Term Insurance : If you havent bought term insurance till now and were still waiting or I must say "delaying" because of your laziness , this is the time to act and finally buy term insurance online .
If you are UnderInsured : You know that you are underinsured , who still not taking the additional cover, now its your time to go and buy additional cover .
If you already have sufficient Cover : Situation changes , and so does in Personal Finance, even if you are adequately insured , It would be a good idea of explore an option of shifting fully or a part of your cover into iProtect term plan , as its a cheap plan .
Open Question, This is a new plan , we are not sure of the customer care support and how well its service is, What do you think about it ?
Comments , Do you like this iProtect Plan ? Please let me know your reasons and what you think about this plan . Are you going to take this policy ?