POSTED BY Jagoinvestor ON October 17, 2010
Have you already bought Life Insurance ? Though you might have done the sin of being underinsured, I would say its fine, because today we are going to look at detailed steps of buying Life Insurance and we will also learn a lot of things.
Almost everyone has his own set of doubts regarding Life Insurance contracts, but in this article we will not just look at detailed procedure of buying Life Insurance, but also see why most of the people have the doubts which they have. This is probably going to be the last article on Life Insurance you would need.
So here we go. Today for the savvy life insurance buyer, it is possible to buy the policy on the web – it saves money for sure.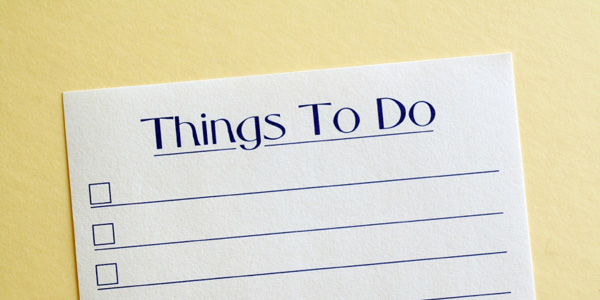 Choose company that suits you
The first step in buying Term insurance is to shortlist the company from where you wish to buy the product. There are many companies in India selling life insurance and almost all of them have a Term cover available. Let us call them companies A to M.
If you do not TRUST say five of those companies – or you do not believe that you wish to deal with them, you need not even look at them. Why you dont like Term Insurance and why you are wrong !
Inquire about insurance cost
Now let us say you like to deal only with A, D, F, G and H. Visit these companies' websites and find out how much a term insurance for you costs. If you are 35 – look for a policy that will protect YOUR INCOME till the age of say 55 years (choosing age 65 will increase the premium) if your retirement age is 55.
However, if you think you will be earning till the age of 65 years, choose a 30-year plan.
Formalities to fulfill
If you are savvy and patient enough, you could fill up the form online – and a person will get in touch for the formalities. Or you could call up and ask for an agent. On an average the agent will not be very well qualified – but most of them will try to dissuade you from buying a term insurance.
Just say, 'give me a term insurance form'. There will be other documentation like income proof (3 years IT return), one photograph, pan card etc.
#Filling the form
Next is the process of filling the form. This is one crucial thing that people are normally too lazy to do – so they delegate it to the agent. The life insurance form, the medical insurance form and the embarkation form when you are landing in the US or Israel should always be filled by you personally!
You know about yourself – not the agent whom you have just met. Many of them are worried that you will not be eligible to be insured. So in order to protect their commission (and to please you) will take short cuts, be careful.
#Fill details accurately
Every word, every column in the life insurance form is crucial – that is the reason why they are there in the form. All details should be accurately filled. Make sure that the name in your passport, pan card and the life insurance form are EXACTLY the same.
To the authorities K Balakrishnan is not the same as Balakrishnan Kumar. It may sound trivial, but let me assure you your nominee will not find it amusing.
Besides, check your height, weight (I have seen some agents argue with the doctor to show a few kilograms less and some doctors oblige!), number of cigarettes you smoke, the amount of alcohol you drink, parents illnesses before they were 65, and also your own medical history.
Watch this video to know the steps to buy LIC term insurance plan online:
Faith binds customer, insurer
Let us start from the very beginning. The Life insurance form that you are filling in is called a 'Proposal form' – which means you are proposing that you want a life insurance cover. Life insurance business is based on utmost good faith.
The Latin word for utmost good faith is Uberrimae Fidei – which means you (the applicant) is under a basic duty to disclose all material facts and surrounding circumstances that could influence the decision of the other party (the insurance company) to enter the agreement.
Non-disclosure or a partial-disclosure makes such agreements voidable – the insurance company can choose to ignore it, but they have a right to cancel the contract.
As per the contract, you are proposing and giving all your details that are asked for in the form. This includes your age, height, weight, your smoking and alcohol consumption habits.
#Be Truthful
You should be truthful because of two reasons – one it is necessary to be truthful. The second perhaps the more important reason is when you are not truthful and you were to die, your nominee will not get any money. If a person has taken a policy just say 8 months before the claim happens, there is almost a 100 per cent chance that the claim will be investigated.
Here the company literally looks at the application with a fine comb and anything that has not been correctly stated will be used against the claimant.
If for example: A person dies in a road accident – and what has been hidden was say blood pressure – Insurance companies have said 'his blood pressure may have caused him some inconvenience while crossing the road…'
Think about your nominee
One very important thing which most life insurance buyers forget is that by lying on the proposal form they are telling a lie to their nominee, not to the life insurance company! If on death the claim amount is not paid (IMMEDIATELY), it is almost like the policy did not exist.
Cross-check copy of application form
Apart from the critical questions, there are some other questions like caste, spouse's name, spouse's occupation and children's names, especially if the nominee is more than one person.
When the company issues a policy, they are bound to send you a copy of the application form – please check whether it is the same form which you had filled. A while ago I heard of a case where the agent had changed the form – and removed the illness clauses before submitting the application to the company.
As the case involved an employee of the company – the critical illness claim was paid without a murmur. What helped was the fact that the client had kept a copy of the application!
Take your time
Please remember even if you are paying a small premium (term premiums are not large), the sum assured is normally a critical amount and your dependents are waiting for that cheque to carry on their lives. It is quite all right for a person to spend some more time while taking a policy but any delay at the time of claim settlement is bound to unnerve the dependents.
Everything that you say in the form – your job, income, past illnesses are all critical to the whole process of underwriting of your policy. The life insurance company also collects data – if it finds that a certain occupation is prone to a particular type of illness, they may ask you to go through some more tests before they issue a policy.
Understand the contract
There is a big difference between a mutual fund 'investment' and a 'life-insurance' contract. In case of a mutual fund, the asset management company is making an 'Offer' to you. This means if you issue a valid cheque, units will be allotted to you. They are making the offer, and you are accepting.
In case of an insurance contract, you are 'Proposing' saying that you want life insurance. If your cheque goes through, then the life insurance company calls you for a financial and a medical underwriting process.
If they are satisfied that your life is a normal life, they will issue you a policy. Once a policy is issued by the company it means you have a contract that is binding. On you the liability is to pay the premium regularly, and on them is a duty that in case of death, they should pay the sum assured amount to the nominee.
This is critical and a very important contract which you should understand reasonably well.
Conclusion

Life Insurance is an important decision in life and each step in this whole process is critical to make the whole decision successful and free of any hassles later. Lets look at the whole steps once again through the diagram.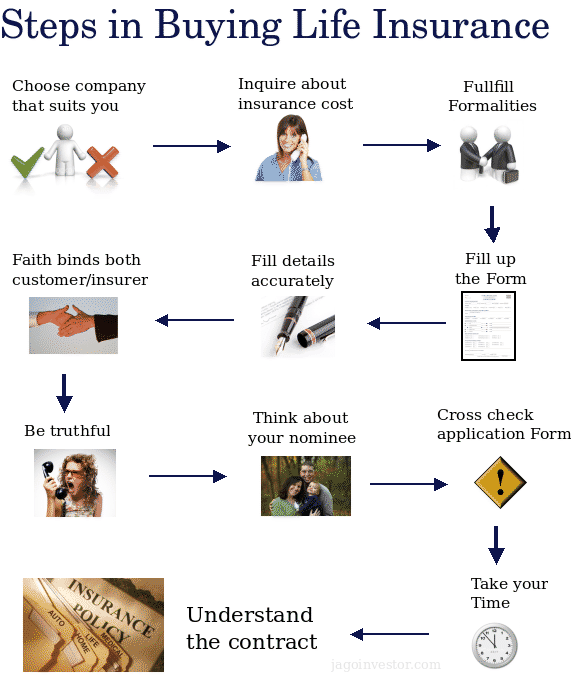 (This article appeared on moneymantra.co.in and has been republished on this blog with their permission. The article is written by PV Subramanyam who also blogs at www.subramoney.com)