POSTED BY Jagoinvestor ON November 15, 2009
"Tax saving should be result of your Investment planning and not vice versa" . Understand this very well . For most of the people, saving tax is such a big thing , that they forget the primary rule of Financial Planning and concentrate all their energy into Tax Saving .
I see most of the people are trapped in idiotic products because of their obsession with Tax Saving . Most of the people today are invested in products which does not suit them, which they dont need, Which they do not understand .
All because of their idiotic decision of "Investing for Tax Saving !!"  .

For some people the Products they buy for Tax savings are like This Pond , They are not sure what they will get from buying it , but they are happy about the fact that they are saving some money in Tax . Which is idiotic .
Typical Scenario
Most of the people dont do their Tax Planning in the start of the year . They just neglect The Tax Planning part. Somewhere at the end of the Year around Feb, They recieve a letter from their company that they need to submit their Documents for Tax savings so that they can avail the benefit of 80C and other Tax saving benefits like HRA , LTA ,  Medical Reimbursements , etc .
Even then they dont budge and most of the people wait till the deadline date to come very near .
Then finally comes the deadline date and now "Giving The proofs of Investment" is much more important than "Making Sensible Financial Decisions" . Its too late to Plan for things . ULIP agents , Insurance agents and Mutual funds agents are ready to take the charge and they will brain wash you with all their nice words , They themselves dont understand the product a lot of times .
You have no choice but to invest so that you save tax now . You cant even imagine a scenario where you dont invest your money and pay the tax . It feels like the most idiotic Decision ever . Which I feel can be a good decision sometimes .
Top Reasons for Investing
Below is a small diagram which tries to show how what are the biggest reasons people invest their money . Please Note that this is based on my understand and experience with so many investors over the years . And this is what I feel depicts the scenario closest to actual .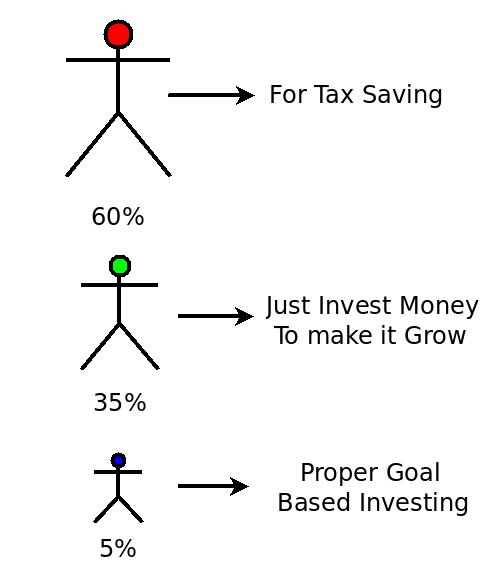 Problems arising Due to This
The worst Sufferers are those who invest in LIC and other companies Endowment Polices and Money Back Polices  for the primary reason of Tax Savings. These people do not think that even though they are saving tax for this particular year , they are actually getting into commitment for next 15-20 yrs (or Policy Tenure) and Have no Idea how its going to meet their Future Goals . Read a Review on LIC Jeevan Tarang Policy .
Similar problem is with people who take ULIP's . They Invest for a year to save tax and then next year they have no idea if they would be able to even afford it or not !! . This happens with mostly new joinees in Companies .They have no idea what to ask their ULIP agent at the time of Buying the product .
Next is "Liquidity Problem" . Most of the people do not think about the lock in period and do not take into consideration their Liquidity Requirement for coming Years . They Invest in ELSS and then next year they need money . They Invest in Tax Saving FD's and then cry for any Expenses which were very obvious to arise down the line .
What we must Learn
Tax Saving is just a benefit provided when you Invest your Money, dont make it as a Primary objective to Invest. What you have to concentrate on is your Investment Planning , and after you have to restructure your Investment planning in such a way so that you also get Tax Benefits from them.
Investment Planning First and Tax planning second .If you are not able to save tax , its fine , Pay taxes . Its always better to avoid getting into messy products which dont suit you and suck your blood out . Tax Planning is Important, But the more Important things is that you don't get to obsessive about it and do it only if its needed.
Its not a big deal to save tax at the cost of your Finances future . See an article on Gfactor , a decision making tool for Financial Products
I can relate this with "Not using Protection during Sex" and then suffering for a long time because of that small mistake .  This is exactly True with all people who dont not need Crappy Insurance and then one single mistake, Investing in it for Tax saving and then every year , Suffer with it, Paying a huge premium for the Small Insurance not sufficient for you and for the Maturity Amount which is not at all exciting .
Make sure that you invest in some product only if matches these 4 criteria .
So are you one of them who tax Tax saving with High Priority ? Have you invested for Tax saving as primary reasons ? Share with us . We can talk about it and make sure that it does not happen again . Post your Views on this ..
If you liked the Post , then Subscribe to this Blog to get updated .