POSTED BY Jagoinvestor ON February 3, 2017
A new online fraud worth Rs 3,700 crores has been busted recently by Uttar Pradesh special task force. Around 7 lacs people have been cheated in the name of 'Earn Rs 5 per click' investment scheme.
This was a classic example of a very smart online fraud structure where you first make a lump sum investment in the company scheme, and you get a chance to earn a daily income by liking facebook pages. You can also add people under you (more money comes in the company) and you get benefits from that.
Structure wise it's very similar to speakasia where you earned money by taking the survey's and here you get it by click on the pages.
A company was set up with the name of "Ablaze Info" whose board of directors named Anubhav Mittal, Shreedhar Prasad, and Mahesh Dayal are arrested. They had set up various websites to dupe people like socialtrade.biz, freehub.com, intmaart.com, frenzzup.com.
How this scheme worked?
There were 4 schemes where you had to pay a joining fee ranging from Rs 5750 to Rs 57,500 and you got X number of clicks each day which assured you get Rs 5 for each click, making sure you get a monthly income.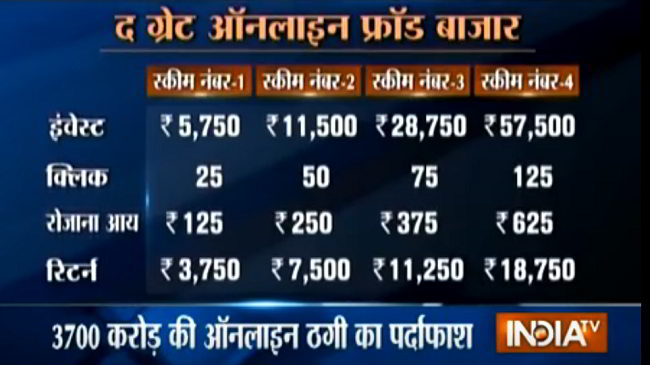 There was also a bonus for adding more people under you (2 people) and some more benefits apart from that. It was a classic case, where few people join the scheme, get the assured income for 1-2 months and by then they bring more people by word of mouth, who bring more money in a company which makes sure that the fraud company has more money to pay everyone …
This continues for a few months/years and once there are thousands of people at the bottom who brought millions in the company, that's the time when the company either runs away with all the money or they are caught by the law as it happened in this case.
Members trying to add other members
Every MLM scheme works on the basis of referrals and most of the people were trying to add others under them to get the bonus and added benefits which come out of referrals.
People started approaching their friends and other relatives to join this "business" and you can see in the video below how one of the people who was part of this is explaining the business model and is so convinced about it himself.
Why most people get duped in these kinds of fraud schemes?
You will find a lot of people who still believe in this kind of schemes mostly because they are not duped themselves and have experienced earning income consistently from these companies, but that is true for a small minority of people who join this fraud business early, because that's the time when the company properly pays money without fail
The problem happens when the user base is quite big (in this case, 7 lacs) and then it becomes almost impossible to sustain the madness. Here is how the MLM business looks like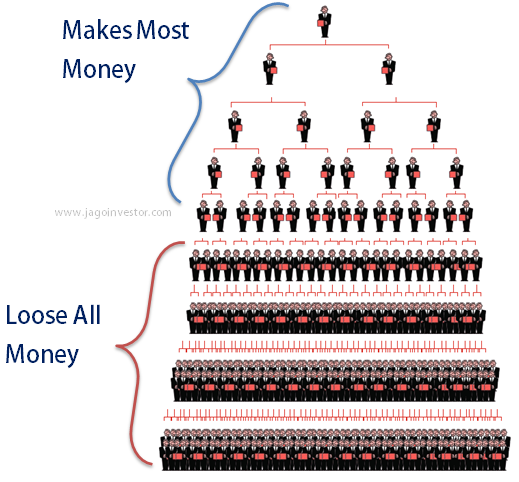 In the video below you can see how this one guy is so convinced about the authenticity of this social trade business and feels that the crackdown on the company because govt can't sees poor people earning lots of money.
Do you know anyone who was cheated by Social trade company? What do you think about these kinds of MLM schemes?