POSTED BY Nandish Desai ON May 12, 2014
In past have you ever extended any kind of financial support to some friend or relative and now you are unable to recover the money that you gave? You may have tried hard to get your money back but instead of money you only receive (false/genuine) promises in return. Imagine of a situation where your close relative or friend is in real need of money, they place you in a position where you just can't say NO to them. And out of your goodness you end up lending money to that person.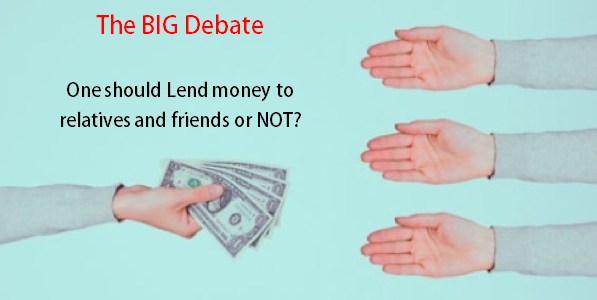 The important questions that one needs to ponder are; you should lend money to friends and relatives or NOT? What to do when people don't return money on time? What to do when the situation is highly emotional and it is hard to say NO? One should get totally practical or not? Do you earn to help others or you earn for your own financial well-being? What if some people want to take undue advantage of your strong financial position and they act needy all the time?
I want to share what we posted inside our boot camp 6th Batch
Wednesday Brainstorming Question
How many of you have given money to some friend or relative and you are now afraid to ask for your own money? – Let's brainstorm on what really STOPS people in asking for their own money also let's discuss how one can initiate such recovery conversation. Giving money is one part of the story what about the other part which is about recovering your money (With or without interest)

To create wealth one has to be a good receiver and not just a good GIVER. If you are only good at GIVING it just does not work. We want you to call-up your friend or relative and initiate money recovery conversation, here in such issues it is NOT about money, it is always about your relationship with money.

We would also love to hear experiences from those who are willing to ask for their own money. (We want this group to recover all such blocked money)

PS: In case you have taken money from someone we invite to have conversation about returning that money. Don't wait for other person to come and ask. This is how you master your relationship with money and people.
Amazing Reply by Arnab Mitra
We received some amazing sharing and experiences from all our participants. All the experiences shared were amazing but a few points raised by Arnab Mitra (who is also the co-author today with us on this article). He encouraged us to write this article.
Here is the reply by Arnab
Under certain circumstances and situational basis, people lend money to relatives, friends, sometimes to the circle of your labors. Earlier I saw my parent's situation of how they struggled to reclaim loaned money from their blood relations ( YES indeed ..) . And now, I am no exception either. I have already lent a relative and a servant significant amount of money. I understood their requirements, and as I mentioned – situational bias obliged me to lend. However, the position/response of reclaiming the amount back is not satisfactory. I am able to recover recurring partial payment from 2nd person ( who is not a relative ) from his monthly wages , but recovering the significant amount of money loaned to my relative is quite away.

Several phone calls/reminders didn't seem to work. Interestingly, the relationship is so close that I didn't think about to inform my family. But, few months ago, as I was indeed worried whether I would get my money back, I had to inform my close ones. It was very very embarrassing situation for me as well as for my close ones to discuss on lending. I have received a part payment but – certainly there is imbalance in that relationship. There are few more such instances I have mentioned below.

My leanings from the above

1. Forget about relationship (obviously if it's within your own family) when money comes in between you and distant relatives. Controlling emotional thrust is what I have learnt can zip your wallet.

2. It is all about your hard earned money – it's not for donation.

3. How small the amount is – if you loan to someone – go chase it. Let me share similar fact – I gave Rs. 500 to worker, who runs a tiny store next to our apartment complex to iron people' apparels. I made sure I recovered that through enough number of apparels without paying to recover the amount. May be people think – what the hack – just for Rs. 500 – but that is what circumstances taught me.

4. Another one – I loaned Rs. 3K to a known person as he is about to setup a homeopathy dispensary. That guys requested amount from all of the families in our apartment complex. What we did, we kept a diary of record of money loaned by each lender and got it signed by us and that person. We will recover a monthly amount from him once, the dispensary is fully functional.

5. The above steps seem to show selfishness, but those have changed my behavior of lending money ( even though if its Rs. 100 ) , and to become selfish.
Let me also share the exact snapshot from our bootcamp page, so that you get the feel !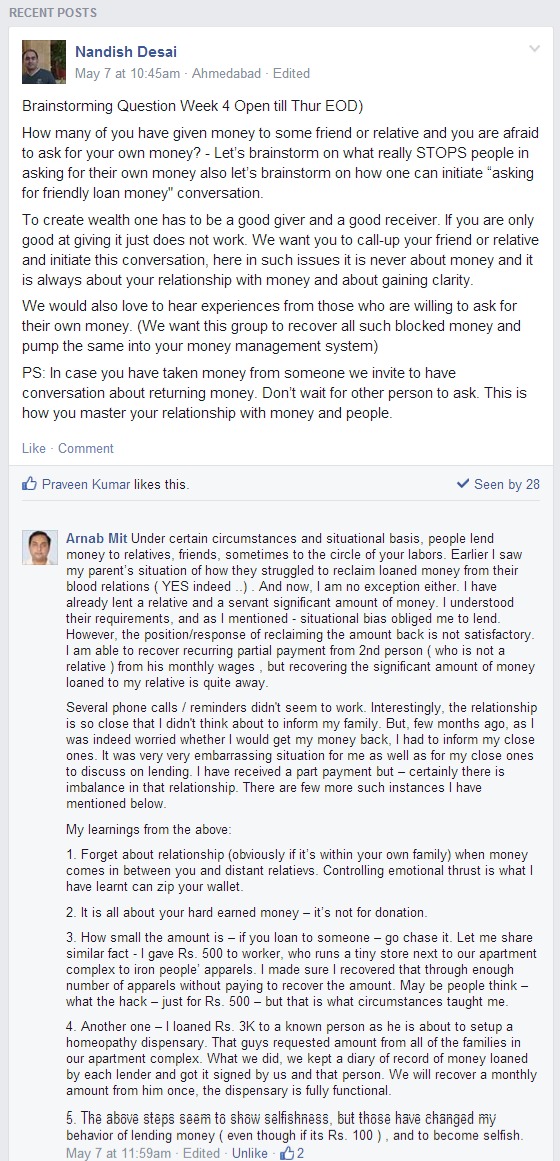 7 dimensions to keep in mind while lending money
1. Give space to NO
There are so many people who end up lending money just because they are not able to say NO. How will it look? Is the question that clouds their head and they are not able to say no in that crucial moment. Now, we also have category of people who very well know that they should learn to say NO but still they end up saying yes. Your "yes" turns expensive when you are hold a NO in your mind.
I was once participating in a seminar where I was taught that 99% of people are victim of 'looking good factor', when in front of people they either try to look good or they are busy trying to avoid looking bad. In some situation saying NO serves you better and so learn to say NO when you are not in a mood of lending money to someone.
2. Create Clear agreement
While lending money people are aligned with each other but what about agreement. Alignment is internal chemistry between two people whereas agreement is something which happens in the external world. When it comes to lending money along with good alignment one needs to create clear agreement with each other. Creating clear agreement is about agreeing to something which leads to mutual understanding of things.
Here is how you create an agreement – "I am giving you x amount for x purpose and you agree to return full amount with/without interest by so and so date". When you create clear agreement there is very little space for expectations to breed. People who fail at creating clear agreement while lending money always get disappointed by expectations that they set for the other person.
3. First check your Capacity to lend
You may have money to give someone but do you have the capacity? Once your basics are in place and after making all the investments for your goals if you are left with surplus money, it shows you have extra capacity to lend. A lot of people miss out on this point, their decisions are driven by their emotions and they do not take decision to lend money based on their capacity. One should lend only when one has the capacity to lend and not otherwise because such casual lending will have direct negative impact on your financial life and future.
4. Prepare a legal document or take something in writing
This point according to me is the most important point to consider while lending money to someone. Adding the legal dimension sometimes checks the genuineness of the person who is asking for financial help. If the person is clear he is going to return the money he/she wont hesitate for such legal documentation. Also in many cases it has happened that instead of returning money, the borrower claims money from the family of lender. (In case of sudden death of lender). Such confusions and complexities can be avoided with the help of legal documentation or by taking things in writing.
5. Mechanism of Reminders
Most people fail to set-up mechanism of reminders. While lending money both the lender and borrower can decide upon weekly, monthly or bimonthly reminders. You can set auto reminders on your google calendar or by email,sms or by calling each other at regular intervals. It is important to stay in communication because once the channel of communication breaks it becomes difficult to recover your money after some time.
6. Habitual Behavior
If more than 3 to 5 people have not returned your money so far it means you haven't yet got in touch with your habitual behavior. May be you give money and then wait for the other person to return money on its own. Lending money is not bad but such habitual behavior can keep you away from your own money. A lot of people stop lending money after one or two bad experiences because they feel they are now wounded. Instead of stopping to help people financially why not examine your habitual behavior that prevails in your relationship with money.
7. Check what's behind the curtain
A friend of mine approached me once for money. I asked him why he wants money and he said, "I want to pay salary to my employees and so I am in need of money". I immediately told him money is not your problem, poor cash-flow management is your real problem and so let's fix that so that you never find yourself in such situation. People who borrow money always see money as ultimate solution to their problem, but as a lender you have to check what's hiding behind the curtain. I personally feel that providing such powerful guidance is much more powerful than just lending money.
Conclusion – Pick phone and get clarity
If you have given money to someone we invite you to initiate fresh set of conversation with that person and share your experience with us on the blog. Also, if you are someone who needs to return money to someone, pick up the phone and bring clarity with that person. We have used the word debate in the title because to lend or not to lend is a personal choice. Lending is not bad; asking for your own money is not pressurizing. The intention behind this article is to make you aware before you lend money to someone so that you do not become victim lender.
Work on your financial life with our Online Facebook Bootcamp Support
Lastly, our 7th Batch of boot camp is starting from 19th of May, if you want to learn from other committed group of investors and want to jump start your new journey as an investor, don't miss to participate in our upcoming boot camp. (We want to sell this program to every investor on this planet)
This article is written by Nandish Desai along with Arnab Mitra. The Co-author of this article is Arnab Mitra who is based out of Kolkata; he works as IT Technology Consultant at Cognizant Technology Solutions Ltd (CTS).
Please share your inputs and your experiences about lending to friends and relatives in comments section please.