POSTED BY Jagoinvestor ON August 12, 2013
Today let me share the procedure and some points regarding the premature breaking of your fixed deposits. We have seen, that due to the ease of creating fixed deposits online, more and more investors create them if they are not able to find the right purpose of their surplus money and then in case of emergencies, they have to break their fixed deposits prematurely.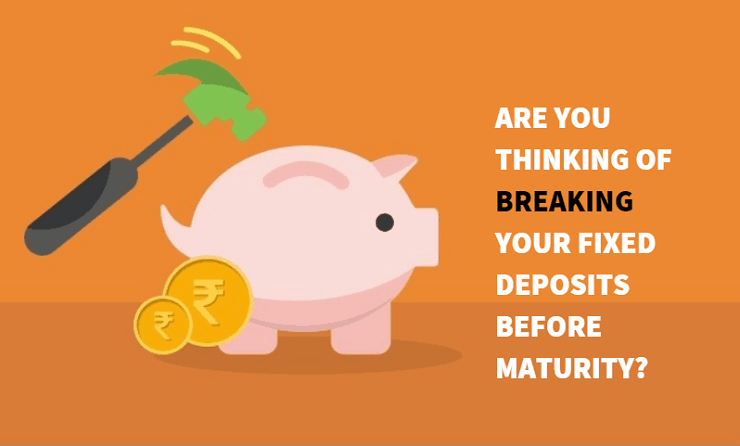 Procedure for Breaking Fixed Deposit Before Maturity
Now the procedure for breaking the fixed deposit is fairly simple and much faster. However, the whole procedure can vary across PSU banks and Private banks. The procedure can also vary if you take into consideration online vs. offline
When you create a Fixed Deposit or Recurring Deposit, the bank sends you Deposit Certificate or receipt after some days of opening it (In case of many PSU banks, you need to collect it manually by going to branch). This is just a receipt or a proof of deposit. Now you can carry this deposit certificate to branch and ask the bank official to break your FD, they should be able to process your request.
However in case you do not have the deposit receipt or have lost it somewhere, you don't have to worry much, in that case, you will have to give them a letter or fill up a premature FD breaking form available at the bank branch, read further to know about it. Read about Requirement of Fixed Deposit on Opening Lockers here
Online Procedure of Breaking Fixed/Recurring Deposits
A lot of banks allow you to open create fixed deposits online from your net banking account.  I have seen that most of the private banks allow you to break your fixed deposits online itself, all you need to do is go to "service request" section of your net banking and you will see a section where you can break the fixed deposit before maturity.
In ICICI, when you go to "service requests" section, on the right-hand side you can see "Fixed/Recurring Deposits related", you can go to that section and choose "Premature Closure of Deposits" and then choose the FD/RD number and cancel it.
Your request will be processed in the next working day and you will get the money in your account. Check the screenshot below which shows you that.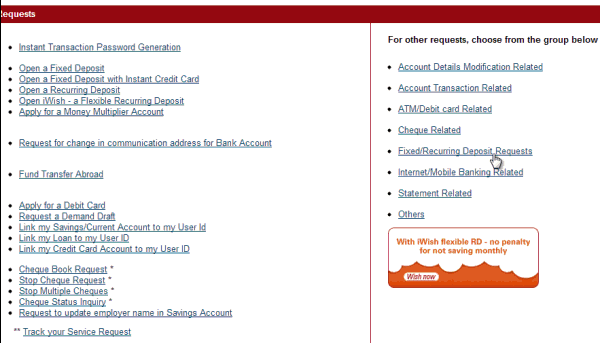 Offline Procedure of Breaking Fixed/Recurring Deposits  by visiting the Branch
A lot of PSU banks do not allow breaking your Fixed deposits or Recurring Deposits online. You will have to visit the branch itself and manually break it. Here is what you need to do
Step 1 – Write an Application mentioning you want to break your FD/RD, mention the Deposit Number and account number where it should get credited. At times, you have to fill the premature FD Breaking form available at the bank itself. In almost all the cases, the fixed deposit is broken instantly, the bank official must be able to do it with a click of the button.
Step 2 – Attach an ID proof (PAN etc). Private Banks have the Xerox machines inside the bank itself, so you just need to carry the original id proof and they will help you with the photocopy.
Below is a sample letter stating wish to break the fixed deposit or recurring deposit prematurely.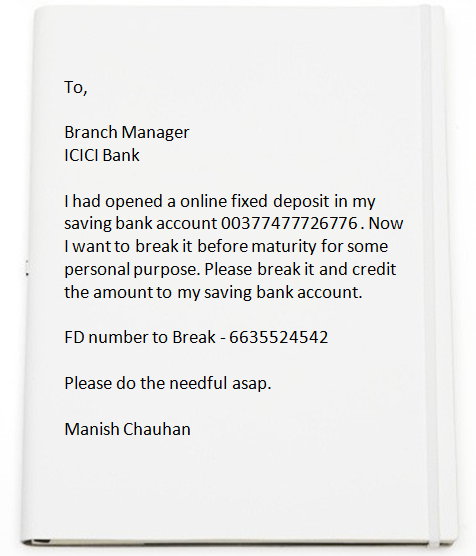 Do I need to pay fine on Breaking Fixed Deposits before maturity?
When you break fixed deposits prematurely before maturity, you will not get the same interest rate offered originally. You will get the interest rate which is applicable for the tenure you actually ran the FD for. For example, suppose you opened the FD for 1 yr originally, and the interest rate offered was 9 %.
Now if you closed the FD in let's say 3 months, and if the interest rate for 3 months FD was 7%, then you will get only 7% interest for the period of your fixed deposit. Also in several cases, there might be penalty charges which are nothing but another reduction in your interest rates.
Like the bank, rules can say that if your FD was opened for 1 yr, and if you break it before maturity, you will get 1% less interest than offered. Many a time, there is no penalty for short-term fixed deposits.
Best practices before you create Fixed Deposits!
If you already have few commitments in near future, avoid creating long-term Fixed deposits, create short-term FD's
Instead of creating one large FD (example 5 lacs FD), better create 2-3 FD of small amounts like 2 lacs + 2 lacs + 1 lacs. This way if you need a partial amount (let's say 3 lacs or 2 lacs or 1 lac), you will be able to break the FD's partially. It won't affect the full amount
You can take a loan against Fixed Deposit or overdraft against your FD.
Some Important points to know
There is various kind of fixed deposits products, at times there are fixed deposits which also allow you to withdraw the FD money instantly through Debit Card itself, like for example Kotak bank Flexi-Deposit.
Also, if your fixed deposit is under Sweep In Account, then you should be able to withdraw the money instantly without manually breaking it, read more about the sweep in accounts here.
For some banks fixed deposits (private banks mostly), the some FD's get broken if you issue a NEFT/RTGS transfer to some bank account. Like if you have a 2 lac FD in Kotak Bank (Flexi deposit) and if you transfer Rs 2 lacs in another account through NEFT/RTGS/IMPS, then the transfer happens and the FD is broken.
In the case of companies with a current account, company seal will be required along with signatures of partners.
In worst cases, your Fixed deposit breakage might require some approval from the main branch, but it should not take more than 2-3 days in worst to worst cases.
Share your personal experience about breaking the Fixed Deposit in the comments section if any!