POSTED BY Jagoinvestor ON September 3, 2012
Lets try to understand what is NEFT and RTGS and what is the difference between them. NEFT and RTGS are two main mechanisms to transfer money from one bank to another bank in India. Transferring money between two accounts in same bank is pretty straight forword and its a internal matter of the bank, it does not have to deal with other banks and their protocols, however when one bank wants to send the money to another bank in India, there is a defined mechanism it has to be done and hence NEFT and RTGS comes into picture. Both these systems are maintained by Reserve Bank of India. Lets understand both of these
NEFT – National Electronic Fund Transfer
NEFT full form is National Electronic Fund Transfer, and its a system of transfer between two banks on net settlement basis. Which means that each individual transfer from one account to another account is not settled or processed at that same moment, its done in batches . A lot of transactions are settled in one go in each batches. Presently, NEFT services are available from 8:00 am to 6:30 pm on weekdays (Mon – Fri) and from 8:00 am – 12:30 pm on Saturday.
Any NEFT Transfer done between 8 am – 5 pm generally gets settled on the same day, but if you deposit the money after 5 pm, then that will be settled the next working day. In case of Saturday, any money deposited between 8 am – 12 noon can be expected to reach the beneficiary account the same day.
NEFT Transfer Example
For example lets say Ajay has ICICI Bank account and Robert has a bank account in HDFC bank , Now Ajay deposits Rs 10,000 in Vijay account through NEFT transfer at 10:30 am . The money will be then taken out from Ajay's ICICI Account and will be sent to Vijay's HDFC bank the same day, then HDFC bank will credit Vijay's bank account. In case money can not be transferred to the target account (beneficiary account) , the money will be credited back to the source branch within 2 hours of the batch in which it was processed.
RTGS – Real Time Gross Settlement
RTGS full form is Real Time Gross Settlement and its a system of money transfer between two banks in real time basis, which means the moment one bank account transfer the money to another bank account, its settled at that time itself on real time basis between the banks, but the beneficiary bank has to make the final settlement to the bank account within two hours of getting the money. RTGS is the fastest possible money transfer between two banks in India through a secure channel.
Let me give an example, lets say Ajay has a SBI Bank account and Vijay has an Axis Bank account, Ajay transfers Rs 5 lacs to Vijay's account  through RTGS transfer, SBI bank instantly transfers Rs 5 lac to Axis Bank, now Axis bank has 2 more hours to deposit it in Vijay's account . Hence in worst case even with RTGS transfer there can be delay of 2 hours.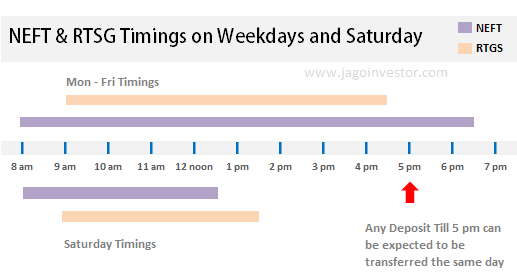 NEFT and RTGS Charges
NEFT and RTGS transfer charges depends on the Bank. RBI has guidelines for the maximum fees which can be charged, but it finally depends on the bank in question. Note that NEFT and RTGS charges, varies depending on the amount transferred and the timings when its done. While NEFT charges depends purely on the amount transfered, RTGS charges depends on the amount transferred as well as the timings of the day when its done . A RTGS transfer early will cost a little less charges. Note that, Service tax is also applicable to the charges. Below are the charges shows for NEFT and RTGS for retail banking (not for institutional banking)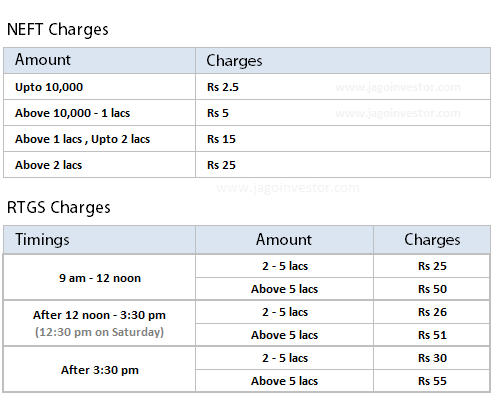 Information required to make an RTGS & NEFT payment?
For making a payment through NEFT/RTGS, following information has to be furnished.
Amount to be remitted
Remitting customer's account number which is to be debited.
Name of the beneficiary bank.
Name of the beneficiary.
Account number of the beneficiary.
IFSC code of the destination bank branch
Note : MICR code is generally not required for NEFT or RTGS transfer
Points to Note
Each Bank has their own NEFT and RTGS application form, which you can download from their website
RBI declared holidays each year when you cant do NEFT and RTGS fund transfer transactions, see 2012 list
To find out different bank branches which are enabled for NEFT and RTGS transactions, you can see this RBI list
Difference Between NEFT and RTGS
Finally let me list down all the differences between NEFT and RTGS in a table, so its easy for you to understand the conclude finally.
Criteria
NEFT
RTGS (Retail)
Settlement
Done in batches (Slower)
Real time (Faster)
Full Form
National Electronic Fund Transfer
Real Time Gross Settlement
Timings on Mon – Fri
8:00 am – 6:30 pm
9:00 am – 4:30 pm
Timings on Saturday
8:00 am – 12:30 pm
9:00 am – 1:30 pm
Minimum amount of money transfer limit
No Minimum
2 lacs
Maximum amount of money transfer limit
No Limit
No Limit
When does the Credit Happen in beneficiary account
Happens in the hourly batch Between Banks
Real time between Banks
Maximum Charges as per RBI
Upto 10,000 – Rs 2.5
from 10,001 – 1 lac – Rs 5
from 1 – 2 lacs – Rs 15
Above 2 lacs – Rs 25
Rs 25-30 (Upto 2 – 5 lacs)
Rs 50-55 (Above 5 lacs)
(Lower charges for first half of day)
Suitable for
Small Money Transfer
Large Money Transfer
Are you now clear about the difference between NEFT and RTGS and their transfer charges?