POSTED BY Jagoinvestor ON October 22, 2012
Which is the best bank in India? Is it yours ? In this article, we will look at the top 6 parameters which define a good bank and look at various Indian banks and how they fared on those parameters. The best way to find out how good a bank is to ask the existing account holders. So I ran a big survey on the topic of "Which is the best bank in India?" and a huge 2,418 people took that survey!
In the survey we counted how many people had a particular bank account and it was not a surprise that 76% of the market share was from the top 4 banks which were State Bank of India (SBI bank) , ICICI bank, HDFC Bank and Axis Bank . Rest 24% consisted of all the other banks combined. Other than this, we had also asked how long were their bank accounts . 77% of the bank accounts were at least 3 yrs old, which means that a person taking the survey had a fair understanding of his/her bank. Below is the graph showing the exact numbers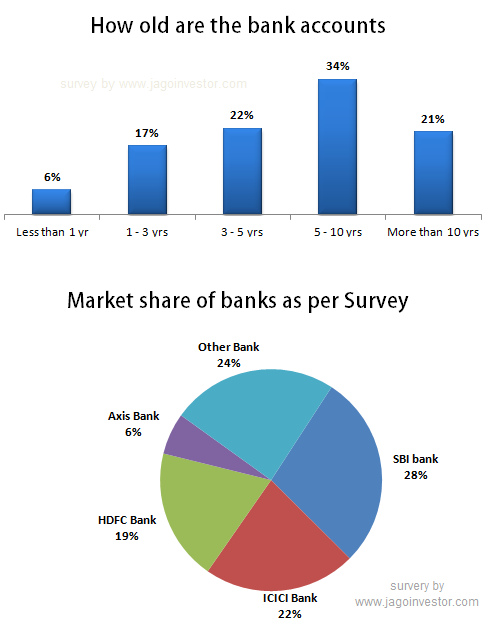 6 parameters of a Great bank
Banking is the core financial service any individual uses. There are hundreds of bank in India with millions of bank accounts and a person might have no other financial product or investment, but he will always have a bank account. One has to deal with banks all the time, be it credit card, home loan (Read Best Bank for Home Loan), auto loan, personal loans or any normal banking service, so one can not escape banking.
So its very crucial that one has a great bank that treats it's customers well. So what defines a great bank? What we did, is define 6 parameters on which a bank can be judged.
1. Customer Care of the bank
For any issue we call our bank customer care, the quality of a bank customer care shows how much care a bank wants to take of their customers. Customer care is what you would need a lot of times and it's of great importance in choosing a bank. This is where the maximum number of interactions happen.
2. Core/Basic Banking services provided by the bank
Core banking means the real banking services which are the base services. Facilities like cheque issue, money transfer from one account to another, Demand Drafts, Debit card issue, Interest paid on the account and other core activities. These are the services which have to be there no matter when, other advanced things are not present. These services form 90% of what you need from the bank. Ergo, these banking services are a must.
3. Advanced Banking services provided by the bank
Advanced services are those banking services which are over and above the core banking services. There are the latest technologies which the bank could have adopted. Some of the examples of these are providing IMPS money transfer service, Prepaid recharge and various other such add-on like services. They are "good to have" services, but not must have services. In this era of technology, it's a prudent thing to have a bank which offers these kinds of services.
4. Online Facilities provided by the bank
The face of banking is changing, A lot of bank customers have totally shifted to online services. Its only the in the worst case scenarios that one visits the bank physically. Else, everything is done online . So do go look at the bank's online facilities. For example, when I needed a Demand Draft for some purpose, all I did was to put a request to create the DD in my ICICI Bank through net banking and opted to collect it from the branch in next 2-3 days. I got a notification on sms and on email when the DD was ready and I could go collect it anytime. So the next time I passed by my bank, it took me just 10 min to collect it. No time wasted! There was also an option to get it delivered at my home at nominal charge. Its generally said that HDFC Netbanking and ICICI Netbanking is one of the best among banks in India. Things like these matter a lot in today's fast paced world where you dont have much time to go to bank physically.
5. Transparency maintained by the bank
This is a crucial aspect. How transparent is your bank to you when it comes to charges, facilities, penalties and the offers it gives you on some services? Is your bank too opaque? Does it make life easy for you or tough? One simple example that comes to mind is regarding opening of a PPF account in SBI. There have been so many instances where the SBI bank officials have not been very transparent regarding the rules. Then there was one instance where Axis bank was not very transparent to one of our readers when taking a home loan and actually sold him a policy without his permission. So it really is a big parameter to look at, in a bank.
6. Overall Attitude of the bank towards its customers
And finally, at the end of the day, you have to look at your bank attitude towards you as customer. Does it really treat you as king or trash? How do you get treated when you walk inside the bank? How are you treated on phone with customer care? Does you bank understand that your time is precious and tries to help you, or just looks at you as just another target?
Which is the best bank in India & their rankings ?
In the survey, we had asked from people the 3 things
Name of their bank
How old is their banking relationship
How do they rank their bank on these above 6 parameters
Based on the 2418 answers in the survey, we have created the following result table which shows you how well each bank fared on each parameter. We will look at total 25 banks , the top 10 banks in India and then next 15 banks . "Very Bad" equals 1 and "Very good" equals 5 marks.  The table shows the average marks obtained by a particular bank . At some places you can see the green background which shows that the bank was in top 5 position. This is done for top 10 banks and next 15 banks also .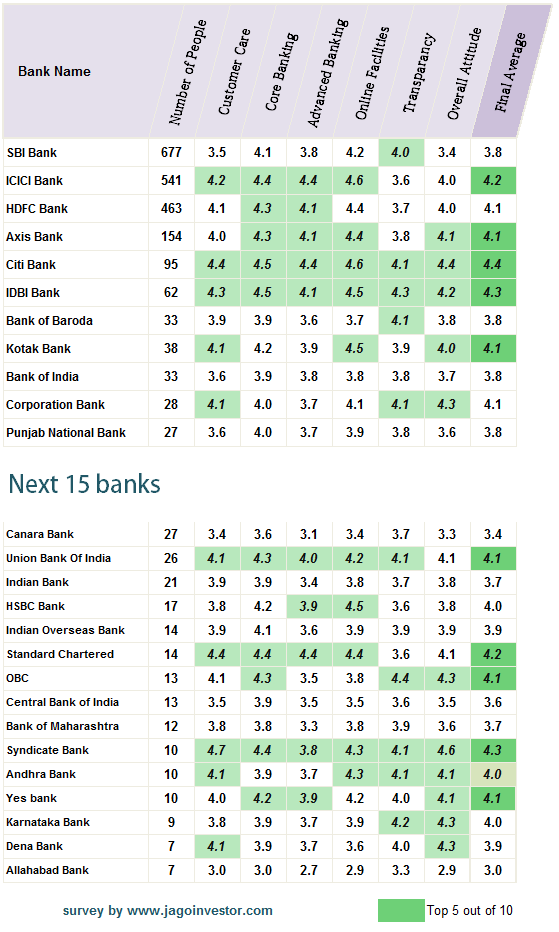 Top Indian Banks as per Survey
If you look at the above table, and look at the banks which have got the average of more than 4 marks as total, we get total 14 banks with more than 4 marks. Note that the names are considered as per survey results only and based on real feedback.
ICICI Bank
HDFC Bank
Axis Bank
CitiBank
IDBI Bank
Kotak Bank
Corporation Bank
Oriental Bank of Commerce
Syndicate Bank
Andhra Bank
Yes Bank
Standard Chartered Bank
Karnataka Bank
HSBC Bank
15 Real life Experiences from Bank Customers
Here are some of the comments made by people on their banks in the survey. I am putting some of them here for you to read.
Rakesh say's – "I observed that most of the times in ICICI Bank, customers are taken for granted…I dont see it as an attitude problem with the individuals working there…it has happened in many of the branches I visited…Infact their Bank by Phone assistance is more courteous than the actual working class"
Aditya Karnik says – "One of the branch of HDFC Bank in Nashik city was having some issues with system and hence all cash transactions were stopped. Executives at the counter couldn't give satisfactory answers as to what led to the issue and rudely asked customers to go to some other branch within city to transact. Well I can understand systemic issue but communication could have been better."
Mahesh says – "Once my mother, aged 50, had gone to Union Bank of India, Chembur Branch for submitting a form for FD and by mistake she had signed below the dotted line. For that one of the lady staff over there humiliated my mother in front of everyone. My mother came home with a teary eye. We were so pissed off by the way they treated such an elderly woman that we shifted our account to another branch. Some one from the bank said that everyone in the bank is fed up of her temperament and irrational behavior."
Arindam says – "A recent incident occurred when I need my new address to be updated. Normally, Customers are asked to visit the Bank to update all the records (In the year 2012). However, in this case, I was asked to raise a Service Request through online net banking and the issue has been resolved within 24 hours and I have received my current month's e-statement with the new address. That's a fabulous support by ICICI Bank."
Pradeep says – "I asked for Home loan amortization through e-mail. They did not reply. After 2-3 e-mails, I wrote a strong e-mail to DGM and then got a reply from SBI. Most staff do not know simple rules and regulation on Home loan prepayment. They are also ignorant of latest decisions. This is terrible."
Nilufer says – "Whenever we need to contact the servicing branch of HDFC Bank, their numbers are connected to the customer care numbers, where 8 out of 10 times there is only a machine talking to you.. There is no one in person who one can talk to about an urgent query.. this pisses me off no end… At-last i had to call one of my previous contacts (who has now got transferred from my branch) on his cell, to get the info on my query. In an emergency, only a machine talking to you, is no 24×7 service which these banks claim to give.. Forget after office hours, even during office hours we dont get a human being taking care of us on those lines.. atlast i had to call the branch manager on his cell to get things sorted out… pathetic customer care service where only a machine is left to service its customers with that no ending options that it keeps blabbing out…" 
Subradas says – "Whenever I talk to bank officials they try to bullie. Either they knowingly do it or because of their ignorance but they do it. They try to bluff at the first go. It seems that Kotak Bank has recruited the worst manpower of the industry. They have tried to shift/do most of the work on back end making the process time consuming. They have delegated hardly any power to their executives sitting in the branch. To close an account it may take 7 days to more than a month where as it takes less than an hour in most of the PSU banks."
Devendra says – "While my son was proceeding to the United States for higher education, I wanted a certificate from SBI that i could meet more than Rs. 8 lakhs for his studies. Since I was earning more than this amount and also had money in my account, I thought it was quite easy task. Yet the bank refused to issue the  certificate. I then approached Corporation Bank and got the certificate."
Sumit says – "They had called me to give free Financial Planning advice from a CFP. The fixed a time for meeting and the adviser did not appeared on that day. I did not expected this from a bank like HDFC. Post that, there has been few more appointments taken and shuffled and I haven't met any adviser yet. (incident took 1 month back.)"
Rahul says – "I wanted to prepay the Education loan taken from Andhra bank, Howrah branch. I had to travel to the branch more than 10 times to get my loan account closed even after making the full payment. The total process took me over 3 months.On the last day, i sent my brother with an authorized letter to collect the hypothetical LIC policies. They confirmed earlier that they would deliver it to him but denied on the spot. Ultimately, i had to rush to the bank in high fever to get those documents. I literally scolded them at this behavior. Another big dismay was the interest rebate- The loan policy document mentioned that a 50 bps rebate in overall interest would be allowed if interest payments are regular. To regularize interest payments, i opened another savings a/c in the bank through which they can collect interest payments every month.
I also gave written application for direct debit from my savings a/c to loan a/c and ensured that there was adequate balance in the savings a/c at all times. Yet, i was not given any rebate in interest. As mentioned earlier, i had to scold them on the last day- you can easily understand the scene at that point of time. I preferred to get the a/c closed asap irrespective of the interest rebate. Meanwhile the banks Branch manager and Loan dept. staff was changed twice and the position remained empty for more than 6 months.
Anand says – "I required a locker, hence requested my Banker (BOB) for the same which they ensured to allot as soon as they get any vacancy. Within a few days i got a call from them confirming the availability of the locker and asked me to come to Bank for fulfilling the formalities and accordingly allotted me the same forthwith.I was really happy with their promptness."
Gopal says – "Citibank gives you update almost immediately regarding the tranactions taking place in your bank account. Once my cheque was dishonored due to the year I placed on the cheque. The concerned branch immediately called me and I made the payment to the party by other channel."
Ravindra says – "Several years ago, the then Manager of the IDBI Bank branch, where I have my account was habitually rude with his staff. He used to rebuke them within the hearing of customers. Naturally, this caused us considerable discomfort, as would have to deal with these staff within minutes after being forced to overhear the unpleasantness. I sent an email to the then MD, who sent a senior officer to enquire into the issue. The Manager was more discreet after that, and the staff worked better when the stress and tension was reduced."
Ramprasad says – "Karnataka Bank is a good bank, but their customer service at the branch level or over phone is among the worst. I had a problem with using the Internet Banking Service and had to reapply for the passwords but even after i was charged Rs50 for internet banking password re-issuance the passwords never reached me or the bank branch. They told me to reapply once again, and the branch was very non-cooperative in their service including the branch manager."
Karthik says – "Most of the times I didn't have to approach their customer care. The times I had to, they were extremely courteous and quick in resolution. My first card was rejected because I didn't have a CIBIL score then, having come fresh out of college. I was able to speak and reason with their Regional Manager, Credit and get my application application approved. Very progressive and sensible rules! at CitiBank"
Conclusion and Disclaimer
The above survey will help you take a better decision in choosing the best bank for your banking needs. Note that the above survey was taken by 2418 people who are the readers of this blog. This survey only represents the net savvy population of the country and it should not be taken as a representation of the whole country. The views of people outside this blog might clash with the findings of this survey. Also the above survey only focuses on the banking aspects and not things like home loan, personal loan etc.
Here's a crucial aspect of the survey you need to understand. The above results are average of many views, hence its natural that there are many bad experiences with the banks which are considered best in the category and there can be many good experiences for those banks which are not part of these top banks in India.
We are soon going to add a full video course on banking in our jagoinvestor wealth club. Incase you feel you need to understand banking terms and terminologies, you should join the club.
What do you think about this survey? Do you agree with the results or not? Was it useful for you ? Do you feel that yours is the best bank in India ?