POSTED BY Jagoinvestor ON May 21, 2012
Taking a Home loan is a big task in itself and one of the biggest financial decisions. A home loan is the longest debt in our life. At times 10-20 yrs, which makes demands a long term commitment. Each month you have to pay your EMI, sometimes you have to prepay some part of home loan, sometimes you need some documents and visit the bank. There are numerous things to be done during taking the home loan and after taking the home loan, hence you should be very clear that which is the best bank for Home Loan. Without much confusion, it's very clear that everyone wants to go with the bank which makes your life easy at the time of taking a home loan and even after that. So the biggest question on everyone's mind is "Which is the best bank for a Home loan?"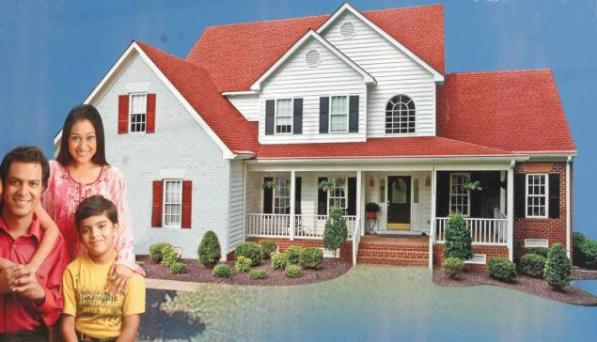 First thing first, you have to be very very clear that their cant is a single bank or loan institution which is perfect for everything and you will never face any issue with them. Also, there is no "best bank for Home Loan" which has always worked for everyone to date. But overall we can always pick some banks which have been better than others on different parameters. You can say that on a high level "Bank A" is better than "Bank B" and this is based on many loan takers' experience over the years. So now in this article, we will try to understand the difference between different banks and how they differ with each other. We will also see a survey result done with the vast community of this blog and which bank they choose collectively as the best bank for a home loan.
Public Companies vs Pvt Companies
While researching on this topic, the first thing which came to my mind was "all banks are the same, everyone has a bad experience will all kinds of banks, whether PSU or private". But we have to understand that while some people can have a bad experience with some banks, there are a positive experiences too and we have to see things from a very high level and not judge a bank just based on a handful of bad experiences. The first confusion which comes to any loan taker mind is "PSU bank or private bank?" and based on the experience here is the conclusion.
PSU Banks are good post-loan but not friendly at the time of taking the loan
Private banks are very fast and friendly at the time of disbursing the home loan, they will treat you like a king up-till the loan is disbursed, but once every formality is complete and your home loan is sanctioned, you are a trash to them! As they are extremely aggressive in the marketing of home loans, a lot of people fall for it, Private companies presentation and the way they approach you is good but only till you are not a home loan customer. A lot of times private companies make things easy for you and also bend some rules for home loans. the number of documents they need also is less compared to a PSU bank.
On the other hand, PSU banks are not that great at the start of home loan , their rules are very strict and stringent and they still operate  in the "sarkari" style, however, once your loan process is complete and things start, their afterlife is much easier compared to private banks. The overall handling is much professional and as per the process. In short, they don't suck your blood every now and then as private companies do.
Private banks are first to raise the interest rates
On the interest rates increase and reduction side, its seen that private companies are first to raise the interest rates after the rate increase from the RBI side, but private banks hide somewhere when there is a time for reducing the interest rates. However, PSU banks are more transparent on this front and much less annoying than Private banks. Also private banks arbitrarily increase the pre-payment charges (  like from 2% to 3%) the conversion fees are also charged heavily if you want to move down to lower interest rates.
Also the changes of fraud at employees level in Private bank is much higher than PSU Banks. I can't say that PSU banks are not into the bad game, but it's much much higher in Private banks because of sales pressure and targets. There has been cases of forced selling of home insurance and also cross selling of ULIP's and other financial products along with the home loan
Which is the best bank for Home loan in India?
Now there are millions of people who have taken home loan and there are various parameters on which a bank can be ranked like Processing time for a home loan, Transparency in whole process, Attitude towards the customer, Interest rates and pre-payment charges, online tracking of your home loan after disbursement. But there is no ranking of banks on all these parameters. However still you can rank a bank overall as good or bad in total. I ran a survey on this blog and got around 1504 participants to vote for the best bank for home loans and based on that we can judge which banks are more preferable and more trusted. Here are the results.
Best Bank for Home Loan in India (Survey Results)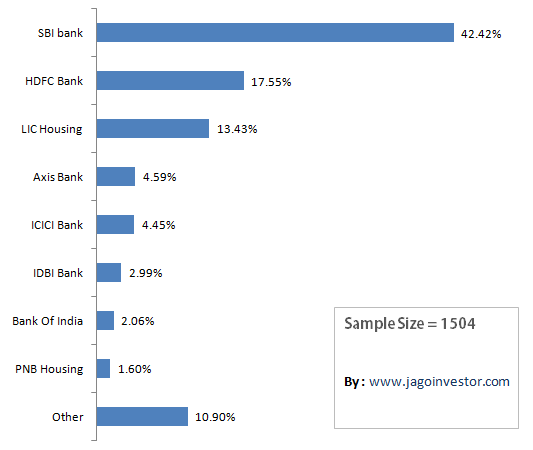 A good place to look for all the home loan related data (Click here)
Top 5 banks for Home Loan at the moment
If you see the survey above, you can clearly see that the top 5 banks for a home loan are SBI, HDFC, LIC Housing, Axis Bank and ICICI Bank and these 5 banks comprise 83% votes. While a big reason for this can be that these are big banks having a wide reach and has more customers and hence the results are a little biased. But at least you can see that out of 1504 people on this blog, 83% of them have a home loan from these 5 big banks, in which SBI tops the list.
1. SBI Bank
Based on the survey and overall reading's done over the net and comments section of this blog. SBI bank seems to be the best bank for Home Loan. While SBI Bank still carries the hangover of Sarkari culture and they are strict in the overall process, which means you will have to run all over the bank and many times to get things done, but once the whole process is complete, maybe you will have a smooth experience overall. Things will be easy post home loan process if you need anythings from bank compared to other banks. For those who want to know why SBI is preferred, follow this thread
2. HDFC Bank
Overall HDFC bank seems to be have mixed reviews. Some people had a great experience and some had a very bad experience. HDFC Bank is overall recognized as the bank for the home loan itself. But overall the experience was very very mixed.
3. LIC Housing Finance
LIC housing finance seems to be a decent option after SBI. While they are not that great as SBI, still they seem to be a good choice after HDFC and ICICI bank. LIC Housing Finance has lesser documentation requirements, but one has to run around for smaller details.  LIC seems to offer better rates and also giving the option to fix the interest rate for 5 years. One thing which many people do not know is that LIC reduces the interest rates for home loan for its customers having any insurance/investment policy with LIC by at least 0.25 %, but only if Sum assured of all policies collectively is more than 15,00,000 and all policies should be under the name of the loan applicant.
4. ICICI Bank
ICICI Bank seems to be very very fast and too friendly at the time of loan processing, but once the loan is done, life seems to be hell for most of the people. They are not very supportive most of the times and one gets too frustrated with their attitude. Overall their interest rates are also very high.
5. Axis Bank
Axis Bank is another good option as a big bank. One good thing about Axis bank is that they have NIL charges for any pre-payment. It's a big surprise that Axis bank was more preferred than ICICI bank overall in the survey. While Axis Bank has few good options, there was one recent case from axis bank which I had highlighted on this blog on how they forced sell a life insurance policy along with home loan, While this was a negative thing from Axis Bank,  we have to understand that good and bad experience are part of all the banks.
So what is the final answer ?
While there are positive and negative experiences from different banks, the clear answer coming out of different comments from readers and survey is that if one has to choose just one name, SBI bank is the best bank for home loans. We have seen most of the votes going to SBI Bank and all the pointers are suggesting that its the right choice.
Which bank do you have home loan with and what was your experience overall from start till the end. Can you share it in for others benefit?