POSTED BY Jagoinvestor ON October 1, 2012
IMPS or Interbank Mobile Payment Service is a technology which offers an instant electronic fund transfer service through mobile phones between two banks in India. There are other two money transfer systems called NEFT and RTGS already in India, but they are not a mobile payment system like IMPS and they'll  take some time to get settled. IMPS is a real time system of money payment.  The service has been developed by National Payments Corporation of India (NPCI), a section 25 company formed by Reserve Bank of India (RBI) and Indian Bankers Association (IBA). Here's a testimonial from Harsh, who transferred money using IMPS…
Recently I issued a cheque from one of my account and did a NEFT transfer to build balance but NEFT failed to do the job in 48 hours, in the middle of night i started searching for how to do a instant transfer and then I got to know of IMPS. Registration happened instantly in matter of minutes and shockingly money transfer happened in micro seconds even faster than a google search – (via)
The transfer limit through IMPS is defined by RBI in the Mobile Payment Guidelines issued to banks. The customer can transact on IMPS subject to a daily cap of Rs. 50,000/- per customer overall for transactions through mobile for the funds transfer.
How to do Money Transfer using IMPS
All you need to make a transfer through IMPS system is your mobile number and MMID number . MMID number is a 7 digit random number which you get by registering for IMPS facility with your Bank. But make sure your mobile phone is activated before you register for MMID. Note that both sender and receiver should have their phone and MMID number from their respective banks. Once you have that you can transfer the money using sms or internet banking . A lot of banks also provide a mobile application which you can download from bank website and install on your phone. Note that before sending the money to the receiver, you should register them once as you do for any bank account.  The image below gives you good idea on what needs to be done for carrying out an IMPS transfer.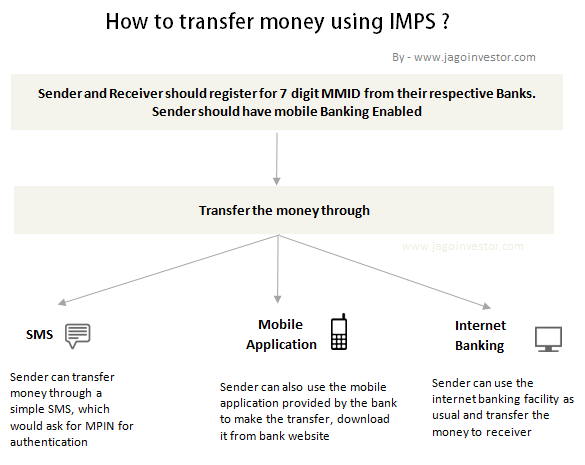 What happens with your do a IMPS Transfer through Mobile ?
When you make a IMPS transfer, your sender mobile first sends this information to the sender bank , which checks the data; whether your MMID is correct or not and if it matches with what it has in its system. If it's all correct, it debits the money from your bank account and transfers this to the NCPI server, which then transfers it back to the receiver's bank. The receiver bank goes about checking everything again and then sends the status of the whole transaction to NCPI, which passes it back to Sender's bank. Both Receiver and Sender are then updated about the transaction through SMS. All this normally takes just about  15-30 seconds for everything to happen and the money gets transferred near instantaneously.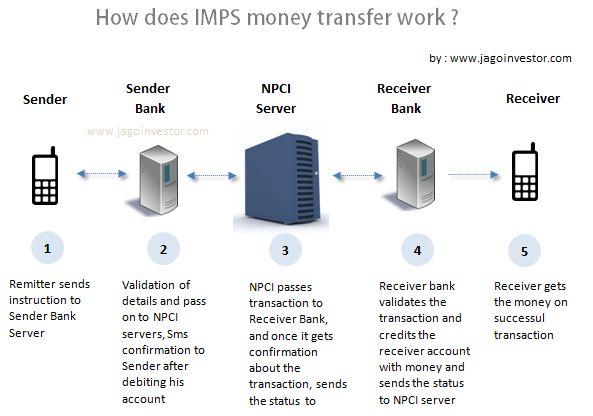 5 Advantages of IMPS over NEFT and RTGS
Let me enumerate 5 major reasons why you want to register with your bank for IMPS and generate your MMID as soon as possible. IMPS offers some major advantages over NEFT or RTGS money transfer and here they are
1. Instant Transfer of Money
When you do an IMPS transfer, it happens instantly within few seconds, so it's practically real time money transfer, unlike NEFT or RTGS which works in batches and takes time in money transfer. Which means in case of emergencies, you can use IMPS and it will act like a fast money transfer mechanism
2. Transfer without Internet Connection You dont need a internet connection or a computer for IMPS transfer, you can just do the transfer using your mobile phone through SMS or using the mobile application, hence you can do the money transfer even when you are travelling, all you need a mobile connection 3. Money transfer even on Holidays and outside working Hours
You can transfer the money anytime, 24X 7. With NEFT or RTGS , you can't do money transfer on holidays or even Sundays. You can't do it outside the working hours defined by the banks. But with IMPS you can literally make transfers in early morning, midnight or whatever time you want.
4. No Need to disclose Bank account number and other details
All you need for making the transfer is mobile number and MMID , so you don't need to disclose your actual account number or even the bank name.
5. Easy, Simple and Secure
Making a IMPS money transfer is so easy.  All you need is the MMID, Phone number and the amount. The money gets transferred easily so fast. It makes easy for those who fear technology and do not want to deal with it . You can teach this to your parents or some one who is not that technologically advanced.
IMPS Charges
The charges depends from banks to banks . While exact charges details you can find from your respective bank, it seems the charges are extremely low and are on per transaction basis, not on the limit of money. It seems to be Rs 5 per transaction (not confirmed) yet. Apart from the charges from banks for using the service, if you are doing the money transfer using SMS , you will have to pay standard sms charges . However if you use internet or the mobile application, there will be no charges apart from the service charges.
Money Transfer Limit under IMPS
The limit is defined by RBI in the Mobile Payment Guidelines issued to banks. The customer can transact on IMPS subject to a daily cap of Rs. 50,000/- per customer overall for transactions through mobile for the funds transfer. Transactions up to Rs. 1000/- can be facilitated by banks without end-to-end encryption.
Which Banks are part of IMPS Facility
As of now 52 banks are the members of IMPS facility. Some of them have started the IMPS service and some will start it very soon. Those are
ICICI Bank
Axis Bank
State Bank of India
Indian Bank
Kotak Mahindra Bank
Oriental Bank of Commerce
Union Bank of India
Andhra Bank
Canara Bank
HDFC Bank
Lakshmi Vilas Bank
Bank of Baroda
Indian Overseas Bank
Bank of India
Punjab National Bank
South Indian Bank
Vijaya Bank
IndusInd Bank
UCO Bank
Federal Bank
State Bank of Hyderabad
Citibank
State Bank of Bikaner and Jaipur
Punjab and Maharashtra Co-operative Bank
The Thane Janata Sahakari Bank
Development Credit Bank
Dombivli Nagari Sahakari Bank
State Bank of Travancore
Catholic Syrian Bank
Syndicate Bank
Yes Bank
State Bank of Patiala
Allahabad Bank
Karur Vysya Bank
The Greater Bombay Co-operative Bank LTD
Corporation Bank
IDBI Bank
Tamilnad Mercantile Bank
United Bank of India
Standard Chartered Bank
Bank of Maharashtra
Central Bank of India
Dena Bank
Dhanlaxmi Bank
ING Vysya Bank
Janata Sahakari Bank, Pune
Karnataka Bank
State Bank of Mysore
The A P Mahesh Urban Co-operative Urban Bank
HSBC Bank
you can look at the latest list of all the banks and their details here  What do you think about this technology ? Will it help in your financial life ? Are you going to use IMPS facility to money transfer through your mobile ?