POSTED BY Jagoinvestor ON November 20, 2010
Are you thinking of entering the equity markets now? Are you thinking of buying some equity mutual funds? You must have heard by now, how the markets are back in action, reaching highs again.
Today, I am not here to discourage you and say "Don't enter markets" or "Its time to exit" — because neither I or anybody else can predict it. We are here to take decision based on what we can control; and the market is definitely something, which no one has control over.
However we can control our actions, greed or fear! I am here, just to remind you about the last crash and how stupidly we all behaved out of greed or fear. (read my story)
The first thing you should understand clearly, is that it's not the best time to enter the markets for the long-term, because markets are not back in action from last few weeks. It was back in action 1-1.5 years back when markets started rising from 8000 to current levels of 20,000.
It has already given 150% return on an absolute level or 100% CAGR 🙂 and the retail public is now waking up like always to enter with all its money for "long-term".
Lets us see in this article some good practices and what you can do at the moment .
We, as investors have to be very cautious and not lose our control. It has been 30 years now, that markets are in existence and these kind of situations have come along loads of times. Let's make sure, that this time we do not regret like we did before. IPOs have started coming in and we recently saw one of the biggest IPO of Coal-India in the history of Indian markets.
All the news channels are back with all the so-called analysts and discussion on how markets can reach new heights and logical explanations about economy booming, deep valuations and what not.
Good time to Rebalance your Portfolio
Markets are nearing an all time high of 21000! It has come a long way from 8000 to 21000 in last 18 months. For investors who bought equity funds or direct stocks at lowest points, it would be a good idea to book profits or rebalance their portfolios.
Look at your investments in Equity as growing a tree. When you invested 1 yr back, you had started with a plants which over these 1-2 yrs have grown to a tree and now is the time for you to pluck the fruit; at least book the profits partially if you don't want to sell everything.
Note that it does not mean that markets will fall or should fall. But rather than trying to control what markets are going to do, concentrate on what you can (and should) do at the moment. Don't loose your sleep over what will happen in markets, reduce your tension by booking your profits partially atleast.
Incase you had bought stocks, mutual funds randomly without any proper study, you should immediately get out of markets.
Two dimensional possibility in markets
Right now, there are two really important influences that can affect your investments. One of those is Market direction and the other is Self-Direction. Market direction is something you can not control and it's almost impossible to predict.
However, self direction is something you can control. Let's look at a couple of different scenarios and what they mean!
For simplicity purpose we will assume that following two things can happen in Markets-direction and your Self-direction
Market-Direction

Markets can go DOWN by 50% in next 1 yr
Markets can go UP by 50% in next 1 yr

Self-Direction

Rebalance your portfolio from 100% equity to 50% equity and 50% debt
Leave it 100% equity
Case 1 : Markets go Down by 50% in 1 yr

If your Rebalance :: In case you rebalance right now , you will have 1 lac in equity and 1 lac in debt, The equity component will go down from 1 lac to 50,000 and debt component will rise from 1 lac to 1.08 lacs.  Your total worth would be 50k + 1.08 lac = 1.58 lacs. That would be a 21% loss overall .
If you Dont Rebalance :  If you don't rebalance right now, you will have 2 lac in equity and it will go down from 2 lac to 1 lacs – a 50% loss overall .
Case 2 : Markets go UP 50% in 1 yr

If your Rebalance : In case you rebalance right now , you will have 1 lac in equity and 1 lac in debt, The equity component will go up from 1 lac to 1.5 lacs and debt component will rise from 1 lac to 1.08 lacs. Your total worth would now will be 1.5 lacs + 1.08 lac = 2.58 lacs, a  29% profit overall.
If you don't : You will have 2 lacs in equity and it will go up from 2 lac to 3 lacs – 50% profit.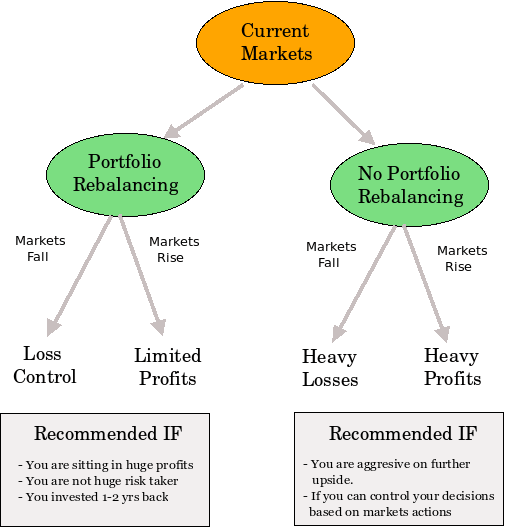 Results
You can see by this small exercise that in one case you are going to see 50% loss or 50% profit and with another case you can see 21% loss or 29% profit. Now it's your choice. Which situation are you more comfortable  with? I personally feel, retail investors should concentrate more on limiting their losses.
Where is Nifty PE ?
The Nifty PE has been a good indicator in the past to judge overbought and oversold situations . One problem with Nifty-PE though, is that it can't give you precise a timeline, for when markets can start rising or falling. Nifty PE right now is somewhere around 25, which has proved to be an overbought situation historically.
In the past Nifty PE has reached this level before markets fell after few months. It happened in 2008 crash. On the other hand, a high Nifty PE also indicates strong momentum and can be seen as an opportunity to make some quick trades by entering on the weaker days.
So it's your choice on how you want to look at the situation .

Note that Nifty PE at the moment is very much near that previous high's of 25, where markets crashed, but it can still go to 27-28 or even 30 in worst case, which can take another 3-4 months and then market can fall ! severely .
Some views from Market Experts
"This current fall of 1200 points on sensex is an obvious downside which always happen after a spectacular upmove and it is nothing but a pure profit booking correction which has happened in last 1-2 weeks.

There is still 1 leg of major upmove remains in markets and unless Nifty breaks support levels below 5700-5800, instead of panicking its a good time to take some positions for short-term of 3-4 months, markets can break the previous levels and reach upto 25000-25000 levels" – As per Hemen Kapadia, a noted technical analyst (I met him at a seminar in Bangalore).

Another friend of mine and a technical analyst Nooresh Merani shares his similar views "Unless nifty breaks down by another 200-300 points, we can see it as a trend reversal pattern, and it still have steam left for another next few months, there after we have to look at charts again to give views"
So If you are an aggressive investor, don't sell. Just ride the trend; you can also add some money when market cools off a bit and then ready for the move upwards again.
But anyway, you have to be cautious and make sure you have control on yourself. And you should be selling if there are major indications of markets being weak.