POSTED BY Jagoinvestor ON June 25, 2009
In this article we will discuss the 8 Key points which a new comer should understand before entering in the world of stock markets.
It may happen that you already have all of this in mind and you do understand them at a subconscious level but let's go through them again and discuss it.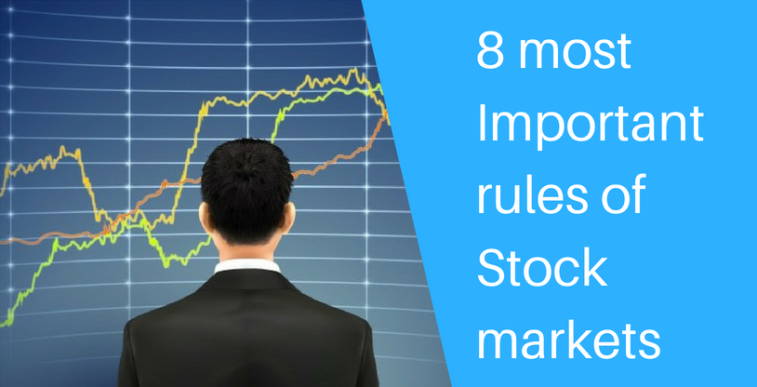 This is Part 3 of "How a newcomer should start in Stock Markets" series. Read Part 1 and Part 2 before reading this article. We have some so called Cosmic Rules in Stock Markets which if broken will eventually ruin your someday is not immediately.
Let's see them very briefly.
1. Don't put all your money in stock markets:
Never ever, put all your money in stock markets. If things go wrong you will be ruined for ever. If you have 50 Lacs and you choose to put all your money in markets because "you are sure that its going to double in 4 months" this means you are also saying that "I am ready to get ruined if the markets crash and goes down to 10 lacs".
Most of the people like to see the first picture but don't expect second one to happen even though probabilistic the second one is more likely to happen. Better look for "low risk-or-good" returns, rather than "fatal-or-exceptional" returns. Any money which you want to throw in trash can be used for such high risk Investing or trading.
2. Cut your losses Short:
I know telling you this gives no surety  that you would follow this. It takes time to understand by making mistakes over and over again and learning from it. But still, "Cutting your losses short" is the "Rank 1" Rule in Stock Markets. One who can master this single rule can rule markets.
When you start making losses, your emotions come into play and it says to you "Its coming back and once its back to Rs XXX I will get out". Don't listen to it to this voice. The simple rule is "You were wrong, accept it and get out and look for something else" and its damn too tough to understand this in the initial stages.
Mistakes in Stock markets are fantastic if you learn from them. They are more valuable then the right things you do in markets.
3. Getting your priorities Right:
This means having clarity about who you are, what you want to do in markets, Read part 2 : " Understanding What exactly you want to do in Stock Markets" for this.
4. Do not fight the Trend:
We know that markets move in zigzag fashion, up-down-up-down like this and its true. But some people wire this in mind in such a way that they always try to force market to reverse from its path and justify that it moves in up down fashion.
If markets are going up, in their subconscious mind they feel like markets will now reverse "because they move in zigzag fashion" and hence it should now reverse, this belief entices them to invest or trade in opposite direction. The interesting thing is that people don't understand what encourages them to go against the trend.
My one and half years of trading experience (not very beautiful one) tells me that this is the reason why we do against the trend and once we control this, it can change our luck. There is no luck in stock markets, it's simply your thinking. "Change your thinking, your luck will change"
5. Everything is Probabilistic here:
"Buy RELIANCE above 255, Target 273, Stop loss at 245". Now our Mr. Newcomer will read this in newspaper or listen it from the GOD a.k.a "Markets Expert on CNBC" and take the trade, things will go weird or may go the way predicted but most of the times things will go wrong.
He will be wondering who is wrong? Market? That expert on TV? His Dog? Mr Obama? whom to blame? Everyone in the world but not himself. He will never look inside himself. Everything is probabilistic here, Out of 100 times things may work 60-70% (depends) of time and not work rest of the times.
When it does not work, you have to control yourself and accept that its not working rather than forcing markets to work for you.
6. Don't listen to Stock Markets Experts on TV:
Why do I say this? Markets "Calls" are least important things in Stock markets (i believe) and you only get that least important information from TV experts. What you don't get is vital things like psychology to trade, Money management rules, Discipline to follow every time you take the trade. Those calls are in isolation.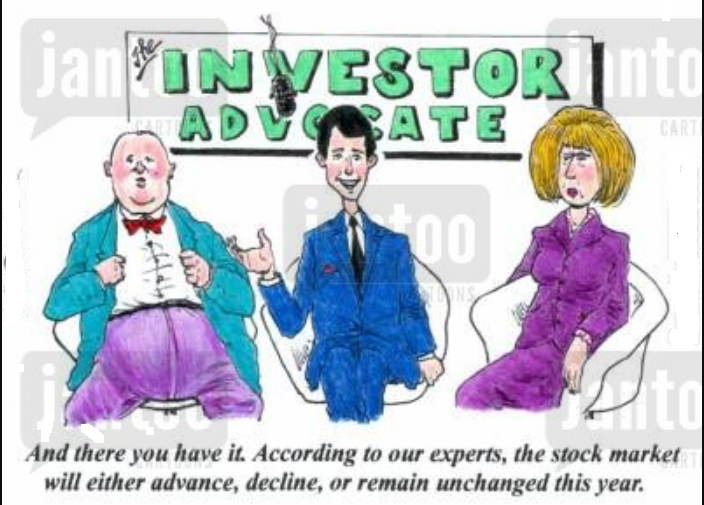 They are not generated by a consistent rule, you can get calls from here and there and all of them will be kind of random to you. Other problem can be that you don't know the time frame of the call. If you don't understand all that I just told the easy way to understand is to answer this
"If listening to TV experts was really worth, Why am I not making money"
"How many people do you know who make living or earn exceptional returns by trading what experts tell them"
At last, the point is not that the 'calls and advice' works or not? They may work but not for you. There is lot more than getting calls and acting on them.
Another important thing why you should stay away and avoid listening to them is because most of their calls are for "forcing you to trade more" which will eventually generate more brokerage and commissions for trading companies.
Read this article from Shyam Pattabi to understand more on this.
Question : Why do experts give more of BUY calls and very less of "SELL" calls?

My Answer : When some one "SELLS", he is out of trap, he is out of stock market, he pays commission once. But when Someone "BUYS", he is trapped in markets, He already paid once and has to pay one more time to get out, so SELL = Commission 1 time and BUY = Commission twice for sure :), Ohh.. Did I discover something here 🙂
7. Have realistic Expectations:
One of the important reason for failure in stock markets is setting unrealistic goals. You see 100% made in a week, 50% in a year, 10% in a day and you think: If 10% is possible in a day or a week then 100% in a year is a child's play OR you think like if I buy this I will sell only after its tripled.
Once again I say "We learn from History that we do not learn from History". Have you seen what is the best long term returns from stock markets all over the world. That's around 15%-20%. That's it. I am not saying that you can't get 50% in a year ever, you will get it and everybody gets it, but sometimes.
Over long term you should have expectations of 5-10% more than what safe instruments return or have a target of 4-5% more than what markets give. So anywhere from 12%-20% is good return to expect from long term. In short term there will be chances where you get exceptional returns like 50% in a week or 500% in a year.
But let them come to you don't force them to happen. Unrealistic Expectations force us to meet them by hook or by crook and that's when we do mistakes and take unnecessary risk to achieve them and burn out hands badly.
"Want to understand markets, have a girlfriend and try to understand her psychology. People who are already in relationship (males) have an edge I think as Markets and Girls are very much same"
8. Be ready to Make mistakes and Learn:
Some of the best Traders and Investors who are successful today and are multi-millionaires didn't become one overnight. They Failed miserably in Markets but never quited. They learned, learned and learned from their mistakes. Markets like Life give us opportunity to make mistakes and learn.
As I like to say "Making Mistakes in a privilege which unsuccessful people don't get in life". Making mistakes is Great, if you are ready to learn from them.
Part 4 : A small Guide for newcomers in Stock Markets
Don't forget to comment on which one was your favorite and why ? I am sure we can learn a lot from individual comments 🙂