POSTED BY Jagoinvestor ON June 1, 2009
Let us see some analysis of current market conditions. Most of the people are rushing to buy now for long term . but this may not be a market to buy for long term. I am myself Bullish now, but for short term not long term.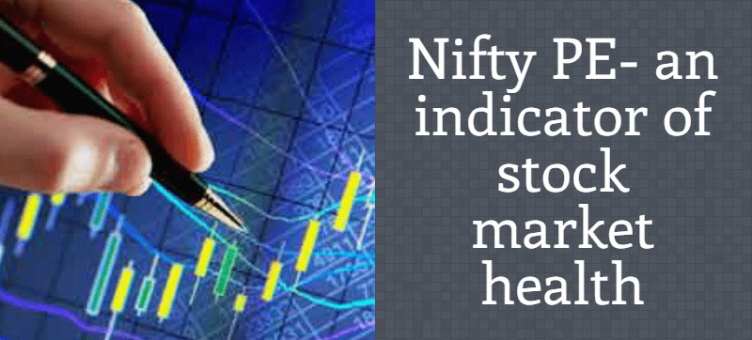 I would not be surprised to see markets rise by over 10-15% more over next 1-2 months till the Budget  but sooner or later I expect.
– A nice correction if this is another bull market
– Bull rally coming to an end in the strong bear market
The simple analysis is with a simple and strong tool called PE ratio. PE ratio tells us how expensive or cheap is the current underlying. In other words what kind of value does the market provide us , irrespective of the price.
Historically Nifty has been considered and shown instances of being oversold in range of 10-13 and overbought in range of 20-25. Nifty has had a crash after after getting in the range of 20-25 and have rallied after touching the range of 10-13 .
OVERBOUGHT MOMENTS in Indian Markets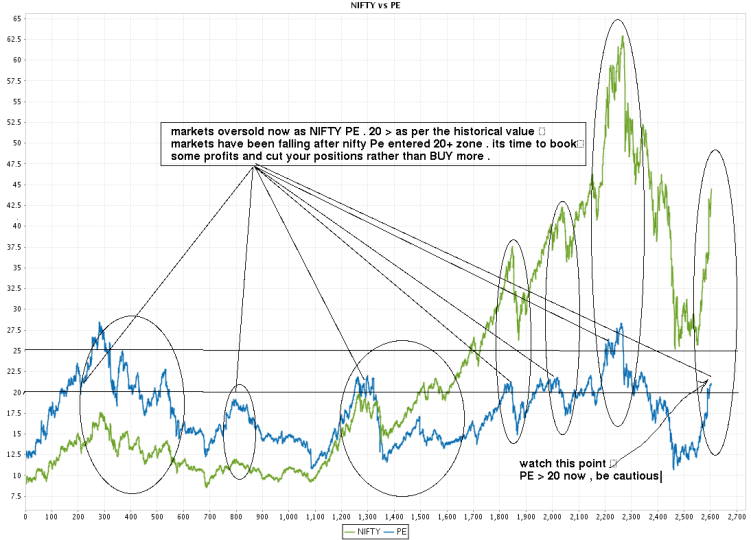 Click to enlarge , Data for last 10 yrs (Jan 1999 – 31st May 2009)
You will see that whenever nifty crossed 20. It was time to be cautious. its not exactly the time to go short sell, but at least book your partial profits and be cautious with further buying for long term.
Current situation : As I write this, Nifty PE is around 21. Its not a very good situation to madly buy for long term. Its a time when euphoria is at high point and it can take markets a little further. So you can jump in now with short term perspective, not long term !!, because markets may fall in some weeks or months.
Expect it. but don't force it !! .
OVERSOLD MOMENTS in Indian Markets
Who all missed the current Rally? I missed it. there are two reasons, I am a trader not an investor for long term (at least currently).
So I do not concentrate on it. But you could have not missed it if you had read this concept earlier and had the guts to go against the so called "experts on CNBC" who were talking about 5k or 6k for NIFTY some months back.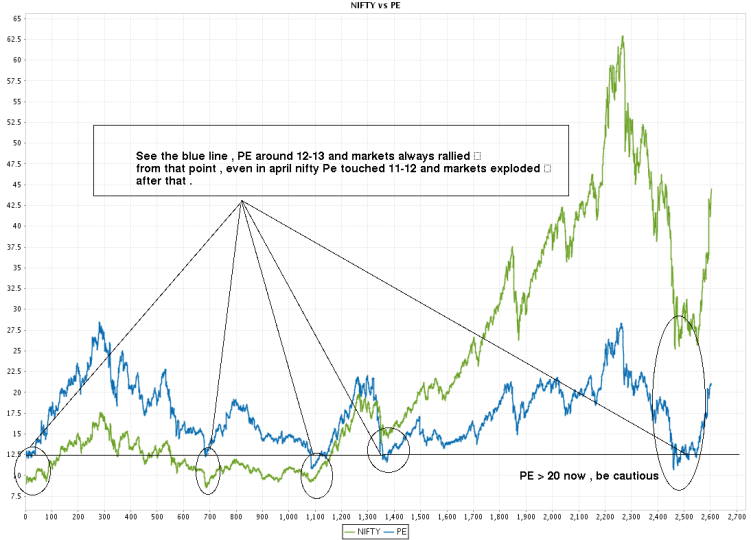 Click to enlarge , Data for last 10 yrs (Jan 1999 – 31st May 2009)
If you see the chart, you can see that after touching the PE levels of 11-13, markets have rallied back as it was too oversold !! Again, just touching these levels of PE does not signal a BUY, its only a signal to be cautious and make your mind for long side, and start the accumulation process without fear.
Markets will still make lower levels and experts on CNBC will still cry over economy conditions and world coming to an end. But market rewards the "risk assumption", not the actions on obvious facts. You also have to decide how much money of your portfolio would you like to put in stock market after considering your risk-appetite.
What can we learn from this PE Concept?
"We can learn from history that we do not learn from History"
This is true for almost 95% of the long term investors all over the world. They do not learn things, they do not do any research, they do not go and read blogs or tons of informational sites, they just want tips from others and make money. the mathematical expectation of that kind of investing is negative and cant work for long term.
Lets develop a simple concept of PE based Investing. here it is:
BUY Signal : Once PE crosses below 13.
When NIFTY PE reached levels of 13 , start accumulating the stocks and invest your money in 4-5 installment over some months. Make sure that markets are going up and down and moving in a range . If PE crosses below 11 , its a must BUY !!
SELL Signal : Once PE crosses above 20.
Book the profit once NIFTY PE crosses above 20, Don't book all profits at once. Book it in parts. PE crossing above 20 does not mean markets has to fall, its only an indication that markets may be oversold and now "smart people" will starting selling there shares to mad public.

Short sell the shares once PE and Markets start falling down from PE levels of 20. If PE crosses above 25, its a must SELL !!
There have been cases of PE going up to 25-28 levels. That will happen at the peak of strong bull markets like Jan 2008. In very strong bull markets you have to understand that PE will cross even above or below its extreme points. That's the risk part of stock markets from which not even GOD can save you from !! 🙂
This is the time when your buying in parts and putting capital which you can afford to loose will help !!
Anyone who puts 100% of there money in stock market at once on one single time on a single bet has a secret affair with financial disaster which he/she himself is not aware of. So don't put all your money at once. Only put a part of your capital at any point .
Where do you get the PE data for Indices? (Nifty and other Indices)
NIFTY data : https://www.nseindia.com/content/indices/ind_histvalues.htm
PE data : https://www.nseindia.com/content/indices/ind_pepbyield.htm
Note :
I have divided Nifty Value by 100 to make the graph look the way it is . In graphs , so on X axis if you see 40 , then read it as 4000 for nifty . but exact 40 for PE .
PE value will be

separate

for individual stocks as PE ratio for stock can go up or down for many other reasons . So if you are doing Stock analysis , see its historical PE values and find some pattern yourself . Innovate !!
I hope you have got a clear idea about Nifty PE. If you still have any confusion you can leave your query in our comment section. Also do let us know your opinion about this article.