POSTED BY Jagoinvestor ON March 7, 2010
If you were to hear about an investment plan with 17% p.a. returns i.e. if you invest Rs. 1lac today, it would become Rs. 3.5  lacs  in next 8 years time, wouldn't you get greedy?And what if it is told to you that such Highest  NAV Guaranteed ULIPs are guaranteed by one of the biggest financial institution LIC of India, it would be Icing on the Cake and a "Never Miss Opportunity". But everything sounds so good, if looked deeply may reveal something else. Someone rightly said "the big print give it and the fine print take it away". Such is the case with LIC's new insurance plan- Wealth Plus.
Game Started in 2007
Every year during the last quarter of Financial Year, insurance agents find new ways to misguide people and make them invest in policies based on false assumptions and promises. Let us take example of year 2007 when LIC launched one of its most famous policy "Money Plus".
During the launch, pamphlets were distributed in all the nook and corner of the country showing high returns. Eg. Invest Rs. 1 lac for next three years and get Rs.3.38 crores after 20 years at a return of 25% p.a. Based on such exuberant returns printed on a pamphlet and false promises made by agents, thousands and lakhs of investors across India invested their money. Not only did people invested their savings but there were many instances where smaller households sold their jewelry and other personal belongings believing what they were told by the agents that LIC is guaranteeing such high returns.
What LIC have to say
Later when the news of misguided selling of this policy was brought to the notice of LIC management. LIC states that such assumptions are unrealistic and totally false. Investors should not be misguided in the name of LIC. On a letter dated February 12, 2007 to all the Zonal Manager and Sr. Divisional Managers,  Managing Director of the LIC Mr. Mathur himself writes that "The unethical practice of circulating such pamphlets to misguide the public and get business is betraying the trust we built-in the last 50 years." See the Letter Below (Click to read in bigger Size , recommended)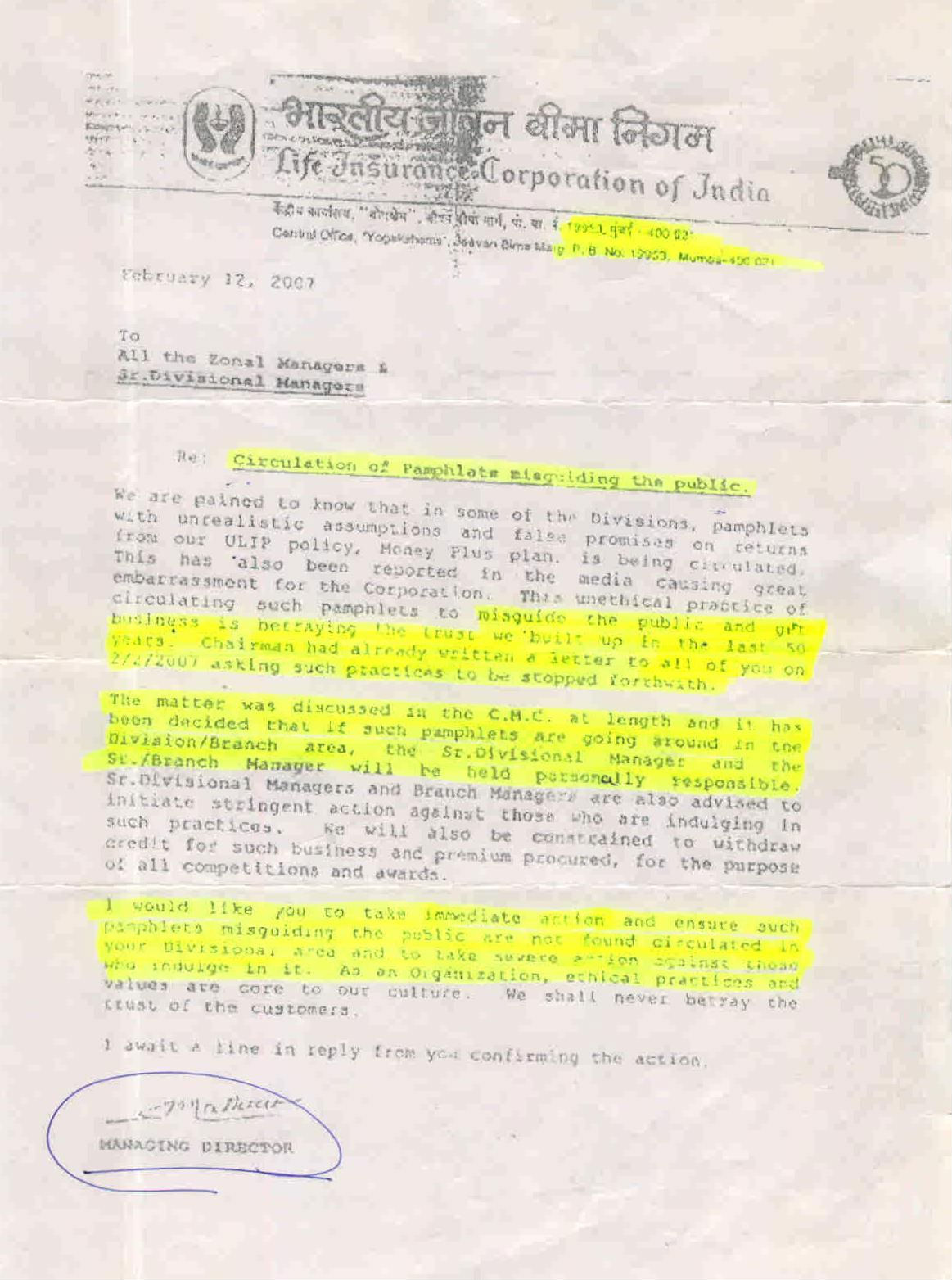 Though efforts were made to stop agents to use such pamphlets to increase their business but since the agent community is so big and scattered not much could be done. It was quite amazing that all over India similar pamphlets were distributed and hence it is clear that without the help of Development Officer of LIC such work was not possible. D.O. of LIC also gets commissions or incentives when his agents gives more business to LIC. See the pamphlets Below:
Pamphlets showing returns with Term 3 yrs and investment 25,000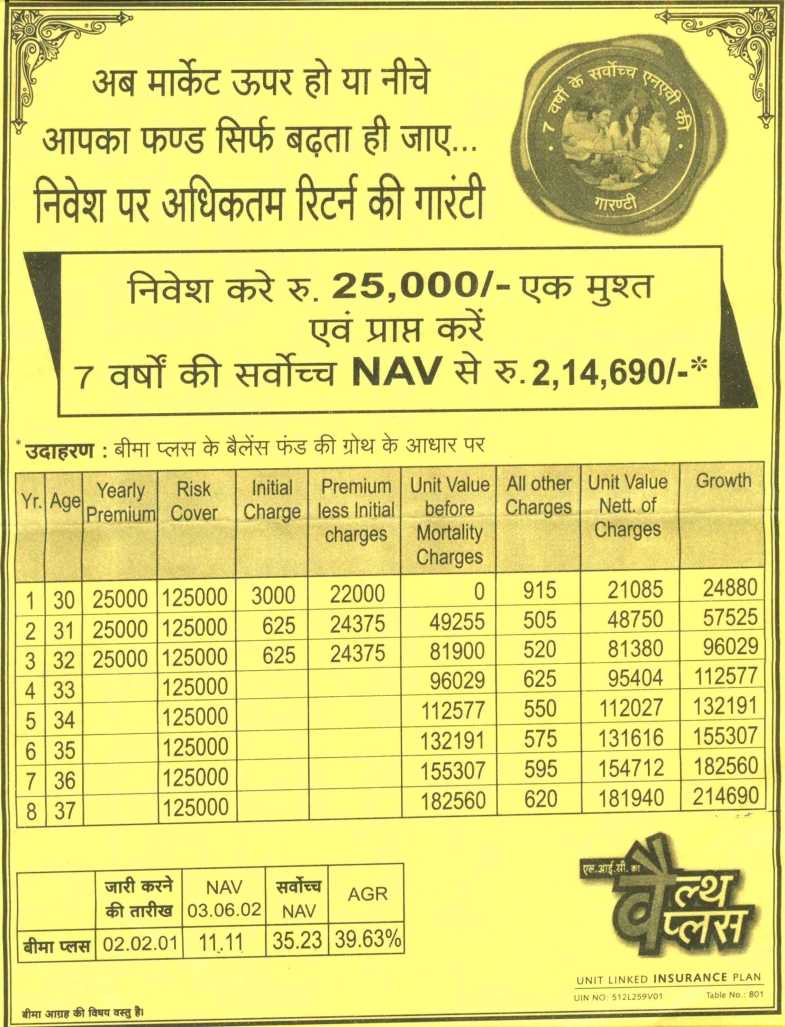 Pamphlets showing returns with Term 1 yr and investment 1,00,000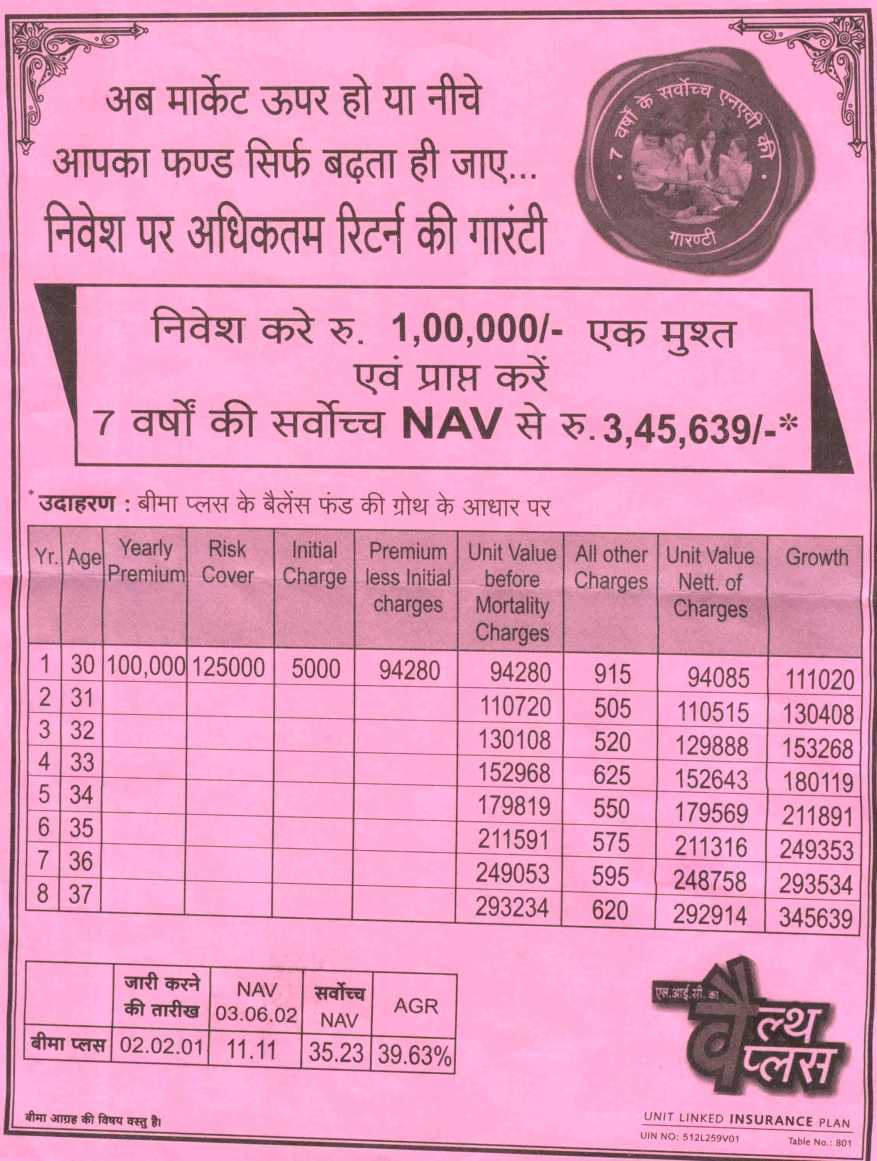 Another template with LIC Logo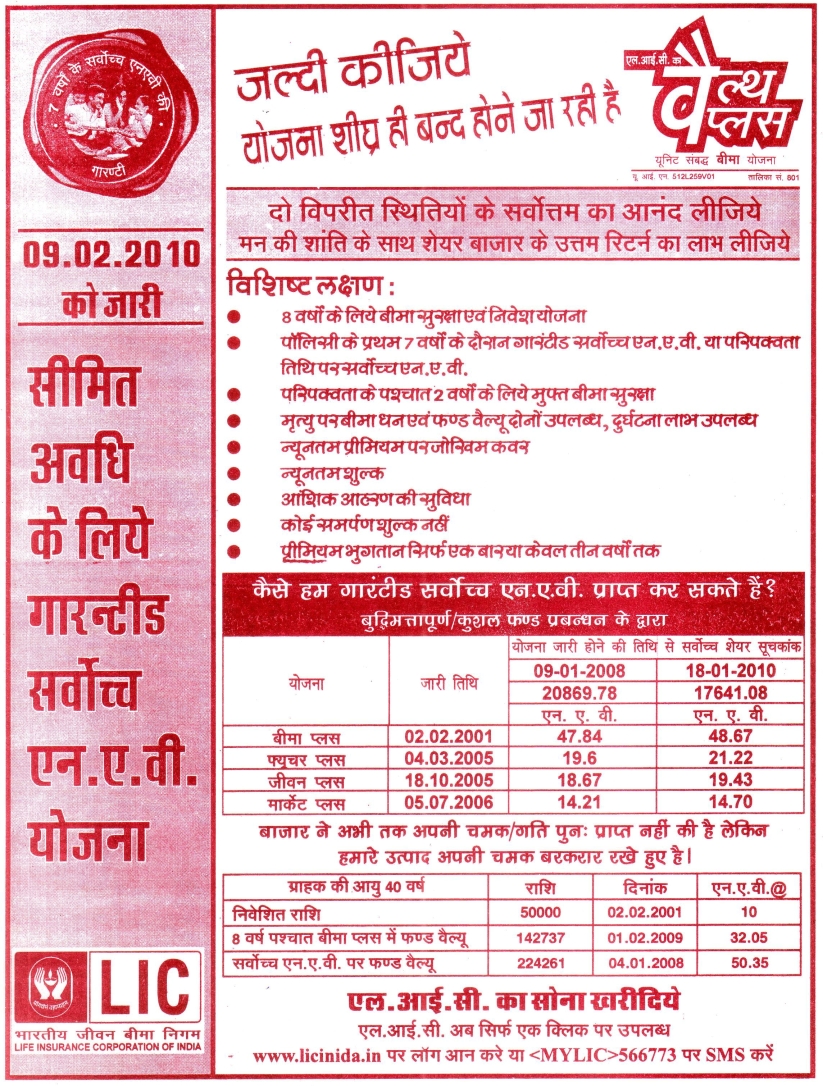 What other Govt bodies have to say
Ministry of Consumer Affairs, Food and Public Distribution through "Jago Grahak Jago" also acknowledged that such misleading things are taking place and hence warned investors to refrain themselves from such high return promises.
D Swaroop (PFRDA Chairman) committee on investor awareness & protection states that "The chief cause of mis-selling is the incentive structure that induces agents to look after their own interest rather than that of the customer. If that were not true, the average sum assured of the insured Indian would be higher than the current Rs 90,000."
Now when a income earner of an average Indian family dies untimely, do you think his family will survive for the rest of their life with less than Rs. 90,000? Insurance is meant to cover risk of untimely death first and investment and tax savings are secondary criteria. But we Indians, have been taught Insurance as an investment first, tax savings second and then somewhere in the last we talk of insurance as well. Now again such practice of miss-selling has emerged and agents are targeting with LIC's new product Wealth Plus.
What is LIC Wealth Plus Product
This product of LIC which was launched on February 9, 2010 (Table 801) states that LIC will guarantee the highest NAV to the investor in the first 7 years and product will mature after 8 years. It nowhere guarantees the return. In it's official web-site, LIC states that the minimum guarantee will be of Rs. 10 NAV as Rs. 10 will be the starting point. Actually that means that they are not even guaranteeing that you will get your entire money back as there will be certain charges in the policy itself. They have nowhere written that they will guarantee any amount of return to the investor. Nor they have mentioned that your money will be invested 100% into equity.
Now what Agents are telling
LIC is giving guarantee on HIGHEST RETURN. (LIC is saying Highest NAV)
Now what is highest return? Based on past performance of LIC's ULIP policy (Bima Plus), you will get 17%-18% return on investment.
Lumpsum Rs. 1 lac invested today will become Rs.3,45,693/- or give Rs 25000 for 3 years & get Rs.2,14,690/- after 8 years.
You should switch all your  earlier product (on which agents have already made huge commission) into this product as this is something which is as good as KOHINOOR DIAMOND.
To generate such high returns, the money has to remain in equity but LIC nowhere states that. In almost all ULIPs it is clear how much money will go in equities and how much money will go in debt but this policy is silent on the allocation percentage and hence you may land up getting return that of endowment or money back (nearly 6%-7%).
Bima Plus of LIC was a ULIP where it was mandatory for the fund manager to remain invested in Equities in a pre-decided proportion. It was launched in 2001 when the markets were trading at 3000 sensex levels and later sensex touched even 21000. Is it a right approach to compare such high returns which were made during Bull Market and making investor believe that such returns will be now guaranteed by LIC. Now if you go to a small shopkeeper, a carpenter or a young executive and show them that you will get such high return, why he/she will not invest and that too if they are told that guarantee is done by the India's biggest financial institution, LIC.
We feel sorry to say but such agents who are misleading people do not even think twice before selling such policies in a wrong approach. The fact of the matter is that the money is just not invested in policies but gets invested in someone's kids higher education, someone's retirement, some dreams which common man look to achieve.  We believe that
Insurance agents have sold to Indian everything other than Insurance.
Comment from a Reader who is an LIC Agent

Thanks Manish for bringing up this burning issues today. As a agent I can confirm you that these pamphlet actually circulated by LIC office. If you have any doubts go to any LIC branch ask any sales manager or BM they will tell you same. Actually agents sell the product because they are misguided by Senior LIC officials but unfortunately when debate arise agents are vindicated and punished. The projection shown in the phamphlet, circulated to us at the time product launch meeting. For a wealth plus policy LIC given extra incentive to us. But yes you are absolutely true we should think about our client not LIC/BM/DO. It is not true that agents always think about their pocket,they bound to sell product sometime otherwise they face a painful situation. Ask any Insurance company/agent how many term insurance they sell, they wont tell you the truth. IRDA also not interested about selling pure term insurance product otherwise they also issue circular to increase the term insurance sales growth. If this is the situation what will a agent do? Either he has to terminate his agency or keep continuing same practice as Big agents/Insurance Company/IRDA like to do. ( Original Comment )
What is IRDA guidelines says
As per IRDA, agents and Insurance companies are mandated to show return either at 6% or 10%. But the pamphlet distributed have no regards for Regulatory guidelines. Let's Compare return according to pamphlet & IRDA Guidelines:
Regular

Premium

Single

premium

Premium

25000

100000

Paying

Term

3

years

1

Year

Pamphlet

214690

345639

As

per

IRDA

guidelines

6

%

87549

118442

10

%

114306

161697
Innocent Investors ?
We believe even investor is at fault and not all the blame should be transferred to the Agents alone. It is always "Buyers Beware". We take well thought decision before we buy even a fridge in our house. We do research which fridge is best for us and look at least 4-5 shops before we finalize. But when it comes to financial products, we don't really do our home work and at times decision is taken not even going through the pros and cons of the policy.
Now what investors should do?
If you have already taken the policy
Cancel the policy if bought under false promises and high projection. The policy can be returned within 15 days of the receipt of the document without any charges under 'free-look' option.
If 15 days are over, nothing much can be done.
If Not Taken
Take your well thought decision before jumping on to this product.
Tell your friends about the same.
[ad#big-banner]
Comments ? would love to here your views on Wealth Plus from LIC . Please share what do you feel about it ?
This is a guest article by Hemant Beniwal & Ashish Modani. They both are CERTIFIED FINANCIAL PLANNERCM & writes at The Financial Literates