POSTED BY Jagoinvestor ON December 11, 2009
From some last some days I am getting queries that some Life Insurance Policies are not giving cover for more than 65 yrs of age or for Tenure of more than 25 or 30 yrs and why they dont want to take those policies because they want a cover till 70 or 80 yrs of age . So People are confused on which one to take. They generally want a cover which covers them till 70-80  yrs of age or sometimes whole life . Let us talk about till what age should you target your Life cover generally .
Why do we buy Life Cover ?
Now lets talk Logic and think logically , no expertise required here . What is Life Insurance and How much Life cover do you need ?  Life cover is to cover the risk of early Death of bread winner and for hedging the risk of loss of income due to the sudden unexpected death of the main earning member . So ideally Life Insurance cover should only be there till the retirement of the earning member , because anyways after that he/she wont be earning , so no one will financially dependent on that person . You only think , If you are 70 yrs old , do you need Insurance cover ? Who is dependent on you by that age , generally ? How many of you are dependent on someone who is in that age ? Are you ?
Hence if a person age is 30 and he is planning to get retired at age of 58 . He requires a policy which covers him till age 58 , not more .. See the Diagram Below …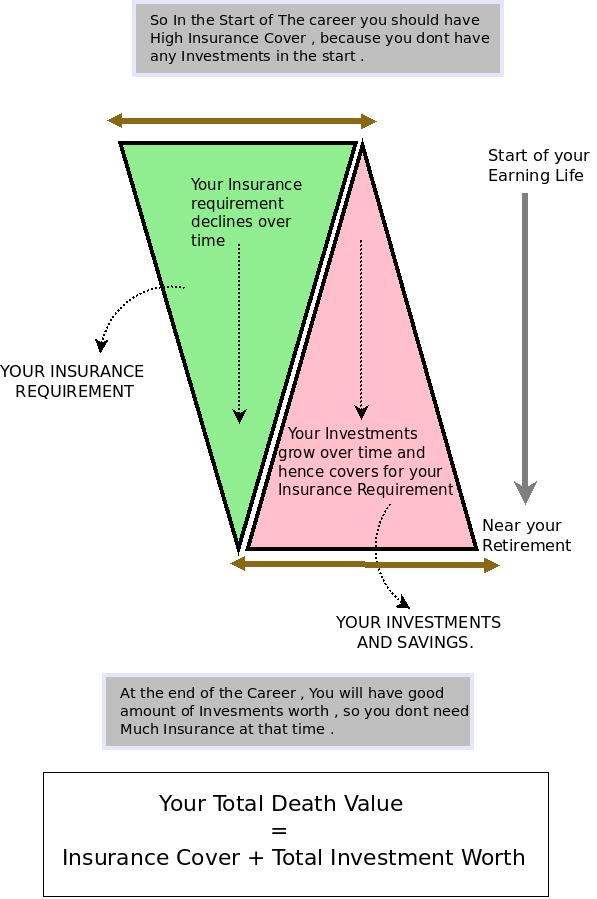 [ad#big-banner]
So what do we learn ?
Life Insurance is in other terms a replacement of your potential Future earnings. Hence, Insurance amount which your dependents gets should be a substitute of all the amount the bread winner is going to earn in his life time and provide for needs of his Family. Therefore when you are near the retirement and  if you die, your potential future income  which you were going to bring in the family will be less and hence your Insurance cover at that time should be less . We today have Level Term Insurance where we have the same level of Insurance at that time , which is ok . Note that we also have decreasing life insurance cover and Increasing Life Insurance cover also . So lets see the main points we learnt here
We need High Insurance cover at the start of the Career when have no Investments . Look at iTerm Term Insurance from Aegon Religare and Some Tips while taking Term Insurance
We need to be covered till the time we want  retirement .
The day we earn enough money which our dependents need even if you die , you can get rid of your Insurance and then you don't need Insurance .
So there is no point in having Insurance after your Retirement , unless your intention is to get a big sum of money at the end even if it does not matter much .
This is the main reason why Insurance companies also give Cover till age 65 because that's the time most of the people on earth get retired anyways .
Whole Life p0licies does not make any sense apart from the fact that they provide pension which is very low. See review of Jeevan Tarang Policy from LIC to understand more on this .
You should have sound Investment Planning so that when you reach your retirement you have grown your Huge Corpus .
Insurance at the end is the hedge against your risk of loosing the earning Potential , its just not a tool to make money on your death .
Use Insurance as Protection not for Saving , Dont just invest for Tax saving !!
Final Take Away
You have to Notice some imporant point here , Dont take the above diagram by heart and assume that your Insurance cover goes down every year , It can happen that because of other commitments you might have to increase your cover . The main takeaway from this article is that at the end of your career (your retirement life) you should have enough investments and money so that you dont need Life Insurance. Also there can be exception cases where this logic does not apply , we are talking a general case here and not a specific one 🙂 .

[ad#text-banner]
Questions/Doubts ? Share your comments please