POSTED BY Anuradha Singh ON February 27, 2019
In this article, we will see how you can protect your home structure and belongings from natural and man-made disasters. We are talking about "Home Insurance" Policies.
We all invest our hard-earned money in buying our dream home and our lives revolve around it. Unwanted natural disasters and man-made threats can threaten the security of our home and its belongings and can cause surprise monitory losses.

We have all heard about all kinds of insurance policies like term plan, health insurance, car insurance etc, but very few people have knowledge about "Home Insurance Policy" or also called "Householder insurance policy" . Before I explain more on that, let's see what are some of the real-life threats and real-life incidents where people have lost their homes and belongings
Example #1 – Burglary

As per this times of India report, burglars broke into 4 houses in Ghaziabad on February 27,2019 and took valuables worth Rs 20 Lacs. Among the 4 houses, one of the houses was just 500 m away from the police chowky and burglars took jewelry and cash worth Rs 500000.

Example #2 : Fire

As per this report, on January 4, 2018, Four people died after a fire broke out in Maimoon Building that housed residential complexes in the suburban part of Marol in Mumbai. Besides the four dead, five people were injured in the accident.

Example #3 : Floods

To give you a recent example of a flood disaster which took place in Kerala in August 2018. Around more than 400 people lost their lives and almost everyone lost their homes and belongings.

Example 4 Earthquake :

Nepal Earthquake which happened in April 2015 killed almost 9000 people and injured 22000 people. Total damage of Rs 1000 crores USD (which was 50% of Nepal's Nominal GDP).
Can you see from the above examples, that these threats are real and it can possible happen to anyone in real life (even though the probabilities are quite small).
What is Householder Insurance Policy?
Householder insurance policies are policies, which protects the home-owners against damage and losses that affect their property and belongings. The exact terms of coverage varies from policy to policy; however, most insurance policies cover perils like hail, thunderstorms, fire, and theft.
Many policies also offer financial assistance if a homeowner must be temporarily displaced because their home has been damaged. Look at this video below which explains it in a crisp way!
What all is covered under these policies?
The insurance for your home can be broadly divided into 2 parts :
Structure Cover – This is for the structure of your home. The compensation under this cover will be paid to repair damages to the structure caused by specified natural and man-made calamities.
Contents Cover – This is for the possessions you have inside your home. If these are damaged or burgled, then the insurance covers the loss you incur for the same. You can take either one of these covers individually or opt for both to make sure you are covered comprehensively.
Here are some of the companies in India, which offers these Householder Insurance Policies. (Please do not consider this as a recommendation list).
Benefits of these policies
1) Protection against earthquakes, floods.
2) Cover against terrorism.
3) Cover against fire and allied perils.
4) Protection against cyclone, storm, hurricane, etc..
5) All risk jewelry cover.
6) Additional rent for alternate accommodation.
What all is not covered under this policy?
Loss, destruction or damage caused by war, invasion, an act of foreign enemy hostilities or war like operations.
Loss or damage caused by the insured's and/or insured's domestic staff direct and/or indirect involvement in the actual or attempted burglary or theft.
Willful destruction of property.
Cash, bullion, paintings, works of art antiques, mobiles and laptops
Electrical/Mechanical breakdown
Cost of the land.
Co-operative societies cannot take long term policy for the entire society building.
Under construction property.
5 Reasons why you should buy a householder insurance policy?
Here are some of the reasons why to buy a home insurance policy.
Natural Disaster can strike any-time and anywhere :
Every year, India loses more than 9.8 billion due to various disasters. Though you can't control natural disasters, through home insurance you can really protect your house against natural disasters or " Act of God", such as cyclone, earthquake and flood.
Man-made risks cause a lot of damage :
Despite the latest safety equipment's, man-made threats like burglary, riots, terrorism, etc… are still prevalent. While not all insurers cover these losses, you can get extra protection in the form of riders.
Lots of valuable items :
Apart from its structure, this policy will cover the contents of the house such as domestic appliances, furniture, audio & visual appliances etc….
You may require relocating to an alternate place :
Relocating to an alternate house happens in case of a total loss of the property. Till the time your home is being reconstructed, your home insurer will cover your additional rent.
Buying the policy for a longer period of time :
Every year renewing your home insurance policy can become a very tedious task for you since you may be very busy with other responsibilities in life. Many insurers offer longer duration policy for 5 to 10 years straight in one go. It is a cost-effective and hassle-free way of staying insured.
Can I buy this policy If I stay in a rented house?
Both the Owner of the house and renter can buy this policy. There is just a basic difference between both. Let's see what it is?
OWN HOME INSURANCE
RENTED HOME INSURANCE
In this type of insurance, the home owner either insures the structure or contents (belongings of his home) or both.
In this type of insurance the renter insures only his contents or belongings in this rented house.

The structure of the house is insured by the owner of this house
Example of a real-life House holder Policy along with premium break-up
Below images shows the detailed structure of the policy with the premium break-up of one of the known Home Insurance Policy. Details of the cover are as follows :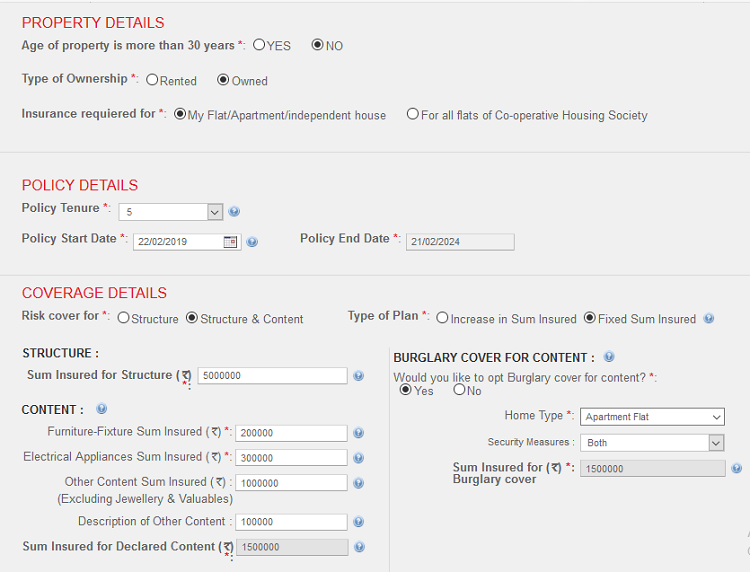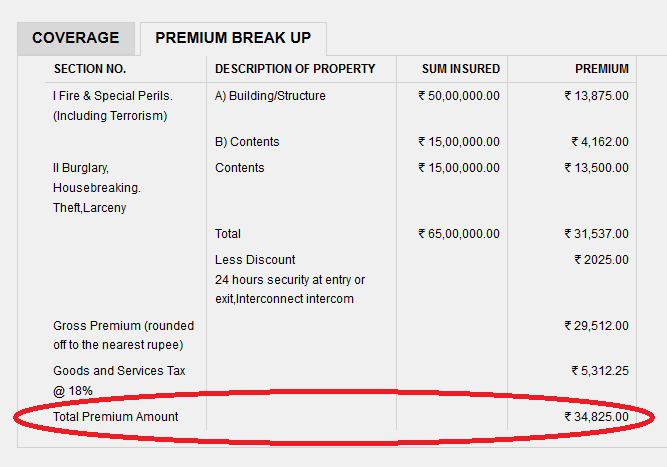 Age of the property not more than 30 years
Type of ownership – Owned
Insurance required for my Flat /independent house
Policy Tenure – 5 yrs.
Risk cover for structure & content
Type of plan – Fixed sum insured
Sum insured for Structure – 50,00,000
Sum insured for declared content + Burglary cover for content – 15,00,000 (detailed description below).
Total premium payable (including 18% GST) for 5 years is Rs 34,825.
Conclusion :
I think you will agree with me, that we have almost no control of these natural & man-made disasters. The best we can do is be alert and prepare ourselves by insuring that we secure our belongings and structure of the homes.
Also, these policies should be preferred more by people who stay in an earthquake or flood sensitive zone and who do not stay in a secured society and vicinity. I understand that the chances of these risks which these policies cover are quite small, but then it's up to you if you want to get these risks covered or not.
Do you think buying these householder insurance policies makes sense?
Please share if you feel it makes sense to purchase these policies? share in the comments section below!