Life is never sweet to anyone of us. It is a mixture of sweetness and bitterness, especially when there is a physical damage, in case of an accident. Accident insurance is the most crucial insurance policy because it offers monetary support to the insured person in case of a grievous accident. ICICI Lombard has come up with ICICI Personal Protect Policy.
In this policy, if the insured person dies then the monetary support will be provided to the family of the deceased person. This policy also offers financial support for expenses incurred due to an accident and even takes care of the insured in the unfortunate event of being permanently disabled due to an accident.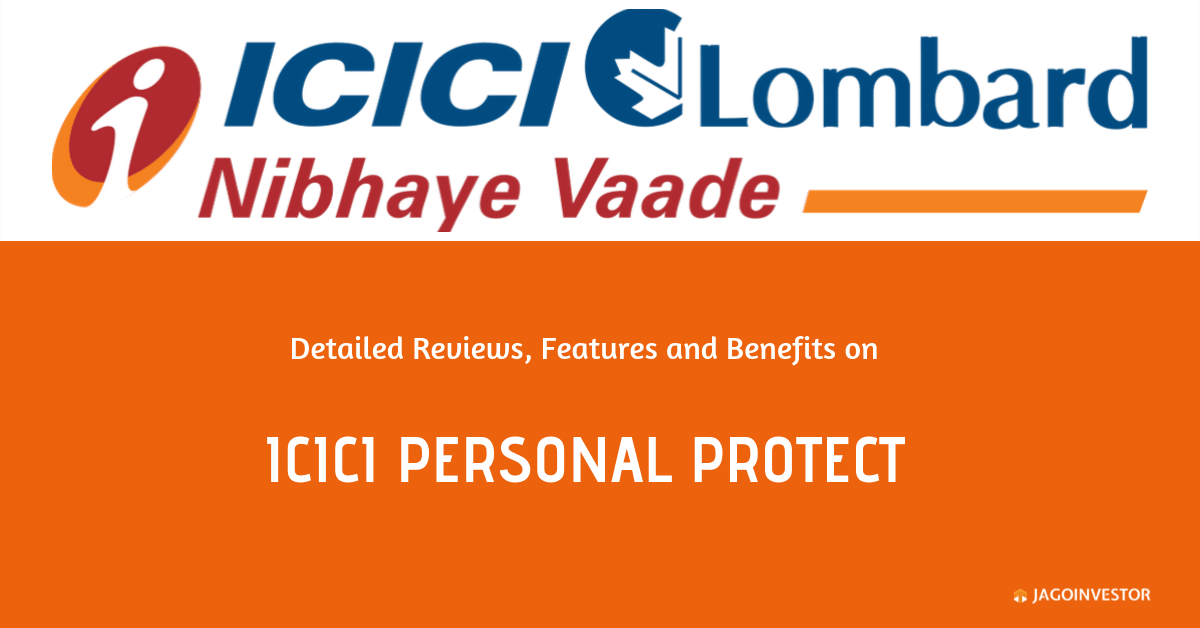 Features and Benefits of the policy –
For detailed description of the benefits section, kindly refer to the policy wordings.
This policy can be bought online and payment can be done in installments.
Term of the policy is 1, 3 and 5 yrs.
Coverage against Accidental Death or Permanent Total Disablement (PTD) due to an accident.
Optional coverage against Accidental Hospitalization Expenses and Accidental Hospital Daily Allowance.
Customized coverage that allows one to choose between Rs 3 Lakhs, Rs 5 Lakhs, Rs 10 Lakhs, Rs 15 Lakhs, Rs 20 Lakhs and Rs 25 Lakhs Sum Insured.
This policy covers different types of accidents like road, rail accidents, accidents due to natural calamities and arising out of terrorism/ terrorist acts.
No health check-up required for issuance of the policy.
No tax benefit under this policy.
Easy Claim Process with minimal documentation.
Accidental Hospitalization Expenses will be reimbursed for medical expenses incurred in case of Hospitalization (minimum of 24 hrs), due to injury, within 7 days from the date of accident.
Accidental Hospital Daily Allowance will be paid to the Insured person each day during Hospitalization.
Eligibility Conditions –
| | |
| --- | --- |
| Any person between 18-65 years of age is eligible for a Personal Protect policy | This policy can be bought for any family member(s) i.e. spouse, children and / or parents |
Claim Settlement Procedure –
To Claim the policy, kindly call the toll-free number 1800 2666 or send an email to customersupport@icicilombard.com
One can also write at the companies following address:
Retail Claims,ICICI Lombard Healthcare,ICICI Bank Tower, 9th Floor, Plot No. 12, Financial District,
Nanakram Guda, Gachibowli, Hyderabad – 500032, Andhra Pradesh.
Once the company receives the claim intimation, then they will guide the policyholder on the further steps towards its settlement.
The policyholder will be required to submit the necessary information, assistance and proofs in connection with the claim.
Documents required for claim settlement –
A) Documents required for processing a claim and accidental hospitalization expenses reimbursement –
| | |
| --- | --- |
| Filled claim form with sign of the nominee | |
| Attested / Original (post-mortem) report | Attested / Original death certificate |
| Medical / Hospital report | |
| Indemnity cum declaration bond | |
| | Any other document required by the company |
B) Documents required for permanent total disablement (PTD) claim arising due to accident –
| | |
| --- | --- |
| Filled claim form with sign of the nominee | Doctor's certificate of disability |
| | Photograph of the injured reflecting disablement |
| Original medical bills with prescriptions/treatment papers | Any other document required by the company |
Can I cancel the policy if I didn't like it's terms and conditions?
Yes, the policyholder can cancel the policy within a period of 15 days from the date of receipt of the Policy stating the reasons for his/her objection. This period is called Free-Look Period. The company will refund the premium amount after deducting the expenses incurred by the company on the stamp duty charges. If the request to cancel the policy comes 30 days after the Policy Period start date, then on pro-rata basis the refund of premium would be paid to the policyholder.
Exclusions in the policy –
Below mentioned list are few exclusions in the policy. For detailed description, please refer to the policy documents.
Intentional self-injury, suicide or attempted suicide
Any injury existing before the policy start date as stated, whether or not if the same has been treated, or for which medical advice, diagnosis, care or treatment has been sought before the commencement of this policy.
Directly or indirectly caused by venereal disease or insanity.
Arising or resulting from the insured committing any breach of the law with criminal intent.
War, invasion, act of foreign enemy, hostilities (whether war be declared or not) civil war, rebellion, revolution, insurrection, mutiny, military or usurped power, seizure, capture, arrests, restraints and detainment of all kinds.
Nuclear weapon induced treatment.
Video Review of the Policy –
Conclusion –
So, by now you know each and every important detail about this policy. Do let me know if I have missed any important point in the comment section. Please feel free to ask any doubts regarding this policy.