POSTED BY Jagoinvestor ON August 3, 2018
Do you worry about maintaining the minimum balance in your bank account? If that's the case, then you will be happy to know that now RBI has mandated all the banks to offer something called Basic Saving Bank Deposits Accounts where there is no minimum Monthly Average Balance (MAB) to be maintained.
Let's know more about the BSBDA account.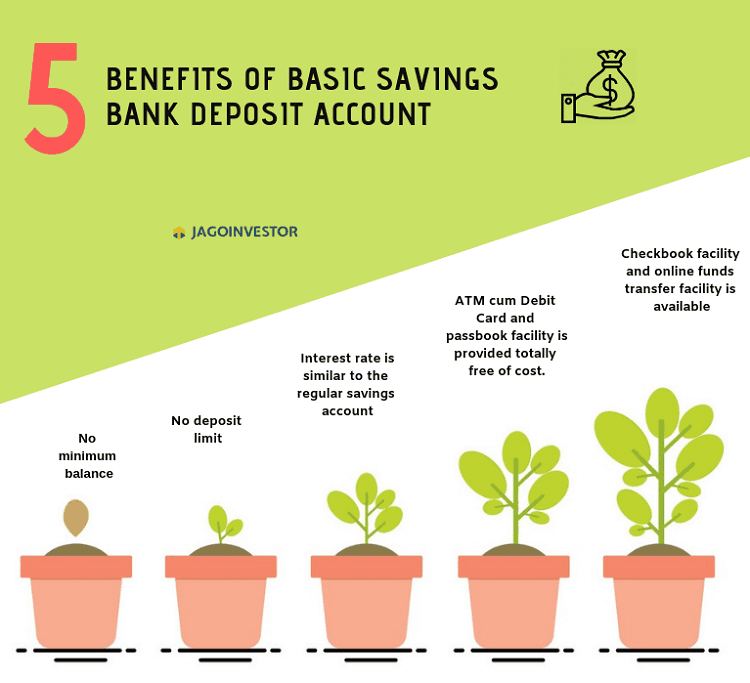 You must have heard in the news that a few days back, Banks have collected approx Rs 11,500 cr from customers for not maintaining minimum balance limit. This situation happens with a lot of people. Through this article, we will see how we can prevent ourselves from getting into this situation.
Basic Saving bank deposit account – Meaning
The basic savings bank deposit account (BSBDA) is the zero balance bank accounts. This means you don't need to maintain any kind of minimum balance limit in this account.
RBI has made it mandatory for all the banks to offer this service to people who are unable to maintain the minimum balance. Criteria to open this account are similar to the eligibility criteria of normal savings bank account. Banks may have their own criteria based on age or income.
However, as per the guidelines of RBI, banks are advised not to impose any criteria of age or income for opening BSBDA.
Features of Basic Savings Bank Deposit Account :
No minimum balance limit.
No limit for a money deposit.
The interest rate is similar to the regular savings account.
Normally there is no upper credit limit (these criteria may vary from bank to bank).
No minimum amount required for opening the account.
ATM cum Debit and passbook facility is provided totally free of cost.
Checkbook facility and online funds transfer facility is available.
No charges are applicable to any kind of transaction (within limit).
The account holder can open FD and RD.
Limitations of Basic Savings bank account
As I said earlier this is a zero balance account with no extra charges, but it has some limitations also :
Only 4 withdrawals per month are allowed, including branch cash withdrawal, ATM withdrawal, NEFT, RTGS, online payment, EMI, etc.
It depends on banks to either charge additional fees for extra withdrawal transactions or not.
Your BSBDA will be converted into a normal savings account automatically if the transactions limit increases.
Central KYC (A centralized KYC process to avoid submitting multiple KYC's) should be done, otherwise, the account will be considered as a BDBDA-small account (explained below).
What is the Basic Savings Bank Deposit-small account?
This is an account that can be opened by a person who is above 18 years of age but does not have any official KYC document (Like Aadhaar Card, PAN or other ID proof and address proof, etc.). For this, a person needs to submit a self-attested photograph and he/she needs to sign the form and also provide thumbprints in the presence of bank officials.
The basic savings account of a person who doesn't have a CKYC is treated as a basic savings bank deposit small account. Features of this account are as given below :
This account is valid only for 12 months. It can be extended for the next 12 months by providing proof of having applied for officially valid documents.
The balance should not exceed Rs.50,000 at any point.
An aggregate of all credits in a financial year should not exceed Rs.1 Lac.
Mobile banking facility may not be available.
Can I convert my existing savings account into a Basic Saving bank account?
There is no provision till date to convert existing savings account into BSBDA. You have to open a new BSBDA and for that, you need to close your existing savings account within 30 days of opening a BSBDA otherwise the bank will automatically close your earlier account after 30 days. A person can have only one BSBDA in a bank
Banks are restricted to offer any value-added services to the BSBDA account holders by charging any extra cost. If any extra service is given, then automatically the account will be converted to a normal saving bank account.
Documents required for opening Basic Savings Bank Deposit Account
Documents required for opening BSBDA are as follows :
Account opening form.
Colored passport-sized photograph.
KYC documents like – ID proof, address proof, PAN, etc.
Difference between a normal savings account and BSBDA
| | | | |
| --- | --- | --- | --- |
| | Normal savings account | Basic savings account | Small savings account |
| Minimum balance limit | 10000 | No limit | No limit |
| Penalty if minimum balance is not maintained | Applicable | Not applicable | Not applicable |
| Withdrawal limit | Not applicable | Applicable | Applicable |
| Mobile banking facility | Available | May not be available | Not available |
| Credit limit | No limit | No limit | 50000 |
Who should open this "Basic Savings Bank Deposit Account"?
Now you must be thinking "What is the use of this account for me? I have my regular account with unlimited transactions then why should I open a basic savings bank deposit account?
Let me tell you, there are lots of people around us who don't have a bank account because they can't maintain the minimum balance limit. Like some students, employees who have just entered into their profession, small-scale workers, maid, driver, and so many other people.
There are also some people who have more than one or two bank accounts other than their regular accounts. For these people, the money seems to be stuck in their bank accounts where they have to maintain the minimum balance limit.
Some senior citizens don't require more bank transactions as they are either dependent on their children financially or they keep cash to avoid visiting banks or ATM's every time for withdrawals when they need money. For such people, the basic savings bank deposit account is a good option to avoid the penalty and other extra charges for maintaining their bank account.
I hope this information was useful for you. If you have any query then write in the comment section.