POSTED BY Jagoinvestor ON August 22, 2013
I have already written about NEFT and RTGS sometime back and how does it work exactly. However today, I want to share about using NEFT and RTGS transfer offline in bank branches. Even in today's time, if some one has to send money from one account to another account, they use cheques and demand drafts. Even you can see a lot of people withdrawing cash and depositing it manually in other bank account. They are mostly people who had seen the banking era of 80's and 90's.
It might be your parents or uncles or anyone older !. And when you tell them they should have internet banking which has NEFT and RTGS facilities, they do not want to embrace it. But do you know that one can also use NEFT and RTGS facilities even offline by going physically to bank branches.
NEFT/RTGS are processes
NEFT and RTGS both of them are just a process/technology. Its just another fact that they are also provided as features in your internet banking account. If someone wants to transfer money from one account to another, one can always visit the branch in person and put a request to transfer money via NEFT or RTGS .
All you need is to fill up a NEFT/RTGS form (sample below) and all the details like Sender Account Details, Beneficiary Account details, amount to be transferred and IFSC code of the beneficiary branch. Then the Bank officer will punch these details on the system and the transfer will be initiated just like it happens online.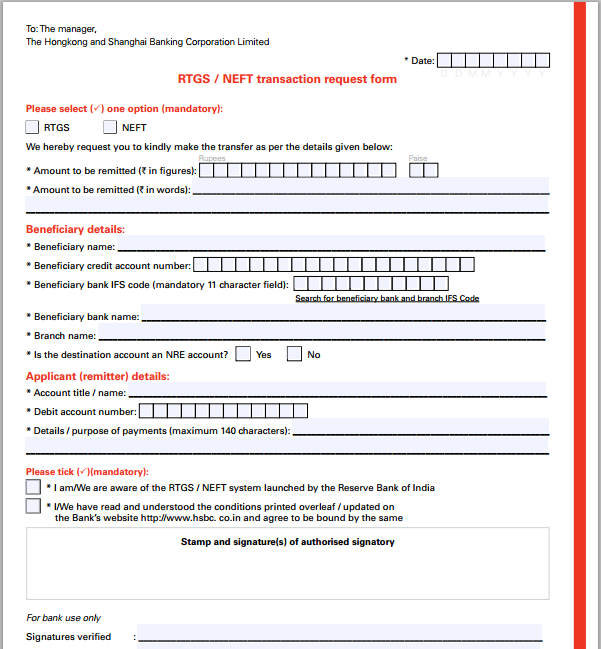 Incase you want to do a instant money transfer (not exactly instant, but can take 30 min to 1 hour) , you should be doing a RTGS transfer. One important point to remember here is that, if the amount is above Rs 2,00,000 , you would need to give a cheque leaf with the RTGS form, as part of the rules, but even if you don't have cheque book with you at that moment – the bank generally arranges for a temporary cheque book in your name.
Recently I had to transfer some money from my wife account to my bank account and we asked for RTGS transfer, which was done promptly and the money was transferred in 10 min to my bank account.
The only pre-requisite for NEFT?RTGS transfer is that
Originating and destination bank branches should be part of the NEFT network
Beneficiary details such as beneficiary name, account number and account type, name and IFSC of the beneficiary bank branch should be available with the remitter
Charges for NEFT/RTGS at bank branch
RBI has not set any predefined charges, but banks are allowed to charge it as per their decision. Generally NEFT Transactions upto 1 lacs are not charges by many banks (like Central bank of India) , however some banks can charge for it. But for RTGS they generally charge anywhere from Rs 5 to Rs 50 depending on the amount. Higher the transfer amount, higher the charges.
So next time, if you meet someone who wants to transfer money by going to branch, tell them the option for NEFT and RTGS transfer via their bank branch.