POSTED BY Jagoinvestor ON May 5, 2011
Few days back, there were some changes announced in repo rate and saving bank account interest rates by RBI. Do you want to know how you as an investor would get impacted with the recent changes done in interest rates by RBI? I have seen that a common man always ignores this kind of news because it looks too complicated to him or he can't understand how his life will be affected by such fluctuations. In this article, I will touch two most important changes that were recently disclosed by RBI and show you in simple manner how it's directly related to a common man. Note that this article is limited in its scope by looking at the two changes from the point of view of its direct impact on a common man.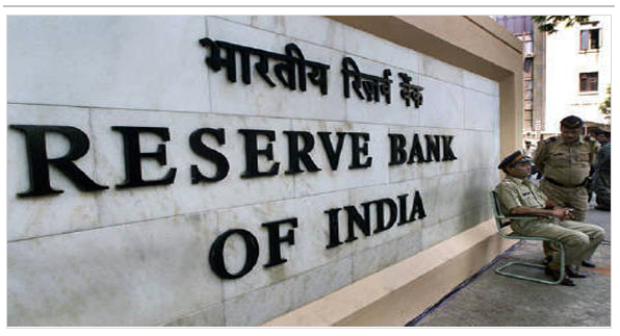 Let me quickly go through two main changes which RBI recently changed and explain to you how it impacts common man. Note that this article is limited in its scope of looking at these two changes only from a viewpoint of how a common man is affected directly.
1. Increase in Repo Rate by 0.5% (6.75% to 7.25%)
Repo rate is a rate at which Bank borrows money from RBI, which was increased by 0.5% by RBI and is at 7.25% right now. So now what are the effects of it on a common man? Let's understand this concept. Banks offer loans like Home loans and Auto loans to someone at an interest rate which is directly proportional to Repo rate (interest rate for common man = repo rate + X %). Now change in repo rate has a direct impact in the interest rates offered to customers for loans by the same or by more magnitude.
Now with the increase of 0.5% in repo rate, this increase will directly be passed to a common man (in case of floating interest rates). In fact some banks like IDBI bank and Yes Bank have already increased their interest rate for loan takers. In fact, Chanda Kochar (Managing Director of ICICI Bank) has already said that this repo rate increase can increase the interest rates for end consumers in the range of 0.5% – 1.0%. So if your interest rate for home loan or Auto loan was 10% p.a, it will now increase to 10.50% at least. This has direct impact on the EMI which you pay for your house.
Let's see the calculations. If you had bought a house worth 30 lacs @10% interest, 15 yrs tenure, then the EMI would be Rs 32,238. With an increase of 0.5% in interest (10.5%), your EMI will rise to Rs 33,162. That's an increase of Rs 924 on every EMI. However if the interest rates rise by 1%, in that case your EMI will increase by Rs. 1,860 (calculate yourself). Now imagine if you took the loan at the time of low-interest rates and over the years the interest rates keep rising every quarter, your EMI can shoot up so much that it would make your cash flow very uncomfortable. For example, just last year in Mar 2010, the repo rate was 5%, and then RBI increased it up to 7.25% today. This means there was a 2.25% increase in the last 14 months. You can understand the impact of this on EMI rise over the last 1 yr!
Hence, now you understood how change in repo rate directly impacts a common man, because that change in repo rate is passed on to common man and his EMI's are affected in the case, the person has opted for floating interest rate option while taking the loan.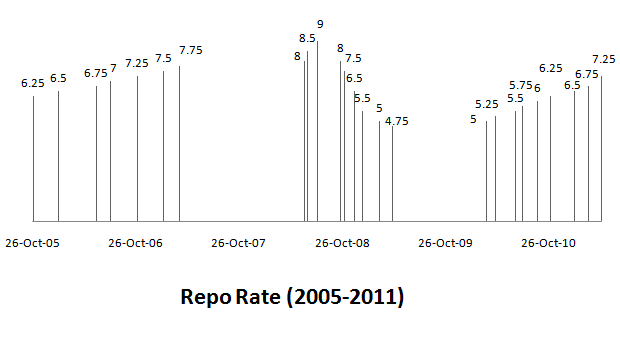 2. Increase of saving bank interest from 3.5% to 4% .

The second change which RBI has done is to increase the saving bank interest rate. Till now it was 3.50% which was set long back, many years ago and was never revised. But finally with this year's credit policy, RBI increases it to 4%. Now you must be thinking how does this impact common man? It's a good thing for account holders.
Well, in a way it's a good thing that a person will get higher interest rate on his cash lying in the saving bank account, but let's see how it impacts a bank. A bank that was paying 3.50% interest on the money will now have to pay 4% interest. That means now, it would directly impact Bank's profitability. Suddenly a bank which was able to add up that 0.5% interest in its profits has to pay it to customers and that would hit their margins. Bank's profits will come down by that much amount. This is not a good thing for the bank. That's a simple reason why you should have expected a big fall in banking stocks and that's exactly what has happened on the day when this news came in that saving account interest has been raised.
Banking and automobile stocks anchored the broad-based selling. While the hike in saving rates is expected to hit the net income margins of the banks; muted sales numbers in April, high fuel prices, and likely rise in auto loan, diminishing outlook for automobile space.
Among banking stocks, Bank of India, PNB, SBI and Yes Bank tumbled 6.47 per cent, 5.07 per cent, 4.03 per cent and 4.03 per cent, respectively. ICICI Bank and HDFC Bank dropped 2.76 per cent and 2.40 per cent.
Note that around 22% of the money in banking system lies in normal savings bank account and that's approximately 10 lakhs crore in all the banks. Taking a hit of 0.5% on that kind of money is Rs 5,000 crore. That's a direct impact of the bank margin of profits. The worst affected will be those banks where saving account ratio (the amount of money lying in bank accounts vs. total money with bank in all forms) is very high. Clearly banks like ICICI bank, SBI bank, Punjab National and HDFC banks are the names I can think because their saving bank deposits stand in range of 30-35%, much higher than the average of 20% across all other banks.
Now how does this impact the common man? Again this move of increasing the interest rates for saving bank is going to affect banks profitability and banks are going to pass this burden to those people who take loans from them, which means those who only put money in bank will stand to gain and the people who took loan will be losing out.
S Raman, cha­irman and managing director of Canara Bank, said, "There was a need to increase savings bank rate. It will lead of cost of funds going up but how much will it affect the margins of banks will depend on the extent of pass through of these rate hikes to consum­ers in terms of len­ding rates. Le­n­ding rates can go up by 50-75 basis points."
Conclusion
Repo rate fluctuations which come from Banks in the form of increased interest rate for loans will directly impact common man. Knowing this can help an investor in many ways. The biggest benefit a person can from such fluctuations is if he time's his decisions based on where the interest rates are inclined towards.
Let me know what do you think about this rate hike in repo rate and how is it going to impact your life?