POSTED BY Jagoinvestor ON April 16, 2012
Everyone makes mistakes and are not aware about it ! . A lot of people who buy more than one insurance policies, do not declare about their existing policies to the new company. Some do this because they are not aware about this "compulsory" rule, but some do it intentionally! & there are some who do not pay much attention to it thinking that they will be able to "escape" it and fool the company. However, you should know that companies are very careful about the rules and regulations as mentioned in the policy and declaring your old Insurance policies is a mandatory and important rule. No matter how much your policy sum assured is for, even if its 1 lac, you have to declare it when you take a new life insurance policy (This means term plan, ULIPs with insurance cover, Traditional Policies) . For an example see how Debajyoti was confused on this non-declaration of old policies question and I told him how it was a very important thing to do.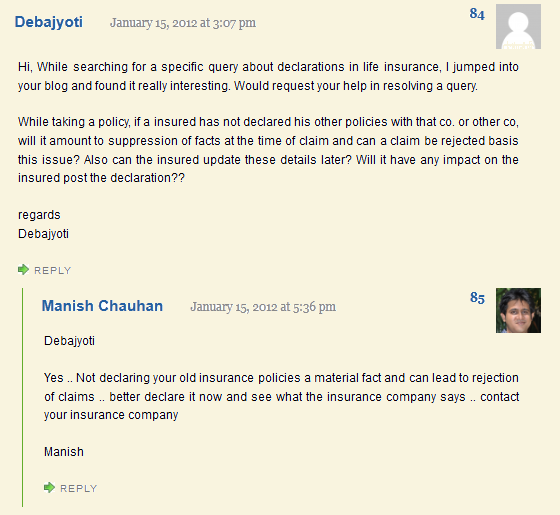 Today, I am going to discuss a recent case I saw in Crime Petrol (a tv show showing real life cases, must watch) and it is an eye-opener for those how have not declared their existing insurance policies while taking a new life insurance policy. Because in this real life case, a guy family was rejected 1.25 crores of life insurance claim just because the guy did a small mistake, he never disclosed his old policies. Read on –
Real Life Story of Sandip from Gujarat
Sandip was in a lot of debt. His business was not doing well and he was very much worried about his family and what will happen to them. The only solution he could think of is Life Insurance money which they would get after his death, but his life insurance was very very small (few lacs). So he took around 1.25 crores worth of life insurance, thinking that after his death, their family would get all the money.
But there was an issue, a big-big issue. He could not commit suicide, as it was not covered for the first year and his life was becoming really hell and he didn't want to live anymore. So the only solution was that he should be killed in an accident or some one murders him. He asked his friend to kill him in a way that no one comes to know about it and it looks like murder. This way, he would die and his family will get the life insurance money and his family would live happily.
His friend was scared to death to kill him and really was not able to do it as he was a good friend of Sandip, but finally he killed him on his request. Police came, verification was done and finally Police was able to crack the case and catch his friend. The family figured out about the insurance policy when Sandip's wife saw the documents in an almirah . The family went to insurance company and asked for claim amount, but the insurance company pointed out the violation of terms and conditions and said that the claim will NOT be paid as there was violation of rules. Family freaked out and gave all sorts of reasons why they should get a claim , but rules and rules. The family filed a case against the insurance company in court, but that was of no use as the court also gave judgement in favour of insurance company.

The family never got any money. Here is the youtube episode of the Crime Petrol Story I was talking about for those who want to watch it
Have you declared your old policies to new insurance company?
You have probably done the same mistake. If you were holding any endowment/moneyback policy, ULIP, Term Plan or any kind of Life Insurance and then you took a new policy and didn't declare all the old policies, then after your death, your family is not going to get any money! Please take it seriously.
So your action item is to check with your insurance company customer care about the declaration of old policies and incase you have not given that information at the time of taking the policy, better give them this information, because I don't think you should be doing that big charity!