POSTED BY Jagoinvestor ON December 6, 2015
There is very good news for those who have bought life insurance policies (especially term plans). From now on, life insurance companies will not be able to reject claims for any policy which is 3 yrs old.
Yes, you read it correctly.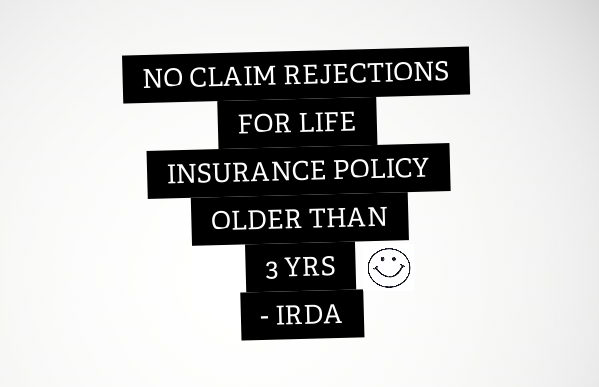 No Claim rejection after 3 yrs
If your policy is 3 yrs old, no matter what happens, the life insurance company will not be able to deny the claims. There was an amendment in the sec 45 of the Insurance Act 1938, and due to that now onwards a policy can't be denied a claim because the policy-holder gave some wrong information.
As per IRDA, the company has 3 yrs in hand to detect any misrepresentation or misstatement from the customer side and reject the policy. However, once this period is over, the insurer will have to settle the claims.
What this means is that those investors who were highly suspicious of insurer's intention and always kept looking at the claim settlement ratio numbers don't need to worry now.
While this seems to be great news, one should think of what kind of implications will arise out of this change. I can think of a few of them
1. It will not be easy to buy life insurance
The major impact of this change will be that now the medical tests might get more details checking a lot of things. Till now insurers were bearing all the costs, and I think it will happen in future also, however, I think this will result in higher premium amount, which I think investors will not mind because now there is a guarantee of claim settlement
2. Chances of Fraud in the life insurance space
Already, there are many frauds that happen in life insurance space from the customer's side. I remember an episode of Crime Petrol, where a man planned his death so that his family can get the life insurance money, however, he didn't get the money because he was not able to execute the plan.
However, with this new change – the chances of fraud and misrepresentation can increase. Imagine a smoker or a person involved in risky activities. A lot of people like these to not disclose these facts because their application might get rejected or the premium might rise. So a lot of people suppress disclosing this fact and it's going to be a hard time for companies to figure out these things. There will always be few cases which will not come under their radar.
What do you think about this latest development? If you hold a life insurance policy already, how do you see this new change?