POSTED BY Jagoinvestor ON January 2, 2017
Govt has clarified that the "service charge" is optional and customers can refuse to pay that if they feel like.
From some years, most of the restaurants and hotels have started charging "Service Charge" along with the other taxes in their bills and we customers due to lack of understanding feel obligated to pay it.
However the govt has issued a notification today which clearly mentions that if customer is not satisfied with the experience at the hotel or restaurant, they can choose to not pay it. Below is the video clip of this news.
Govt Notification
"A number of complaints from consumers have been received that hotels and restaurants are following the practice of charging 'service charge' in the range of 5-20%, in lieu of tips, which a consumer is forced to pay irrespective of the kind of service provided to him," the ministry said in the notification below
Note that the Hotel Association of India has themselves clarified this point.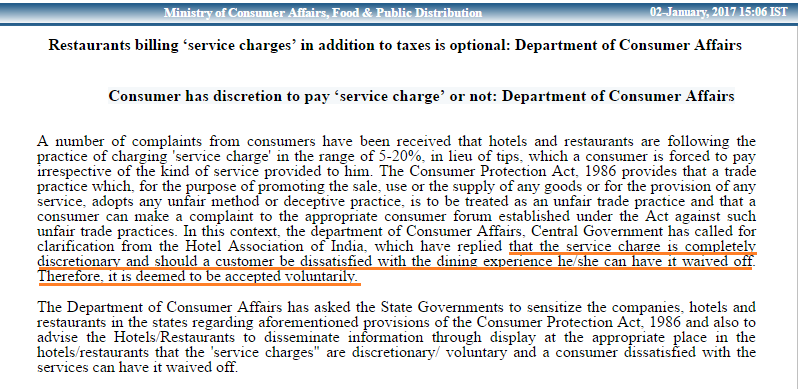 Why do restaurants charge "Service Charge" ?
For those who dont know this, service charge was mainly introduced to replace the tips given to the workers (waiters etc) , so instead of your giving the tips, the restaurants charge a fixed charge (5% – 20%) and its distributed among the employees.
However there is no strong proof that most of the restaurant owners actually distribute it among employees. Also irrespective of the service and experience, the customers pay this service charge.
But now after this clarification has come, you can freely tell the restaurant that you will not pay this charge if you didnt have a good experience at the hotel or restaurant.
Important point to Note
Service Charge goes to restaurant kitty
Service tax goes to Govt
Service Charge can be added to the bill only if its mentioned in the menu
Service charge is not mandatory to be paid if you dont want to pay it
What are your views about this topic and notification?