POSTED BY Jagoinvestor ON August 5, 2013
Do you know that you might have lost thousands of rupees in paying extra money on restaurants bills over last few years, just because you do not understand what does service charge, service tax and VAT actually means and how are they calculated. Most of the times customers take it for granted assuming that hotel must charged it in right manner and as per rules laid down. Lets learn about these 3 concepts today so that next time you pay a hotel or restaurant bill, you exactly know what you are paying for and raise your voice if something is wrong.
When the Bill Arrives
Just before the bill arrives, I have this habit of running "guessing competition". Whoever is with me, I ask him/her – "Guess, what would be the bill amount be around ? Give the range , whoever is close wins !" .
Almost all the time I am very close to the actual amount, but then I am not close to the final amount to pay, because I always forget to consider various tax and charges applicable, which always inflates the bill by 20-30% . Imagine you eat worth Rs 1,000 and pay Rs 1,260 finally ! . You know that feeling :).
So if you look at your bills when you eat at hotels and restaurants, you will see 3 kind of charges namely "service charge" , "service tax" and "VAT" . Lets decode them one by one and see what exactly they are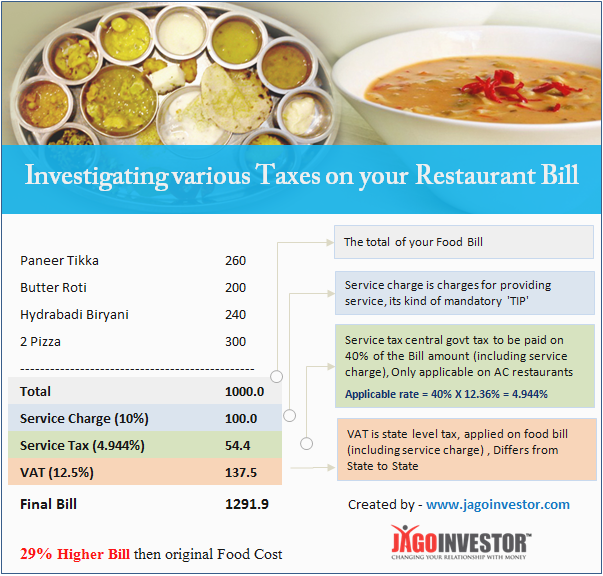 1. Service Charge
Service Charge is a charge levied by restaurant for the service provided to customers. This is generally 5%-10% of the bill and restaurant owner is free to charge whatever amount he/she wants as service charge. Its up-to you to decide if you want to eat there or not. The service charge has to be displayed in Menu, only then it can appear in the final bill. If you do not see it on Menu, it means it was not communicated to you and you cant not be charged service charge.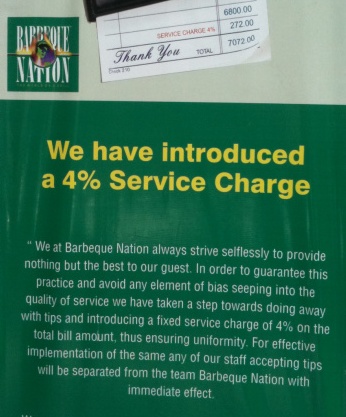 Actually service charges are to be distributed among waiters and staff and its kind of compulsory "tip" to be paid. So if there is service charge on the bill, you are not suppose to tip officially to any one. So don't feel awkward not paying the tip, because you have already paid it in form of service charge, however most of the hotels and restaurants never tell you this explicitly. However one of the exceptions I know is restaurant called "Barbeque Nation", I could clearly see it was written in their menu that "We will levy 4% service charge on the final bill, and you are not suppose to tip any one (strictly prohibited), because service charge will be shared among the staff" . The ethics quality was as high as their food quality 🙂
So if your food bill is Rs 1,000 and service charge is 10% , then your final bill will be Rs 1,100 .
2. Service Tax
The important thing, you should be aware about is how service tax is calculated! . Do you know that, Service tax is only applicable on 40% of the bill amount, not the total amount. As the service tax is around 12.36% at the moment, the final tax you need to pay is only 4.944% (12.5% X 40%) on the bill (inclusive of service charge).
The next important thing you should know is that, only AC restaurant can charge service tax. If there is no AC in restaurant (fully or partially) , they cant charge service tax at all. This service tax goes to Govt of India. The service tax is payable on the bill amount + service charge. So if Bill amount is Rs 1,000 , and service charge was Rs 100 (10%), then your sub total would be Rs 1,100 . And your service tax will be computed on Rs 1,100 (not Rs 1,000).  4.944% of Rs 1,100 will be Rs 54.38 and your total bill after service tax would be Rs 1154.38 . A lot of unprofessional and small restaurants are found to charge service tax on the full bill and most of the customer pay because they have no idea what is wrong and what is right. Here is official Note on service tax
Note – On 3rd Nov 2012 , Bar Council by mistake interpreted that service tax is to be paid only on service charge, and it starting circulating over facebook and emails. But note that it was a mistake and later clarified that service tax is to be charged on 40% of the bill amount also. So dont fall for wrong information . Even some one posted it on our jagoinvestor forum and I myself believed it to be true !, but later decided to investigate it.
3. VAT – Value Added Tax
VAT is Value added Tax collected by State Govt. VAT is only applicable to the food items which are prepared inside the restaurant, because they "added some value" and then hand it over to you. So make sure you do not pay it on packaged items which are not prepared by Restaurant like Packaged food items, water bottles etc. A lot of times you eat at restaurant and also take a lot of packaged items, in which case VAT should be applicable not on final bill, but only sub total of the food items you consumed.
VAT Charges vary from state to state, but generally lie in the range of 10% – 15% . Like in Maharashtra its 12.5% , and in Karnataka its 14.5% . VAT is to be charged only on the main bill + service charges. It CANT be charged on the amount after service tax. So in the same example we looked about, the final bill after service charge was Rs 1,100 , so VAT at 12.5% will be Rs 137.5. Now total bill amount would be
Food Bill – Rs 1,000
Service Charge – Rs 100
Service tax (4.944% of 1,100) – Rs 54.38
VAT (12.5% of 1,100) – Rs 137.5
Total – Rs 1,291
29% higher Bills compared to Cost
You can see how various charges and tax can increase your final bills by 25-30% . So next time you pay your bills, just make sure your check, if all the taxes and charges are computed properly and as per rules.
Any personal experiences ?