POSTED BY Jagoinvestor ON October 4, 2016
70% of people feel that they are "Asset Poor" as per my recent survey.
Are you one of them?
No matter how much you earn or how much wealth you have created until now, you will fall into one of the following 4 categories.
Asset Rich, Income Rich
Asset Rich, Income Poor
Asset Poor, Income Rich
Asset Poor, Income Poor
Suddenly one day, I thought how many people will consider them "Asset Rich" and "Income Rich"? So I thought of creating a survey which asked people just this simple question.
Survey with 1068 people
There is no good information available on this topic, hence I ran a survey for the last few weeks and I got 1,068 responses from various people who visit this blog.
Note that this survey does not represent the general population of the country, but those who work in big cities, have a decent income/wealth (probably) and are net-savvy. Basically our blog readers. So you can safely say that these 1,068 people are like you and me, hence these results are very relevant for you (our readers)
Before I discuss about each category and look more into it. I want to share with you the survey results highlights
Around 70% people see themselves as "Asset Poor"
Around 65% people see themselves as "Income Poor"
Only 10% of people felt they were "Asset Rich and Cash Rich" both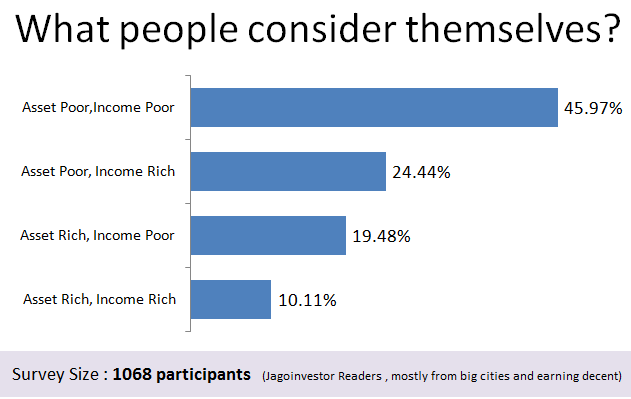 Asset Poor, Income Poor
At the bottom of the pyramid are the maximum people who feel them to be both "Asset Poor" and "Income poor" at the same time. As per our survey, it amounts to 45.97% people, or 45 people out of every 100.
Think about this, a big chunk of people feel they are not earning enough to lead a great life, nor they have built enough wealth to call themselves RICH. This is alarming!
Also note that these people "feel" themselves as Asset Poor, Income Poor. So it's all about their own perception about themselves. So even a person earning Rs 50,000 per month might feel he/she is "Asset Poor, Income Poor". It has a lot to do about your relationship with money.
I think people falling in this category must be highly stressed as they might be surrounded by various people who either own some properties or if not, at least earn decent enough to enjoy various materialistic things in life.
One of our old surveys shows that every 1 out of 2 people in India is stressed because of money related matters.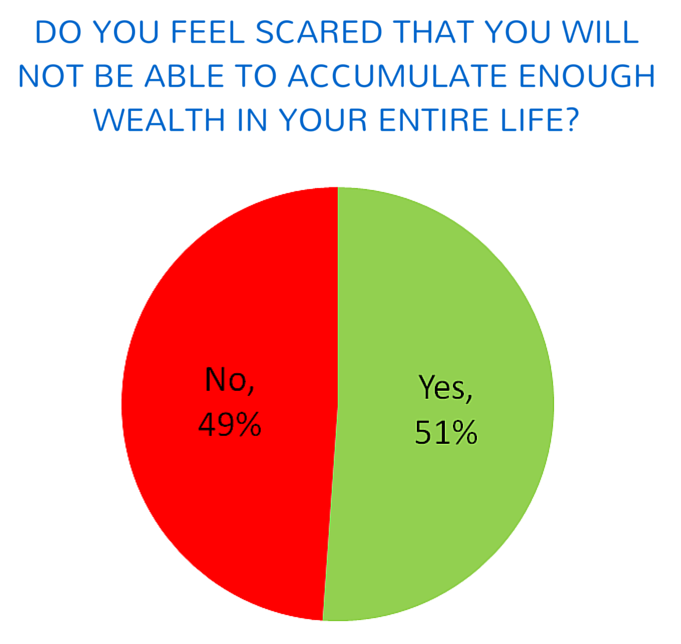 Asset Rich, Income Poor
This is an interesting category of people. A lot of people are asset rich, but Cash poor. You must be wondering how?
The best example of this category are some senior citizens who do not have any source of income, but they have good assets. However, they are either living in that property or it's used by their kids now.
Another example for this category is families, which own ancestral homes in cities that were bought by their parents, and now those properties are worth crores, however, they still don't have a decent income source. They might be into a small business or some kind of job, but they still earn enough to run the house.
Also in various smaller cities, there are many people who have a great amount of wealth, but their lifestyle if base minimum and they don't spend enough on themselves. My own best friend who lives in Varanasi has wealth upwards of Rs 10 crore (total property worth), but they still run around all day each month trying to earn enough to meet the ends meet, because they can't sell their lands just to enjoy life.
"What will people say"- is what holds them!
Asset Poor, Income Rich
Now comes the third category where 24.44% of people fall. These are mostly those people who have recently upgraded from the middle class to the higher middle class when it comes to income.
They are earning good salaries like 1/2/3 lacs per month (mostly in the IT industry), but they are still struggling to own a house of their own or to create any sizable wealth. Even if they own a house, it's on a huge bank loan which ultimately makes them just rich on the left side of the balance sheet, but not in totality!
This category finds it very hard to build assets because their expenses are very high because of their lifestyle. As per this article which says "America is full of high-earning poor people", most people earn a decent income, but they fail to save enough money to build wealth. I think many people in big Indian cities are going on the same path.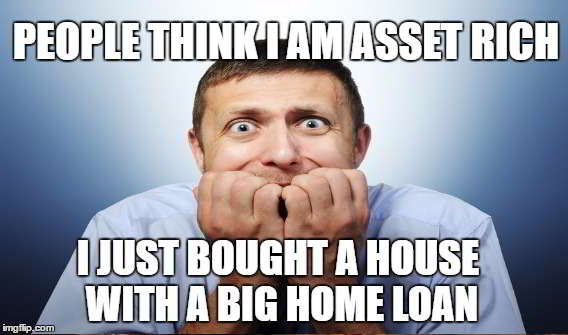 Asset Rich, Income Rich
This is simply the people who are at the higher end of the pyramid. With their several years of experience and discipline, they have created good wealth and also earn decent money each month. They are free from debt now (mostly)
A very high-level description for these people would be those who have
A house of their own without any loan
A good car without a loan
A stable and secure income stream of upwards of 1-2 lacs per month
Enough money lying in bank accounts or mutual funds/stocks
So what makes you Poor or Rich?
It's all about how you structure your financial life and what shape you give it over the years. There is a big difference in the cash flow of Poor people and Rich people and the below diagram shows it in a very simple way.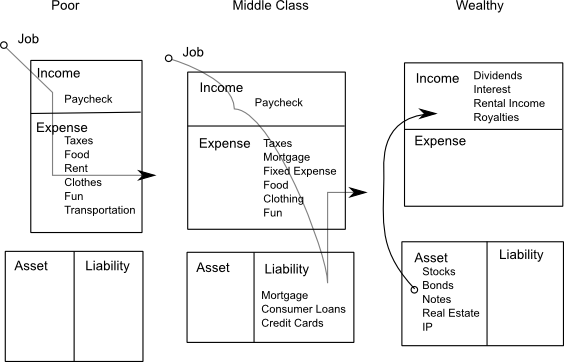 Poor people – Earn and simple Spend that money on expenses, they keep doing this all their life and never build any assets
Middle Class – While middle class earns better income compared to poor people, still, they create enough liabilities which eat up all their income, if anything left after expenses
Rich People – Rich people do something different, they focus on creating assets that generate income for them over the years. It can be dividends from stocks, mutual funds or building real estate which gives income. I recently came across a very example of how rich mindset works and here is an example from Quora, where a guy "Varghese Thomas" is sharing his personal life example.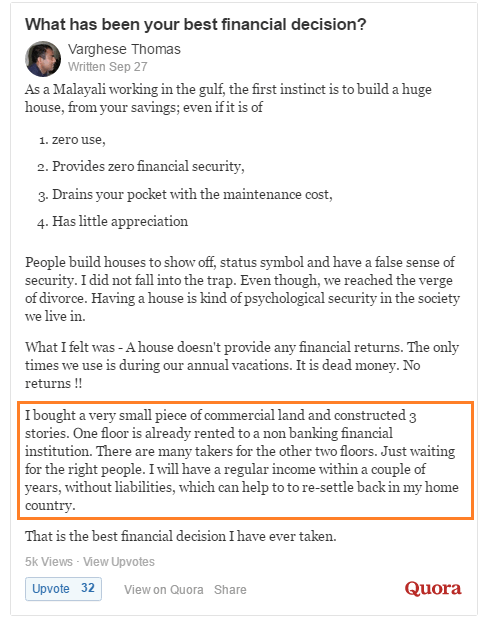 I know he is an NRI and some people might say that because he is an NRI, it's easy for him to think like that, but still it's all about the mindset and how far your thinking goes.
How to become "Asset Rich"?
While this is a topic which calls for a separate book, I will want to give an attempt to talk about it briefly.
To become Asset Rich, you need to first become Income Rich. There is no other option here, unless you have a rich relative who might leave his fortune to you 🙂
So you need to first move to the "Income Rich" category from "Income Poor" . When I say Income Rich, I mean you earn enough money each month, which helps you to save good amount of money after all your expenses and EMI's. Because unless you keep investing good amount of money each month, becoming rich will be tough.
Even if you are generating very good returns like (12% or 15%), you will not build enough wealth if you do a SIP of Rs 3,000 per month. I hope you get my point.
The amount or quantum of money you put in each month is highly important.
So you need to upgrade your skills, work on increasing your income, save a good amount of it with discipline and take decisions which at least doesn't lose you money, if not make wealth for you. I don't want to go into details here, because this is a big topic.
What are Assets and Liability?
I really feel you should once watch this 2 min video from Robert Kiosaki where he explains about Assets and Liabilities. This will give you some really good background to start thinking how you want your financial life to shape up.
I hope you got some good insights into how people think about themselves and their financial situation. We would like to know what is your plan for moving to the upper category in the future? Please share more insights on this topic in the comments section.