POSTED BY Jagoinvestor ON August 20, 2015
Are you RICH or not? Do you have enough income or networth, so that others will consider you RICH in India? This is all this post is about.
I was day dreaming about get RICH few days back (I do it every week) and visualising how much should I earn so that I can call myself as RICH and how much net worth I should have, so that people would start considering me RICH? Is it 1 crore or 10 crore ? Is income of 5 lacs a year or 20 lacs will make me look RICH in others eyes?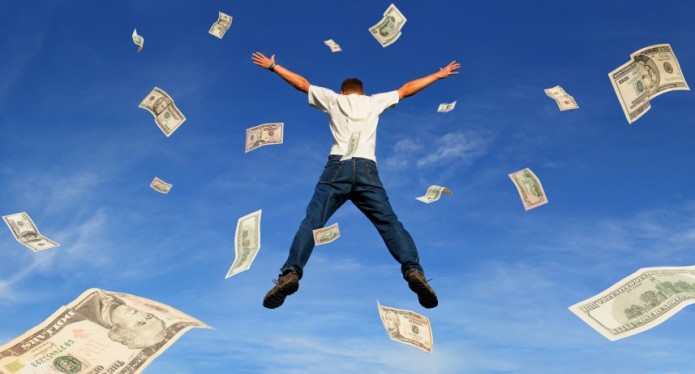 So, I created a survey around this topic and 381 people took that survey. But before I share the survey results below, note that the group which took this survey does not represent the common man on street. This survey is mostly taken by net-savvy high-income earners, which only represents the higher income group. These people are on web, work in big companies and are considered to be doing very well in life by society.
How much Income makes you RICH ?
One of the questions asked in the survey was – "In India, How much yearly income one should earn, so that you will call him RICH ?" . Below are the results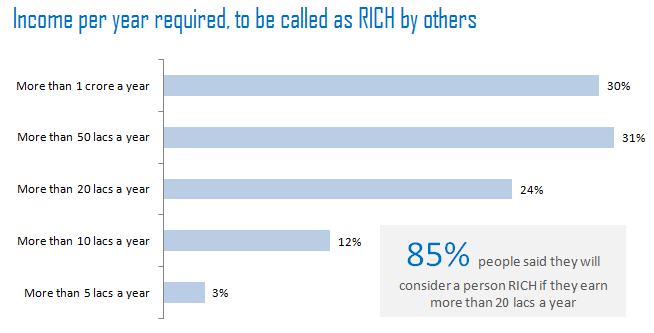 As you can see above, only if you are earning more than 20 lacs a year, most of the people will consider you as RICH, otherwise you will be seen as middle class which is a very big range and not defined at all in our society. People earning 1 lac a year, 5 lac a year and 12 lac a year – they all call themselves as "Middle class". Let me share some important stats with you on income.
As per a website www.globalrichlist.com if you earn the income of 10 lacs a year, you would be in top 0.22% of the population globally. Can you believe that !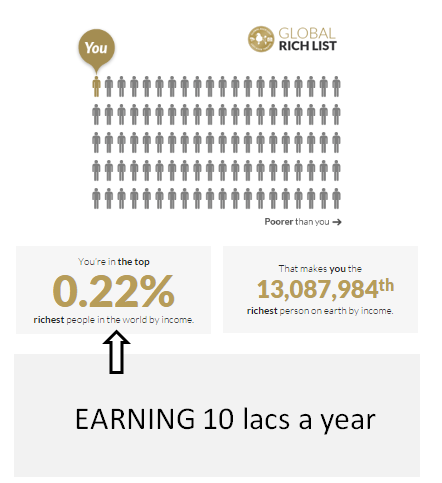 This means that if there are around 1000 people in the world, almost 997 people earn less than you if you earn Rs 10 lacs a year. Hence, you should be quite happy about this fact, but obviously we don't think that way. We look at people above us and keep cursing how bad we are doing in life.
What networth makes you RICH in India in other's eyes?
The next question I asked was – "In India, How much networth a person should have, so that you can call him RICH ?". Below were the results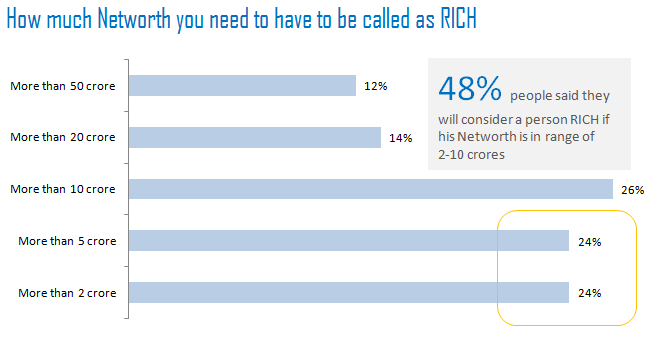 If you look at the chart above, only 1 out of 4 people will call you RICH if you have 2 crores of networth in today's value. 48% people who took the survey feel that anything above 2-10 crores is a good networth to be called RICH. Some even said 50 crores and 100 crores.
Forget crores! . What if you have a net worth of 100,000 Dollars or just approx Rs 60 lacs in wealth ? How rich are you?
As per a research published in 2013 by Credit Suisse, if your net worth is above Rs 60 lacs, you are among the richest 8% in the world and richest 0.4% in India. Think once again !
Out of every 1000 people in country, 995 people are below you in terms of net worth. I know some will say, that there is black money and many are there who do not disclose their income. Yes – that's true, but we can't find out how many are there like that. Even if you consider that, still you would be doing very very well.  Below is the snapshot from the report.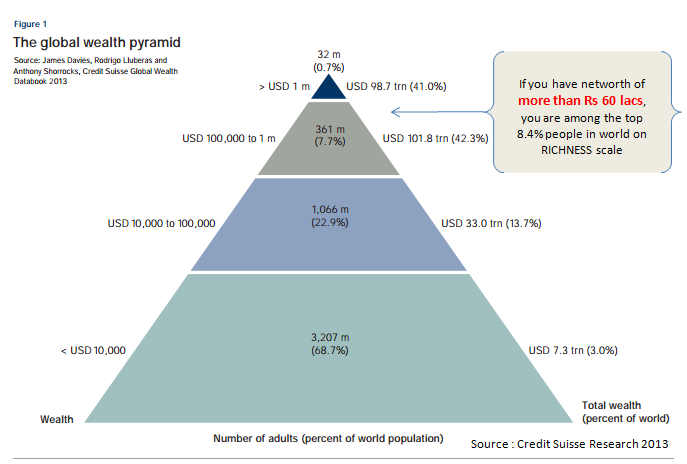 Note that – we are not talking about ASSETS here, but Networth, which is ASSETS – LIABILITIES. A lot of people hold real-estate whose value they consider, but they forget to account for the home loan and other liabilities. So a lot of people who feel they have high net worth actually don't have it.
Along with most countries in the developing world, personal wealth in India is heavily skewed towards property and other real assets, which make up 86% of household assets. 

- Credit Suisse Report 2013
But feeling RICH is a state of mind
I know a lot of people will say that "feeling rich" is a state of mind and we should not just evaluate it with money. Agree to that. I am of the same opinion that it's not others who will decide if you are RICH or not, but only YOU.
But thats not this article is all about. We are purely look at how others perceive your RICHNESS by income and your wealth.
Most of the people are not happy with their current status
Let me give us some interesting information. If you have low income or networth and you are not happy about it. You should know that majority are like you only, even though they are on high income.
I asked another question in the survey – "Are you happy with your current Salary and Networth ?"
Guess what was the result?
On an average, most of the people are not happy if they are earning less than 10 lacs a year. I can understand that 10 lacs a year is not a very high income these days, especially in big cities. And if you consider the expenses, home loan EMI, education costs and lifestyle expenses, a lot of people are literally struggling to keep pace with rising expenses.
What looks a great salary to people in small cities, is not that amazing in big cities these days. Here is the result of survey, showing you how many people are happy or unhappy about their current income and net worth.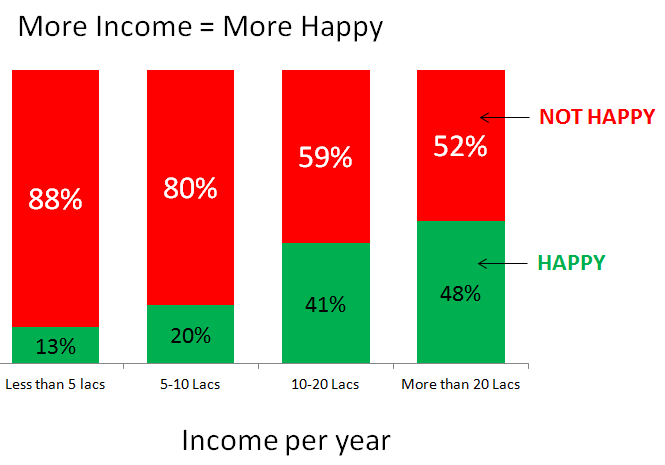 If you see people in higher income bracket which is more than 10 lacs a year, almost half of the people said that they are happy and another half said they are not. But one thing is very visible that in the higher range of income, most people said they are happy (I am not sure if they are really happy or not, but they said they are) compared to the people in lower range of income. To some level, we all can relate to it.
You are doing well at absolute level
After I did this article, I got a feeling how much our lives have got messed up due to money. We are literally lost in this world with the sole objective of earning money. You should be more happy about what you have achieved and not be unhappy about what you have not earned.
I am not saying that you should not be aspirational. Surely, you should have a higher target each year, but dont feel unhappy about what you have created till date. Let's slow down a bit.
Wealth is important, very important, but also cherish and be proud of how you have done well till date compared to millions of others who are struggling in life due to money issues
You are way ahead of majority. Congratulations for that.
Let us know what you think about this whole article. What are your thoughts on who is RICH? What's you definition of RICH in your own terms?