POSTED BY Jagoinvestor ON April 5, 2016
There are many different kinds of tax paid by us in India; however, we don't have a lot of clarity on each kind of tax and what it means. Hence I thought I will give a brief overview of the overall India taxation system. So in this post I will explain various kind of taxes one by one and their categories.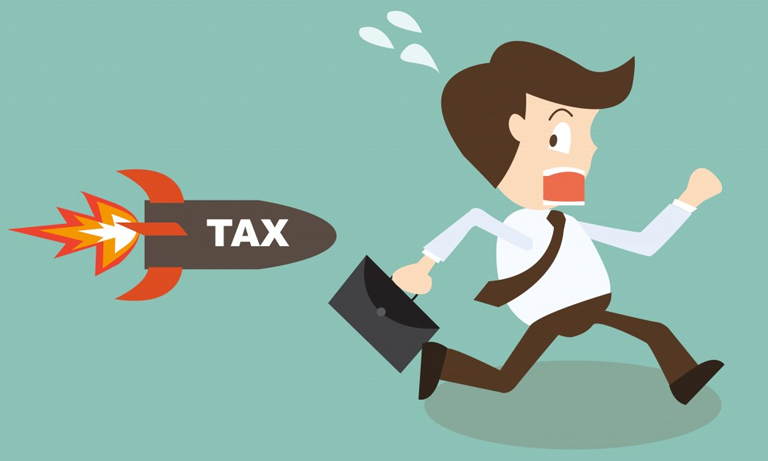 Direct Tax vs. Indirect Tax
Before explaining each kind of taxes, first understand that there are two categories of taxes, which are called direct tax and indirect tax.
Direct Tax – As the name suggests, Direct taxes are those taxes that are directly paid by the person/entity to the government. The best example for this is – Income Tax, where we have to pay the income tax on our earned income to the govt directly at the end of the financial year.
The direct taxes are the one that pinches the investor's maximum because they clearly see it going out of their pocket.
Indirect Tax – Indirect taxes are those kinds of taxes, which are collected by govt from the intermediary or manufacturer, but eventually which is passed to the users only. So we pay these taxes also from our pocket, however, it's taken from us in a very indirect way by including it in the price of the product itself. So we always hear the final price (price + tax) and it does not pinch us a lot because most of the time we don't even realize that we are paying that tax.
A good example of this is "Service tax". So when you go to a restaurant, you can see that the service tax is added to the bill and you make the payment for it. The hotel then pays this service tax to the govt only.

Jurisdiction of Taxes – Central, State and Local
You already know that India has federal structure and there are governments at center and different states and they have to arrange for their own income from various sources. So taxes fall under 3 jurisdictions, which is
Central Govt
State Govt
Local Govt
So some taxes go to the central govt and some go to state govt and few goes to the local city municipality. The below chart gives you a crisp idea about it.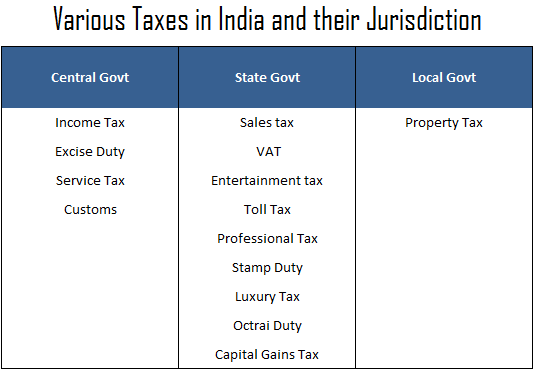 10 types of Taxes we pay in India
We will now see various kinds of taxes we pay in India. I will explain each of them. We will first see the major taxes which impact us in a big way and which are the major taxes from which govt gets the revenue, then we will see the other taxes in brief
1. Income Tax
The tax which everybody is aware of is Income tax. This is levied on the income earned in a year by an individual or a business body. The 12 month period considered for the taxation is from Apr 1st to Mar 31. The incomes is categorized under 5 heads namely
Salaries
House property
Business Income
Capital Gains
Others
A person has to hence, find out all their income and see which heads they are falling into. For most of the people who are salaried class, it's only one head "Salary" and a bit on the "Others" section like interest income from FD, saving bank account or dividend incomes.
The income tax for Individuals is calculated based on the different slabs, which are as follows

So if a person salary is 8 lacs per year, there will be no tax on the first 2.5 lacs, Then 10% tax will be applicable on the income from 2.5 lacs to 5 lacs, which will be 25,000 and 20% on the income from 5 lacs to 8 lacs, which is Rs 60,000, totaling his income tax to Rs 85,000 for the year.
Below is a snapshot of income categories and number of people who fall under them along with the % share of their income tax as of 2012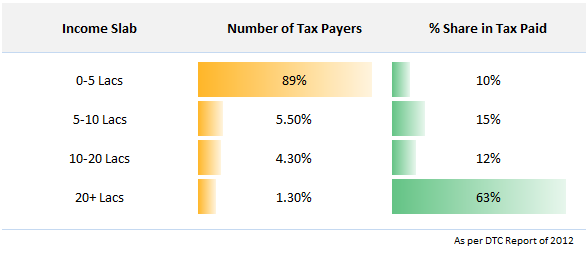 Income tax is something that almost everyone is aware of because one has to deal with it directly.
2. VAT (Value Added Tax)
The VAT is an indirect tax levied by a state when some good is sold within the state. So if some goods are sold within Karnataka (Bangalore -> Mysore), the Karnataka Govt will levy VAT on the goods sold.
The VAT is a tax that is not very visible to a common man in their day to day life, but it's presence in almost every sector and goods. Each small thing which we consume today has gone through multiple stages of production and VAT is paid at each stage by the manufacturer and eventually, the final consumer pays for it (Bundled within MRP)
For example, when you buy a mobile phone, you also pay the VAT, which goes to the govt but paid by the seller. The seller actually gets a lesser amount. For example in the below example, you can see the invoice of an Asus Zenfone mobile bought online by my wife. You can see that out of Rs 10790 which was paid, Rs 1325 (14%) was the VAT which went to the govt.

Note that VAT rates are subject to states, hence the rates change from one state to another. This is the reason why some goods are cheaper in one state and expensive in another.
CST (Central Sales Tax)
Note that VAT is a state-level tax, however when a good is sold from one state to another, then the tax is called CST or Central Sales Tax which goes to the central govt.
So when a seller in Maharashtra sells some goods to a consumer in any other state (like Tamil Nadu), then it's not the VAT, but CST which applies and it goes to the central govt wallet 🙂
3. Service Tax
Service tax is another very important tax which was introduced in the year 1994. It's a tax charge for providing services. Like in the case of restaurants, when they serve us for food, they are providing us a service, hence we are charged service tax on a certain portion of bill amount.
In the same way, when you hire the services of a consultant, they will charge you a service tax and pay it to govt. It depends if they have charged you the service tax on top of the fees or they have included the service tax in the price itself and tell you the final amount. In any case, the service tax is to be paid to govt if the revenue of the service provider is more than 10 lacs in a financial year.
Increase in service tax revenue in India
Over the last decade, service tax has become of the major tax collected by govt and it has been increasing year on year. It's mainly because the number of services on which service tax is applicable has been increasing year on year in the last decade and even the rate has increased. At this point in time, the service tax applicable is 15% (including the Swachh Bharat cess of 0.5% and Krishi Kalyan cess of 0.5%).
Below you can see how the service tax revenue has increased in the last 20 yrs.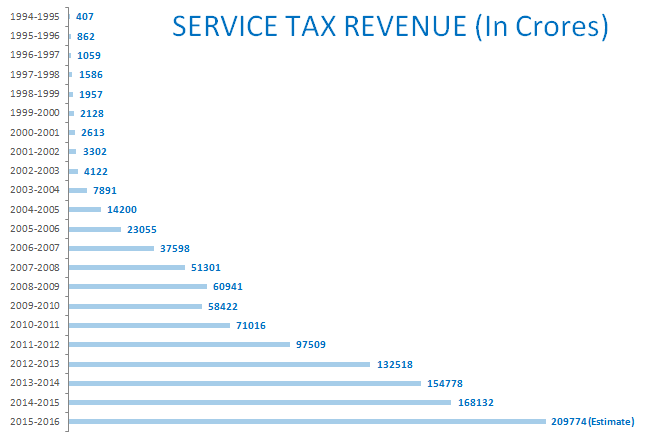 Negative List concept in Service tax
A few years back, there was a list of services that were issued by govt, on which service tax was applicable, and if a service is not on that list, it was not applicable. However a few years back, it's changed and now a "negative list" concept in introduced, which means that service tax is now applicable to every service which exists.
Only on a few services which are part of the negative list will be exempted from service tax.
Some of the services on which service tax is not applicable are
Services by Govt
Admission to entertainment events
Metered cabs, radio taxis or auto-rickshaws
Service tax is now part of our day to day life. We eat in restaurants, stay in hotels, and take various kinds of services every month/year and if you calculate the total amount of service tax you pay, you will be amazed to see the number.
4. Excise Duty
A few years back, when I used to see the budget speech, I eagerly waited for the income tax-related announcements and wanted to know is 80C limits have been raised or if tax limits are changed. I happily ignored "excise duty" related announcements because frankly speaking, it made no sense to me.
How does it matter if to me if the excise duty on mobile handsets was increased? I never understood what all that means. However now I know how important excise duty is for the govt and what is it related to common man.
Excise duty (also called CENVAT) is the tax which is levied by govt at the time of manufacturing of the goods. It's as simple as that. It does not matter if you hire someone to manufacture the goods or you do it yourself, but if you manufacture some goods, you will have to pay the excise duty if your turnover exceeds Rs 1.5 crore.
Now obviously, the excise duty is a cost for the manufacturer and it's eventually passed on to the consumer. If excise duty didn't exist, the prices of the goods would come down by that much margin.
So assume you start manufacturing some goods at mass scale, and if it's in the list of the "excisable goods", which means goods on which excise duty applies, one has to pay the excise duty to the govt. So if we take an example of cars, as it's a big-ticket item, even a slight change in excise duty means the prices go up by a big amount.
See the example below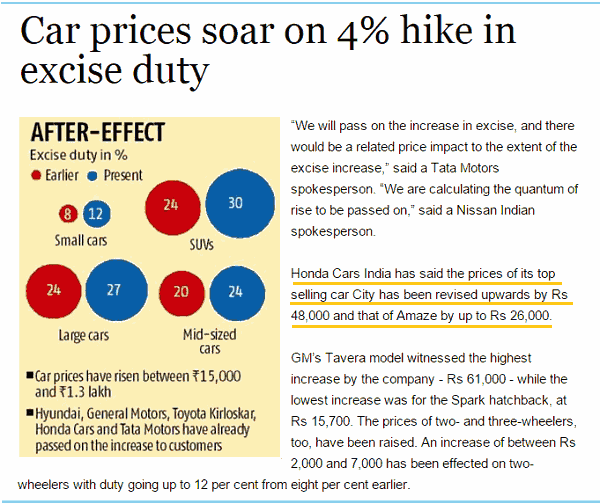 Excise Duty on Petrol & diesel
Let's understand this better with petrol & diesel prices. The raw petroleum which is bought by the oil companies is the base price. After that when they refine it and convert it to the usable petrol and diesel, VAT and Excise duty is applied which increase the final price of the petrol, add to that the dealer commissions and we get the final price which we pay.
The chart below shows the breakup of petrol prices (for the year 2014).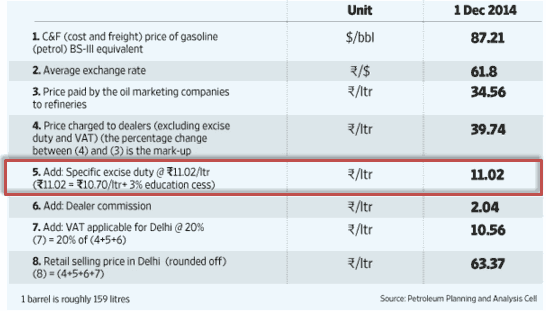 Source: Livemint
Excise duty is one of the biggest revenue generators for the govt because the amount of manufacturing which takes place all over the country is huge.
5. Customs Duty
Customs duty is the tax levied on the items imported from other countries to India or exported out of India. So when you buy something from Amazon US and want it to be shipped to India, you are actually importing it, and hence a custom duty will be charged separately.
Below is a duty rate for various products categories which is taken from this website
| Category / Product to Import | Total Duty Rate |
| --- | --- |
| Laptops, Notebooks, Computers | 14.712% |
| Tablets, iPad | 28.852% |
| Laptop Battery | 23.852% |
| iPod, Music Players | 28.852% |
| Software CDs and DVDs | 10.300% |
| Computer Printers | 14.712% |
| Electronics | 28.852% |
| Hard Disk (internal) | 6.300% |
| Hard Disk (external) | 14.712% |
| Web Cameras | 28.852% |
| Computer Processor | 6.300% |
| Internet Modem | 14.712% |
| Other Computer Peripherals | 14.712% |
| Cables and Wires | 23.852% |
| Television Sets (TV) | 28.852% |
| Movie CDs, DVDs, and Blue Ray | 28.852% |
| Video Games and Game Consoles | 28.852% |
| Mobile Phones | ~18% |
| Phone Accessories | 28.852% |
| Digital Cameras and Video Camcorder | 28.852% |
| Camera Lens (Photography) | 28.852% |
| Sports Equipment | 14.712% |
| Books (Educational) | Free (No duty) |
| Car Parts | 28.852% |
| Toys and Games | 28.852% |
| Stationery Items | 28.852% |
| Cosmetic Goods | 28.852% |
| Hand Watches (Wrist Watches) | 28.852% |
| Sun Glasses | 28.852% |
| Apparel (Clothes) | 28.852% |
| Fashion Accessories | 28.852% |
| Artificial Jewellery | 28.852% |
| Shoes (Retail Price < 1k INR) | 21.782% |
| Shoes (Retail Price > 1k INR) | 28.852% |
| Kitchen and Dining | 28.852% |
| Food Supplements, Body Building | 28.852% |
| Medicine | 28.852% |
No Custom duty up to Rs 25,000 while travelling back to India
Note that if you are coming back to India, then up to Rs 25,000 worth of goods can be brought back without any customs duty, but beyond that, you will have to pay the duty. This is applicable to most of the items. You can read more about this below in an answer given by Jai Veer on Quora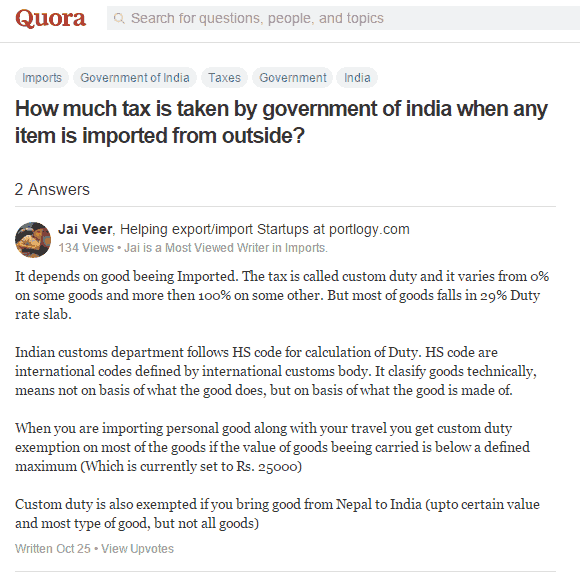 We have now covered major 5 taxes which needed more detailing and explanation, now we are going to see other taxes, but we will now see them in a crisp manner and not go too much into detail
6. Professional Tax
Professional tax is levied by the state govt for all the salaried employees and some professionals like CA, Lawyers, etc. If you see your salary slip, you can see the amount of professional tax deducted. Note that the tax slab depends on the state in which you are working and the amount of salary you have per month.
Every state has different slab rates. Below is an example of a few states.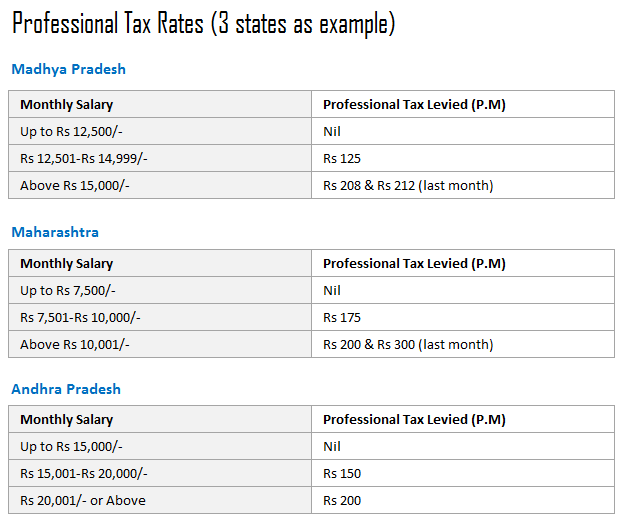 Many states do not have professional tax, for example – Punjab, Uttar Pradesh, Rajasthan, Haryana and many more.
7. Capital Gains tax
Capital gains tax is the tax which is levied on the gains which are raised by the sale of a capital asset like property, vehicle, jewellery, bonds, land or machinery.
This tax is not applicable each year, but only in the year when the capital asset is sold or transferred to some other party. The gains are categorized as either short term capital gains or long term capital gains depending on the duration you hold the property.
Here is a very good video on this topic which explains capital gains.
The calculation for this tax is not very straightforward and involves a bit of work, hence we are not covering it here. As of now, just understand that if you purchase a property at cost C , and sell if after some years at sale price S. Then your capital gains will be calculated and you will have to pay tax on that.
Cleartax has a very good tutorial on capital gain, which is worth reading if you want to learn in detail.
8. Entertainment Tax
Entertainment tax is the state-level tax levied on the tickets for the cinema and other entertainment shows. It's also levied on the stage shows, amusement parks, and many sports activities. Most of us can relate the entertainment tax with the movie tickets. If you see your movie ticket closely, you will see that a good chunk of the cost goes into the entertainment tax.
Maharashtra charges one of the highest entertainment tax at 45% and I am not very happy with that because I am a movie buff. However, some relief for me, because I see a lot of Marathi movies too (which are exceptionally well most of the time) and which does have entertainment tax (regional movies generally don't have entertainment tax in the home state).
Below you can see the slab rates for all the states in India for entertainment tax.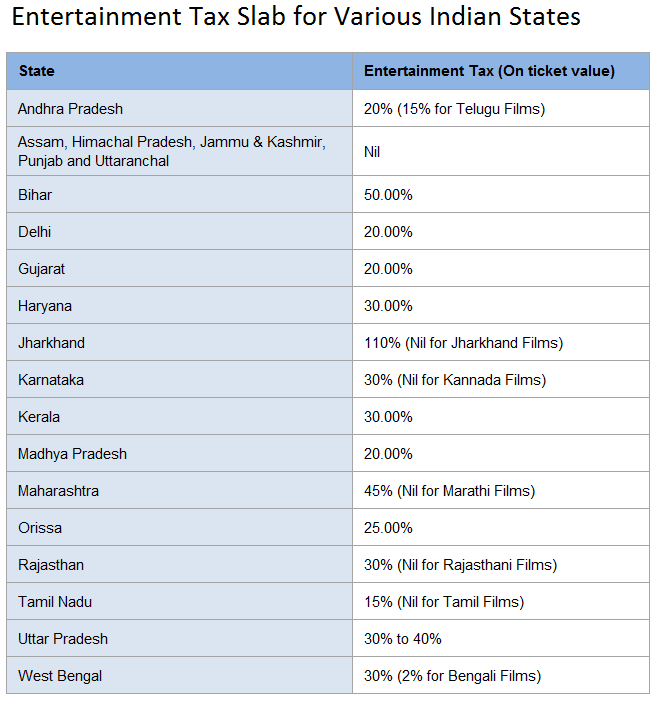 9. Stamp Duty
Stamp duty is a kind of tax which is levied when a legal document is executed. Most of us can understand it in real estate terms. So when we buy a property and we execute the agreement to sale, the stamp duty is charged as a percentage of the property value which is mentioned in the agreement or the govt ready reckoner rates whichever is higher.
Most of the time this stamp duty is in range of 4-6% depending on the state. This stamp duty is paid every time a sale is made in property, which means if the same property exchanges hand 5 times in 10 yrs period, the govt will get the stamp duty 5 times. Below is the slab rate for stamp duty in various Indian states.
Note that this data is a bit old and there might be slight changes at present, so please consider the chart below only as a reference point.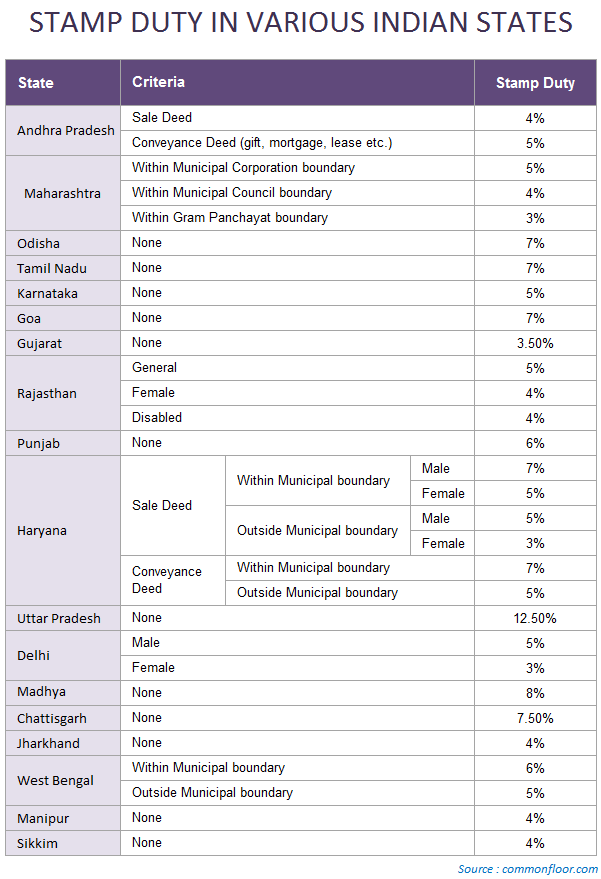 Hence, this way stamp duty becomes a revenue source for the state government.
10. Property Tax
Property tax is the tax paid by property owner every year. This tax is a local municipal level tax and the rate is decided by the local municipality. The amount of tax depends on various factors like the size of the property, kind of property (residential or commercial), age of the property and many more.
Just for reference, in a city like Pune, I know that the property tax for a 2 BHK flat comes around Rs 8,000 to Rs 15,000 approx.
Conclusion
Apart from the taxes above, there are various other small taxes that are paid from time to time like toll tax, dividend distribution tax, securities transaction tax, luxury tax, and Octroi. We have not covered them in this article, but you can read about them separately
Let us know what do you think about the tax system in India and if you feel you are over burdened with taxes?